Roberts' future uncertain after second straight loss
by
Dave Ornauer
October 6, 2003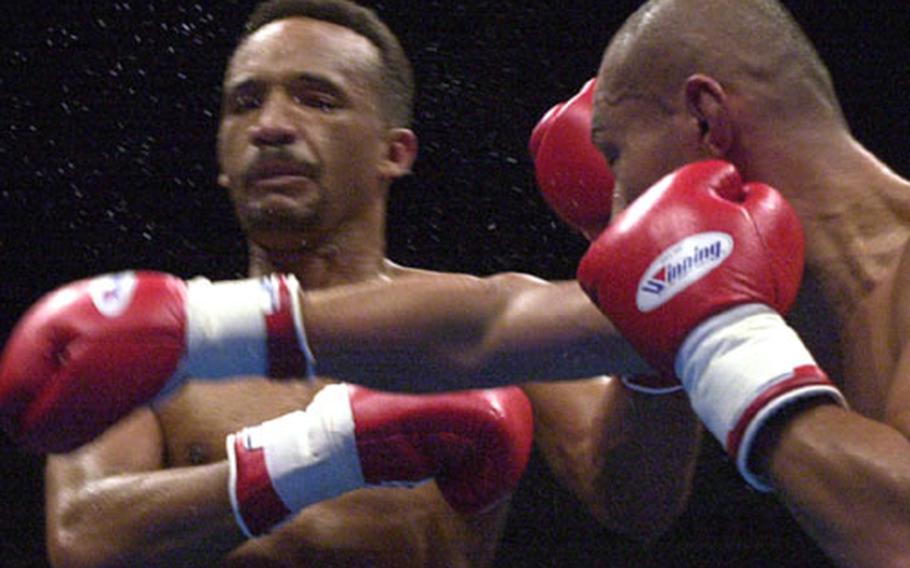 TOKYO — It resembled a "chess game" more than a boxing match, Rick Roberts said.
If so, he was the one checkmated in his return to the ring after a 19-month layoff.
The former WBA No. 3 lightweight contender suffered a second straight loss for the first time in his 16-year pro career, falling by unanimous decision to Japan's Kengo Nagashima, rated No. 7 by the WBC.
Roberts, 38, of New York, a master sergeant assigned to Yokota Air Base's 730th Air Mobility Squadron, had not fought since losing on March 9, 2002, to Masakazu Satake for the Orient & Pacific Boxing Federation junior-welterweight title, a bout in which he appeared slow and flat-footed.
Against Nagashima at Tokyo's Ryogoku Kokugikan Sumo Arena, Roberts looked more like his old self, keeping on his toes and peppering Nagashima with jabs, trademark weapons he used in winning three Japan Boxing Commission belts and setting a JBC record with 22 straight title defenses.
His opponent spent much of the time backing up and counterpunching. All the while, both appeared to load up for a huge punch that neither ever threw.
"He wouldn't let me box. He wouldn't fight," said Roberts, who fell to 38-5-2 with 20 knockouts. "I think he wanted to play it safe, and stay away. And I was a little bit cautious, too. Neither of us was hitting anything. It was a chess game. It might have been a boring fight."
So cautious was Roberts that by the eighth round, trailing on all three judges' cards, "I figured, I'd better start going for it," he said. "And I needed to."
The two spent that free-wheeling round trading punches and counterpunches, with neither hurting the other. They spent the ninth and almost all of the 10th reverting back to previous form, measuring one another but keeping their distance.
Finally, with 30 seconds left, Roberts caught Nagashima with a solid right, forcing his foe to clinch to remain upright. Regaining his senses, Nagashima landed a hard left hook, wobbling Roberts and forcing him to backpedal for the last 10 seconds.
"I thought it was, if anything, even," Roberts said.
The judges did not agree, scoring the bout 98-96, 97-95 and 98-95, all in Nagashima's favor. There were no knockdowns.
Winless in his last three bouts, including a draw Feb. 17, 2001, against Takanori Hatakeyama for the WBA title, Roberts was asked if he considered retirement.
"I don't know. I'm not going to say. I'm not going to say what I'm going to do. I'm just going to talk it over with my handlers," he said.
If this is it, Roberts said he has no regrets, only great memories.
"I've had a career that people dream about. I can't complain. It was a great night, a fun night, getting back into the ring for the first time in a while," he said.
---
---
---