Home Team
Ring heads rebuilding effort at Seoul American
by
Dave Ornauer
April 4, 2012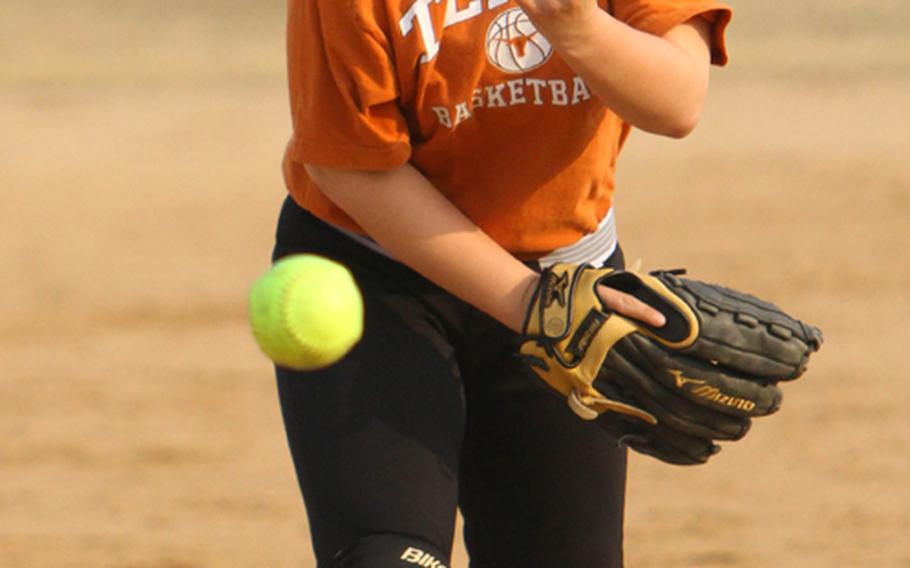 Sometimes when a new coach takes over a successful program, all she or he might have to do is let the experienced players continue doing what they've done in the past.
Other times, though, it seems as if all the players left with the former coach as well.
That was the problem confronting Yun Hui Danforth, Far East tournament champion Seoul American girls softball's new coach. Pitchers Katie Darby and Leilani Shak graduated last June, and much of the rest of the team was also lost to either graduation or transfer.
Part of the answer may be left-hander Julia Ring, who pitched and won the Falcons' two DODDS-Korea season openers Saturday in Daegu. A sophomore, she comes from a family of softball players and coaches. And she's slated to stay until graduation.
But much like the rest of the team, Ring is a work in progress, says Danforth and her assistant Julian Harden, under whom Danforth played in the early 2000s when Falcons fastpitch softball first came into being.
"It's a huge step for her," Harden said of Ring going from reserve outfielder to team ace.
"Katie and Leilani were special. This year, (Julia) is having to take on the primary role. I remind her that her job is not to win the game for us, but keep things in perspective, that the team wins games. Throw the ball across the plate and let the defense work for her."
Ring described ascending to the ace's role as "overwhelming," since she spent much of last year injured and didn't pitch at all.
While no longer playing, Shak remains at Yongsan and is working with Ring on developing her confidence, composure and communication. "She's taught me about delivery, release point, how to act while on the field, be there for teammates, talking to them, keeping them encouraged."
Another benefit for Ring and the Falcons as a whole is working with Korean teams near Yongsan. Shinjong Middle School and two other Korean school teams played five scrimmages with the Falcons prior to their DODDS-Korea openers Saturday.
"They help us with pitching, hitting, catching; they show us how practice is supposed to look," Harden said. "That's a team I want to get us most to play like."
What skill set does Ring bring to the table?
"That she wants to learn," Harden said. "She realizes she has a long way to go, she's nowhere near where she wants to be. Willing mind, willing to learn and she's dedicated to her craft."
What skills does she need to work on?
"She's throwing one pitch right now, a fastball," Harden said. "She hasn't learned a changeup, a curve, a drop. Those will come as she progresses and her confidence improves."
How long will it take to make the improvements?
"It might be a year or two before she gets to that level," Harden said.
As for the Falcons matching their feats of last May, when they won their first Far East tournament, much needs to be done, Harden said.
"We're nowhere near where we were," he said. "We don't have the talent we had last year. We're starting all over."
Only Jasmine Hobbs, who converts from outfield to first base, saw significant playing time last year. Sophomore Amber Craig took over catching duties, something she said was "definitely nerve-wracking when I first started. (But) I'm more at ease now."
Danforth said Ring and the rest of the team "may be 50 percent of the way where they should be," and last weekend's games "gave us a feel of areas that we need to work on."
While Seoul easily beat Daegu 10-0, the Falcons struggled defensively in escaping Osan 9-7.
"We have a lot of players new to softball," Danforth said. "Communication, mental aspects, working together, what plays to make, what decisions to make, teaching basic fundamentals of how to play."
---
---
---
---