Softball preview
Rich get richer as Royals add to coffers
---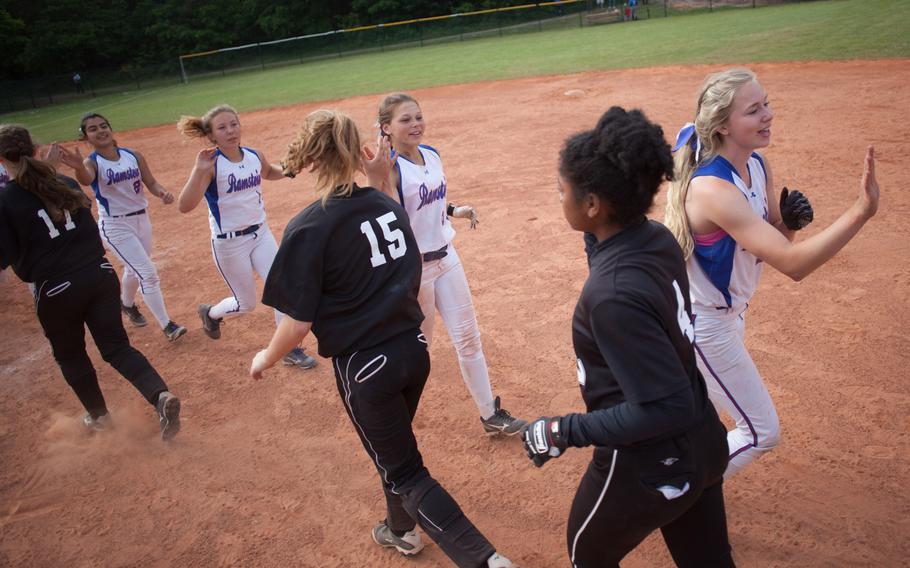 The 2016 DODEA-Europe softball season opens this weekend with a championship rematch between the Ramstein Royals and Vilseck Falcons atop the marquee.
Vilseck travels to Ramstein on Saturday with a mind towards avenging the Royals' dramatic 7-6 win in last year's title game. Division I contenders Stuttgart and host Wiesbaden will also face off Saturday, while a Friday game between Kaiserslautern and Baumholder provides the season's first pitch.
The schedule expands to include Lakenheath and Italy next weekend before adjourning for spring break. A full slate of action April 22-23 kicks off the stretch run of the spring.
All told, the regular season spans two months before the European championship tournament plays out May 26-28 in the Kaiserslautern Military Community.
Division I
The reinforcements have arrived for the Ramstein Royals, whether they need them or not.
Head coach KC McCardle presents incoming freshmen Madison Jarvis, Jade Johnson and Victoria Rady as new additions set "to turn some heads this year." But the Royals were hardly desperate for fresh talent, as they already return 13 players from last year's championship roster.
McCardle hopes to channel the team's diverse talents into an interchangeable platoon of productive players.
"As a coaching staff, we are working on making our girls well-rounded utility players," McCardle said.
The idea of a Voltron-style collection of hard-hitting, smooth-fielding and crisp-throwing Royals is an imposing one for the teams hoping to snuff out Ramstein's latest title reign. But legitimate challengers exist from Lakenheath to Italy and numerous points between.
Start with Ramstein's German neighbors, Stuttgart and Vilseck.
Stuttgart won the 2014 European championship over the Royals, ending a two-year Ramstein championship run. The Panthers bowed out of last year's playoffs with a semifinal loss to the Royals.
Stuttgart, stocked with six returning starters including power-hitting All-Europe catcher Tenley Getschman, plans to return to prominence behind a simple ethos.
"Play bigger, play faster, play harder," Panthers coach Rachel Makle said.
Vilseck has advanced to two championship games over the last four seasons, including a heartbreaking 7-6 loss in last year's final.
The loss of dominant pitcher and 2015 Stars and Stripes softball Athlete of the Year Elana Montanez certainly hurts the Falcons' chances, but Vilseck is loaded with quality position players such as senior Kaylee Luginbuhl and juniors Mahagony Lediju and Isabella Brasi.
After years of deep playoff runs, the Falcons are hoping their persistence and consistency yields a championship breakthrough.
"Defense - we need to play as well as we did last year," coach Jim Hall said. "If we find the pitching we could be a good team this year."
While those three German schools have dominated Division I in recent years, recent divisional additions Naples and Vicenza are hoping to change that this spring. The two Italian programs co-owned Division II until last year's realignment shifted them both upwards, and neither made it out of preliminary play in their Division I tournament debut last May.
Naples is instead hoping to repeat a more pleasant moment of its history. Wildcat coach Cynda Masterman is back in charge of the Wildcats this spring; she coached Naples to a Division II championship in the school's inaugural softball season of 2009.
A trio of seniors - shortstop Sarah Kemp, catcher Jayla Martin and infielder Emily Coulter - headlines the 2016 Wildcats.
Division II/III The small-school title stayed within Italian borders last year as the Aviano Saints capably assumed the mantle left by Naples and Vicenza.
After finally seeing their years of pursuit pay off, the Saints have now shifted decisively into the mode of title defense. The team has 11 returning players and boasts strong senior leadership from De'Ja Knight, Ashley Mills, Maggie Lewandowski and Jazmine Bell. But coach Sherry Milligan said she is also emphasizing "new player development" to make sure the Saints remain competitive after the current core of upperclassmen graduate.
The Saints' primary competition this spring figures to come from last year's final four, including runner-up Alconbury and semifinalists Hohenfels and Sigonella. The Jaguars return 10 varsity players and field a junior-heavy team that should rival its Italian rival for at least the next two seasons.
Twitter: @broomestripes
---
---
---
---