Far East girls soccer
Returning champs have foes lined up to take crowns
by
Dave Ornauer
May 11, 2017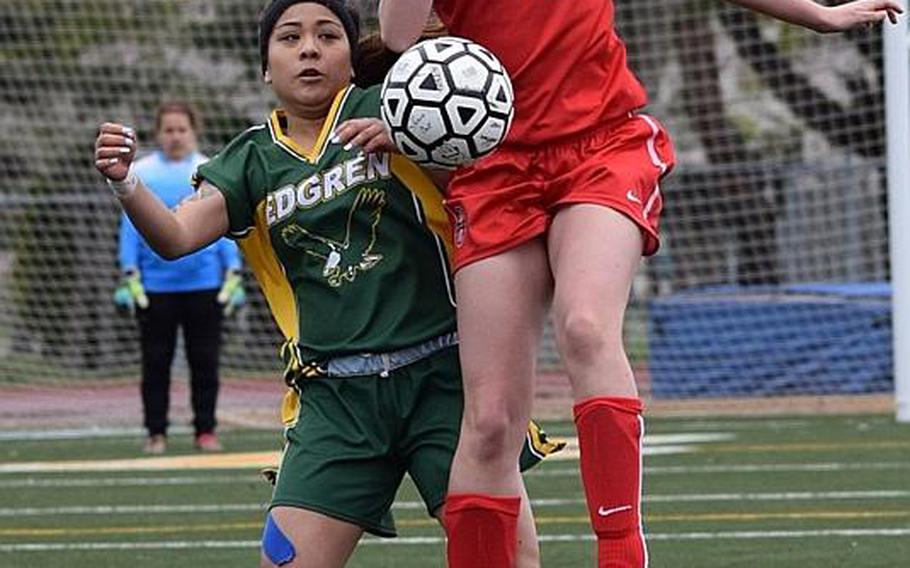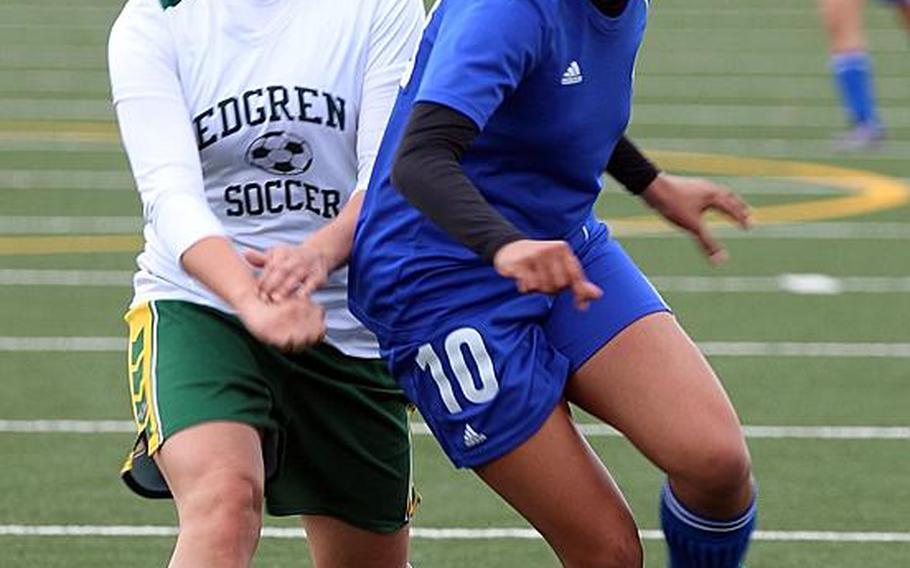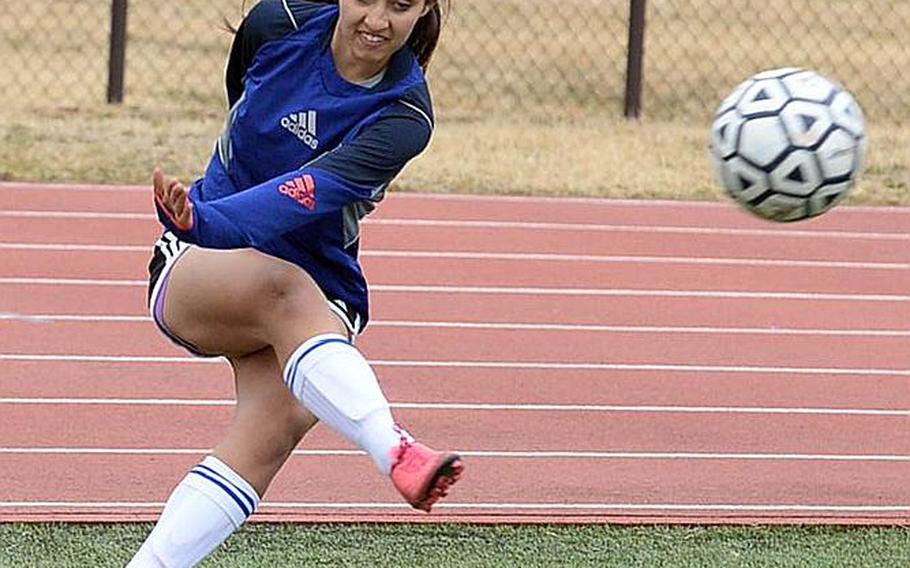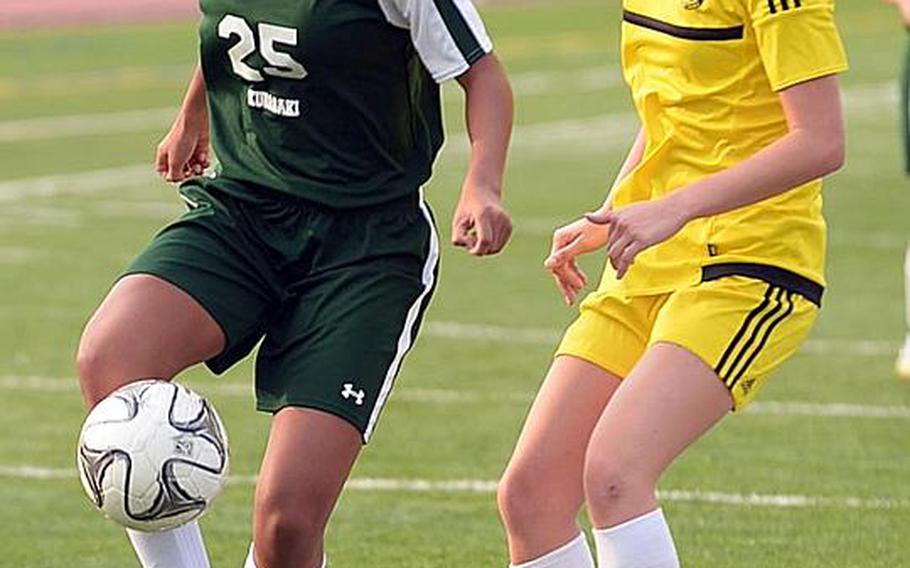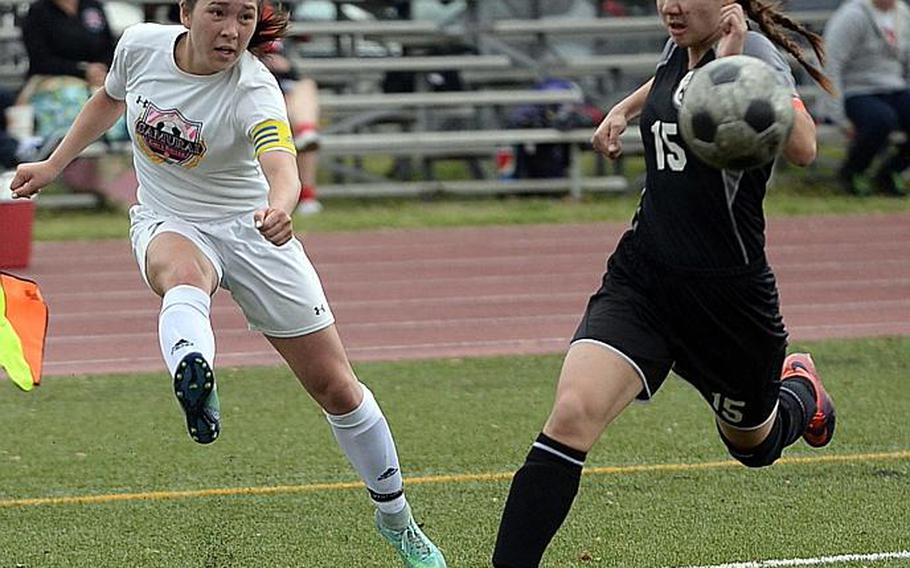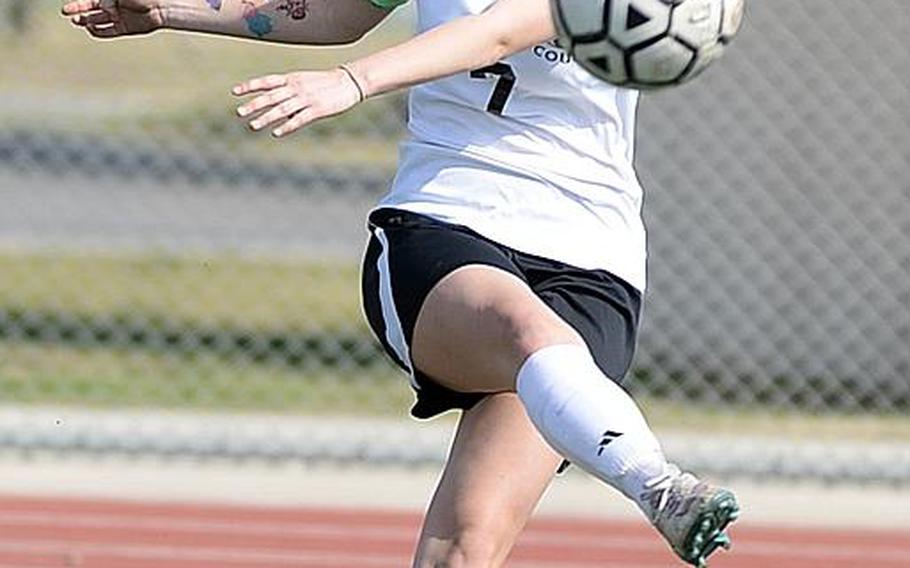 CAMP FOSTER, Okinawa – It's a subject Lexi Klimek and her Kubasaki teammates are loath to discuss, especially since they're talking about it a second straight year.
Two times, the Dragons played host American School In Japan in the school's annual spring girls soccer festival; two straight times, Kubasaki lost to the host Mustangs, this time 3-2 in a penalty-kick shootout on April 22.
"We weren't too happy about it, taking that loss," said Klimek, the Dragons' junior goalkeeper. "We know we were better. Hopefully, we can show that next week."
Klimek was speaking of the Far East Division I Tournament, which Kubasaki has won the last three years, but this year must return to the site of the last place the Dragons lost in the D-I final – Yokosuka Naval Base, Japan, where the Dragons lost to ASIJ 2-0.
Nile C. Kinnick hosts the tournament, which starts Monday and with the smallest field in the event's history – five teams, four of whom have won the D-I title in the past.
Seisen, regular participants in years past, opted not to attend this season. Christian Academy Japan is now a Division II school, and will play in the small-schools event.
Kubasaki won the district title for the 10th straight year, winning the season series over Kadena 2-1. Sophomore Myca Ingram, who led the Dragons with 34 goals last year, has just seven in a season in which Kubasaki has placed great emphasis on defense.
All the while, Klimek says she and her teammates have kept what happened at Mustang Valley in their minds. "We've been practicing harder since that happened, since that's the second time that's happened," she said.
"We've had to work harder this year, but I think we got this."
ASIJ has gotten much younger, with eight starters juniors and sophomores. Kadena is also young, with freshman J.J. Craion leading the team in goals with 10.
Seoul American junior Natalie Cargill paces Division I scorers with 20 goals. Host Kinnick, D-I runner-up the last two years, began the season 0-4-1, but has gone 9-1 since, with senior Kiralyn Kawachi leading the Red Devils with 18 goals.
Both the D-I and D-II tournaments take place over four days, each featuring a combined pool-play and single-elimination format.
While Kubasaki is seeking its fourth straight D-I title, Yokota goes after its third straight, but with a closely bunched field taking aim at the Panthers.
Among those giving chase are Matthew C. Perry, with senior Bobbi Hill and her Pacific-leading 31 goals; and Zama, paced by senior Amanda Stephens with 29. The Samurai beat the Trojans 4-0 in the DODEA-Japan tournament finals April 22 at Zama.
But the Panthers have their own scoring weapons in juniors Ai Robbins, Regina Dukat and Jamia Bailey, with a combined 37 goals and 22 assists, and senior Catharine Funk, whom coach Matt Whipple calls the Panthers' "Minister of Defense."
"She controls the middle," Whipple said. "Our strikers are good to go. Everything is good. We're going for the three-peat."
Another team in the mix could be Osan, with its Pacific-record eight D-II championships, the last coming in 2013.
Paced by transfers Allyson Marek and Jana Rafi and veteran Lizzy White (combined 28 goals), the Cougars went unbeaten in Korea for the first time in school history and won the Korea Blue regular-season and tournament titles.
But never have they won those plus a D-II in the same year. And they'll only dress 12 players for the tournament. "But our starting 11 is still intact," coach Sung Plourde said. "It's going to be tough. But we'll do what we can. We're looking forward to a good tournament."
Twitter: @ornauer_stripes