Resurgent Edgren brimming with confidence at tourney time
by
Dave Ornauer
February 15, 2007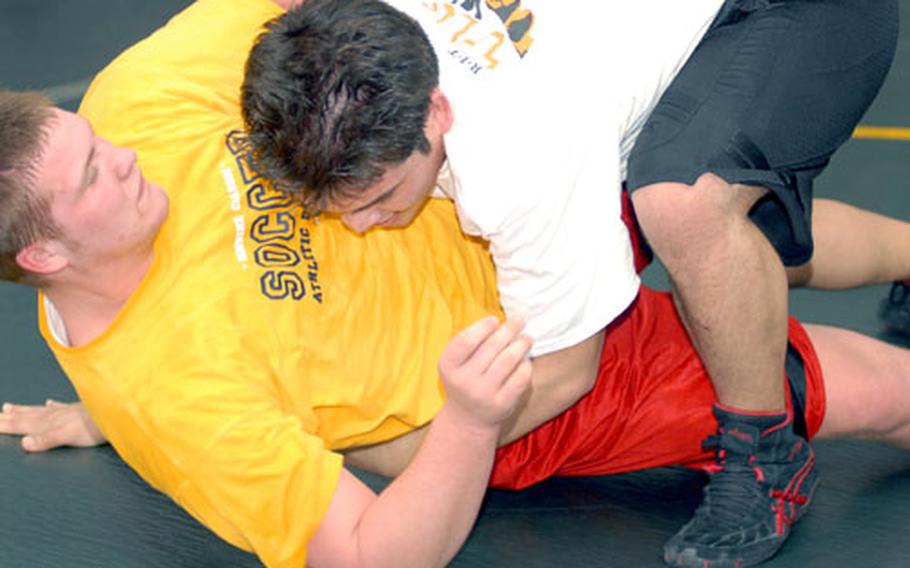 MISAWA AIR BASE, Japan — Whether on stat sheets, scoreboards or standings grids, numbers don't lie. But they don't always tell the whole story.
The records of Robert D. Edgren's basketball and wrestling teams, for instance, might seem pedestrian, but some coaches call them the "teams people would least want to play" during the Far East tournaments.
Edgren's boys basketball team began the season with three injured starters and lost its first six games — but the Eagles won eight of their last 10, including Jan. 13 and Jan. 26 against defending Class AA champ Yokota.
"They'll surprise some people" in next week's Class AA tournament at Seoul American High School, Yokota boys coach Paul Ettl said. "They'll be tough."
Edgren's girls lost their first 12 DODDS-Japan Basketball League games but closed with two victories over Zama American, giving the players a sense of confidence.
"People will underestimate us," senior point guard Krystine Horsley said. "We have nothing to lose."
The best finish for Edgren's wrestling team was second place in a DODDS-Japan tournament they hosted on Dec. 2. Yet the Eagles enter the postseason with defending Far East 168-pound champion Kevin McDonald and two third-place finishers from last year. From 148 up, their lineup is better avoided, indicated Yokota coach Brian Kitts.
"They're dangerous," he said. "Edgren's programs have come on strong" the last few years.
The compliment is sweet, indicated Eagles wrestling coach Justin Edmonds, given that Edgren is more than 400 miles from the nearest DODDS-Japan school and participates in fewer contests than its Kanto Plain counterparts.
For instance, Edgren's boys basketball team has played 16 regular-season games; Yokota and Zama each have played 25.
"It takes a lot to keep kids and coaches motivated" to be competitive, Edmonds said. "If you're not competitive, you don't win."
Yet fueled by last year's Far East performance, the community and school have rallied around the team, which will bring a school-record 12 varsity wrestlers to Far East — a lineup Kitts calls the strongest in Eagles history.
"We had success last year. They know what it takes now," Edmonds said.
Boys basketball coach Andre Thibert also is optimistic.
"Our expectation is to win Far East," he said. "Look at the competition, who we've beaten and how we've beaten them. It's not far-fetched."
When starters' injuries forced Thibert to use younger players, he said, "I found we could give the starters a rest without worrying that the younger guys couldn't do the job."
Similarly, youngsters Britni Bledsoe and Vanessa Mandelin are taking on a larger role for the Eagles girls.
"We're … working more as a team than before," Horsley said. "We don't get as many games but if we work hard in practice, we can do well at Far East."
The turnaround can be credited in part to a change in Edgren's athletics culture. Coaching continuity leads to players' understanding and execution, football coach Chris Waite said.
"We have some great coaching going on up here and a student body that's motivated," said Waite, who coached Edgren to its first Class A title in November.
"That was a big thing," he said.
Agreed Edmonds: "We had a good season last year and that affected football and that in turn affected us. It's a domino effect."
Waite said he intends to stay for a while, as does athletic director Jim Burgeson.
Thibert's been coaching boys basketball for six seasons and says he wants to stay for 10 more. No wrestling coach had stayed at Edgren for three seasons until Edmonds came along. Sarah Richardson is in her 18th season with girls basketball.
"We're trying to build for the future," Thibert said. "We have one eye on Far East, the other eye on the longer view."
---
---
---
---