Reservists get active in Kadena Klassic
---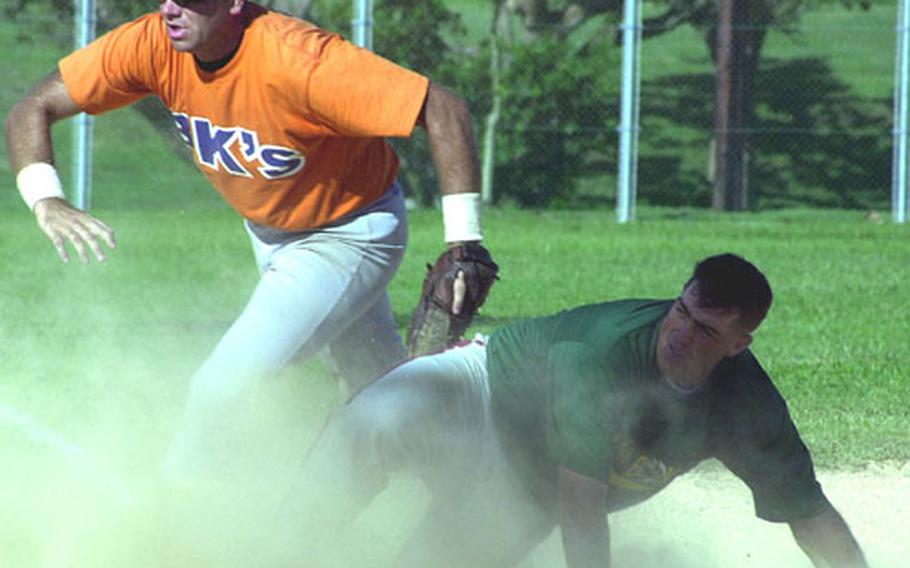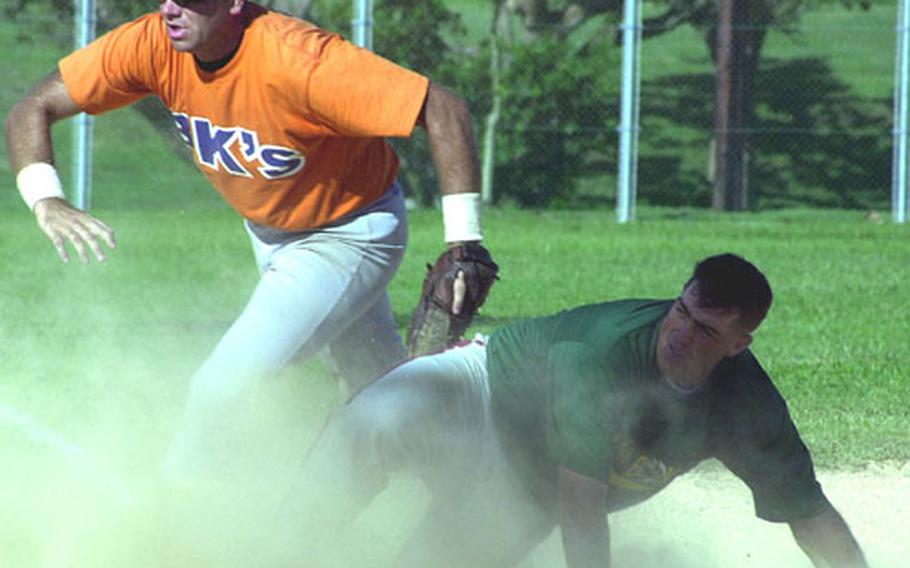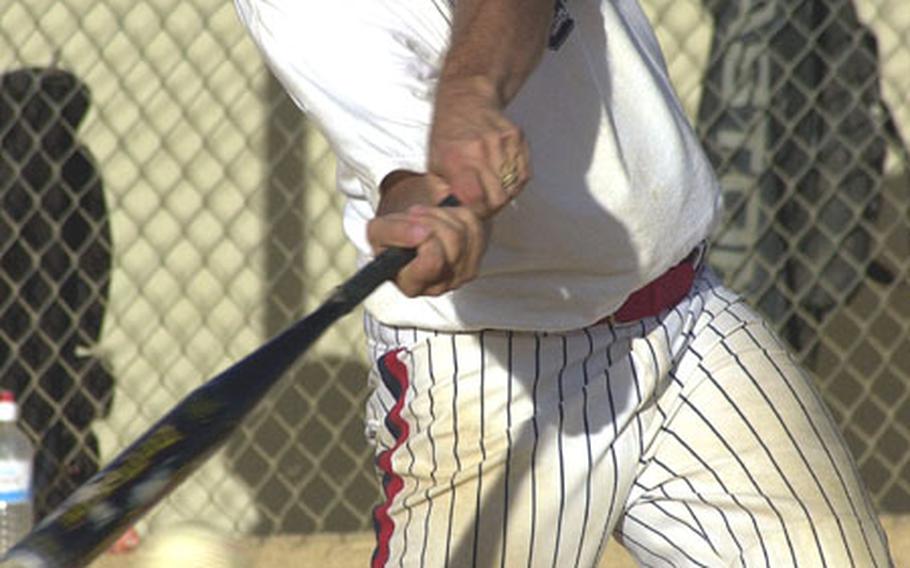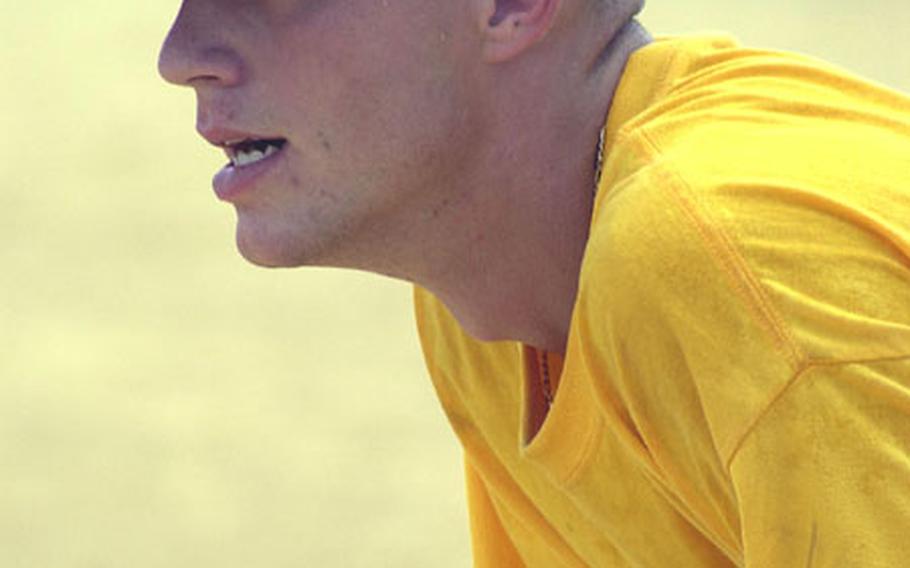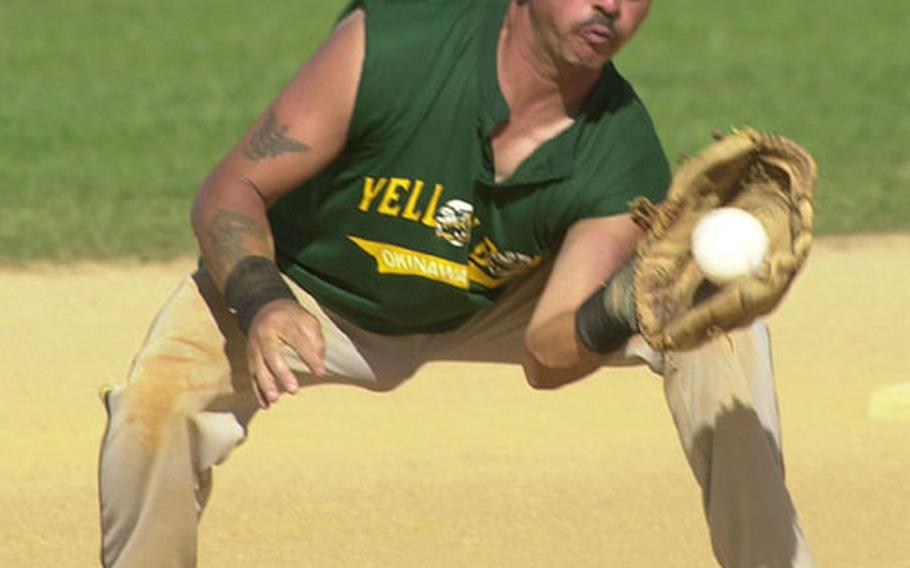 KADENA AIR BASE, Okinawa — Despite the 27-1 pummeling his Doc-n-Jocks team took against powerhouse Pacific Force in the 9th Kadena Klassic open interservice softball tournament, Terry Fawcett was still grinning from ear to ear.
Ever the optimist, Fawcett, the Doc-n-Jocks coach, couldn't help but look at the bright side.
"We gave them a good game," he said. "We all got to bat once. And hey, we got a run on them. First team to score on them in the tournament. And those 14 runs they got in the first inning, well, those came after we made two errors on plays that would have got us out of the inning."
No, Doc-n-Jocks is no threat to win the third stop on the Pacific interservice Grand Slam circuit.
But along with the Fighting Forty, another company-level team in the tournament, they have achieved a Grand Slam first. No team with players based in the United States and deployed to the Pacific had ever entered one of the tournaments.
"We didn't come all the way from the states just to play here, but … this is a little morale booster, for us to have some fun while we're deployed here," said Fighting Forty coach Paul Burns.
Doc-n-Jocks is comprised of Marines and Navy corpsmen assigned to the 1st Battalion, 25th Marines. The corpsmen, said Doc-n-Jocks player Tim McIntire, are a "melting pot of guys from all around the country," while the Marines hail from New England.
"We're filling a West Coast billet" in the Marine Corps' Unit Deployment Plan, Fawcett said, performing what he termed "ops tempo relief" in place of units sent to the Middle East for Operation Iraqi Freedom.
"Though we're activated reservists, we're just as active as anybody else," added McIntire, 36, a chief petty officer from Dayton, Ohio.
Aside from the usual training and support of the Marine mission on Okinawa, the 1st of the 25th is sending 19 troops to Iwo Jima, where the unit served as part of the amphibious-landing force that island-hopped throughout the region during World War II.
The Fighting Forty, meanwhile, is a unit of Seabees based at Port Hueneme, Calif., and deployed to Camp Shields, where it's performing 13 construction projects at various military bases on Okinawa, Burns said.
"We're working 60-hour workweeks," said Burns. "We're probably one of the smallest commands in this tournament. A bunch of us had to take leave to play in this. We have players ranked E-1 to E-7, a full command effort."
"I've been deployed here before," said Burns, 36, a petty officer first class from Stoughton, Mass., who was also stationed at Yokosuka Naval Base in the mid-1990s.
"But we've never participated in one of these. We're here to represent what little Navy there is on the island, and the Seabees themselves."
Likewise, Fawcett, 34, a petty officer second class from Duluth, Minn., said his club entered the Kadena Klassic to represent its unit and have fun.
"This is the biggest tournament on the island, so we said what the heck. Combine our forces and put together a team so we could come in and put a run up on Pacific Force," Fawcett quipped.
---
---
---
---