Reluctant goalkeeper gives Yokota rare sweep of ASIJ
by
Dave Ornauer
May 17, 2003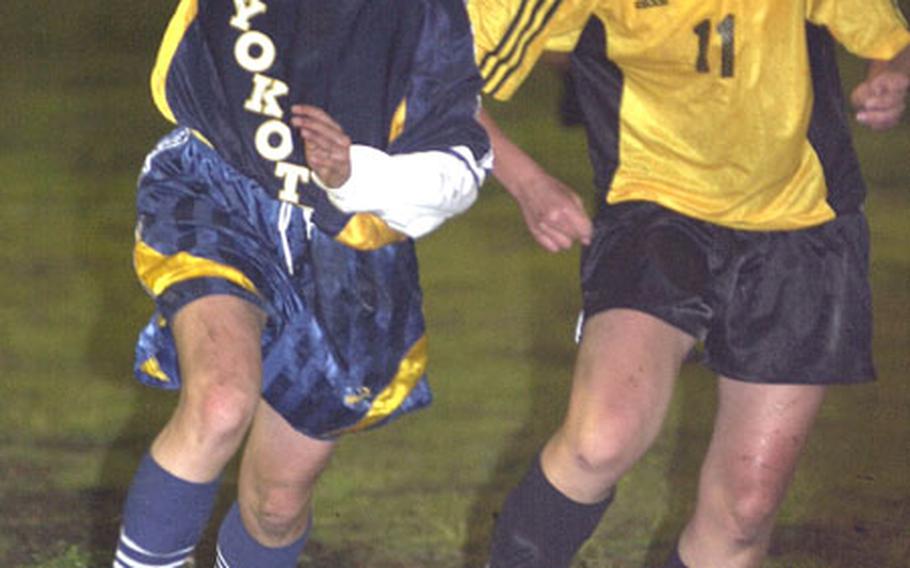 YOKOTA AIR BASE, Japan — Erika Fisher never played goalkeeper before this season. Never wanted to, either.
She's been a perfect fit for the Yokota High School girls soccer team.
Fisher posted a 2-0 shutout Thursday as the Lady Panthers became the first Japan team to sweep a season series from American School in Japan.
The Lady Panthers (10-7-1) own the second-best mark in Japan and finished second in the Japan Soccer League and Kanto Plain Association of Secondary Schools.
ASIJ (9-5-1) finished third in Japan and the Kanto Plain — ending a string of 13 straight Kanto championships.
"For somebody who didn't want to be goalie, she [Fisher] seems to have a knack for it," Yokota assistant coach Karen Lund said.
Fisher made 18 saves against ASIJ Thursday and 37 in the two-game series.
Fisher, who formerly played midfield and forward for Yokota, deflected credit.
"We played really well today," she said.
Why the reluctance to play goalkeeper?
"It's too much pressure," the senior said. "I felt that if we'd lose a game, it's the goalie's fault. I was really surprised at myself this year. It was pretty intense."
In a match played in the rain and mud at Yokota's Bonk Field, striker Shawna Vitarbo collected the only goal the Lady Panthers would need, in the 66th minute.
Attempting to play a loose ball as it approached the net, ASIJ goalkeeper Jessica Munter realized she was too close to the edge of the goalie's box. Rather than boot the ball out of danger, she tried to wheel around and pick it up inside the box but slipped to the turf.
She might have been distracted by Vitarbo, who approached the ball and Munter, yelling: "Don't kick it! Don't kick it!"
"She didn't bother me," Munter said. "I was going to pick it up, but I saw I was outside the line. I tried to get back but slipped and couldn't get back up. It was muddy out there."
In the clear, with only wet turf between her and the goal, Vitarbo said one thought passed through her mind:
"Don't shank it!" she said. "If I would have missed that, that would have been awful."
Vitarbo's goal was her sixth of the season. Five minutes later, Angelica Lopez sealed the victory by banging in a rebound.
It was Yokota's first game since losing all five of its matches in the Class AA Far East Tournament two weeks ago at Camp Zama. Yokota had won seven straight going into the tournament.
While the rest of Japan's teams convened this weekend at Atsugi Naval Air Facility for the Department of Defense Dependents Schools-Japan tournament, Yokota bowed out, citing a conflict with the school's prom Saturday at the New Sanno in Tokyo.
"This was our tournament championship," Fisher said.