Home team
Rejuvenated D-I field eyeing championships
---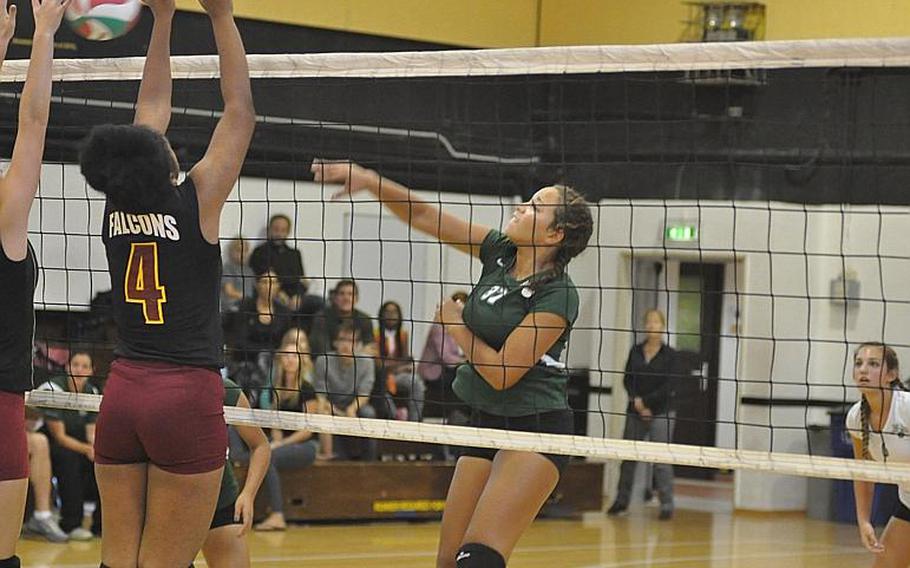 The division got a little bit bigger. The margin for error got much, much smaller.
That's the opinion of many DODDS-Europe Division I volleyball coaches one year removed from the divisional realignment that shook up the large-school ranks. With 12 months of perspective, the decision to rearrange DODDS-Europe's stagnating divisional lineup looks all the better.
Even for those coaches whose jobs have gotten a lot more difficult.
"I relish the increased competition," Vilseck coach Brian Swenty said.
The 2014 promotion of Naples and Vicenza from Division II changed the game for Division I teams old and new. Established powers such as Lakenheath, Ramstein, Stuttgart and Wiesbaden suddenly faced new and unfamiliar opponents, while Naples and Vicenza were forced to give up their dominance of Division II for a shot on the larger stage.
The result was one of the most compelling European tournaments in years, capped by a final day that featured Vicenza besting Ramstein for third place and Wiesbaden edging Naples in a classic five-set championship match.
That new level of competition has been evident again this fall, the first full season under the new divisional structure. Division I teams from Germany, Italy and the United Kingdom have taken turns pushing each other's limits.
In September, Vicenza hosted German rivals Vilseck and Stuttgart along with Naples. Stuttgart handled both Italian teams, while both Italian teams handled Vilseck.
Despite the two losses, Swenty said the visit to Italy was "a real treat," and that the intradivisional games "helps us all prepare for one another when Europeans roll around."
Not every team has had the luxury of seeing all of its future tournament opposition.
Lakenheath, which plays at the other geographic extreme from Italy, has seen only Ramstein and Wiesbaden so far this fall. But the Lancers have made the most of their time, splitting a pair of matches with the Royals, and they'll share a meet with Vilseck and Stuttgart on Oct. 24 at Kaiserslautern.
Defending champion Wiesbaden is the last unbeaten team in Division I, but it's also enjoyed a favorable schedule so far. The Warriors have tangled only with Kaiserslautern and Lakenheath, though games against Stuttgart Vilseck, Ramstein and SHAPE remain.
Ramstein has been in the trenches all fall, splitting series with Lakenheath and Stuttgart and handling Vilseck.
Even as they've found success against their fellow longstanding Division I opponents, the Royals know that the hungry Italian teams are waiting.
"It helps to stay humble knowing that we will have some unknown tough competition come tournament time," Ramstein coach Erin Markus said. "No matter what happens during our regular season, we will still have to fight for title rights in the end."
While teams like Ramstein and Wiesbaden are adjusting to a deeper collection of competition, the change has been even more dramatic for Naples and Vicenza. After years of battling for Division II supremacy, the two programs must now tangle against a half-dozen new schools, all of which are drawing from larger student populations than they are.
"We have had to up our coaching game," said Julia Byler, who coaches Naples along with husband Kenny Byler. "We are facing better competition, bigger blocks, stronger attacks, and more challenging servers."
Despite those new obstacles, the Wildcats are leaning on the same fundamentals that made them a Division II powerhouse, and very nearly an upstart first-year champion a year ago.
"Our approach to the game of volleyball is still the same," Byler said. "We have always focused on our team being the best it can be.
"We do not worry ourselves with the other teams."
With the second edition of the revamped Division I volleyball tournament just weeks away, however, the Wildcats – and the rest of the expanded large-school field – will soon have no other choice.
Twitter: @broomestripes
---
---
---
---