Reinforcements arrive at Yokota
---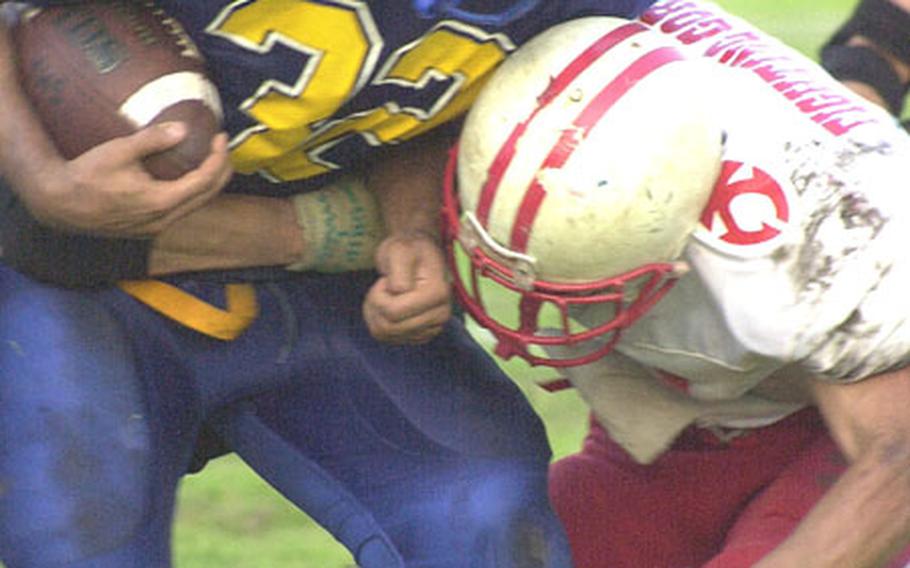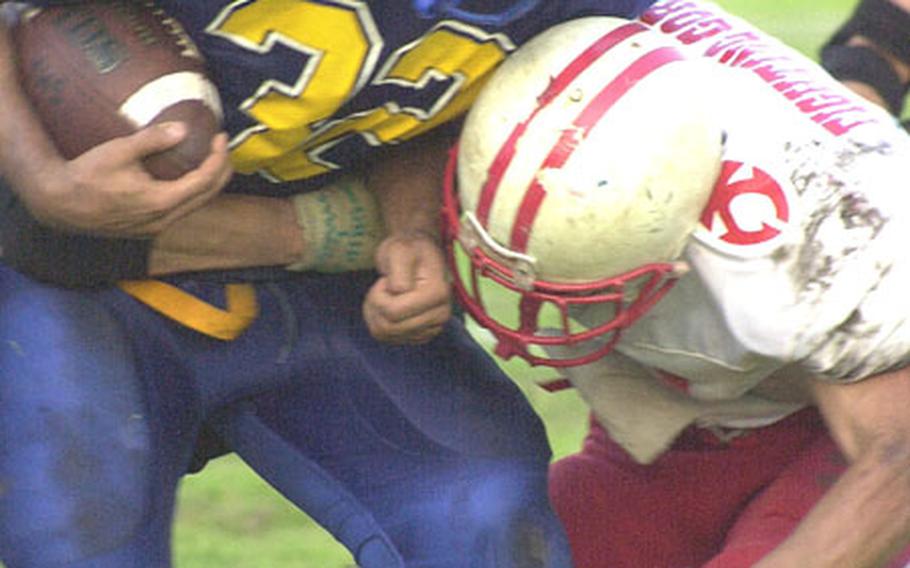 Great running backs seem to gravitate to the Yokota High School football program, and the 2003 season figures to be no different.
Just two weeks before the start of the Japan Football League season, a pair of fresh runners, described by Panthers coach Tim Pujol as "impact players," stepped off the plane and into the Yokota huddle.
Roy Roach, a senior, and brother Chris, a junior, have already made big contributions since transferring from Virginia.
In a 64-6 preseason romp Aug. 30 over the Urawa Mad Dogs, a Japanese team, Roy Roach amassed almost 300 all-purpose yards, ran for three touchdowns and returned an interception for another. Chris Roach picked off a pass and ran five times for 30 yards as the Panthers piled up 487 yards on 52 attempts.
"These kids are really great football players," Pujol said.
Just like old times for Yokota, which has won four straight Japan Football League and Kanto Plain Association of Secondary Schools titles and three consecutive Rising Sun Bowl All-Japan championships.
Pujol, in his fifth season at Yokota, hopes his newest discoveries will follow in the footsteps of Mike Chamberlain (2,087 all-purpose yards, 23 TDs in 2002) and Darren Taylor (1,802 rushing yards in 2001) and keep Yokota's ground machine rolling.
"I expect them to be impact players of that caliber," Pujol said.
Roy Roach becomes the team's featured back and will also see time at linebacker. Chris Roach steps in at wingback and flanker, and will start at free safety.
"They give us more depth, and they're impact players," Pujol said. "They'll help us in every phase of the game."
After hearing about Yokota's latest talent infusion, Nile C. Kinnick coach Robert Stovall, whose team was the last to win the Kanto Plain title before Yokota's run, rolled his eyes.
"Tim didn't need any move-ins," he said.
Now in his 10th season with the Red Devils, Stovall, with four Kanto Plain titles from 1995-98, said great athletes aren't the only reason for Yokota's success.
"They've had good talent and good coaching," Stovall said. "Plus, the momentum from winning carries over."
Pujol arrived at Yokota in 1999, and has kept a core group of assistants, such as Matt Grant, with him throughout his tenure.
"We have consistency in our coaching staff and our approach to what we do. The program has a solid basis for success," Pujol said. "And we've been blessed with fine athletes."
Pujol is more optimistic than he was two weeks ago, with just seven returning players and a quarterback, Shawn Novak, who has never played football before.
Another title for Yokota is hardly etched in concrete.
"But 80 percent of our group right now was part of our jayvee program last year, and they're used to winning," Pujol said.
"It's a matter of fine-tuning their skills and increasing their understanding and execution. It'll take work and time, but this team has the potential to be a champion."
But so does Zama American, which welcomes back 18 starters from last year's 5-5 team.
Stocked with experience and size — the line averages 240 pounds — the Trojans hope to overcome the lack of focus that's historically plagued them. After starting strong, Zama has tended to fold after a crucial defeat.
"There was something to be desired last year," second-year coach Ron Geist said of the team's spirit. "Our captains this year are working hard and they have the desire to succeed. If we stay healthy and if we stay together, we can do it."
Stovall could say the same about Kinnick, which has also enjoyed an influx of solid talent, including senior lineman Jacob Parker (from Texas) and brothers Brenden and Leonard Lynce (Virginia).
His line, averaging 6-foot-1, 210 pounds, is comparable to the front Kinnick had when it captured the Kanto title in 1996.
"We have the squad, talent-wise," he said. "If Kinnick meshes and gels, we could certainly give [Yokota] a run for their money."
Those three teams, along with rebuilding squads from Robert D. Edgren of Misawa Air Base and Matthew C. Perry Samurai of Iwakuni Marine Corps Air Station, begin the season Friday, when Yokota visits Zama and Edgren travels to Kinnick.
The five JFL teams play a double round-robin schedule, carrying through to Nov. 8. The JFL team with the best record will travel to Okinawa for the 5th Rising Sun Bowl, hosted this year by the Okinawa High School Athletic Association champion.
Zama, Yokota and Kinnick also compete with the American School In Japan for bragging rights in the Kanto Plain. ASIJ, an independent international school, is not eligible for the Rising Sun Bowl.
---
---
---
---