Home Team
Rededicated Yokota becoming a sports power
by
Dave Ornauer
November 16, 2011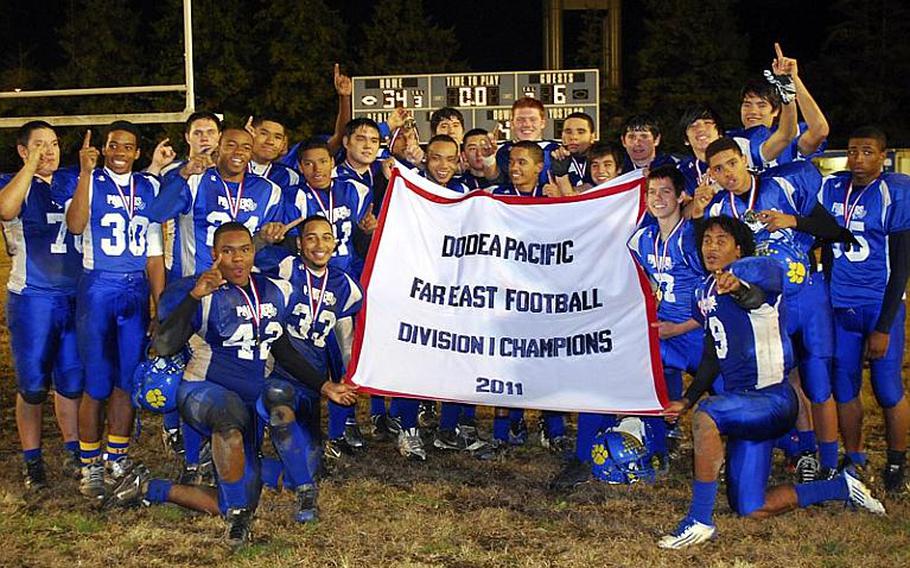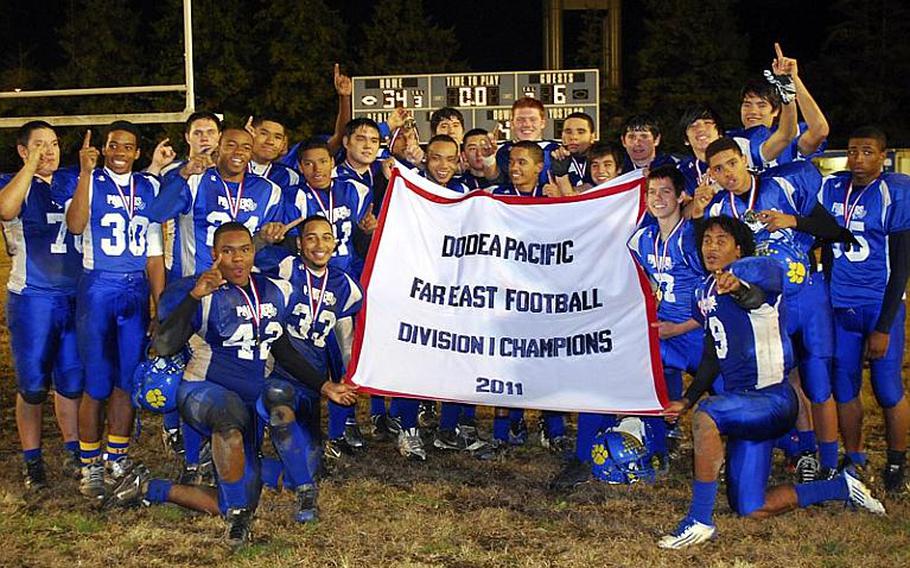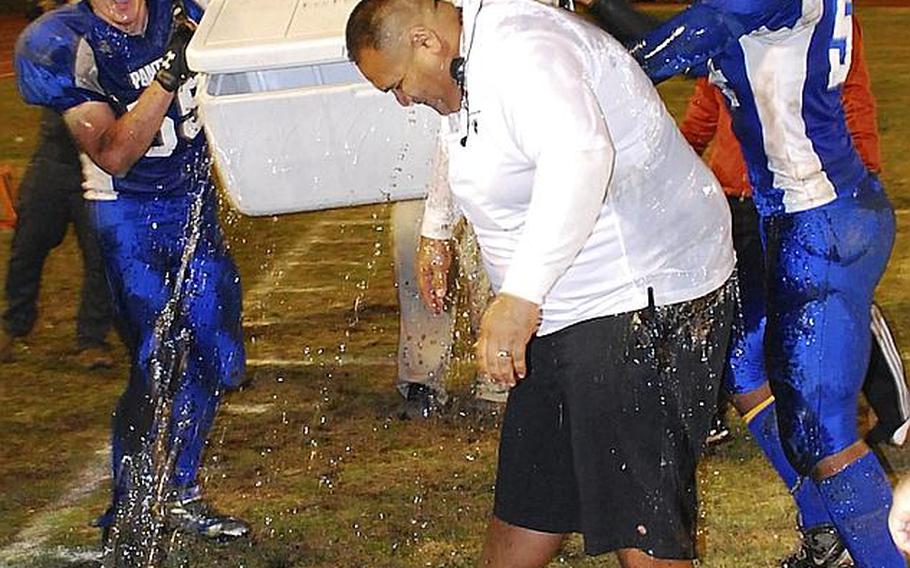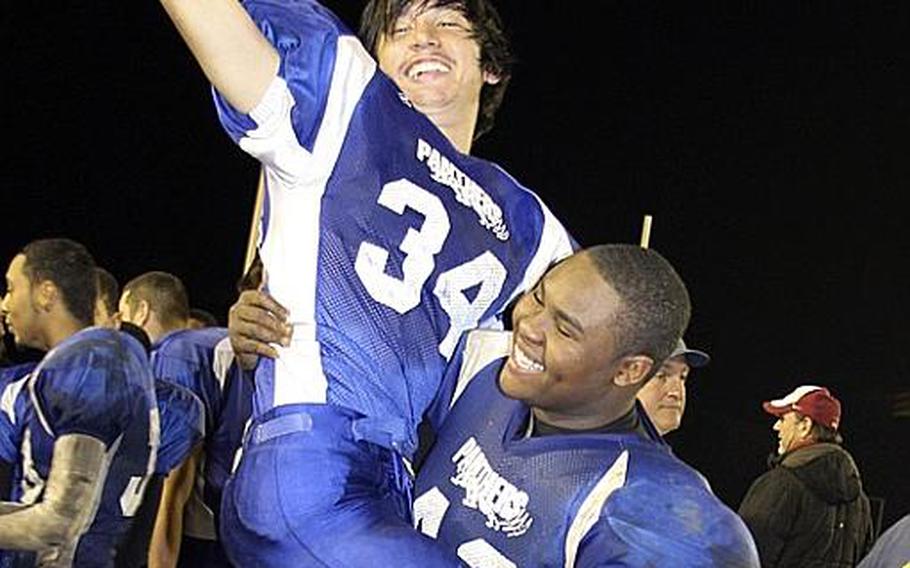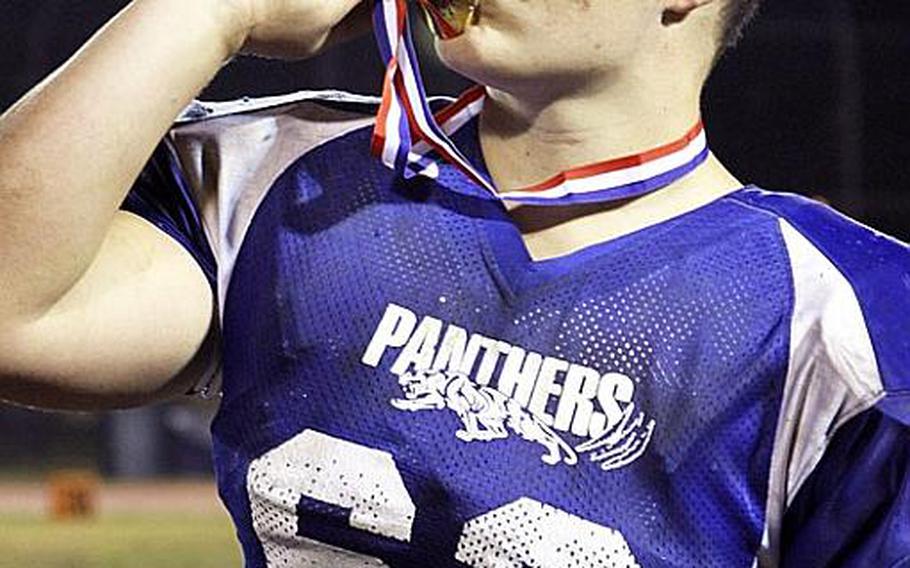 This article has been corrected
YOKOTA AIR BASE, Japan – Never had a win felt as hollow for Tim Pujol.
It was Nov. 14, 2009. Yokota had just beaten Guam High 24-7 in the DODDS Far East Division I third-place football game.
It felt like a consolation prize for a team that went 6-4, Pujol's worst record in 12 seasons. Yokota's 10-year DODDS Japan and Kanto Plain Association of Secondary Schools title streaks ended. Yokota had lost in the D-I semifinals each year except one since 2005.
Worse, "I didn't enjoy battling the kids on the team," Pujol recalled.
Enough was enough, he thought as he and the Panthers made their way to their quarters on Okinawa's Camp Foster. There, he gathered the team's non-seniors, including freshmen who would form the current team's core.
"We decided we were going to change the team's climate, atmosphere and approach," Pujol said. Weight training, conditioning and film study would be year-round on a voluntary basis, not just mandated in season. Team chemistry would become a priority as much as seeking out talented players.
Two more DODDS Japan titles and the 30th Kanto Plain crown in 38 seasons followed. More importantly, for the first time in school history, Panthers nation finally crowned itself D-I champions last Saturday, beating Kubasaki 34-6 in front of a joyous home crowd.
"It all turned around at the end of that season," Pujol said.
That bellwether meeting featured those who counted up front for Yokota, a line which, from tackle to tackle, weighed 205 pounds or more each, Jake Jackson, Jesse Hogan, Jerrell Fuller, Victor Madaris, Dylan Kessler and Max Lester.
They plowed the road for the likes of junior Morgan Breazell (1,022 yards, 121 carries) and rookie Tre Bailey (765, 57) and helped the Panthers outscore opponents 380-64.
More than that, Pujol said, was the team's "attitude, commitment and responsibility" to each other. "It was a joy to go to practice with them every day. And it just so happens they like being with each other. There were no divisions in the locker room."
In adversity, whether it was the team's lone loss 13-9 at American School In Japan on Sept. 30, or a blocked punt that led to a touchdown that gave Kadena a brief lead 6-0 in the Oct. 29 D-I semifinals, "it was how they responded," Pujol said.
The ASIJ loss "showed us areas where were could improve and showed us we weren't invincible," Pujol said. "We ironed out the problems and made ourselves a better team."
Yokota answered Kadena's touchdown with 42 unanswered points. "This group held themselves together, realized there was a lot of football left to be played and nobody panicked," Pujol said.
"They're a great group of kids, none of them suspect for bad grades or behavior," principal Darrell Mood said.
"These kids were in the gym all summer. You're pleased and honored that they're successful because they bring honor to the school. And look at their Terra Nova scores. Look at their SAT and ACT scores. I'll put up those report cards against anybody's."
Football wasn't the only beneficiary of a turnaround this fall. Yokota's girls tennis team won its first Kanto Plain regular-season and tournament title in school history and tied Kadena for the Far East title. In volleyball, the Panthers tied for second in DODDS Japan, their best regular-season finish since 2004.
"Success breeds success," Mood said. "Success in one venue translates to others. Numbers are up in all sports. Grades are up for all athletes. The system is in place for them to be successful."
"Along with the enormous amount of talent, you had their dedication to the sport," tennis coach Tommy Palmer said of players like DODDS Japan and Kanto doubles champs Anju Yamanaka and Misa Brophy, among others who played year-round and took lessons at off-base clubs.
"This was a good starting point for putting Yokota volleyball back on the board," first-year coach Kim Futrell said. Veteran junior players such as Sydney Glover and Cora Argallon will return next season.
So, too, will 19 of 22 starters be back for a Yokota football team, Pujol said.
"It doesn't mean the previous six years were a failure; just this year, we had a convergence of talented players, hard work and home field," he said. "From that meeting on Foster, with all these guys who are now juniors to see the hard work they've put in is really satisfying."
CorrectionMorgan Breazell's statistics were incorrect in an earlier version of this article.
---
---
---