Red Raiders ride big plays to victory
---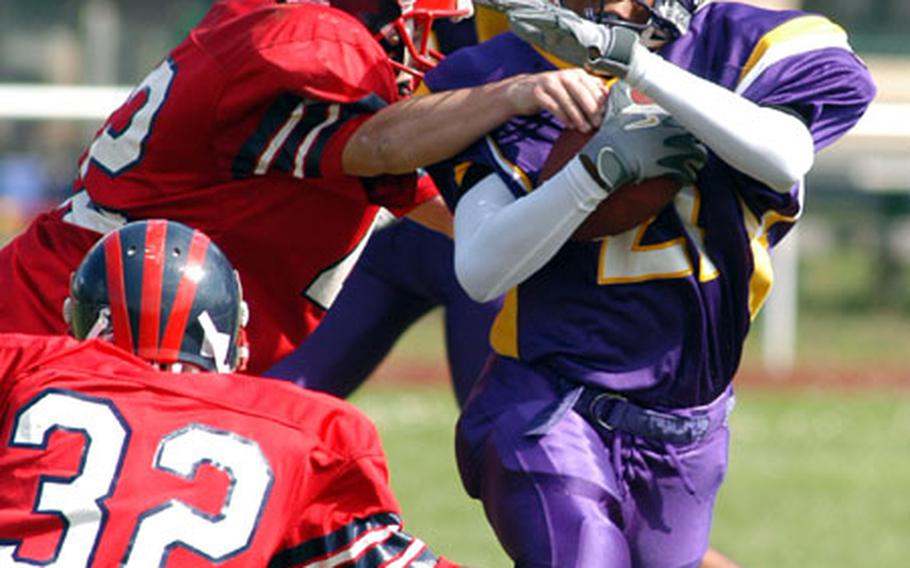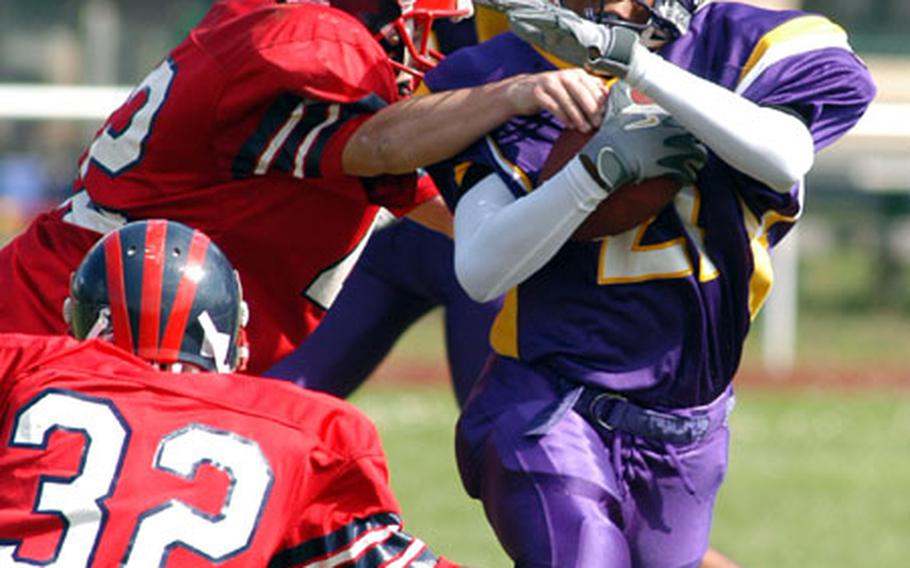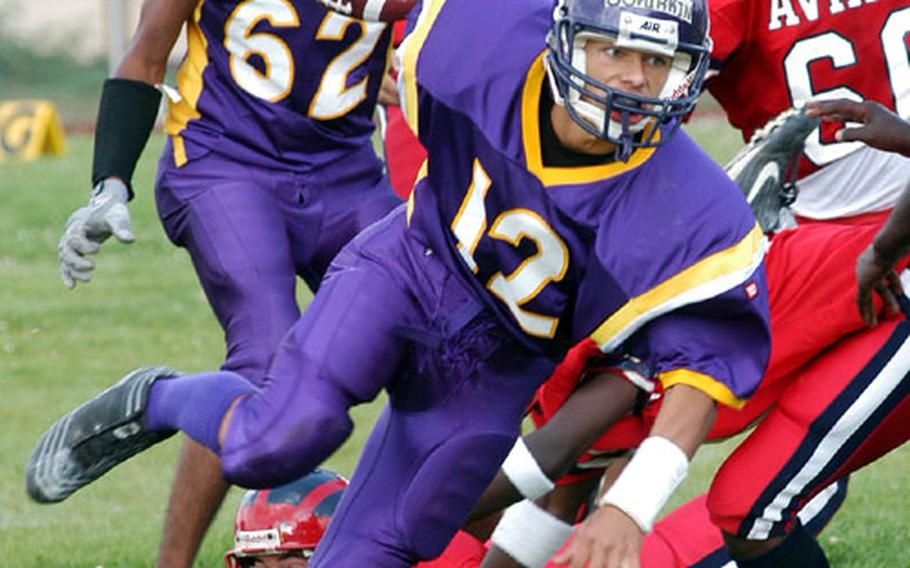 HEIDELBERG, Germany — Three decisive plays by the Kaiserslautern Red Raiders made the difference Saturday in a 20-16 nonconference Division I victory over the Heidelberg Lions.
With K-town trailing 10-0 with eight seconds to play in the first half, Andre Kennard intercepted a T.J. Trice pass on the Heidelberg 37-yard line. On the next play, quarterback Danny Morris found Alex Gentile for a 37-yard touchdown that sent the teams into the locker room at 10-6.
The Raiders took their first lead when Corey Peyton broke up the middle for a 99-yard TD with 2:47 left in the third quarter. Peyton rushed for 152 yards.
The Red Raiders upped their edge to 20-10 in the final quarter when Lavell Sanders cashed in a fumbled punt.
Heidelberg countered with an eight-play, 66-yard scoring drive capped when T.J. Trice hit brother Nick with a 10-yard pass.
In other nonconference D-1 games Saturday:
Ramstein 34, Würzburg 12
RAMSTEIN AIR BASE, Germany — Quarterback Matt Irwin ran for 172 yards and two touchdowns and intercepted a pass to set up a third score to lead the Royals.
Rance Jones added two TD runs as the Royals ended the five-game winning streak of three-time defending European Division I champion Würzburg.
Chris Speer added a 20-yard TD for the Royals.
Würzburg took an early 6-0 lead on Salvador Meña's fumble return. A fumble recovery also led to Würzburg's second TD, a two-yard run by James Jordan, who rushed for 107 yards.
Brian Greeley led Ramstein with 12 tackles.
Wiesbaden 26, Lakenheath 14
WIESBADEN, Germany — Edmond Woods, behind the lead blocking of fullback Dan Villareal, ran for 129 yards and three touchdowns as the Warrior ground game dominated the clock and the scoreboard.
Wiesbaden took a 26-0 halftime lead on Michael Floyd's 15-yard interception return for a TD and scoring runs of 10, 27 and 10 yards by Woods.
"We only ran two plays all day," Wiesbaden coach Darryl Schwartz said, "off-tackle and a sweep."
Lakenheath scored all its points after halftime — a 12-yard run by Isaac Kiddell and a two-yard plunge by QB Justin King.
Division II
SHAPE 42, Bitburg 13
SHAPE, Belgium — Ryan Rice passed for four touchdowns and ran for another as the SHAPE Spartans throttled visiting Bitburg.
Rice connected with Joe Puttman for scores of 31 and 37 yards and with Bryan Farthing for an 11-yard scoring strike as SHAPE turned an early 7-0 deficit into a 21-7 halftime edge.
Rice completed his opening day by plunging in from a yard out for a fourth TD, then hooking up with Kodiak Reed for a 26-yard TD pass.
Rice was 8-for-10 for 116 yards.
Brandon Glenn carried 21 times for 199 yards as SHAPE amassed 344 yards of offense.
Bitburg's TDs came on a nine-yard run by Tom Mueller in the first quarter and a 10-yard pass from Trey Wilson to David Murray in the fourth.
Vilseck 28, Patch 22
VILSECK, Germany — The Falcons rode a pair of interceptions by Aaron Vernon and three rushing touchdowns by Monsell Carty to a come-from-behind victory.
Carty, who rushed for 119 yards on 16 carries, scored on a 23-yard run and quarterback Anthony LeVasseur hit Steven Tracy with a five-yard scoring pass as the Falcons erased a 14-0 first-half deficit.
After a scoreless third quarter, Carty ran 28 yards for the go-ahead score, and one yard for the game-winners as Vilseck went up 28-14.
Patch took a 14-0 lead on David Kennedy's 17-yard run and a 20-yard TD pass from J.D. Lindsay to Kennedy. The Panthers also got a 20-yard scoring toss from Lindsay to Charles Menchez.
Lindsey was 11-for-20 for 111 yards, and Kennedy rushed for 113 yards.
Mannheim 30, Aviano 16
MANNHEIM, Germany — Sophomore quarterback Alex Sokirkin passed for two touchdowns and ran for two more as the Bison pulled out a victory over the Saints.
Sokirkin, making his first start for the Bison, found Andre Proctor for a 12-yard scoring pass that made the halftime score 8-8. He opened the second-half onslaught with a two-yard TD run and followed that with a 41-yard scoring strike to Matt Brown that upped Mannheim's edge to 22-8.
Aviano, which had scored its first-half points on a 35-yard run by Dustin Miller and a Jordan Kelsey tackle-for-loss safety, responded with a 17-yard TD pass from Kelsey to Miller.
Sokirkin ran 12 yards for Mannheim's final TD. He was 12-for-20 for 142 yards.
Eric Mayfield ran for 104 yards on 21 carries, and Gary Smalls intercepted three passes for Mannheim.
Division III
Ansbach 46, Giessen 6
ANSBACH, Germany — Jon Austin ran for 149 yards and scored two touchdowns to lead the defending European Division III champ Cougars to a Division III-South victory.
Austin, who ran for one score, also caught a 19-yard touchdown pass from Shawn Bachtel.
It was Ansbach's 11th consecutive victory dating to 2001.
The scoring pass was one of three touchdowns by Bachtel, who also found his brother, Brandon, for a three-yard score, and hit Russell Bailey for a 20-yard TD.
Bachtel was 5-for-9 for 55 yards.
Dameon Outley added 84 rushing yards, on five carries, including a 53-yard TD run in the fourth quarter.
Giessen scored its TD in the fourth quarter, when quarterback Mike Waters ran in from four yards out.
Bamberg 26, Baumholder 0
BAMBERG, Germany — Christian Peel scored on touchdown runs of 15 and 60 yards as the Barons blanked Baumholder.
Miguel Lozada and Ben Woomer added 10-yard scoring runs for Bamberg, which amassed 432 yards.
Brian Knotts was credited with 20 tackles for Bamberg.
Hohenfels 18, Vicenza 6
HOHENFELS, Germany — Quarterback Kyle Macwillie broke free for a 63-yard TD run and passed 27 yards to Richard Helsham for a second touchdown for the Tigers.
Macwillie accounted for 194 of Hohenfels' 274 yards.
Brandon Merriweather added a two-yard TD run for Hohenfels.
Eric Lane carried 16 times for 115 yards for Vicenza.
Brussels 46, Rota 6
ROTA, Spain — Brussels used dominating field position to take a 26-6 halftime lead.
Rota scored its TD on a 32-yard pass from Donte Brucchi to Steve Lilly. Mike Hall rushed for 96 yards and made 14 tackles for the Admirals.
London Central 27, Menwith Hill 18
MENWITH HILL, England — Jeremy Tibbets threw a pair of TD passes to Andrew Cusumano and a third scoring strike to Thomas Foxxy as the Bobcats rebounded from a 6-0 first-quarter deficit.
After Menwith Hill ran in a recovered fumble from five yards out for the only score of the first quarter, Foxxy scored from 25 yards out to pull the Bobcats even. Tibbets followed with a 20-yard toss to Cusumano for a 14-6 halftime lead.
Menwith Hill closed to 14-12 on Mike Bailey's two-yard run in the third quarter, but Tibbets put the game away with a 22-yard toss to Cusumano and a 10-yard strike to Foxxy.
Andrew Huntley, who was 6-for-11 for 130 yards, answered with a 9-yard pass to Kevin Hershey.
---
---
---
---