Far East D-I football | Gallery
Red Devils cap perfect season with championship
by
Dave Ornauer
November 10, 2018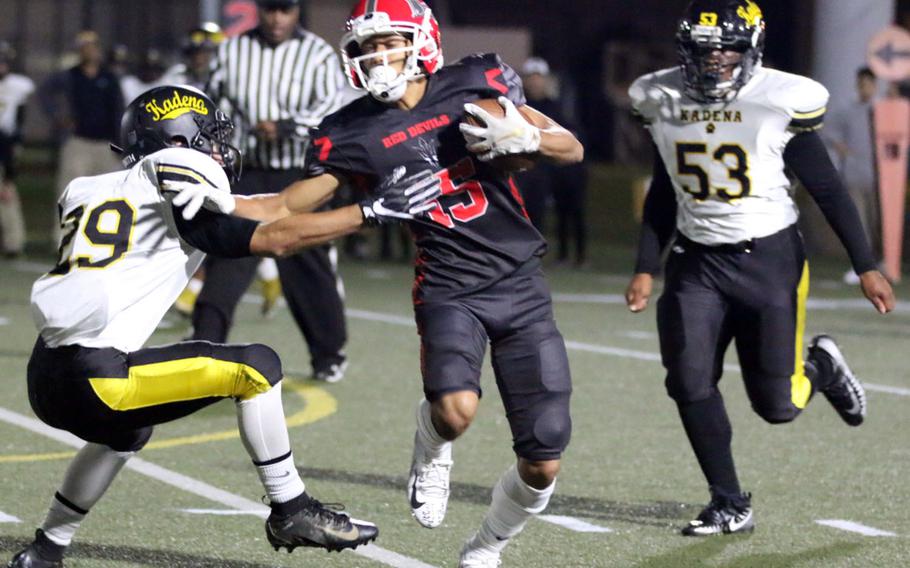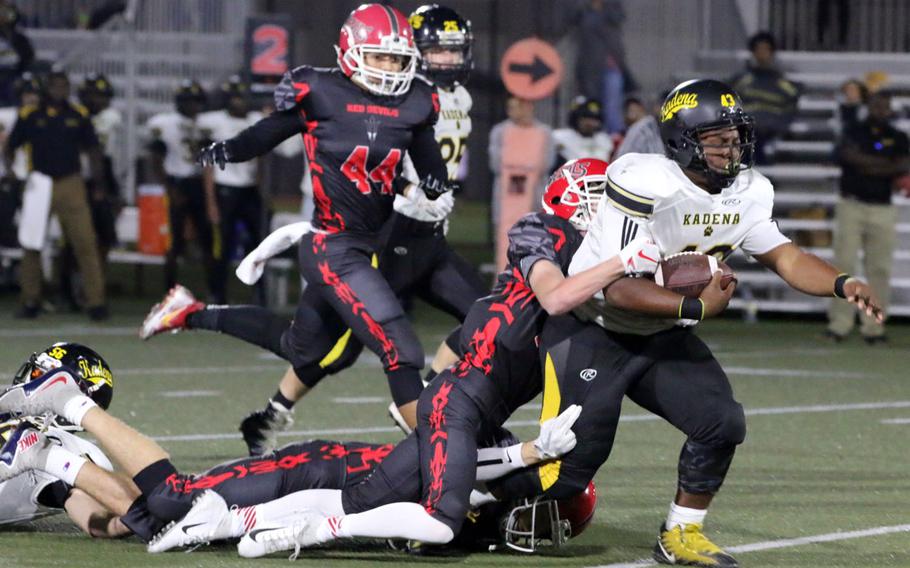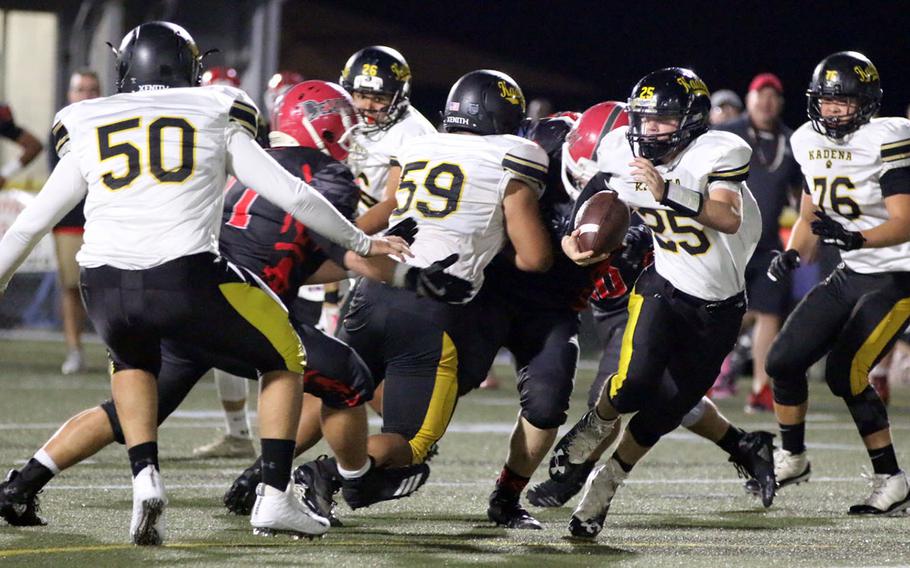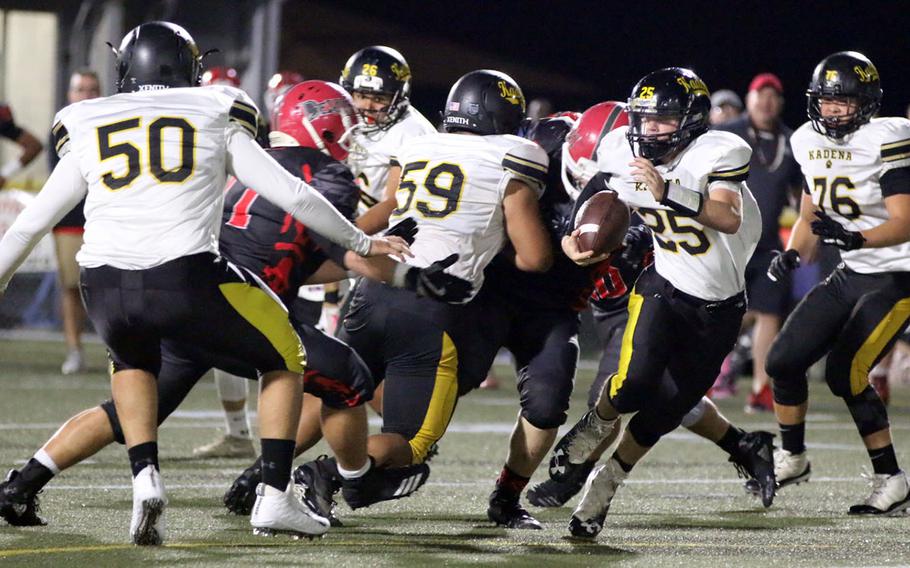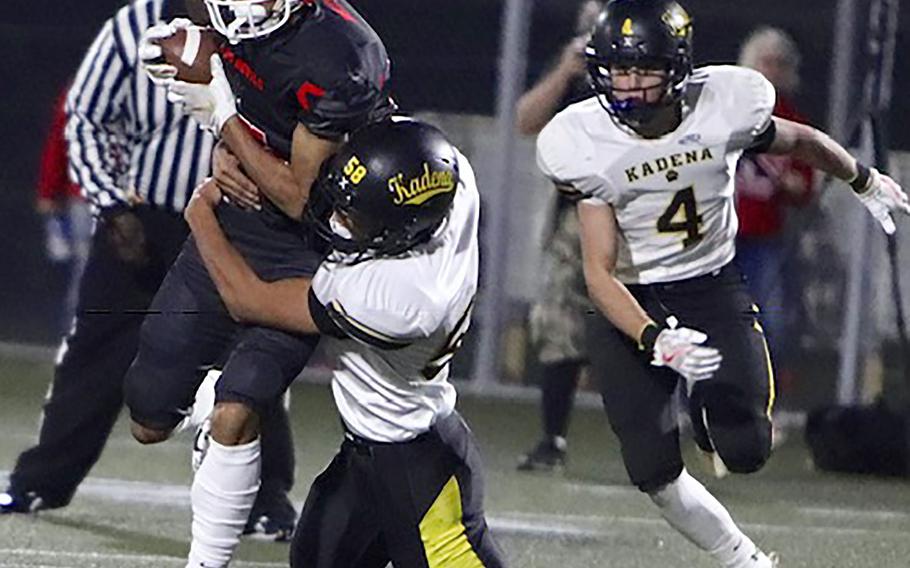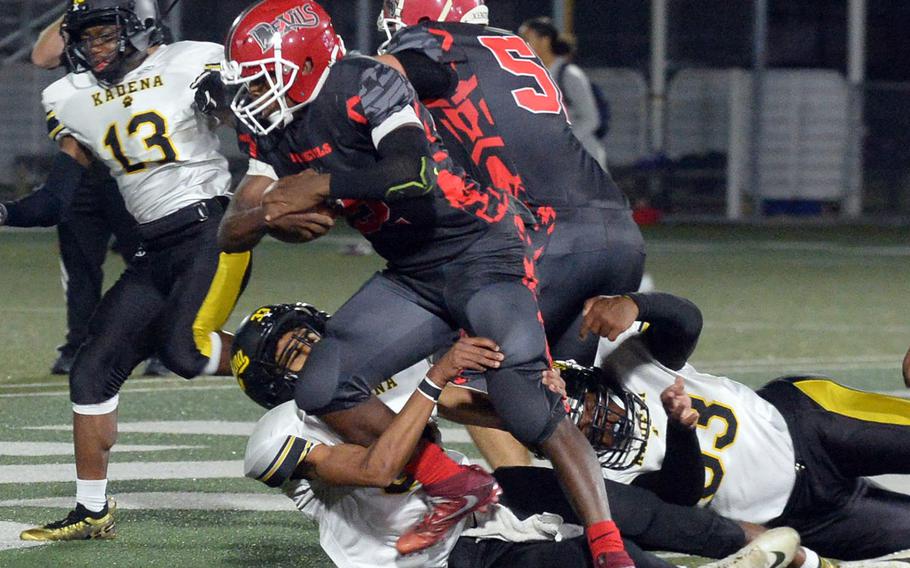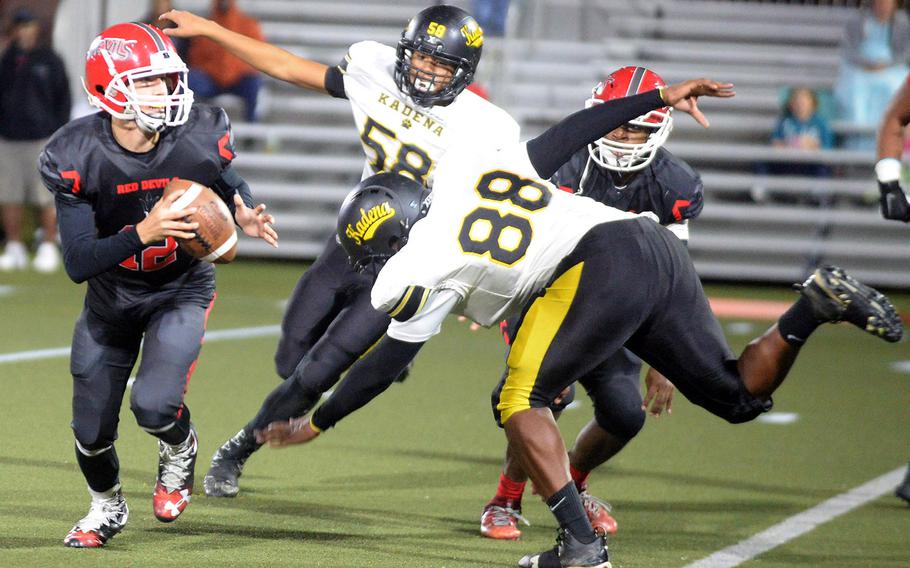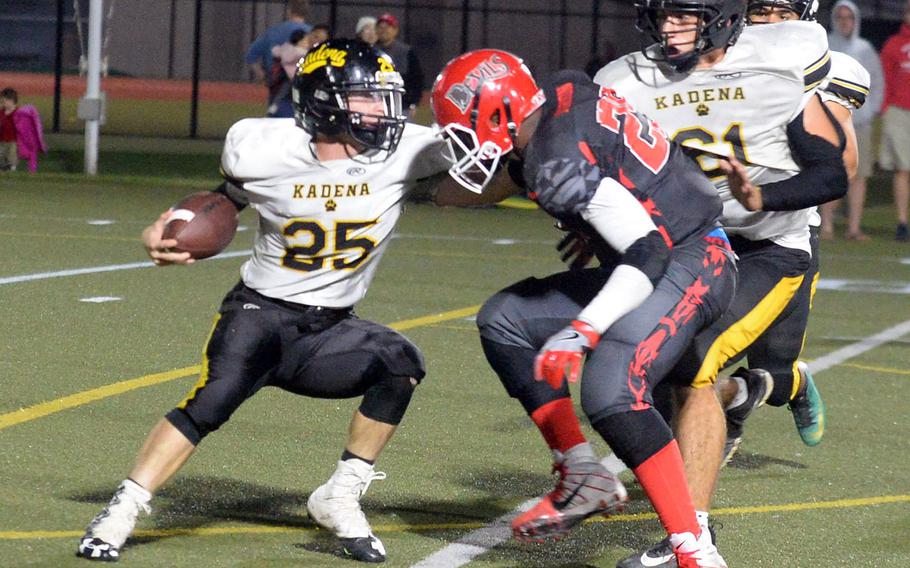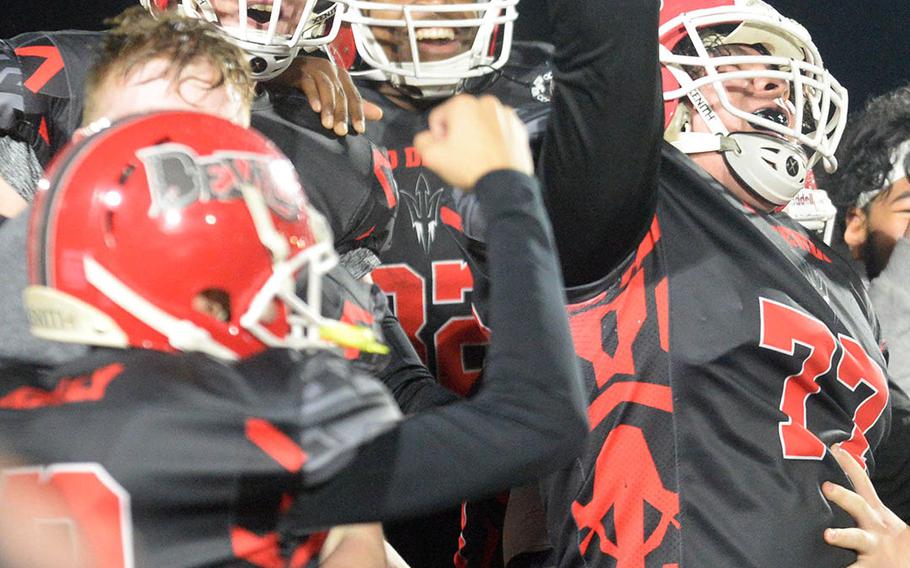 YOKOSUKA NAVAL BASE, Japan — Travion Morton set the table with a game-opening kick-return touchdown. Chris Mason slammed the door with a pick six in the closing minutes. In between, Patrick Kelly added healthy doses of passing to help keep the points coming.
Together, they helped Nile C. Kinnick capture the one championship that's eluded the 72-year-old program – a Far East Division I title. The Red Devils earned that grail by bursting in front early, then holding off defending champion Kadena 38-20 on Saturday.
It was a victory just a year in the making, coach Dan Joley said – 54 weeks after the Panthers edged the Red Devils 23-22, scoring on the last play of the game to capture their Pacific-record sixth Far East D-I title.
"These kids truly understand the value of football, they understand what it's like to bounce back from a setback, to set a goal and work toward achieving that goal," said Joley, in his ninth year at the Red Devils' helm.
The Far East playoffs began in 2005 and the Red Devils had not even appeared in the title game until last season.
The Panthers were in their Pacific-record 11th appearance in the title game, and had plenty of adversity to overcome, starting with a right-thigh injury to senior quarterback Eric McCarter. It limited his mobility and, in turn, Kadena's offense.
"We had too many missing pieces, we were trying to create things that we didn't do before," Panthers coach Sergio Mendoza said. "Kinnick is a great team. They were better coached, they did a better job and they wanted it more than us. They deserved it more."
Morton caught the opening kickoff at the Red Devils' 12-yard line, moved left, spotted an opening and ran 88 yards to give Kinnick the lead.
"I told Trey he was in for a special night, and he was," Joley said.
"I didn't see the opening at first," said Morton, a transfer from Tennessee. "When I did see it, I had to take it. When I did, I knew the game was in our hands."
Morton finished the season with 914 yards and 13 touchdowns on 101 carries. He scored twice on the ground in the first half and Zach Kornegay caught a TD pass from Kelly, offsetting a 32-yard TD run on a reverse by Kadena's Wyatt Knopp.
It was 28-6 Kinnick less than a minute into the second quarter. From there, McCarter gave way to Knopp, who began the season at quarterback for Kadena and would finish the season as such.
Knopp helmed a 15-play, 77-yard drive over 7:39, scoring on a 2-yard run to cut the lead in half 3:24 before intermission. Trent Fawler's 67-yard pick six for Kadena midway through the third quarter trimmed the margin to eight points.
It was as close as the Panthers would get. Dan Burke boosted the lead to 31-20 with a 28-yard field goal. With 1:24 left, lineman Chris Mason intercepted Knopp and ran 8 yards for a pick six.
"It was amazing," Mason said, adding that he didn't see the ball until it "arrived in my hands, and I knew what I had to do."
Morton had 68 yards on 11 carries. Kelly finished 13-for-24 for 205 yards. Chris Watson caught six passes for 116 yards. Gabriel Stravers also had an interception for Kinnick.
Kelly, a junior, finished the season 75-for-140 for 1,294 yards and 17 touchdowns.
"This season and tonight's game was the result of Patrick managing all the weapons that he had," Joley said.
It was also a proud father moment for Joley, whose twin senior sons Cameron and Connor suited up in Red Devil uniform for the last time. "What better way to win a championship than with my two sons playing their last high school game?" Joley said.