Records broken in Munich swim meet
---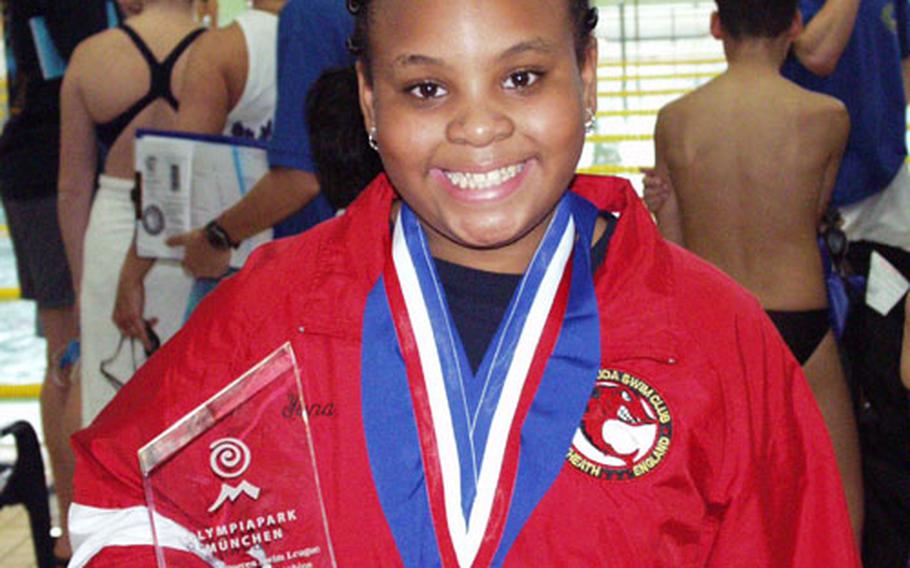 MUNICH, Germany — Some of the 580 competitors who qualified for the annual European Forces Swim League championships at the Olympic pool here on Sunday were swimming for records.
Others were swimming to fill the void left by parents whose business took them to Iraq instead of Munich.
Count 10-year-old Yona Simons of Lakenheath in the first group, and Sandy Wood and Mary Ragan of Würzburg, who raced with "I'm swimming for my Daddy" written on their backs, in the second.
And then there was 8-year-old Wiesbaden Wahoo Sydney Shields. She was doing both, superbly, as she broke two EFSL age-group records.
"She was swimming for her mom, Lt. Col. Brenda Andrews," said Shields' father, Larry. "Her mother is the commanding officer of the 55th Personnel Services Battalion, 1st Armored Division, in Baghdad."
Sydney Shields finished the 50-meter butterfly in 46.66 seconds, obliterating the league record of 50.67 set in 2002. She also set a league mark in the 50-meter backstroke with a time of 47.03, surpassing the old standard of 48.11 set two years ago.
Her records came as no surprise since her qualifying times in both events, although achieved on faster short courses than the 50-meter pool used Sunday, were well under the old records.
"She's broken those records five times this season," her father said.
"I've been swimming since I was 16 months old," said Shields, a third-grader at Argonner Elementary School in Hanau. She loves her sport so much she watched the closing awards ceremony immersed in the pool where she also won the 50-meter freestyle in a near-record time of 39.16.
Simons, who swam the 50-meter backstroke in 37.66 to erase a 1986 record of 38.86, also flirted with another record Sunday. She won the 50 breaststroke in 44.82, a few seconds off the 1981 mark of 41.48.
"My dad and Coach Pete [Peterson] were yelling at me, 'Come on. You can do it!'" she said. "But it kind of got away at the end."
Simons, who arrived at Lakenheath eight months ago from Southern California and dreams of swimming for Stanford University, enjoyed celebrating her record feat as much as she did accomplishing it.
After all, she set her first record when she was 6, she said, so that part of the deal was old hat.
"What made it so fun was that my dad was hugging me and my coach was hugging me," she said. "I didn't know I had a record until they told me."
Toppling a fourth record Sunday was Naples Tiger Shark Micah Saspa, who lowered the girls mark in the 50 butterfly for 9-year-olds from 42.01, set in 1999, to 41.76.
Ragan and Wood didn't set any records, but both turned in superior performances 10 days after their fathers deployed to Iraq.
Wood won three individual events to earn the high-point trophy for the 11-year-old girls.
"This is just great for them," Wood's mother, Cathy, said. "It keeps them busy."
The Wood family found the EFSL long before deployment ever came about, Cathy said.
"This is just a great program," she said, sweeping her hand toward the legions of swimmers and volunteers who did a fair job of filling the venue where Mark Spitz won seven gold medals in the 1972 Olympics.
"Our kids have played all the sports," she said, "but they get the most out of this one."
---
---
---
---