Volleyball preview
Realignment creates new opportunities
by
Gregory Broome
September 12, 2019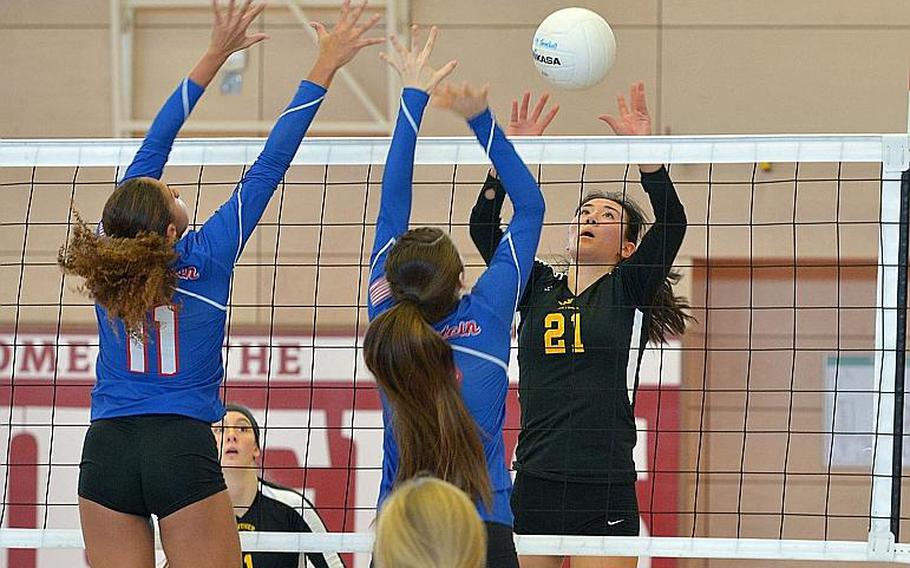 The effects of this summer's DODEA-Europe realignment will be felt first on the volleyball court.
The decision to move Black Forest Academy to Division I, send Italian schools Naples and Vicenza back to Division II and shift AFNORTH down to Division III shakes up each division's hierarchy, playing particular havoc with the Division II power structure.
Teams took their first steps onto the new landscape with preseason meets on Sept. 7; this Saturday's slate marks the official start of the regular season, which runs through Oct. 26. The European championship tournaments run Oct. 31 through Nov. 2 in the Kaiserslautern Military Community.
Division I After years of championship-level performance at the Division II level, including a European runner-up finish a year ago, BFA now finds itself among the DODEA-Europe giants.
BFA athletic director Sam Stemple said the program was "really shocked at first" when it learned of its promotion. But the international school, which has long played primarily large-school opponents in the DODEA-Europe regular seasons and was the rare Division II outfit with the numbers to field junior-varsity teams, is well-equipped for the challenge. And the Falcons are certainly willing to do their best to compete.
"Our school wants our sports programs to be about more than just winning and losing," Stemple said in June, soon after the announcement was made. "If playing D-I teams gives us a better opportunity to build character and instill growth in our athletes, then we are behind this."
BFA will dive immediately into deep Division I waters Saturday in a three-team meet with Wiesbaden and host Stuttgart, both top-three finishers at last year's European tournament. Stuttgart won the title in straight sets over archrival Ramstein, while Wiesbaden claimed third place.
While the reigning Panthers and runner-up Royals remain strong bets to return to the championship match, Wiesbaden is looking for some upward mobility thanks to an experienced core of six returning varsity players, including five seniors. Hitter Allaina Houk is poised for a standout season after an All-Tournament showing a year ago.
Ramstein fields a similar returning core of five returners, including the All-Europe duo of senior setter Isabelle Coddington and junior libero Lydia Coddington. The defending champion Panthers bring back just three varsity starters, but all three - setter Lindsey Sharp and hitters Karen Kosinski and Skye DaSilva-Mathis - were key members of last year's championship roster.
Division II BFA's exit from Division II leaves the power mostly in Italian hands, including those of undefeated defending champion Marymount, crosstown rival American Overseas School of Rome and the once and future powers, Naples and Vicenza.
After a mostly successful half-decade at the Division I level, Naples and Vicenza are back in a division they once thoroughly dominated and figure to resume their spot atop the regular-season standings and the postseason bracket.
As advertised, the summer realignment will produce plenty of intradivisional action, including some welcome regular-season reps for distant schools Bahrain and Rota. Bahrain has an Oct. 12 meet scheduled for Vicenza and an Oct. 26 visit from Naples, while Rota opens its season this weekend against AOSR and host Aviano.
Division III The addition of former Division II stalwart AFNORTH won't play out that differently in the regular season, where the Lions were already playing a primarily small-school schedule. The school didn't play a Division II game last fall until the tournament.
They'll play a similar slate this year, though this time the matches will have postseason ramifications down the road. AFNORTH hosts new divisional rivals Hohenfels and 2018 runner-up Brussels this weekend and joins Spangdahlem at Alconbury a week later.
With defending champion Sigonella rebuilding this year, Spangdahlem and Alconbury loom as early-season favorites behind proven seniors at key positions. Spangdahlem welcomes back libero Keena Teahon, setter Jennifer Oppliger and defensive specialist Delcie Haney, while setter Camilla Boyett, hitter Anna Downing and libero Emiko Groder form the foundation for Alconbury.
Boys Defending champion Naples isn't offering much in the way of hope for its aspiring challengers.
The Wildcats, who beat AOSR in straight sets for the 2018 European crown, return nine players, from that dominant roster, including outside hitters Griffin Fletcher and Ohm Khotsaeng, while the addition of freshman setter Charles White gives the reigning champs a rejuvenated attack.
Aside from another run at the title, Naples coach Kenny Byler said the team is looking forward to its October trip to Bahrain for a regular-season matchup against a projected top contender.
"They traditionally have a strong team," Byler said. "And we are excited to play them in their home court and country."
broome.gregory@stripes.com Twitter: @broomestripes