Prep roundup
Rare goal for Older as Yokota triumphs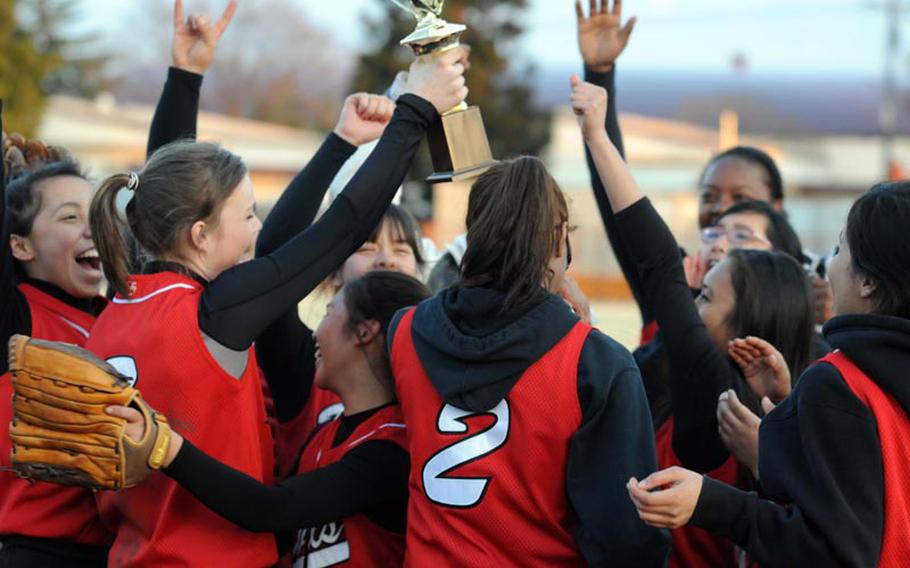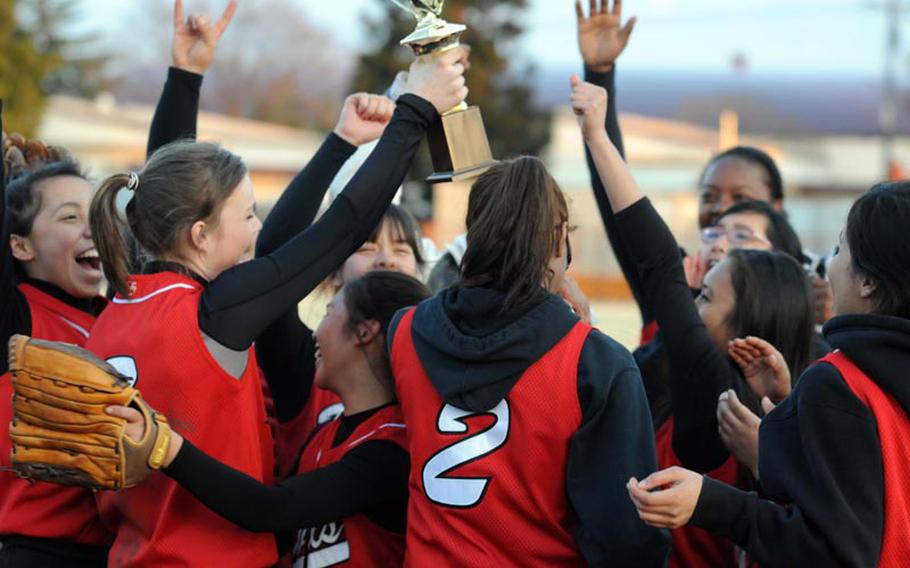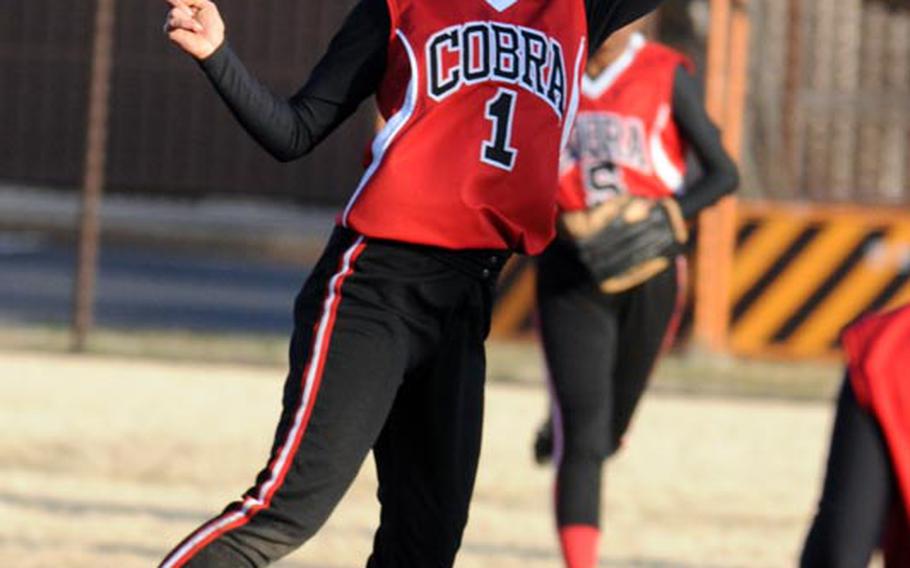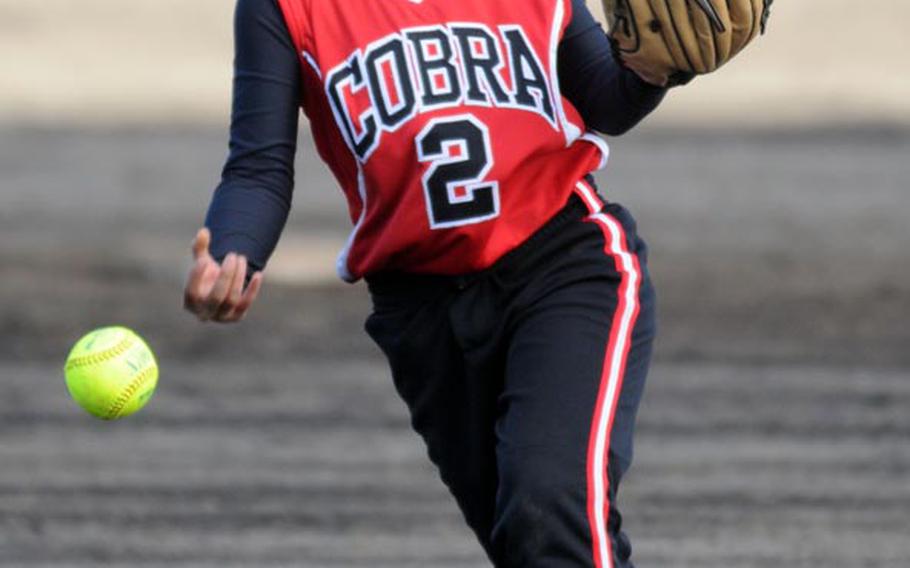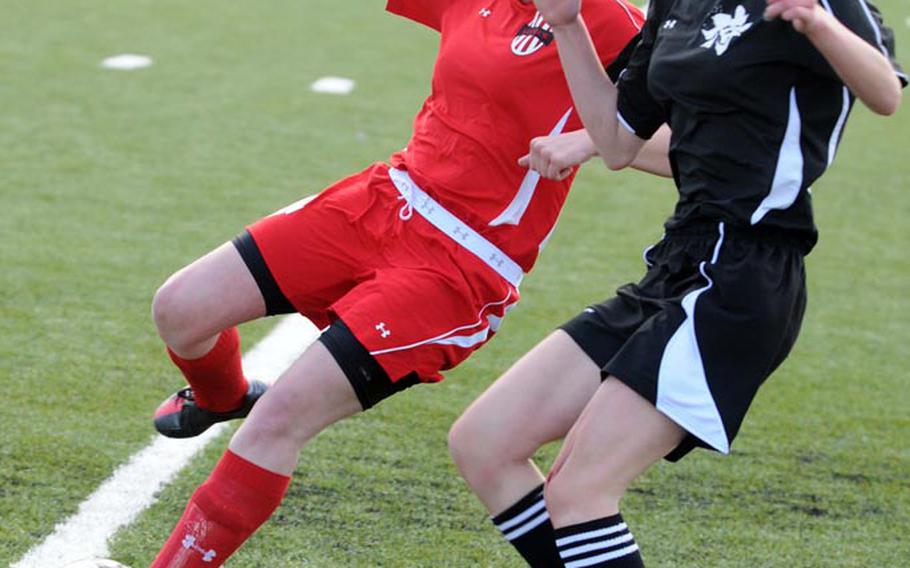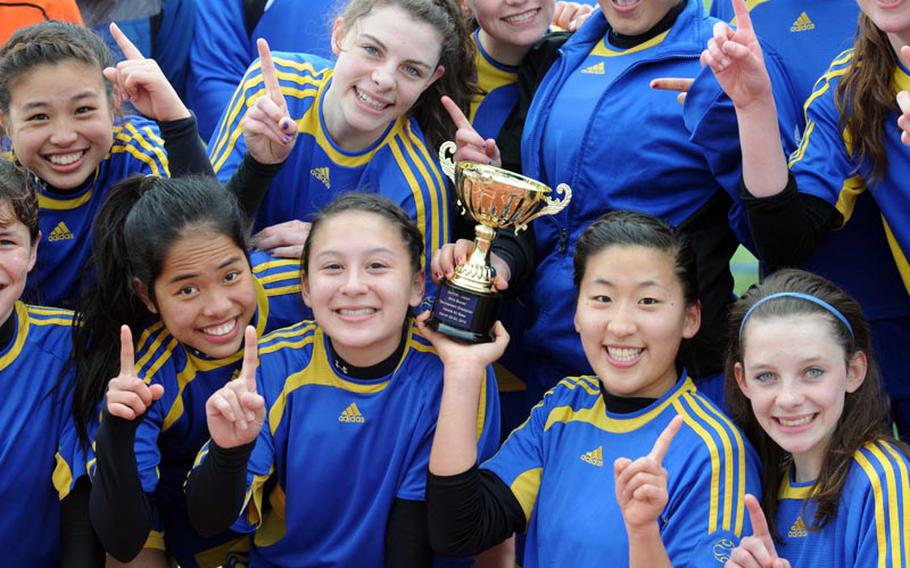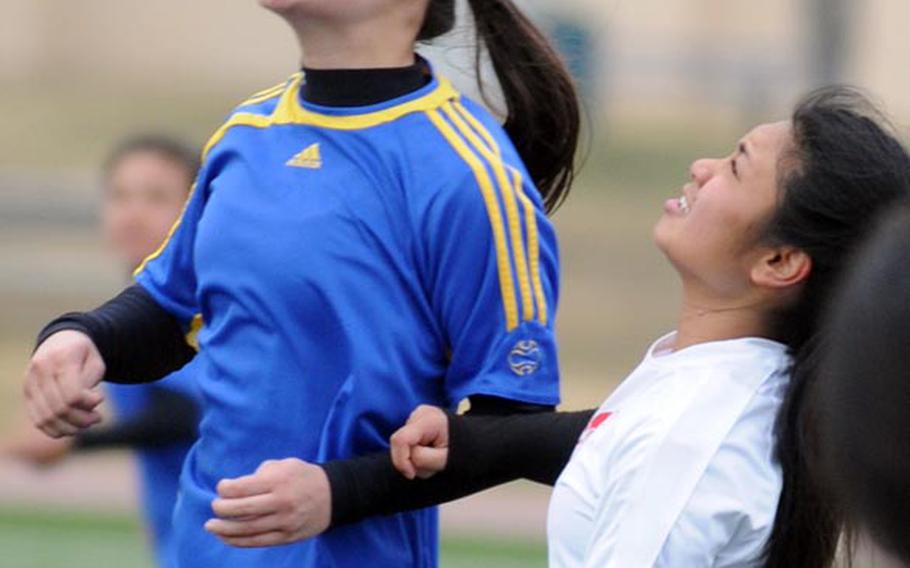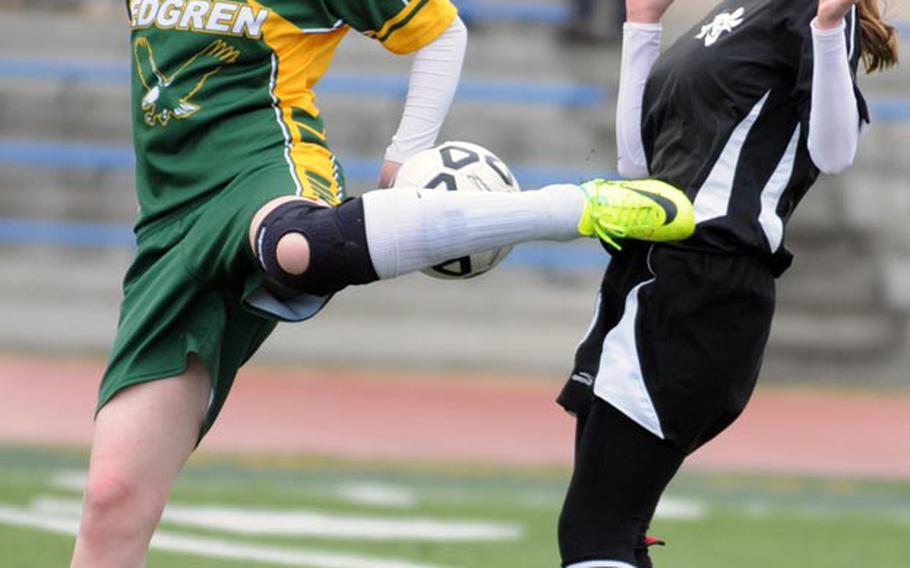 This story has been corrected.
Accustomed to playing sweeper or fullback, Caitlin Older got the chance to relish every soccer defenseman's dream – scoring a goal.
The senior netted the first goal of her high school career in the second half, capping the scoring as Yokota blanked E.J. King 5-0 and captured the title in a DODDS Japan tournament at Yokota High's newly turfed Bonk Field.
"In the moment, it felt amazing," Older said. "I was crying. It was the first one of my life. And it was with my left foot."
She said coach Matt Whipple told her that if she got 15 touches with her left foot, Yokota would win the tournament.
"I only got 10 touches, but I got one shot with the left foot and that makes up for it," Older said.
Yokota went 5-0 in the six-team tournament, outlasting Kanto Plain rival Nile C. Kinnick 1-0 on Friday in the round-robin event. Kinnick took second at 4-1.
"Even better that we were on our home pitch," Whipple said, adding that the victory over Kinnick was a "nailbiter. That was good stuff."
Kinnick didn't go home empty-handed, winning the boys soccer and girls softball tournament titles. The baseball tournament at Naval Air Facility Atsugi was called off after overnight rain made Bandy Field unplayable, Zama American athletics director Tom Allensworth said.
Kinnick's titles came by slim margins. The boys soccer team finished even with Matthew C. Perry at 4-0-1, but eked out the title based on a minus-3 goals-allowed advantage over the Samurai. The Red Devils girls softball team edged E.J. King 9-8 in the championship game.
Red Devils boys soccer coach Robert Tiffany called Friday's 2-2 draw with Perry a "wakeup."
"It was really good ball," Tiffany said. "It's a real boost for the kids; they've not had a lot of competition."
The girls softball final was a seesaw affair until Monica Cullipher broke a 7-7 tie with a two-run seventh-inning double. The Cobras' Tara Long left the tying runs stranded on second and third when, with two out, right-hander Grace Huezo induced a popup to catcher Akemi Allan.
"Relieved," Kinnick coach Katrina Kemper said afterward. "They played a good game. It was nice for them to respond under pressure. We're hoping this lays a good foundation for us for this season."
Track and field gets under wayRain finally held off long enough for the DODDS Japan track and field season, delayed two weeks, to get under way at Zama American. Kinnick's boys won five events and the girls won 11 as the Red Devils outpointed Yokota 90-71 in the boys standings and Zama's girls 129-53.
"Kinnick is looking strong," Yokota coach David Popielski said.
Kinnick's Robert Beard won the 1,500 and 3,000. Val James won the short sprints and high jump, Carydaliz Fontanez the long distance events and Kinnick's relay teams won four of six events. Zama's Christian Garner and Roland Cote swept the throwing events and Yokota's Preston Brooks won the short sprints and long jump.
Temperatures hovered in the high 40s with windy conditions at Kyungbuk National University as Daegu hosted a DODDS Korea track event for the first time in school history.
Eight Seoul American athletes, including two-time Far East cross-country champion Amanda Henderson, qualified for the Far East meet scheduled for May 23-25 at Yokota.
Henderson qualified in the 3,000, while her sister Pam did the same in the 400. Other qualifiers were Kelsey Scott (100), Mecca Perkins (shot and discus), Ty White (200) and White, D.J. Phelps, Brandon Heylinger and Darius Denton (1,600 relay).
Seoul American coach David Abbott called Daegu hosting the meet at KNU's eight-lane all-weather track "a very big step."
The high jump and 300 hurdles were scratched due to too few competitors, but the meet had "so many participants in the long jump; it was a good experience for them."
Kubasaki's distance specialists Allie Reichenberg and Far East cross-country champion Erik Armes each swept the 1,500 and 3,000. Jade Cummings of Zion Christian Academy swept the short sprints and Rahman Cairnes of Okinawa Christian International did the same.
The meet ended in driving, chilly rain on Friday at Kadena Air Base's Ryukyu Middle School; hurdles and some field events were not contested. Kubasaki's girls and Kadena's boys won the team titles.
CorrectionThis story originally misspelled the name of Grace Huezo.