Ramstein wrestler Peden rolls with changes on, off the mat
by
Rusty Bryan
February 8, 2007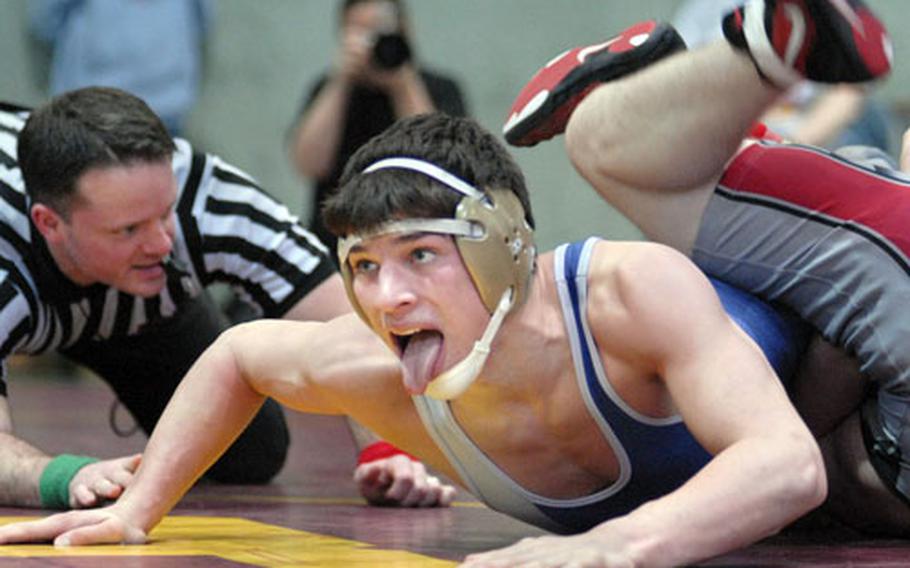 Much as he does on the mat, Ramstein wrestler Jon Peden seamlessly changed his line of attack when his family moved to Germany last year and took him off the path he had envisioned.
"I was expecting to win a state championship," said Peden, 16, now a prohibitive favorite to win the 145-pound title in next week's European championships. "It's a big difference over here."
Different in more ways than the competition — no longer is he going against a slew of wrestlers contending for spots on Division I college wrestling teams.
"I don't get as much mat time over here," he said Monday after a vigorous two-hour practice. "And I miss the duals. In duals, you're wrestling not just for yourself, but for a team. All eyes are on you on the mat."
All of Ramstein's eyes were on Peden when he transferred to the school just before wrestling season began. He had spent the fall playing fullback and safety for archrival Kaiserslautern after the family moved to the area from Pennsylvania for his stepfather's medical job. Then his mother's desire for a bigger house landed him in Ramstein's district.
"My mom asked if I minded changing schools, but it was no problem," Peden said. "The guys here have really been accepting."
One of the most accepting was Ramstein coach Jeff Pellaton, in his first season of guiding the Royals' wrestling team.
"He comes to us with a résumé unusual for our theater," Pellaton said of his prize junior, who he said was ranked No. 2 nationally at 130 pounds in 2005, but whose 2006 season was marred by a shoulder injury in a Pennsylvania district qualifier. "We don't get too many like that."
Pellaton said he's working to replicate many experiences that would have benefited Peden had he remained in Allentown, Pa.
"I'm trying to get him a season after our season to parallel what he'd do in the States," Pellaton said. "He's been in contact with a U.S. national team that is entered in a freestyle meet in March, and he's made plans to wrestle in the U.S. Nationals. I've been in contact with Jacob Clark, the U.S. Marine Corps coach who's putting together a team for the U.S. junior and cadet nationals in Fargo (N.D.) in July."
In addition, Peden wrestles for a German club in Pirmasens.
For the next week or so, however, Peden's focus will be on the DODDS stage, to which he has adapted perfectly, Pellaton said.
"I told him that being here wouldn't be like being in the wrestling room of a 5-A school in the States, where there would be four or five contenders for state championships," Pellaton said[/BODY].
"He understood. Jon works very hard at being a good teammate. Everything about his presence in our wrestling room has been nothing but positive."
Peden even found a positive in his much-smaller pond.
"One of the things I like about being here, is that a lot of the guys haven't wrestled very much before," he said. "I can help them out."
Peden, who says he began wrestling at age 4, is 18-0 this season, with all victories coming via falls or technical falls.
"He's probably, technically, one of the best wrestlers we've seen over here," said Wiesbaden coach Steve Jewell.
"He's quick and instinctive. He's one of those kids who has wrestled all his life. He doesn't have to think about what to do. He takes [DODDS-Europe's good wrestlers] and dominates them. He's a notch above."
For his next notch, Peden has contacted Nebraska of Division I, and Division II powers Wartburg, Iowa, and Ursinus, Pa. In the meantime, he has some work to do — over and above any possible DODDS-Europe, national or international championships.
"I'll be glad when the season's over and I can spend more time in the weight room," Peden said. "All the coaches have told me I've got to add 12 pounds of muscle if I hope to wrestle Division I. That's my dream."
---
---
---
---