Ramstein women hold off Mildenhall in USAFE finals
by
Rusty Bryan
March 25, 2006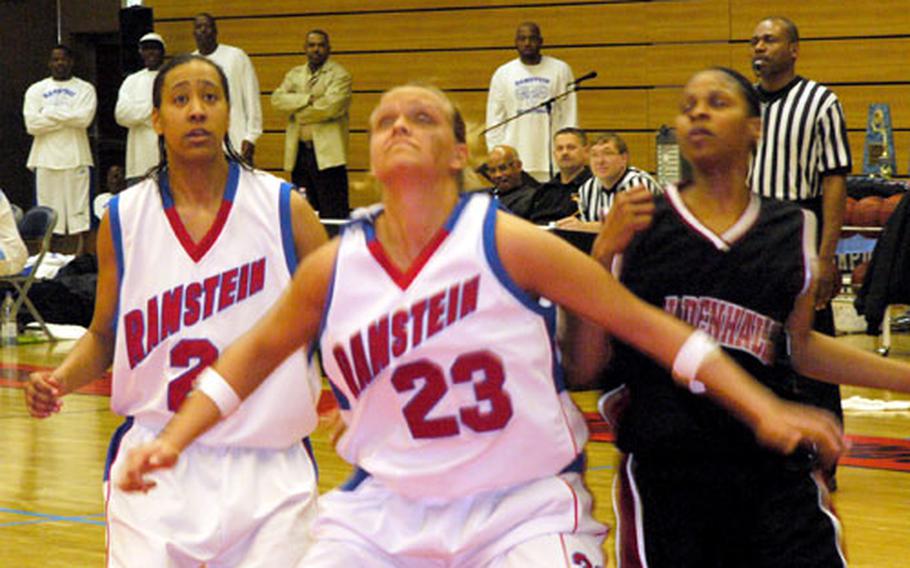 SPANGDAHLEM AIR BASE, Germany — The Ramstein Lady Rams withstood a second-half comeback Friday by defending champion Mildenhall to claim a 63-55 victory in the USAFE championship game.
Trailing 35-25 at halftime, the Lady Marauders sank three straight three-pointers, two of them by Bree Griffiths, to cut the lead to 49-47 with 6:10 to play. Two free throws by Ebony Morris 22 seconds later tied it 49-49.
Ramstein coach Pete Lenoir wasn't particularly concerned.
"We just had to step up and match their intensity," Lenoir said. "Once we re-established our game plan, I was confident we could win."
The game plan, he said, was to play vicious defense and get the ball inside to all-tournament pivot Jennifer Brooks. Brooks dominated inside all day, scoring 23 points — 13 in the first half — and pulling down 23 rebounds.
"They were double- and triple-teaming me," said Brooks, who added that she wasn't bothered by Mildenhall's 13-5 run as the game clock wound down to 5:17 remaining.
"It didn't make us nervous so much as make us determined to work harder," she said.
The effort paid dividends on the defensive end, where Ramstein held Mildenhall without a point for the next 4:35 before the Marauders finally broke through with 42 seconds remaining.
On the other end, Ramstein's other all-tournament players, Ashonda Williams, Brandi Jones and Patricia Phillips, were taking care of the scoring. Williams, who finished with 19 points and blocked three shots, scored five points during the span; Phillips added three, Jones two and Brooks four.
All-tournament selection Ashley Westbrook led Mildenhall with 19 points. Fellow all-tournament choice Griffiths scored 13, and Ebony Morris added 10.
"It's been a long time coming," Brooks said of the revenge her team earned for losing last year's title game to Mildenhall. "This title was a year in the making."
Both teams advance to next week's Army-Air Force Final Four, scheduled for March 30-April 2 at Kaiserslautern's Vogelweh gym.
Ramstein and Mildenhall will take on Army champion Wiesbaden and runner-up Kitzingen in round-robin play Thursday and Friday, then all four teams will be re-seeded for Saturday and Sunday's double-elimination playoffs for the U.S. Forces-Europe crown.
SummaryRamstein 63, Mildenhall 55
(USAFE championship game at Spangdahlem AB, Germany)
Halftime-Ramstein Lady Rams 35, Mildenhall Lady Marauders 25.
Scoring-Mildenhall: Ashley Westbrook 19, Bree Griffiths 13, Ebony Morris 10, Sue Hill 8, Tanya Davis 4, Devin Rodriguez-Perez 1; Ramstein: Jennifer Brooks 23, Ashonda Williams 19, Brandi Jones 9, LaShannon Grant 4, Patricia Phillips 4, Cheryl Burney 4.
All-tournament team-Jennifer Brooks, Brandi Jones, Patricia Phillips, Ashonda Williams, Ramstein; Bree Griffiths, Devin Rodriguez-Perez, Ashley Westbrook, Mildenhall; Kim Cabella, Victoria Deefs, Aviano; Kim Elliott, Incirlik.