DI football semifinal
Ramstein wins special teams battle, game
---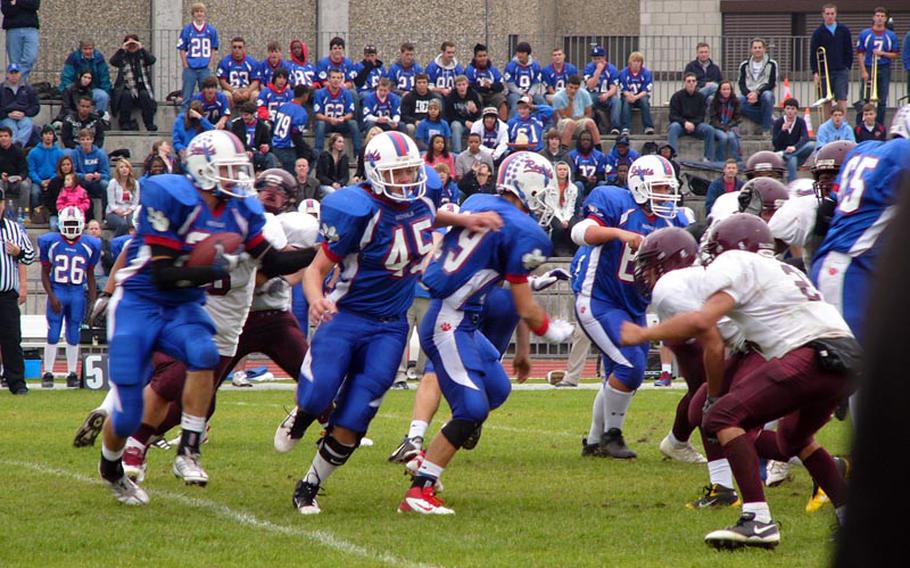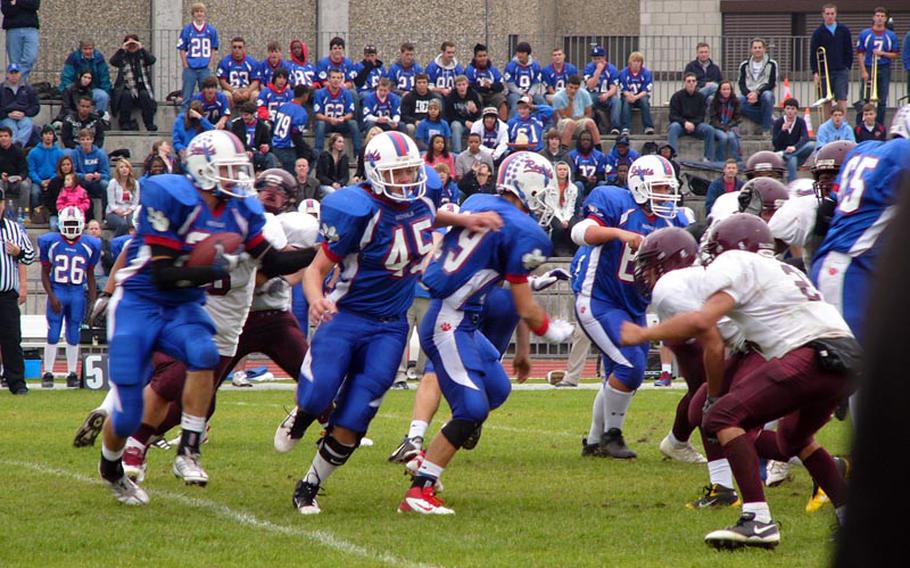 RAMSTEIN AIR BASE, Germany – Special teams hogged the spotlight Saturday, but in the end, Ramstein's extra-special special teams earned the Royals a 24-21 victory over the Vilseck Falcons in a European Division I semifinal game.
With the score tied at 21 with less than two minutes to play and the Falcons attempting to punt from their own 38-yard line, senior linebacker Young Oh came straight up the gut to block Jesse Partee's punt.
"I saw it and just took a chance," Oh said. "I got lucky."
Oh scooped up the flattened punt and carried it inside the Vilseck red zone. He fumbled, but Ramstein's Zachary Boswell was there to recover, and it was first-and-goal on the Vilseck 5 with 1:07 left.
"We were going for the block all the way," said coach Carlos Amponin, whose Royals punted twice and lost a fumble on their first three possessions of the final period. "It was the only chance we had. We weren't moving the ball."
The Royals didn't on their first two rushes from the 5, either. Senior tailback Jon Grotelueschen, who carried 29 times for 152 yards and two touchdowns, lost a yard on first down, and senior Jaap Van Gaalen, who caught a third-quarter 60-yard TD pass from Steven Groenheim to knot the game at 21, lost two yards attempting to turn the right end.
Grotelueschen then got five yards, carefully running toward the middle of the field, to set up Brandon Unpingco for a 21-yard field goal attempt with 10 seconds to play.
Vilseck called time in an attempt to ice Unpingo, but the senior kicker calmly toed through the game-winner when play resumed.
"I don't know what I was thinking," Unpingco said about just his second field goal try of the season. "I was just concentrating on the kick. Once I heard the crowd, I knew it had gone through."
Unpingco said the snap from Tyler Hughes and the hold by junior quarterback Dylan Le Page were perfect.
"It was the best hold he's made all year," Unpingco said. "I gave him a big hug afterward."
Vilseck wasn't through. There were still five seconds to play, and the Vilseck kickoff return team, which earlier had broken Tyler Lewis for a 74-yard kickoff return TD and Blade Strauss for a 76-yarder that carried to the Ramstein 1 and set up Daniel Arroyo's 1-yard TD plunge, was ready for another try.
Senior Shawn Peebles hauled in an attempted squib kick on one bounce on his own 40-yard line, broke toward the middle through the initial coverage and then raced down the right sideline as the clock ran out before being knocked out of bounds on the Ramstein 2. Ramstein was whistled for a dead-ball personal foul after time expired, but Vilseck had been called for a block in the back far upfield. All Ramstein had to do to win the game was to decline the penalty, and the game ended, Vilseck's ball on the Ramstein 2.
Ramstein had taken a 7-0 first-period lead on Grotelueschen's 5-yard run, capping a six-play drive that began on the Vilseck 21 after a short punt. Strauus, however, ran the ensuing kickoff back to the Ramstein 1, and Arroyo completed a one-play march of 1 yard.
Ramstein regained the lead with 10:05 left in the second period when Grotelueschen went over from four yards out to cap a five-play, 75-yard drive which began with his 61-yard run to the Vilseck 14-yard line.
Following its standard practice in this game, Vilseck's Lewis returned the ensuing kick 74 yards for the equalizer, and the Falcons went up 21-14 at the half on Carlton Campbell's 55-yard halfback option pass to Derrick Woulard.
Ramstein equalized, however, on the Groenheim-to-Van Gaalen 60-yard TD strike with 2:16 left in the stanza. Groenheim found Van Gaalen behind the Vilseck defense on the left sideline, and Van Gallen hauled it in and kept his balance to go in despite a shoestring tackle-try.
Vilseck seemed to have an opportunity to regain the lead when the Falcons recovered a Ramstein fumble on the Royals' 33 with six minutes to go, but Ramstein ended up pushing Vilseck back eight yards and forcing a punt.
"We didn't come this far," said senior defensive end Justin Dickey, "to lose."
The victory landed Ramstein (6-1) into this Saturday's European Division I championship game against Wiesbaden. It kicks off at 5 p.m. Saturday at Baumholder, the final game of a tripleheader championship card at Baumholder.
It will be Ramstein's first appearance in the finale since it won the title in 2009.
Vilseck, which has never appeared in the D-I finale, ended its season 4-3.
---
---
---
---