D-I girls soccer
Ramstein topples defending champ Patch
---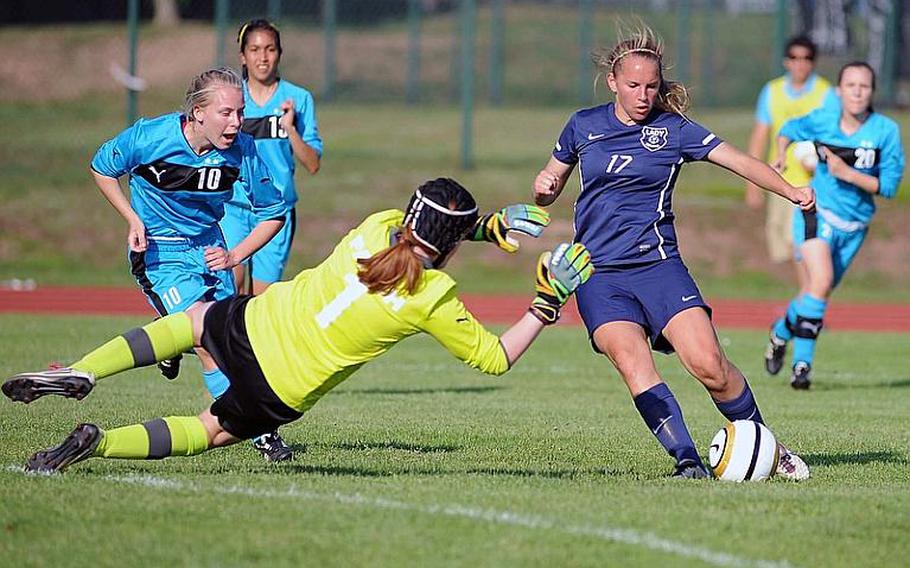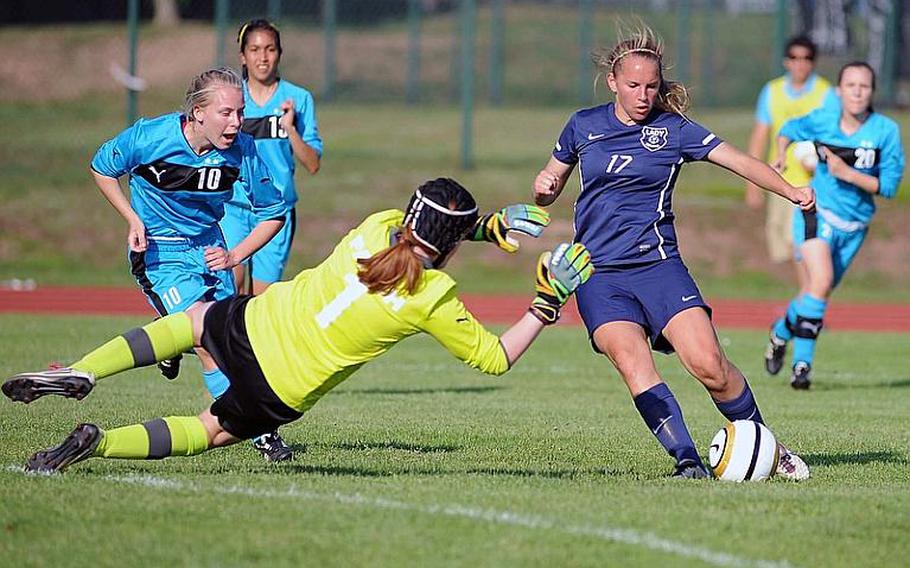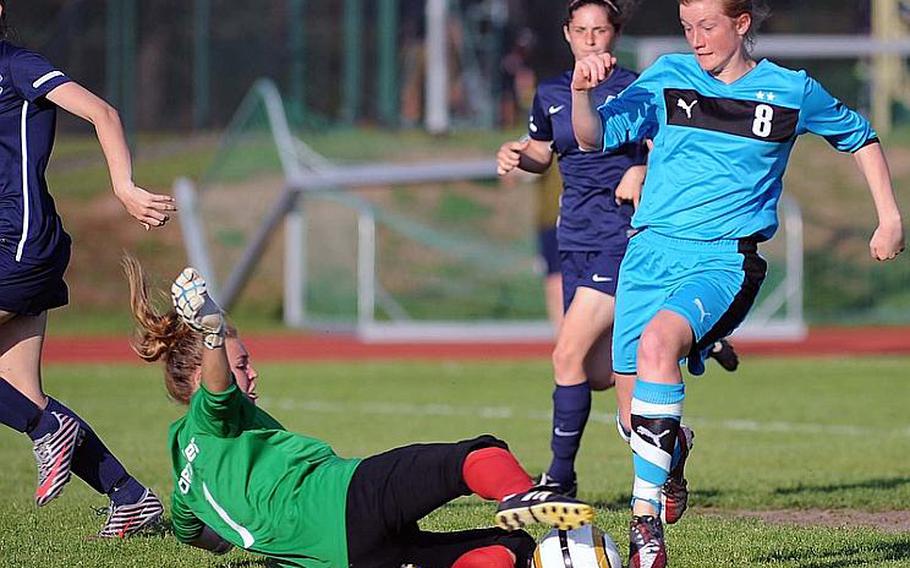 This article has been corrected
RAMSTEIN AIR BASE, Germany – Sophomore striker Shannon Guffey's 27th-minute goal was just enough Thursday evening for the Ramstein Royals to claim a 1-0 victory Division I title-game victory over the Patch Panthers.
"There was a miscommunication between the goalie and a defender," Guffey said as her team celebrated happily with their home-field fans, "and I was able to capitalize."
Guffey's goal, which she put to the left of diving Patch keeper Ellie Welton, would eventually put an end to the Patch girls' two-year reign atop Division I.
"Eventually," however, would require a maximum effort by the Ramstein defense and goalkeeper Terri-Leigh Obermiller, and that's exactly what the Royals came up with.
Royals' coach Ricardo Buitrago anchored Thursday's defense by pairing 2011 Stars and Stripes player of the year Josie Seebeck, ordinarily an attacking midfielder, alongside her sister, Kat, a freshman, as defensive midfielders this time around.
"We played Josie at stopper against K-town," Buitrago said about Ramstein's 1-0 victory over Kaiserslautern on May 12, "and it worked really well. Before we even told them today, they knew they'd be back there again."
That's because Josie Seebeck, the senior who's bound for Central Michigan University on a soccer scholarship, understood what was at stake on Thursday.
"Patch is a great team," she said. "Once we got the goal, we knew we had to try to contain them. We thought we'd change things up. Kat and I worked well together before, so they left us back there."
The strategy clicked, which came as no surprise to Ramstein senior Mackenzie Crews, who moved up to the central midfield when the elder Seebeck took over at Crews' usual stopper position.
"(Josie) can play anywhere," Crews said. "She's a great athlete."
Buitrago liked what he saw, too.
"They did a great job," he said. "They truncated every attack Patch made."
Patch came close to stopping every attack as well.
"We were lucky on our goal," Buitrago said. "It was an opportunity we didn't throw away."
Crews, who endured last May's 2-1 title-game loss to Patch, was predictably thrilled with her team's performance.
"It feels really good," she enthused.
The title completed Ramstein's 11-0 season in the most decisive way possible. In their four tournament games, the Royals compiled an aggregate score of 16-1. The lone goal came in a 4-1 semifinal win over Kaiserslautern.
Patch finished its campaign 9-1.
CorrectionRamstein's aggregate goals allowed total was incorrect in an earlier version of this article.
---
---
---
---