DODEA-Europe wrestling
Ramstein, Stuttgart share bragging rights
by
Gregory Broome
February 15, 2020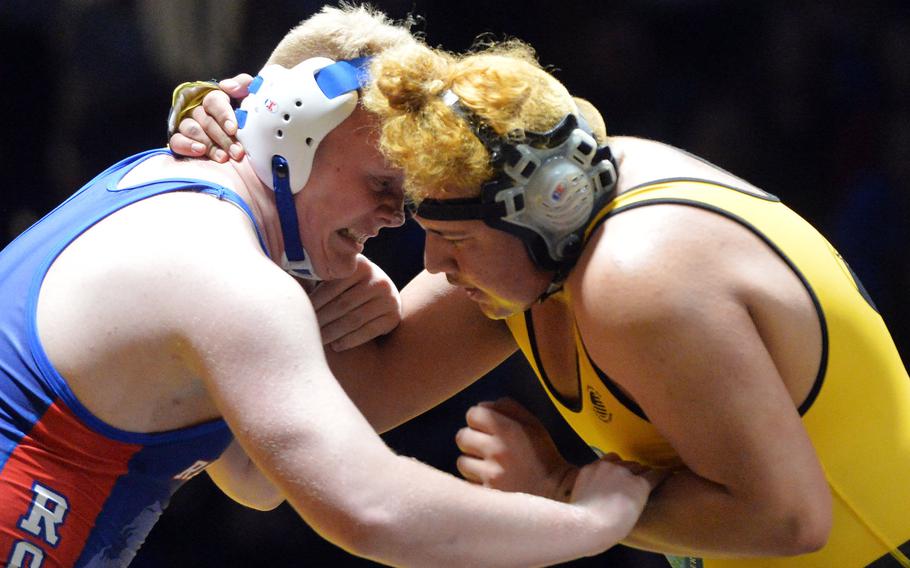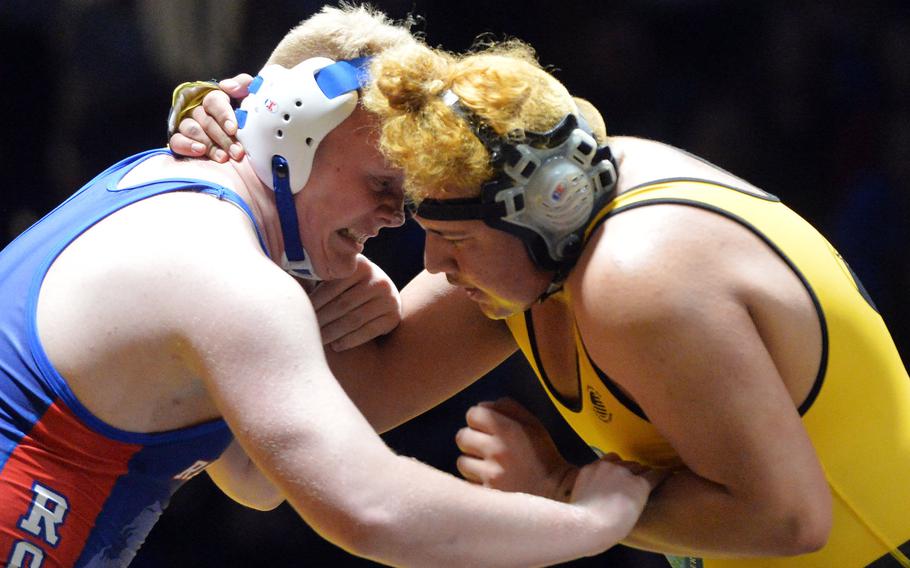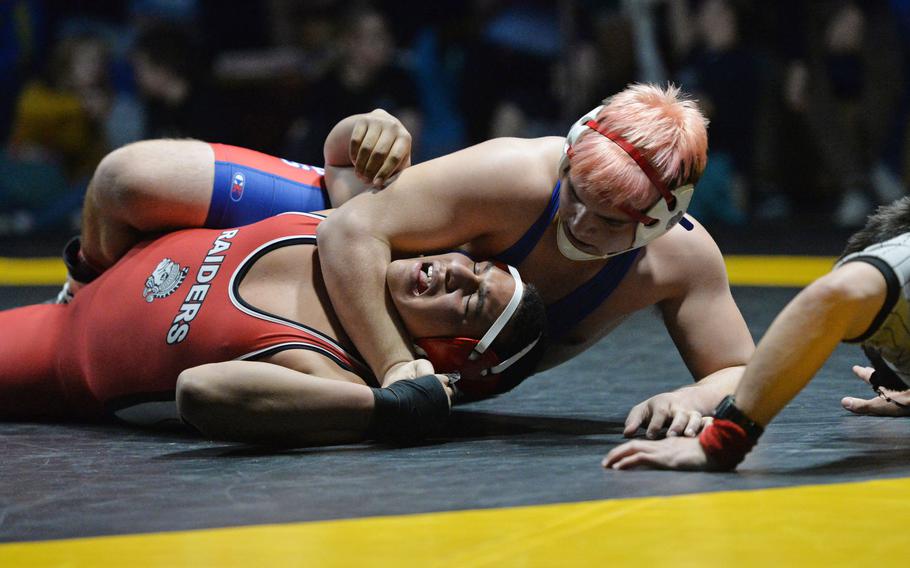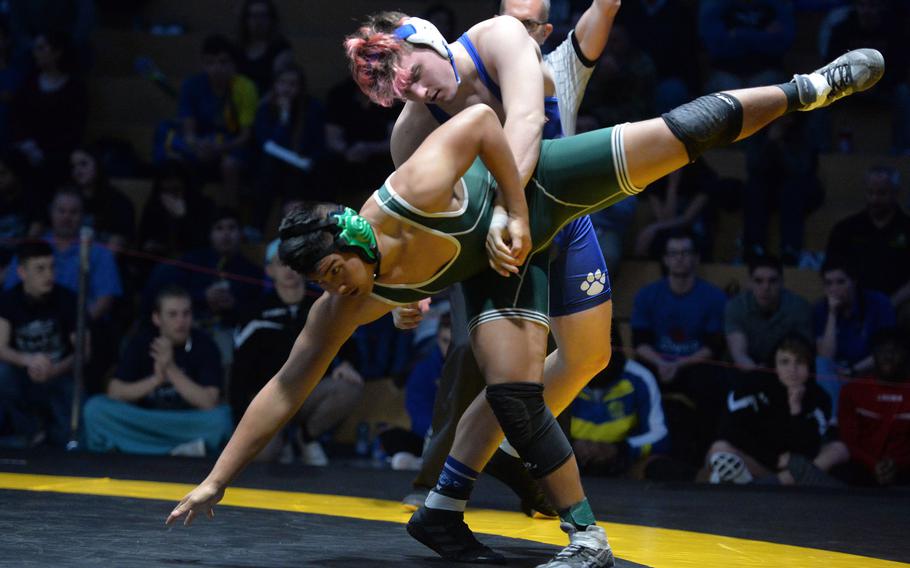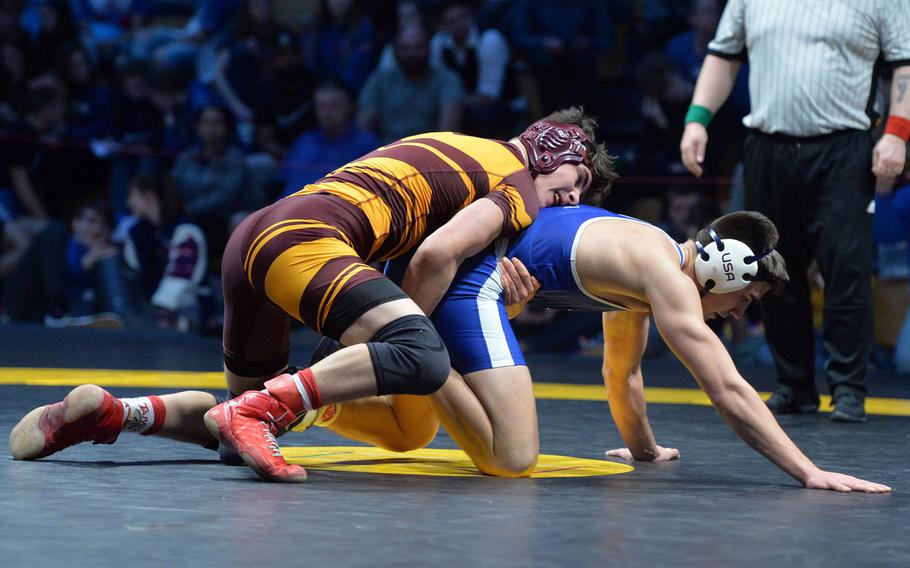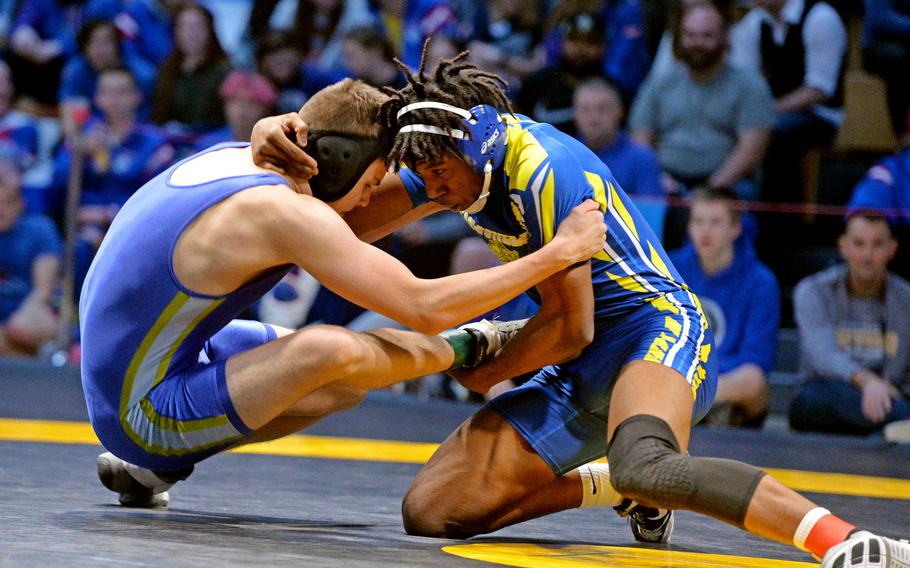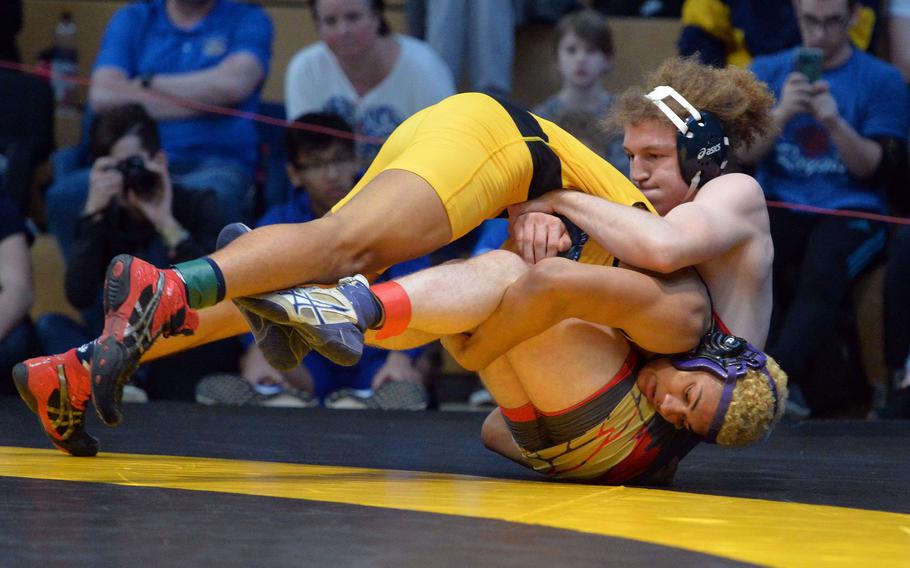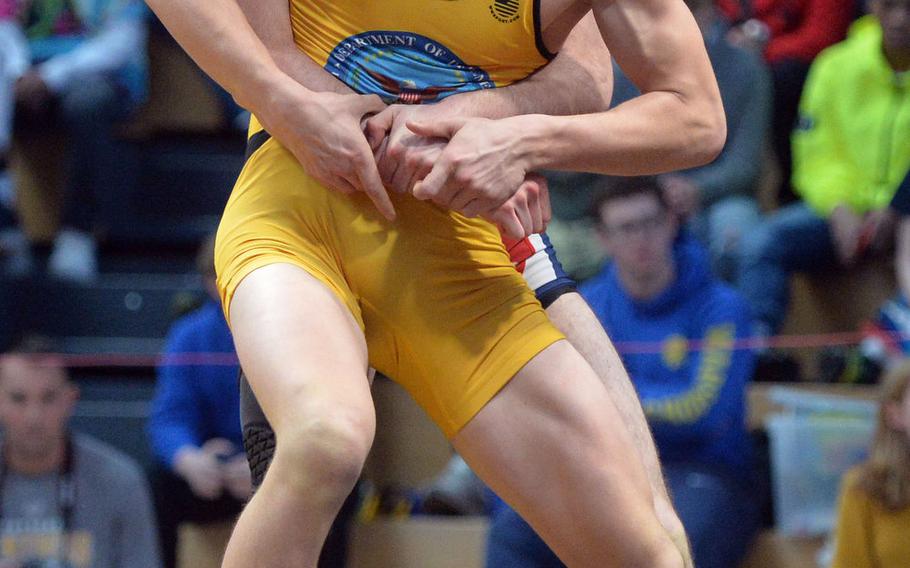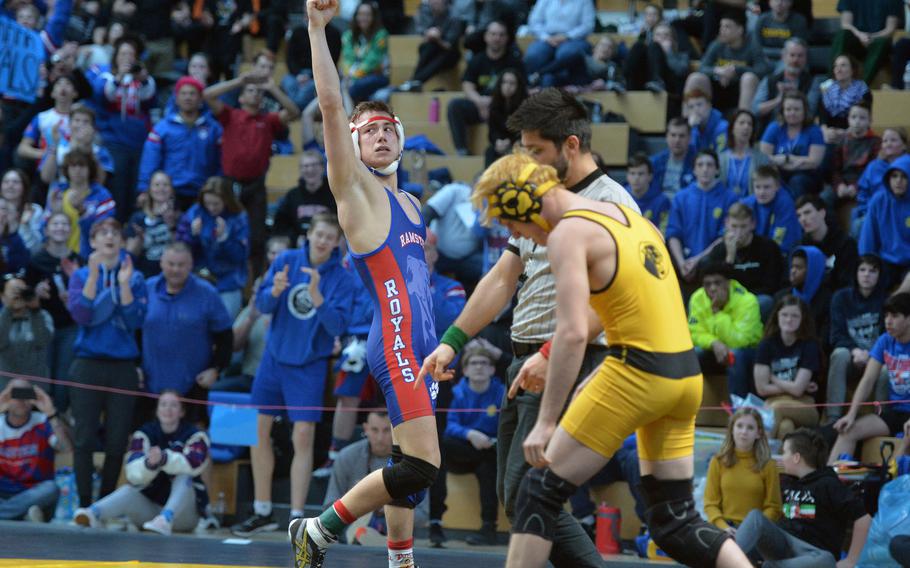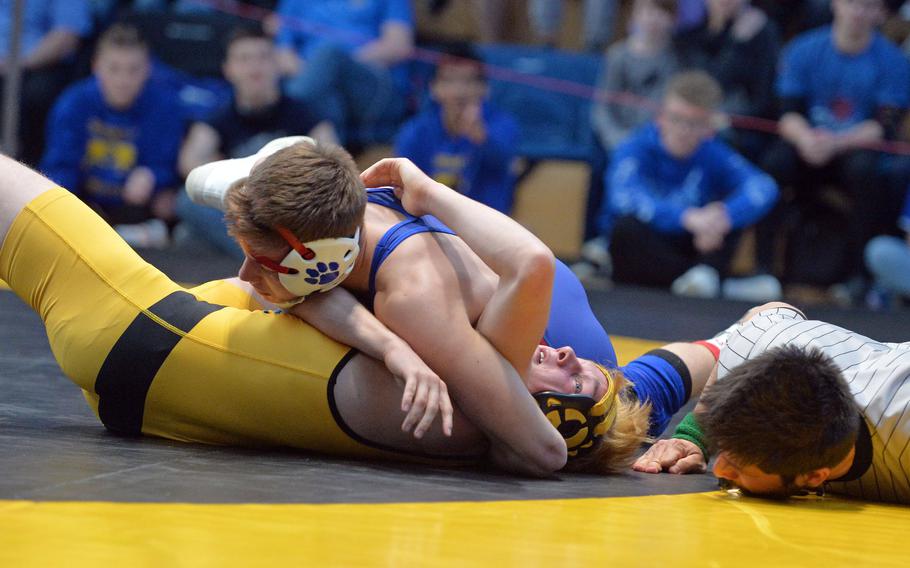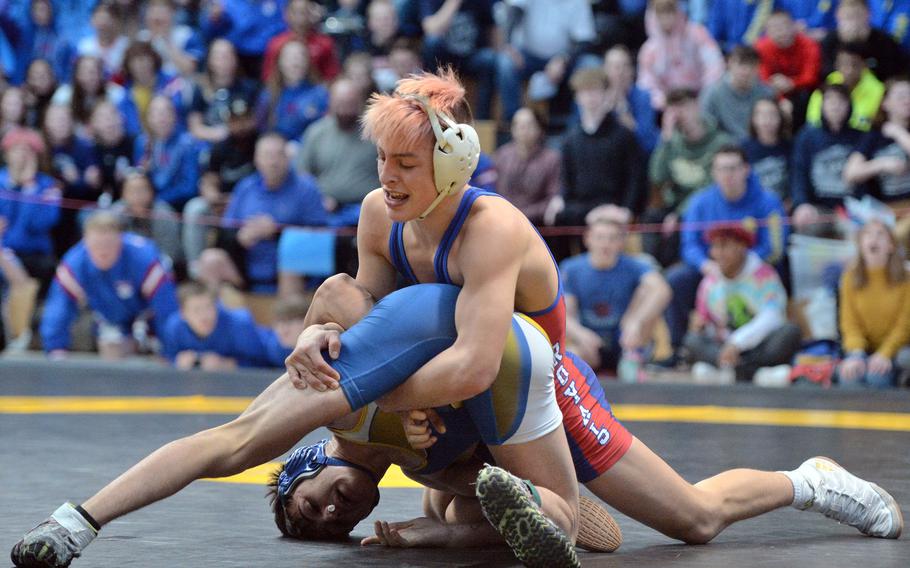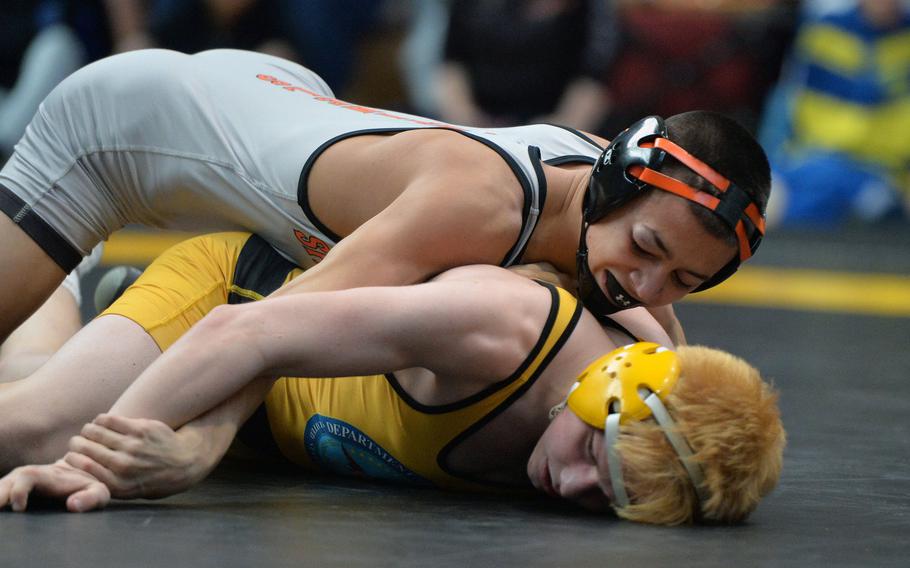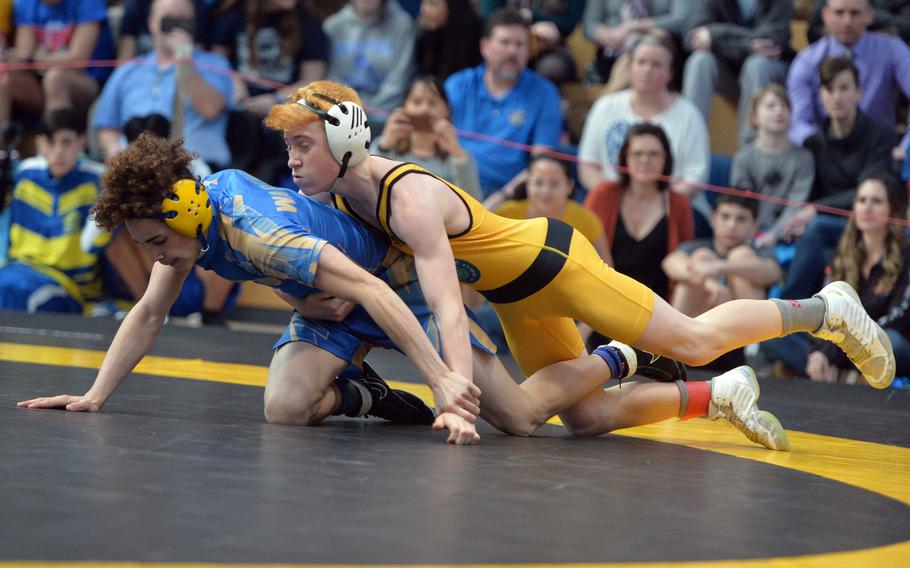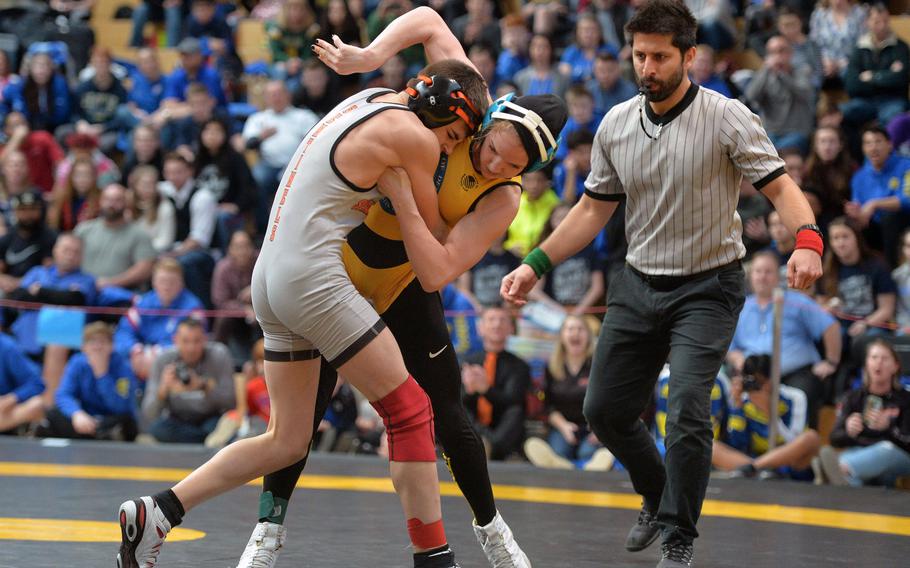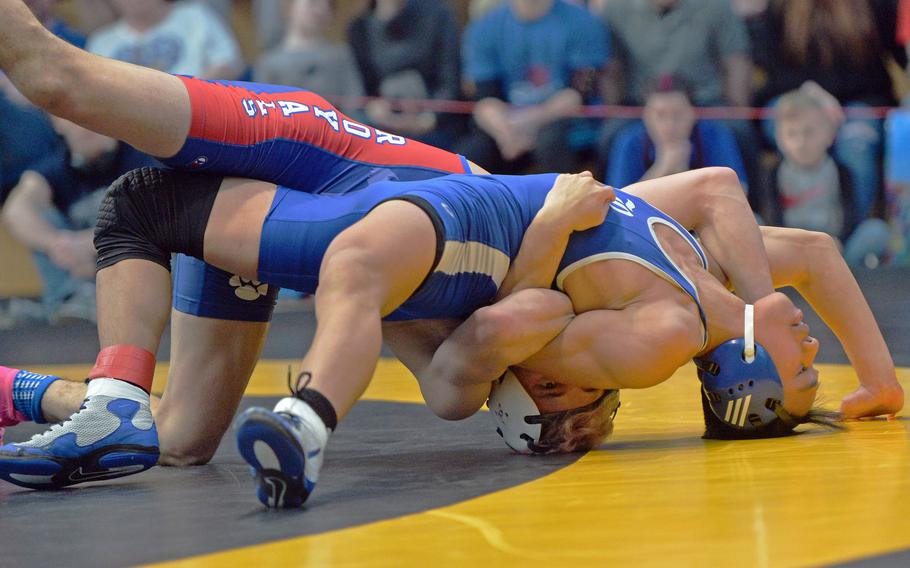 WIESBADEN, Germany -- The latest entry in the DODEA-Europe wrestling rivalry between the Ramstein Royals and Stuttgart Panthers goes to ... both of them.
Stuttgart and Ramstein finished in a tie for the 2020 Division I team championship Saturday at Clay Kaserne Fitness Center, extending Stuttgart's title reign to seven years and giving Ramstein its long-awaited first championship since 2013. Both teams finished with 298.5 points.
DODEA-Europe athletic director Kathlene Clemmons said the only tiebreaker the rulebook provided referred to the total number of matches won over the course of the two-day tournament. Remarkably, that also came to a tie, at 78 victories apiece for Royal and Panther wrestlers.
Neither team objected to the unusual outcome. Ramstein coach Thomas Wright said he was "ecstatic" to share the championship and said both teams "deserve" the honor. Stuttgart counterpart Norm Matzke agreed, adding that he was "happy" to see his young team force the deadlock with a deep and experienced Royal team. Wrestlers from each team were cordial in the meet's aftermath, shaking hands and exchanging congratulations as the unexpected result became clear.
A total of 12 schools were represented among Saturday's 28 finalists. Wiesbaden followed Stuttgart and Ramstein with three finalists while finishing third in Division I. Rota and Spangdahlem had two finalists apiece en route to Division II and III championships, respectively
106 pounds: Spangdahlem's Skyler Hickman earned the day's first European title with a 4-3 decision over Stuttgart's McKinley Fielding.
The match was deadlocked at two points apiece entering the final stretch of the final round. Hickman's late takedown of his opponent swung the match and extended a frustrating streak for his history-making opponent.
Fielding, the first female wrestler to reach a DODEA-Europe championship match, again fell just short of becoming the organization's first female champion. She also finished second in the weight class in 2018 and 2019.
113: Connor Swaim delivered the first Panther gold with a convincing 14-6 major decision over Wiesbaden's Reyder Rivera Sanchez.
Overall, the young Panthers won just two of the eight European title matches in which they were involved. Stuttgart lost both head-to-head meetings with the Royals in Saturday's finals, cracking the door open for a new champion.
120: Spangdahlem sophomore Carson Hicks won his second European championship in as many seasons and the Sentinels' second of the afternoon, pinning Stuttgart newcomer Brogan Fielding at 3 minutes and 47 seconds.
Hicks, the 113-pound champion in 2019, was among the most dominant wrestlers of the tournament. The eventual champion won his opening match Friday in 13 seconds and cruised into the final with a semifinal pin in just over two minutes.
126: Ramstein senior Conner Mackie won his third consecutive European championship and his second straight in this weight class with a steady 10-0 major decision over Rota's Philip James Rivera.
Mackie won his first crown in 2018 as a member of the Kaiserslautern Raiders, capturing the 120-pound title. He then transferred to crosstown archrival Ramstein, where he wrapped up his accomplished DODEA-Europe career with two consecutive 126-pound titles.
132: Matthew Oreskovich made it two straight for the Royals with a grueling 2-0 decision over Wiesbaden's Atreyu Allen, starting a burst of Ramstein momentum in the middleweight rounds.
Oreskovich successfully completed a jump up three weight classes following his European runner-up finish at 113 pounds a year ago.
Allen, the European champion at 113 pounds in 2018, lost a narrow title-match decision for the second year in a row, including a 3-2 decision to Mackie in last year's fiercely competitive 126-pound final.
138: The first of two head-to-head finals between the Panthers and Royals went in favor of the Royals as Christian Griffith earned a pin over Stuttgart counterpart Carter Hanes.
Griffith had Hanes in a prolonged pinning predicament, which Griffith described as "various forms of half-nelsons," before finally putting his shoulders to the mat at three minutes, 16 seconds. He had a simple but powerful explanation for how he found the motivation to finish the job.
"My mom is watching from Florida," Griffith said. "I just wanted to win for her."
Griffith earned his first European title after two straight years of runner-up finishes, including in last year's 132-pound bout.
145: Germany's grasp on the championship round was broken as Aviano's Michael Hauser defeated Stuttgart's Jack Engelke by a 6-3 decision.
Hauser earned his title shot after defeating a familiar rival in one of Saturday morning's most competitive semifinals. The Saints standout edged Naples' Mason Topper, his rival throughout the regular season and at last weekend's southern sectional qualifier, in a 4-1 decision.
152: Jacob Caricato completed his productive swing through DODEA-Europe wrestling with an 8-5 defeat of Stuttgart's Noah Moten.
Caricato, an American attending Finland's International School of Helsinki, became a fixture at DODEA-Europe meets over the course of the winter and quickly emerged as a serious challenger for a European title. He made good on that potential Saturday, holding off the spirited final-round efforts of Moten to claim the crown.
160: A battle of two 2019 runners-up crowned a new champion in the form of Stuttgart's Christian Just. The Panther sophomore outlasted Ankara's Roberts Swart for a 14-7 decision.
After a strong run to a European final last year, Just entered this season ready to take the next step. And the Panthers, without a returning European championship on the roster, were happy for him to take an expanded role. Just did just that, following the example of "great leadership" from graduated Panther stars Benjamin Fielding and John Carroll.
WIth that, Just came into his second European tournament "more comfortable" and ready to improve on his already impressive debut.
Just took second place in the 152-pound bracket as a freshman last season, while Swart fell in the 145-pound final. The two hadn't faced each other before Saturday; Just said he spent Friday's downtime trying to gather what intelligence he could on his eventual finals opponent.
170: Sigonella star Amari Pyatt successfully retained his European championship, beating Wiesbaden's Jimmy Birchfield for a second consecutive 170-pound title. Pyatt won on a technical fall in 3:36.
Pyatt was unassailable throughout the tournament, scoring quick pins in all four of his preliminary matches and reaching the final with a 30-second pinfall victory in the fastest match of the semifinal round.
182: Vilseck's Hyrum Draper solved a season-long problem with his 9-6 defeat of Rota rival Brenon Colvin.
Colvin got the better of Draper in two regulation matches this winter, including by a close decision in the southern sectional qualifier Feb. 8. But Draper responded to the setbacks by studying, reviewing the most recent loss and developing a strategy to do better in the final. Notably, Draper said he needed to "get right back up" when Colvin worked him down to the mat.
That strategy paid off with a victory as Draper put Colvin in a near-fall late in the second period, growing his lead to 7-2 entering the third and final period and securing the win.
Draper delivered a title for the Falcons a year after losing in the 160-pound final.
195: Ramstein's Nicholas Mooney graduated to champion after a runner-up finish at 195 pounds in 2019.
Mooney pinned Naples' Nicholas Luminarias in 4:57 seconds, setting off a tournament-ending streak of three Ramstein championships that delivered the Royals their long-awaited title.
220: Gabe Davis kept the Ramstein momentum going with an early defeat of Kaiserslautern's Christopher Monroe. Davis earned a pinfall in 1:33.
Davis' triumph was the emotional opposite of his experience in last year's 182-pound European final, when he was disqualified for an illegal move and watched his Stuttgart counterpart claim the title. The memory has been a source of motivation ever since, starting with the days immediately following it.
"I got right back to work," Davis said. "It lit a fire under me."
On Saturday, Davis earned the redemption he's pursued for a year.
"Everything I've worked for has been for this moment right here," Davis said.
285: Ramstein heavyweight Teddy Ward completed a strong finish for the Royals with a 6-0 defeat of Stuttgart's Danny Rodriguez-De Lao.
The title was Ward's second straight, adding to the 220-pound gold he won a year ago.
broome.gregory@stripes.com Twitter: @broomestripes