D-I semifinals
Ramstein, Stuttgart heavily favored to meet again
---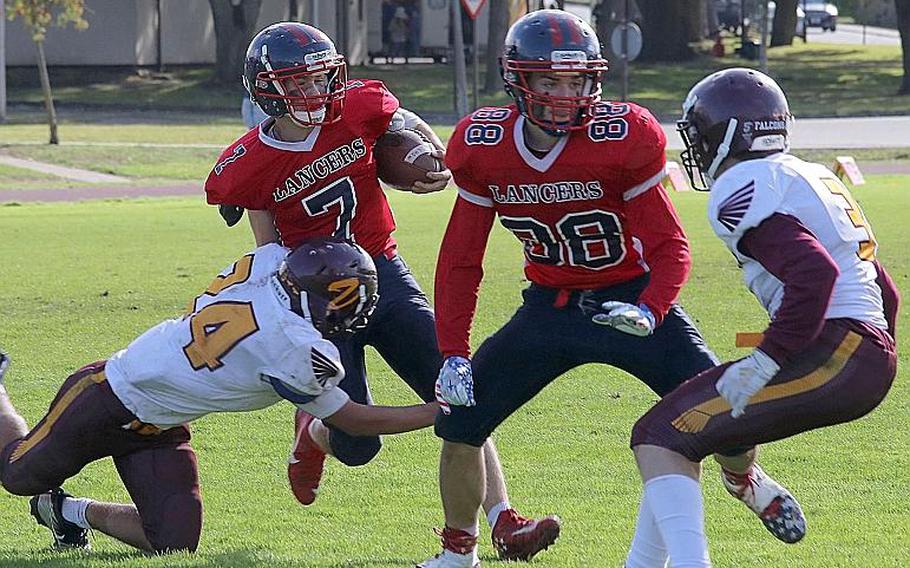 Saturday's 2019 DODEA-Europe Division I football semifinals feature the same matchups as the 2018 edition. But the results could be a lot different.
In one semifinal, the top-seeded and undefeated Stuttgart Panthers face the fourth-seeded Lakenheath Lancers. Lakenheath, after years of steadily rising from the Division I cellar, knocked off the then-defending champion Panthers in a dramatic 31-26 semifinal last year to finally reach the European championship game.
A Lancer win this weekend, however, would qualify as a historic upset. Stuttgart has steamrolled through the division this fall, winning all five of its conference games by multiple touchdowns, on a mission to claim its third European title in the last five seasons. Among those triumphs - a convincing 48-0 defeat of the Lancers on Sept. 21.
Lakenheath was resilient after that loss to the Panthers, its third straight to start the season. The Lancers took care of business against last-place Vilseck and held off a Wiesbaden challenge a week later to secure a playoff spot. A last-minute 29-27 loss to Kaiserslautern in its Oct. 19 regular-season finale snapped that win streak but also proved the Lancers could still hang tough with a playoff-caliber opponent.
An upset in the other semifinal, however, would be both historic and cathartic.
The Kaiserslautern Raiders, after years of gridiron struggles against the crosstown rival Ramstein Royals, get another chance at their local nemesis on Saturday. And this one might be their best chance in a very long time.
Third seed Kaiserslautern was impressive against the second-seeded defending champion Royals in a highly competitive 23-14 loss to Ramstein on Oct. 11. That compares favorably to the Royals' 48-14 romp over the Raiders in last year's semifinal round.
Still, it will take an outstanding performance to knock off a proud defending champion playing on its newly minted home turf. The Royals are not the overwhelming juggernaut they were a year ago, when they were hardly challenged in an undefeated championship season. But the win at Kaiserslautern, and a 4-1 conference record marred only by a loss to first-place Stuttgart, proves that Ramstein remains a gatekeeper of Division I football success.
broome.gregory@stripes.com Twitter: @broomestripes
---
---
---
---