Ramstein, Stuttgart head talented, crowded fields
by
Gregory Broome
February 17, 2016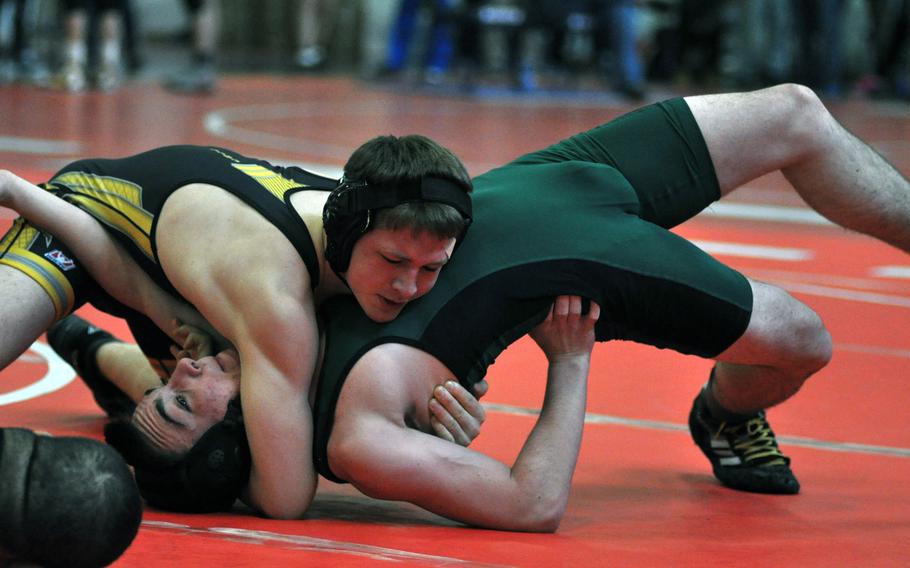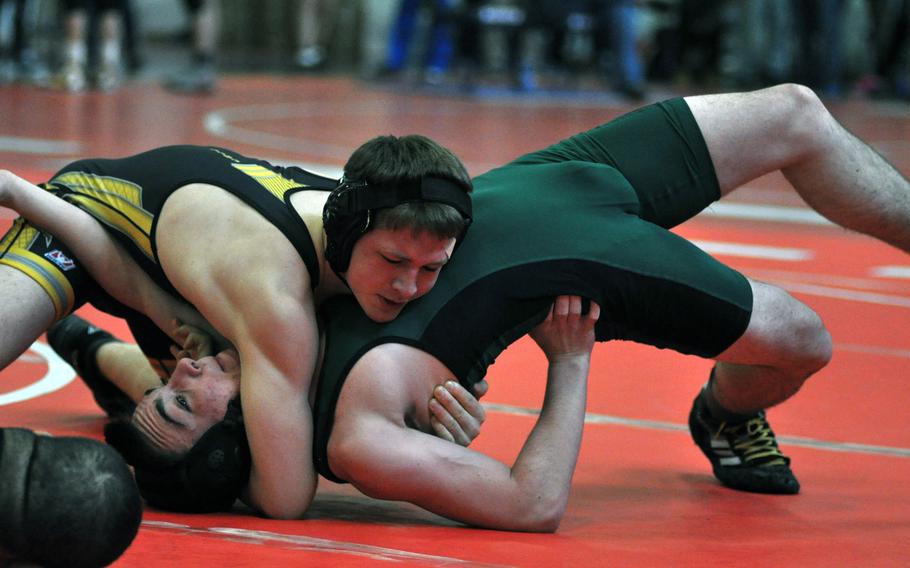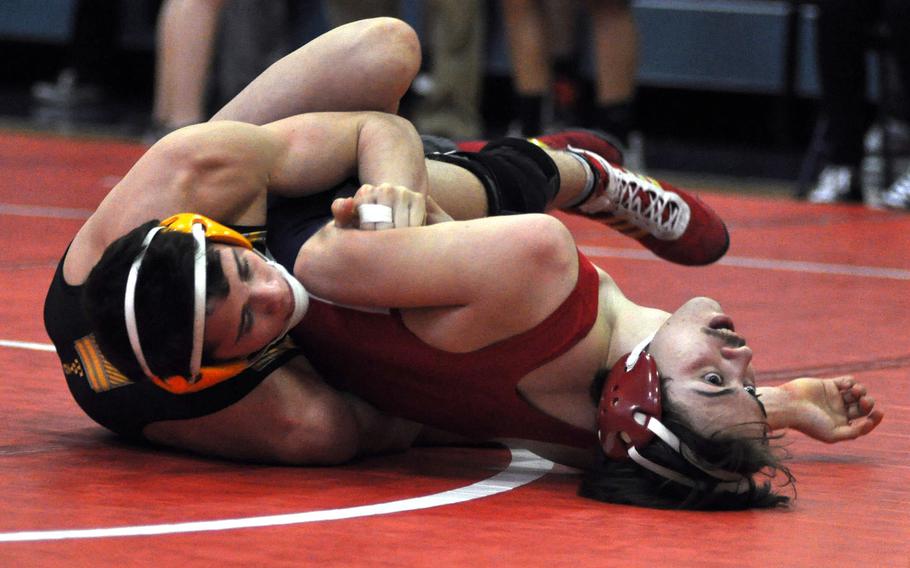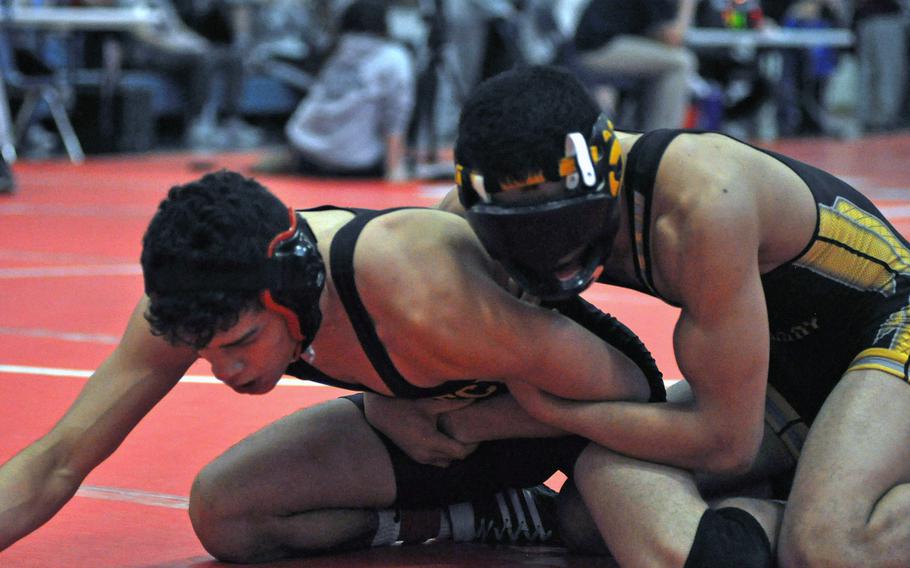 The Ramstein Royals are wrestling with a paradox entering this weekend's DODDS-Europe championship tournament.
The Royals are the team to beat by the standards of this regular season, but they're also a challenger looking up at a very formidable defending champion in the Stuttgart Panthers. Before the season, Ramstein coach Thomas Wright called the Royals a "hard-working young team with potential" entering a "rebuilding year." Now, that promising team is on the cusp of quickly realizing its potential.
With 20-plus wrestlers apiece qualified for the two-day championship tournament, the Royals and Panthers boast rosters unrivalled by any other DODDS-Europe programs. But in a change to the usual format, both schools, along with fellow Division I power Vilseck, will enter two separate teams into the tournament.
While it's hard to predict exactly how that adjustment will affect the tournament, it's possible that its impact will be limited. A look at the brackets finds most of the championship contenders from each school are piled onto one team, specifically Ramstein's Blue and Stuttgart's Gold. Those are the wrestlers who would have likely been their team's designated points-earning wrestler under the former arrangement, in which only one wrestler per school could garner points in a given weight class. Just as before, the school's secondary wrestlers in each class can help the cause by occupying spots among the top finishers, thereby denying those spots and accompanying points to competitors from rival schools.
That new dynamic in the large-school ranks, along with the equally competitive but more straightforward Division II and III team races, will play out Friday and Saturday at Wiesbaden Fitness Center, where DODDS-Europe will crown 14 individual European champions.
106 pounds -- The low end of the tournament's weight classes has the potential for high drama.
Only one semifinalist from last year is back in Ramstein contender Josh Garcia, the fourth-place finisher in 2015. He'll have plenty of fresh competition from the Royals' Division I rivals, including top-seeded Zach Rowe of Wiesbaden, Vilseck's Diego Martinez, Stuttgart's Lester Ferioli and Lakenheath's Bryan Lovett. The smaller schools also have some promising entrants in Hohenfels; Josh Bush and Alconbury's Joey Wood, who took fifth place last year.
113 -- The Royals field another returning semifinalist here in Kaleb Hoopes, who is back as the bracket's favorite this winter. Hoopes tuned up for a title run with a first-place finish at last weekend's central sectional qualifier in Kaiserslautern.
Fellow sectional champs Blaise Markley of Vilseck and Zach Ostler of Lakenheath represent Hoopes' biggest hurdles, while Stuttgart has a solid contender in Jaxon Bartlett. Markley finished second in Europe at 106 pounds last year.
120 -- The field's first reigning European champion checks in here in the form of Brandon Lovett of Lakenheath, the 2015 medalist at 106 pounds and a driving force behind the Lancers' impressive second-place showing in the Division I team race.
Lovett is still wrestling at a championship level despite rising two weight classes, and he enters with a northern sectional win and the bracket's No. 1 seed to his name. Familiar rival David Kingery, the Ramstein wrestler who took third at 106 pounds last year, made the leap along with Lovett and could interrupt his title reign. Vicenza's Anthony Verduga, Stuttgart's Benjamin Fielding, Hohenfels' Jacob Bush and Wiesbaden's Joey Krapf are also in the mix.
126 -- Top-seeded Isaiah Phillips of Stuttgart headlines this group after dropping down from the 132-pound ranks. And he's a formidable frontrunner, having reached the European championship match last winter.
Phillips has found some real competition in the lighter class, however, and they'll be awaiting him in Wiesbaden. Stan Cruz of Ramstein finished second in Europe at 120 pounds last winter; Lakenheath's Joshua Lopez finished fourth in the same class.
AFNORTH's Blake Borders and Bitburg's Kurt Nacionales bring some Division II intrigue to the bracket.
132 -- The central sectional matchup between Ramstein's Joey Fortunato and Kaiserslautern's Evan Mackie was billed as a potential championship preview, and it still might be. But this class is far from a simple head-to-head matchup between an archrival Royal and Raider.
Lakenheath's Preston Booth occupies the top seed, while Stuttgart contender Connor Fortier is squarely in the mix. Each won their own sectional bracket last weekend.
Italian Division I squad Naples enters two strong competitors in this class in Andres Tavarez and Alex Hall.
138 -- The first of Stuttgart's senior trio of reigning European champions make his entrance in this competitive 12-man bracket. Christopher Matzke won European titles at 113 pounds in 2014 and 120 pounds in 2015 and has effortlessly graduated to No. 1 status a full three weight classes up the chain this season.
While Matzke is the heavy favorite to claim his third straight crown, there are 11 contenders hoping to prevent it. Lakenheath's Malik Shoemaker, Baumholder's David Calloway, Ramstein's Ryan Ford, Brussels' Mohamed Toure and Aviano's Shawn McElwee should present the toughest tasks
145 -- Another reigning Panther headlines this deep class. Robert Call, himself a two-time European champ with wins at 132 pounds in 2014 and 138 pounds in 2015, will look to add a 145-pound medal to his impressive list.
Call will face challenges from inside and outside his Panther program this weekend. Wiesbaden's Joshua Theodore, Ramstein's Garrett Dean and Kaiserslautern's Shelton Carter represent the external threats, while Stuttgart teammate Christopher Hernandez in an in-house challenger.
152 -- Perhaps the tournament's most wide-open weight class, this 12-man group includes several title hopefuls who came close at lower classes in previous years.
Top seed Jared LuGrain of Stuttgart took third place at 138 pounds in 2015, three spots ahead of second-seeded Thaniel Hrushka of Kaiserslautern. Ramstein's Chad Chason finished sixth at 160 pounds last winter. Aviano's Manny Gamboa is the bracket's top incumbent after finishing fifth last season. Wiesbaden's Gabriel Charlifue and Rota's Andy Beyer, meanwhile, could dash their title hopes.
160 -- A set of three strong sectional champions will vie for top honors in this tight 10-wrestler bracket. Elijah Phillips of Stuttgart and Cristian Rivera-Nales of Ramstein will wage a key battle in the points race between the Panthers and Royals, while Wiesbaden's Zach Krapf will seek to render that clash secondary while scoring a win for the home team.
Munich International's Cole Ronnau lurks as a dark horse here along with SHAPE's Brandon Benesh and Naples' Mikolaj Marszalek.
170 -- Another crucial Panther-Royal skirmish is on the bill in this bracket, along with another Division I entrant hoping to swipe its spotlight.
Lakenheath's Joseph Krussick is the top seed ahead of Stuttgart's Kevin Wentland and Ramstein's Randle Steinbeck. Several of DODDS-Europe's other big schools also have a stake in this particular fight, as Kaiserslautern's Zach Greene, Vicenza's Seth Shields and Wiesbaden's Nathan Warner bulk up the 10-man field.
182 -- The largely outnumbered ranks of Italian programs have a hero in Naples' Davis Steiner, the top seed in this group of nine. Steiner won this class at last weekend's southern sectional at Aviano, notching the only weight-class win for Italy among a sea of Stuttgart and Vilseck visitors.
Standing in the way of another Steiner triumph are Kaiserslautern's Hunter Wiles, Wiesbaden's Darius Carter, Brussels' Patrick Hall and Bitburg's John Blake. Neither Ramstein or Stuttgart field a wrestler in this class.
195 -- Reigning Stars and Stripes wrestling Athlete of the Year Eli Spencer is the clear favorite here after dominating this same class last year. Spencer won his semifinal in 45 seconds and his title match in 46 seconds last year to cap one of the more overwhelming shows of force in DODDS-Europe tournament history.
That performance, or last weekend's sectional triumph, wasn't enough to earn Spencer the top spot in this bracket, however. He checks in at No. 3, behind Alconbury's Nicholas Dufresne and Ramstein's Taylor Mendenhalle. Stuttgart teammate Michael Stuber and Baumholder's Yorel Smalls lurk on the edge of contention.
220 -- Perhaps the best shot at a small-school individual champion lies in this 10-man bracket.
Alconbury's Christian Dufresne and Hohenfels' Connor Gibson each won their sectional last weekend and could boost their teams' hopes of a second straight divisional championship with a win here. Hohenfels is the reigning Division II champ, while Alconbury holds the Division III title.
The nearly-ubiquitous Division I schools will still be heard from, however, including Stuttgart's Ian Cass, Vilseck's Darnel Pitts, Kaiserslautern's Royce Staley, and Wiesbaden's Devin Holland.
285 -- A new DODDS-Europe heavyweight champion will be crowned from among eight contenders, the smallest in the tournament if only in terms of bracket size.
Lakenheath's Colten Menges, the runner-up at 220 pounds last winter, is the top-seeded favorite of the group. Vilseck has a shot at a title here in second-seeded Juan Oestreich, and the Ramstein-Stuttgart feud finds one more front here between Royal Erik Gerena and Panther Jacob Puentes.
Twitter: @broomestripes
---
---
---