Volleyball preview
Ramstein strong again; Rota now part of D-II jumble
by
Gregory Broome
September 12, 2013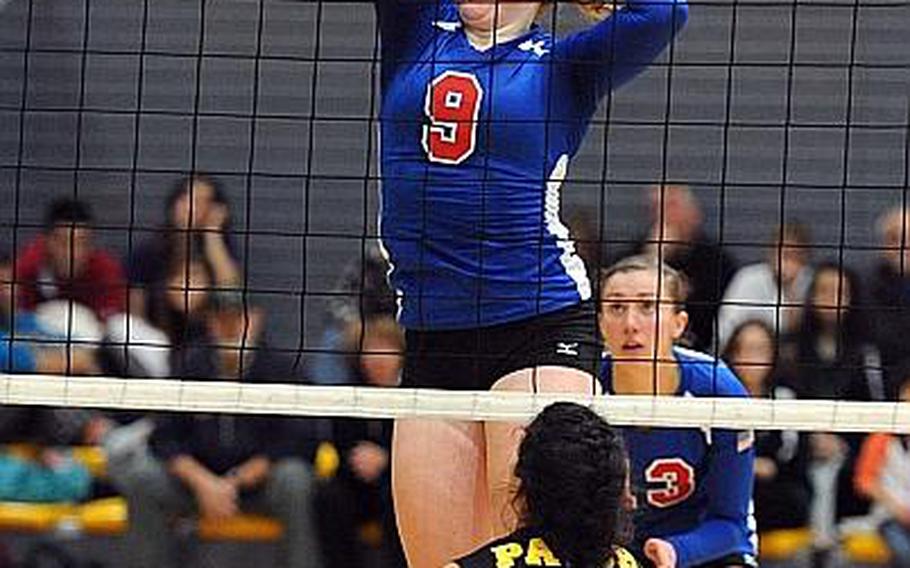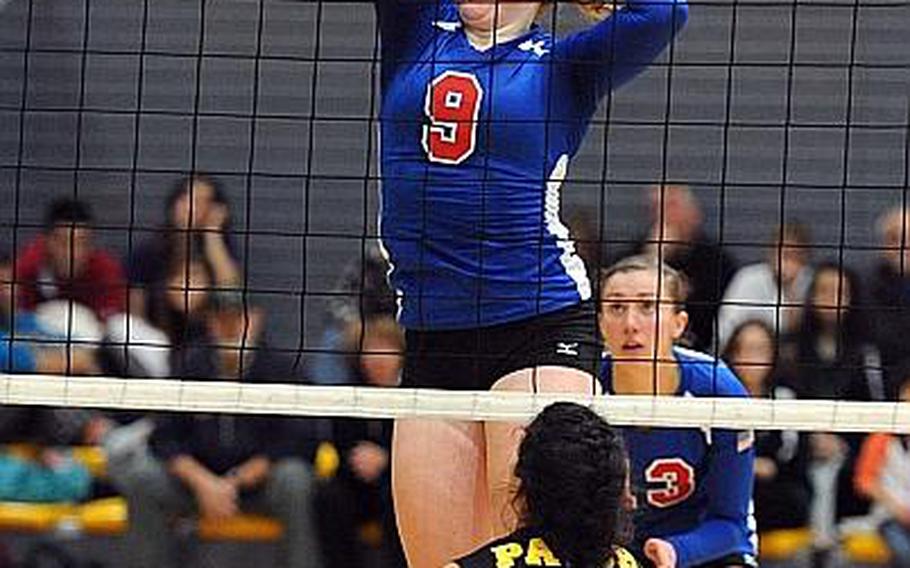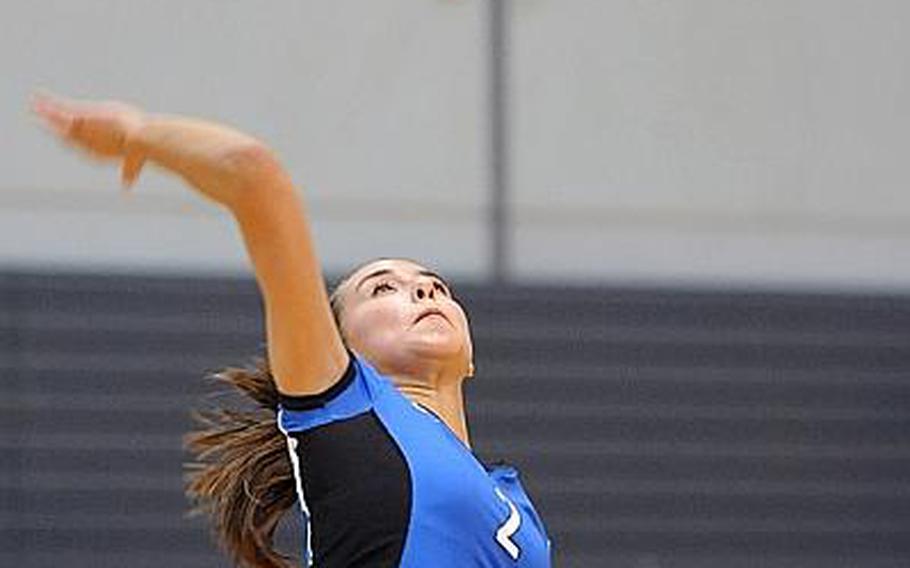 The 2013 DODDS-Europe girls volleyball season opens Saturday with a firmly-entrenched champion atop Division I, a compelling new rivalry in Division II and a wide-open Division III field.
The seven-week regular season begins Saturday with 22 teams in action at eight sites across four countries, all leading up to the European championship Oct. 31 through Nov. 2 at Kaiserslautern Military Community.
Division I It's not guaranteed that Ramstein will win its third straight championship this November. What's certain is that any team that plans on stopping the Royals has undertaken an awfully big job.
Erin Markus has led the Royals to a 32-3 record and consecutive Division I titles in her two years in charge. The talent she's assembled in year three seems more than sufficient to continue that trend.
As DODDS-Europe's largest high school, Ramstein draws its volleyball roster from an unparalleled reservoir of talent. The familiar names are either All-Europe selections or proven contributors; most of the newcomers will be one or the other in short order. Any attrition, even of the caliber of All-Europe outside hitter Sarah Szybist, is quickly mitigated with able replacements.
That's the case again in 2013. Setter Sarah Schiller and outside hitter Maeden Doan are back for senior encores to junior All-Europe campaigns. And Doan is just one of a murderer's row of effective hitters, including sophomores Chera Jensen and Denee Lawrence and senior transfer Jenna Kirchhoefer.
The only question is how quickly this new group will coalesce into a championship-level squad.
"The girls still have to adapt to each other and find their niche on the team," Markus said. "I have no doubts that this team will be strong and bond quickly."
If not, there are several viable contenders ready to take advantage.
Patch reached the European final last year, where it fell to the Royals in straight sets. But the Panthers are also the only team in DODDS-Europe that will return two first-team All-Europe performers in outside hitters Mercedes Deets and Rachel Hess.
After a solid third-place showing in 2012, Lakenheath is hoping for an even deeper postseason run under first-year coach Kyle Siftar. The Lancers return All-Europe star Jourdan Hodge and welcome newly-arrived sisters Bailee and Brenna Hughes to the fold.
Accomplished coach Brian Swenty annually keeps Vilseck in contention, and expects this year's team to "be as competitive as a group as we have in a long time."
Division II As is often the case, the crowded Division II picture is far blurrier than that of the larger schools.
What already figured to be a fiercely competitive race got even more intense with the addition of three-time Division III champion Rota to the Division II ranks.
Two-time Stars and Stripes girls volleyball Athlete of the Year Aspen Luna is back to round out an extraordinary prep career for the Admirals. The prodigious outside hitter has played at very high levels of Spanish club competition, so the move to face bigger schools will hardly slow her down.
It's the rest of the Rota team, now without its other 2012 All-European in outside hitter Natalia Rivera, that will have to adapt.
"I think we'll be real competitive. We all welcome the challenge," said Melinda Luna, Admirals coach and Aspen's mother. "It's kind of walking into the unknown."
What's certain is that defending champion Naples and 2012 runner-up Ansbach won't cede ground easily.
The Wildcats return All-Europe outside hitter Victoria Krause and two other seniors from last year's undefeated championship team, though head coach Julia Byler said overconfidence is not a problem as they're still looking for ways to compensate for the loss of the team's other two 2012 All-Europeans.
"We're not going into it big-headed at all," Byler said, adding that the addition of Rota to the mix makes the season "extra-exciting."
"We haven't peaked yet, but we're hopeful."
The Cougars, meanwhile, have three above-average setters in Alyssa Solis, Jahkya Smith and Katie Carson to offset their own considerable personnel losses.
American Overseas School of Rome and Vicenza could emerge from tough Italian schedules primed for a successful run; AOSR gets first shot at Naples on Saturday.
Division III Rota's promotion leaves a long-awaited vacuum for small schools that struggled to compete with Luna's transcendent talents.
Sigonella, last year's runner-up, is the presumptive front-runner, though Menwith Hill, Brussels and Florence will also be heard from. Alconbury, a Division III semifinalist in 2012, follows Rota to Division II in 2013.
Boys The Mediterranean-only boys division adds Sigonella to its ranks as the Jaguars transitioned from football to volleyball. Defending champion AOSR and runner-up Marymount will contend again, along with a tall Aviano squad, senior-laden Vicenza and ubiquitous Naples.
Twitter: @broomestripes