Home Team
Ramstein stopper gearing for final title shot
by
Rusty Bryan
March 21, 2012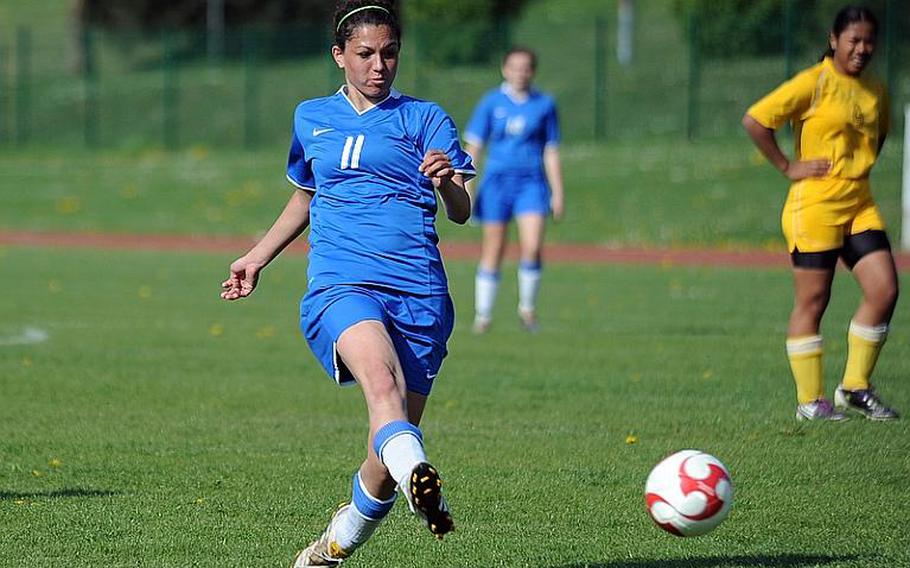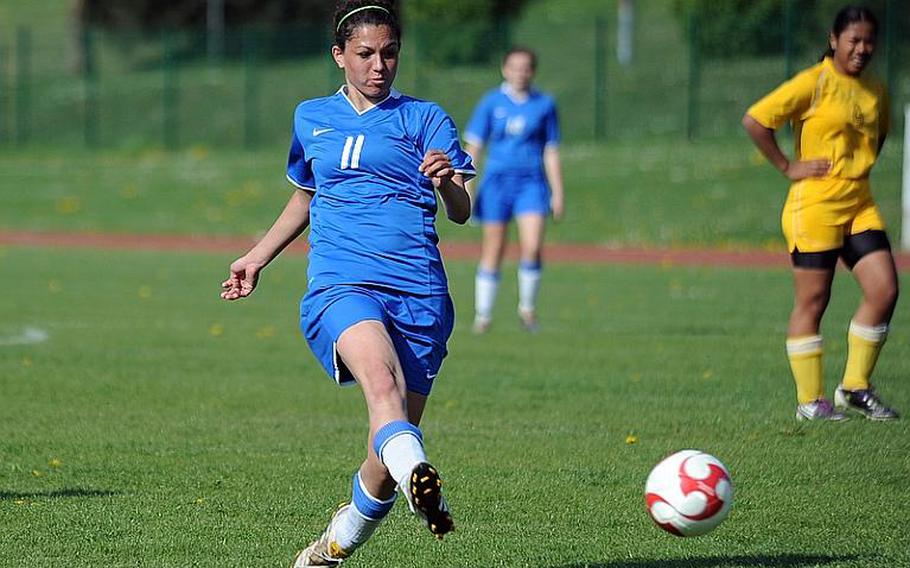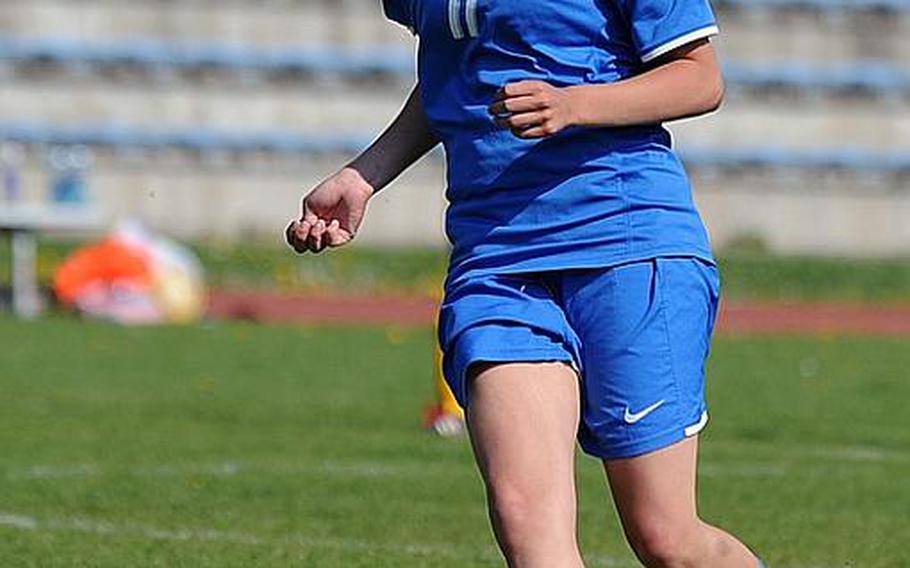 HEIDELBERG, Germany – On a glorious sunny day last weekend watching her teammates play the game she loves, Ramstein senior Mackenzie Crews, a two-time All-Europe soccer player and recently announced two-time All-Europe basketball player, explored the downside of so much joy and accomplishment.
"It's pretty sad," the 17-year-old said about her final sports season as a Lady Royal. "I've been playing with most of these girls for three or four years, and I'll really miss them."
She's not exaggerating. To Crews, sidelined by an injury during the Heidelberg jamboree here, the team is everything.
"My favorite experience," Crews answered when asked about a highlight of an athletic career in which excellence has been a constant, "is playing with my team, watching them grow and growing with them."
Ramstein coach Ricardo Buitrago has noticed.
"Two of the greatest things about Crews are that she is humble and a team player," Buitrago assessed in a Tuesday email. "She is intense, determined and always in the pursuit of excellence."
That pursuit has been wildly successful so far.
Last year, Ramstein's back line allowed just three goals all season, according to Buitrago, who added that the Lady Royals' miniscule goals-against average was "directly attributable to (Crews') awesome performance" at central defender.
"She is calm, composed and collected."
Crews said she enjoys the "down-and-dirty" aspect of playing stopper, the anchor of the final line of defense in front of her team's goal.
"I have to stop anything that gets back there," she said about the position to for which her in-your-face style is perfectly suited. "I like being aggressive."
How about the pressure that comes with the finality of the position?
"There is a lot of pressure," she said, "but I have three people back there to help me. I know they can cover for me."
Crews' defensive prowess impressed Heidelberg All-Europe striker Layne Lowe, who recalled the Lady Lions' Crews problem during last year's European tournament.
"We had a difficult time getting around her," Lowe said Saturday. "We didn't score, and she was the big reason. She was really quick getting to the ball, and once we did get the ball forward, she was always there."
Buitrago said Crews' value to the team doesn't lie solely in defusing the opponent's attacks, however.
"She also is one of the biggest contributors when it comes to scoring goals (five last season)," he wrote of his 5-foot-7 star. "Crews is amazing in the air and has amassed countless goals off set plays and corner kicks."
Despite her past excellence, Crews said there's no pressure in living up to her reputation. Resting on her laurels isn't an option.
"Every year, I know I need to keep working harder," she said. "I know I need to do better every season."
Typically, Crews' drive to improve involves the benefit of others, according to Buitrago.
"She is passionate about the sport and has been committed to improving her individual skills for the betterment of the team," he wrote. "Her biggest contribution to the team is her leadership…"
Betterment for the team this season means a European D-I title, a task which involves dethroning two-time champion Patch.
"It's more important this season, because it's my last chance," she said of the 2012 title chase. "I don't have another chance."
Crews, who plans to study early childhood education next year at Northern Arizona University, where she's considering walking on for the Lumberjacks, found time to reflect on the joy as well as the sadness of her final chapter at Ramstein.
"I've loved it here," she said.
Buitrago returns the sentiment.
"She's been a joy to coach," he concluded.