Ramstein's Maxey is top male Europe athlete
---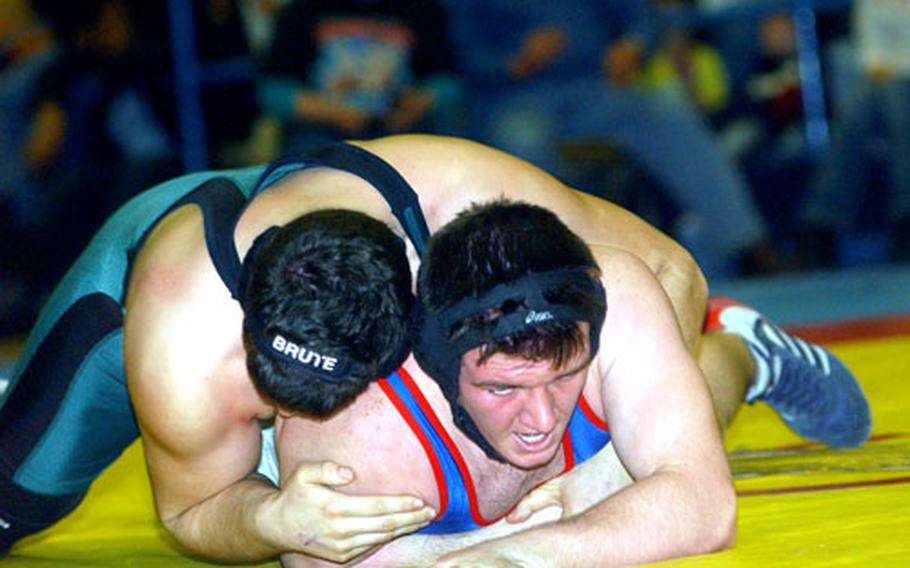 If Ramstein's three-sport star, Cole Maxey, makes a smooth transition into college this fall, there will be a reason.
He's been practicing.
"It'll be easier to do it this time," said Maxey, who was voted Europe's male athlete of the year last week.
Maxey, who transferred for his senior year from Japan to Ramstein, must now make the transition to Deerfield, Ill., to play football at NAIA Trinity International University.
To do so, Maxey came up with a simple coping strategy for his final year of high school.
"I was in Okinawa for five years and was really rooted there," Maxey said. "You've got to adjust. I just decided to let myself be open to whatever is going to come."
What came was quite a year.
Maxey began by making the All-Europe football team as a center, reading and calling out defenses, playing linebacker (40 solo tackles, 59 assists, three pass interceptions) and serving as a player/coach on the field, according to coach Glenn Porter, who said Maxey showed poise and maturity beyond his years.
"You could count on him to do anything," Porter summarized.
Change loomed large in Maxey's winter sport, too, in which he won the European 215-pound wrestling championship despite having to switch from freestyle, used in the Far East schools, to the American college style wrestled in Europe.
No change was required, however, in Maxey's attitude, which helped the Royals to the Division I championship.
"He was our hardest worker," coach Dave Izzo said. "Cole was our best leader."
Nowhere was Maxey's tenacity more evident than in February's title bout against Ansbach's Mike Ewing, in which Maxey, trailing on points, reached deep near the end of the bout to pin his opponent and complete a 21-0 season.
In the spring, Maxey anchored the defense for the European Division I champion Ramstein soccer team, playing every minute of every game.
"He was the vocal and spiritual leader of the defense which allowed only two goals during the (European) tournament," coach Dan Nukala said.
"He helped our new goalie, Matt Luthman, a great deal this year. Matt had never played goalie before, and it was vital Cole take the pressure off him by coordinating the defensive calls the goalie might normally make."
Transition accomplished, and attitude in place for the next challenge.
"I'm going there prepared for anything," said Maxey, who plans on playing football only at Trinity, about stepping up to the next level.
If form holds, Trinity should be prepared for something special from its import from Germany, according to Porter.
Maxey, a near 4.0 student, is "the best athlete-student-gentleman to come through Ramstein in a long time," Porter said.
Other DODDS-Europe male athlete of the year nominees
Matt Alexander, sr., WiesbadenJason Allard, sr., RotaMatthew Briegel, sr., NaplesCarl Cephas, sr., AvianoMike Ewing, sr., AnsbachGary King, sr., VicenzaSal Mena, sr., WürzburgKevin Pollock, sr., VilseckRichard Rendon, sr., SHAPEBrandon Simmons, jr., HeidelbergT'Andre Stuckey, jr., BambergMike Wigley, sr., AFNORTH
---
---
---
---