Ramstein's Hustead takes first-day lead in DODDS-Europe golf
by
Rusty Bryan
October 14, 2005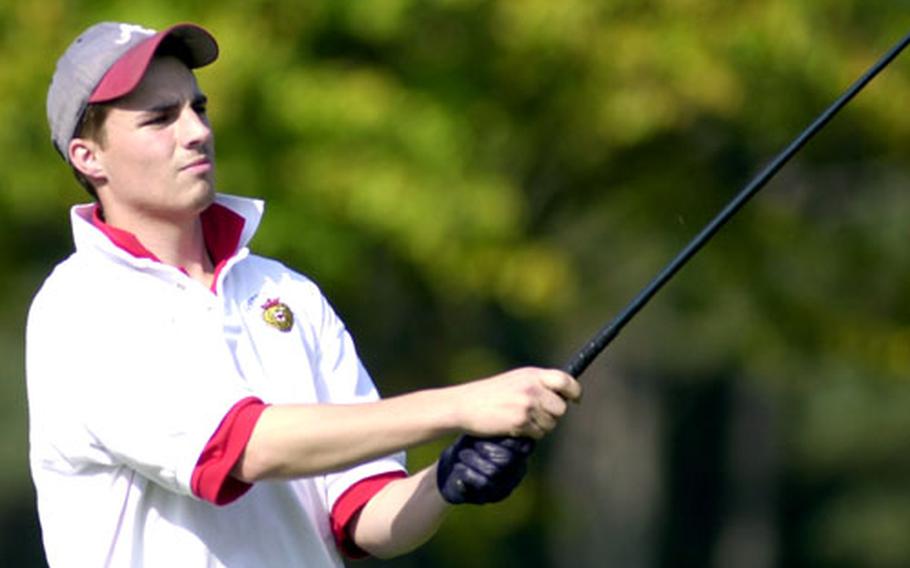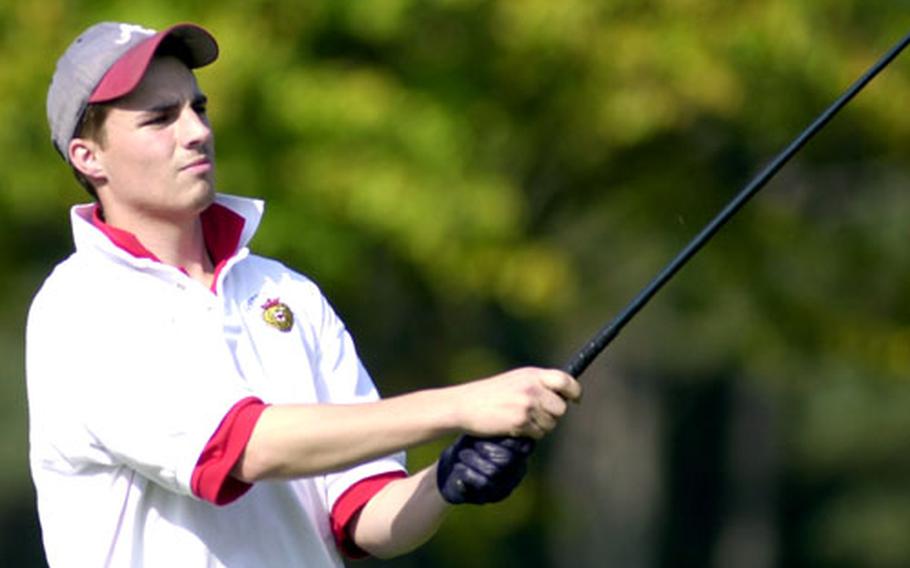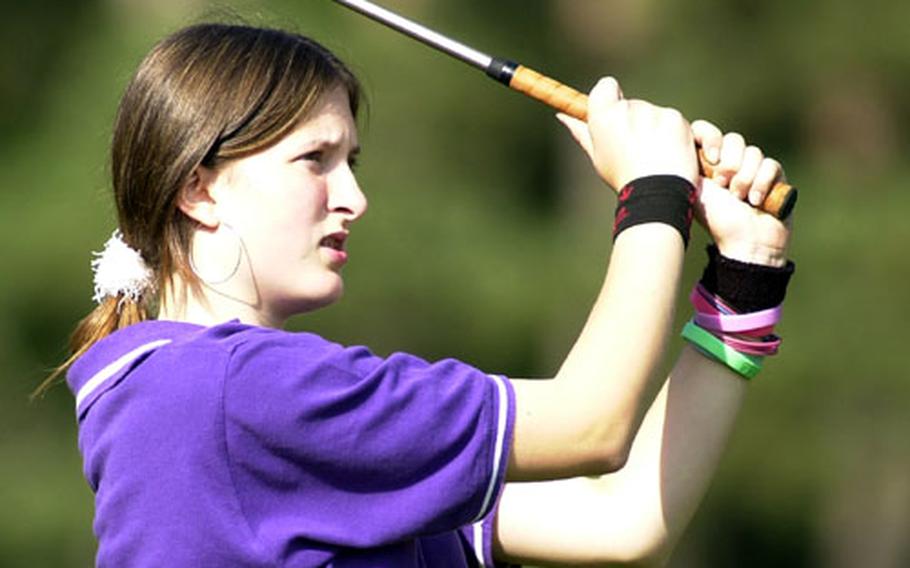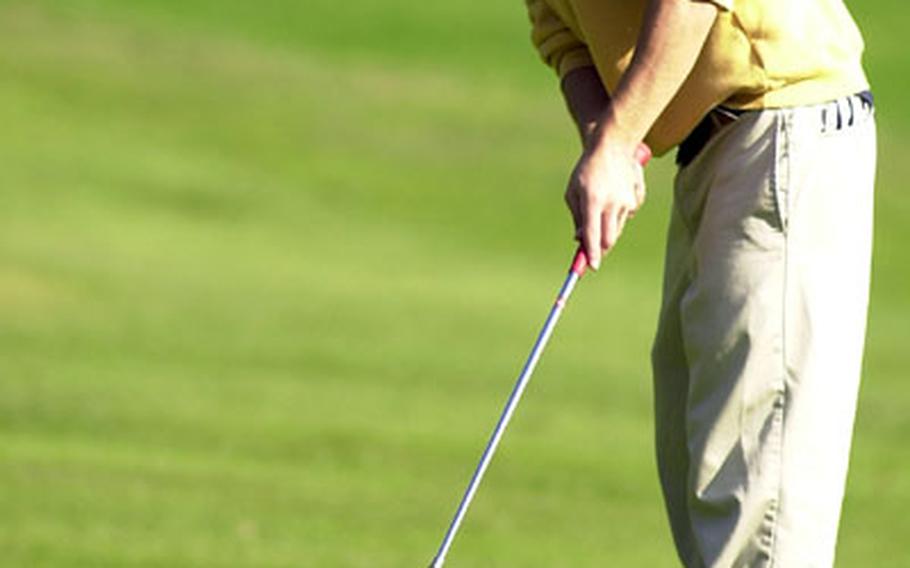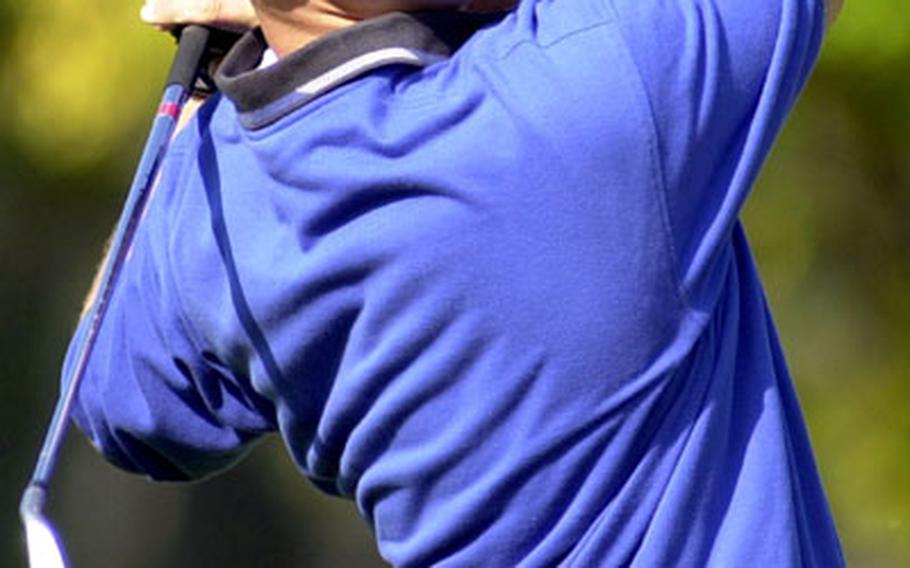 WIESBADEN-FRAUENSTEIN, Germany — How comfortable is a seven-stroke lead after the first round of a two-day golf tournament?
"It's fine," smiled Ramstein senior Chris Hustead after he shot an 8-over 80 Thursday to grab a substantial lead in the DODDS-Europe high school golf championships.
"I'll try to work with it."
Hustead made par or bogey on 16 holes on the hilly 6,239-yard Rheinblick layout. He made birdie on No. 16 and carded only one double-bogey on a sunny afternoon.
"I was trying to play it safe," Hustead said. "This is a pretty hard course."
With a seven-stroke lead, Hustead indicated he might be more aggressive on Friday. It will be only his sixth round on the challenging course.
"I might risk it a little bit," he said.
Heidelberg's Josh Ecenrode made birdies on Nos. 14 and 15 en route to an 87. He's alone in second place, one shot ahead of Charlie Springle of Rota.
Benjamin Mikkelson of Würzburg and Ben Antonik of Kaiserslautern shot 89. Antonik was DODDS-Europe's leading scorer entering the tournament.
In a field of 44 boys, 16 advanced to Friday's medal-play championship round. Those who missed the cut of 95 had their scores converted to points using the Stableford scoring system and will compete in Friday's consolation round. Corbin Nelson of Hanau (32 points) leads that flight.
The girls' field, which used the school system's Stableford system, was led by Hope Fotter of Hanau and Kayle Helton of Würzburg with 16 points each.
Sonia Garcia of SHAPE, the leading girls scorer this season, had 15 points.
Neither Fotter nor Helton felt pressure about being the leaders.
"Not a bit," said Helton, whose regular-season scoring average is six points lower than Fotter's and nearly seven behind Garcia's. "I'll just try to play like I did today."
Fotter said, "I'll just have to do my best."
Hustead had a similar outlook. "Tomorrow's another day," he said. "I'll just go to bed, wake up in the morning and hope for the best."
European championships
At Wiesbaden-Frauenstein, Germany
Rheinblick Golf Course; Par 72 (36-36)
Boys: 6,239 yards; Girls: 5,631 yards
Note: Boys consolation and girls use modified Stableford scoring (1 point for double-bogey, 2 for bogey, 3 for par, 4 for birdie and 6 for eagle or ace).
First of two rounds
Thursday's results
Boys
Championship flight
Chris Hustead, Ramstein 40-40—80
Josh Ecenrode, Heidelberg 44-43—87
Charlie Springle, Rota 45-43—88
Benjamin Mikkelson, Würzburg 45-44—89
Ben Antonik, Kaiserslautern 44-45—89
Ryan Bachman, Ramstein 46-44—90
Jonathan Mikkelson, Würzburg 43-47—90
Craig Lamb, Rota 43-48—91
Jim Connelly, Rota 48-44—92
Nick Dougan, Baumholder 46-46—92
Kip Moorhead, Ramstein 45-47—92
Dylan Kugler, SHAPE 45-48—93
Derrick Hamilton, Patch 43-50—93
Chris Helfrich, Heidelberg 42-51—93
Bryce Ellis, Heidelberg 45-49—94
Matt Wiederholt, Ramstein 47-48—95
Consolation flight
Corbin Nelson, Hanau 14-18—32
Jonathan Guidry, Wiesbaden 20-11—31
Scott Csrnko, Patch 14-17—31
Ben Senftner, Hanau 16-14—30
Craig Herron, Patch 11-17—28
Justin Fotter, Hanau 13-15—28
Matt Robinson, Wiesbaden 14-14—28
Michael Haas, Ramstein 14-13—27
Phillip Scott, Wiesbaden 15-11—26
Kai Pope, Lakenheath 14-11—25
Scott Eaton, Ramstein 12-11—23
Ben Meyer, Ramstein 10-12—22
Carl Jaeger, Patch 8-13—21
Hank Mol, Ramstein 12-9—21
Eric Fichtl, Heidelberg 12-8—20
Kip Moorhead, Ramstein 9-11—20
Jeremiah Almosara, Lakenheath 9-10—19
Max Mills, Patch 10-9—19
Chandler Griffin, Würzburg 7-11—18
Jon Claude DeBearn, Heidelberg 8-10—18
Chris Tetterton, SHAPE 6-9—15
Adrian Conrad, Ramstein 8-5—13
Alex Crist, Rota 3-9—12
Nathan Wojcik, Baumholder 5-7—12
Sean Bannister, Ramstein 7-3—10
Craig Myers, Kaiserslautern DNS
Luke Seely, Würzburg DNS
Girls
Hope Fotter, Hanau 9-7—16
Kayle Helton, Würzburg 9-7—16
Sonia Garcia, SHAPE 7-8—15
Ashley Cary, Würzburg 5-9—14
Katherine Riley, Würzburg 6-7—13
Lara Habel, Patch 7-5—12
Kelsey Chavarria, Mannheim 4-7—11
Brittany Morris, Patch 5-6—11
Molly Henage, Lakenheath 5-5—10
Barbara Burriss, Kaiserslautern 6-2—8
Sarah Fowler, Würzburg 2-5—7
Tiffany Thorsheim, Patch 2-3—5
Aurell Moore, Kaiserslautern 4-0—4
Kayla Esmond, Lakenheath 0-2—2
Chelsey Dodd, Mannheim 2-0—2
Audre Richards, SHAPE DNS