Ramstein repeats, Brussels wins its first DODDS-Europe volleyball crown
---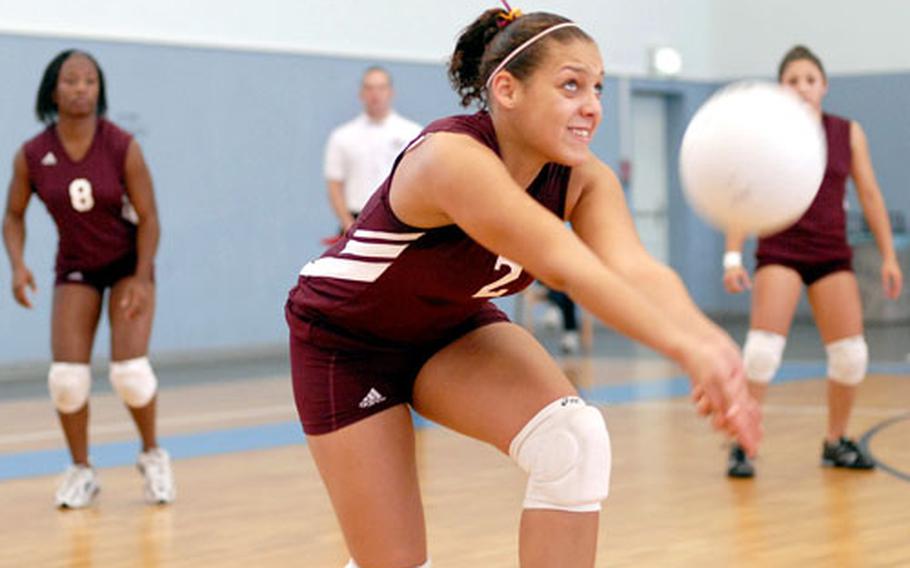 KAISERSLAUTERN, Germany — Undefeated Ramstein, top-seeded Brussels, No. 2 seed Vilseck and No. 4 Rota claimed volleyball championships with victories in the DODDS-Europe girls tournaments at the Vogelweh gym Saturday.
Ramstein was the lone defending champion to repeat, downing Heidelberg in Division I. Vilseck swept aside Naples in D-II while Rota, last year's D-III runner-up, won it all this year by beating Hohenfels. And Brussels proved it deserved Division IV top seed by beating Milan.
Division IVBrussels earned its first volleyball championship by beating the American School of Milan 25-19, 25-11, 15-25, 25-15.
"It's huge for us, because we're 'Little Brussels,' " coach Vicky Westland said as her team celebrated on the court.
The title was especially sweet because Brussels lost to Milan in tournament pool play Thursday. In fact, it was swept in the best-of-three match.
Lizz McVicker, the Brussels captain, said the team thought it might face Milan in the final and used the loss to spur it on.
"All of our players were on today," McVicker, a junior, said. "They were focused on the game. They really wanted to win it."
Milan wanted "it," too. Badly. This was the third year in a row that Milan was D-IV runner-up.
After dropping the first two games, Milan stormed back to win the third. The fourth set started well for Milan, which jumped out to a 7-4 lead, but the lead evaporated as the game went on.
McVicker said her school has just under 100 students — total — but that the players felt they had enough to win.
"We were aiming for [the title] all season," she said.
Division IIIRota improved on last year's finals loss by toppling Hohenfels in a tightly played match 25-22, 25-22, 21-25, 25-15.
The match didn't start that way. In the first game, Hohenfels, the No. 1 seed, vaulted to 12-1 lead on the strength of Lyndy Axon's well-placed serves.
"Hohenfels is a great team," Rota coach Judy Scarbrough said later. But Rota is no slouch either.
The Lady Admirals worked their way back into the game and managed to sneak away with it.
The teams then split a pair of close games, and game four looked to be headed that way until Abbi Shapiro Kinghorn stepped up to serve.
Behind Kinghorn's serves and Bethany Walcott's spikes, Rota jumped out to a comfortable lead and never looked back.
"We were disciplined," said Stephanie Shapiro, who seemed to be in on nearly every point. "We bump, set it up and spike."
Scarbrough said her team hones its skills during the regular season by playing outside of DODDS — mostly against against Spanish clubs.
"Maybe it's to our benefit that nobody sees us play," she said.
Division IIVilseck swept Naples 25-20, 25-10, 25-17 to give the Falcons' sports fans something to cheer about.
"It's been awhile," said Falcons head coach Kori Pollock. Vilseck "is not in the sports news much. It's their time again."
After a close first game, Vilseck came out strong and dominated the second and third games with relative ease. Vilseck had knocked off top-seeded Aviano in the semifinals and had too much power for sixth-seeded Naples.
Leading the way was Alania McKinnis, who unleashed an arsenal of hard shots that were nearly impossible to return.
McKinnis, a senior, said she and her teammates are extraordinarily close, spending a lot of time together away from volleyball. They watch movies, hold sleepovers and talk about everything on and off the court.
"It's all the time," McKinnis said, emerging from a team hug after the final point. "We bond. We're all sisters on the court."
Division IAfter dropping the first game to Heidelberg, a see-saw affair with several lead changes, Ramstein stepped up its game and swept the next three to win 23-25, 25-12, 25-13, 25-21.
With the tournament in Ramstein's neighborhood, the Vogelweh stands were packed with raucous Royal loyals for the final match of the day. Heidelberg was also well represented.
"It's always this way when Ramstein and Heidelberg play each other," one tournament official said.
The games are good, too. Heidelberg grabbed the first one on the strength of team play led by senior Courtney Buchwald.
But from the second game on, it was evident Ramstein was out to make a statement: Heidelberg wasn't about to walk away with the hardware without a fight.
Ramstein dominated the next two games. Ramstein senior Kaylen Bannister attributed the momentum swing to her teammates' ability to move off the back line and set her and others up front.
"If we don't serve and pass," agreed Ramstein assistant coach Toni Blair, "none of that fancy stuff matters."
The Lady Lions kept the final game close, but eventually fell. It was the second time in the tournament that Ramstein beat Heidelberg after losing the first game.
In third-place games: Lakenheath defeated Patch 25-18, 24-26, 25-19 in Division I; Aviano swept Würzburg 25-22, 25-13 in D-II; Hanau beat London Central 25-20, 25-8 in D-III; and Bamberg bested Alconbury 25-12, 26-24 in D-IV.
---
---
---
---