D-I boys soccer semifinals
Ramstein only team standing in way of Naples breakthrough title
by
Gregory Broome
May 22, 2019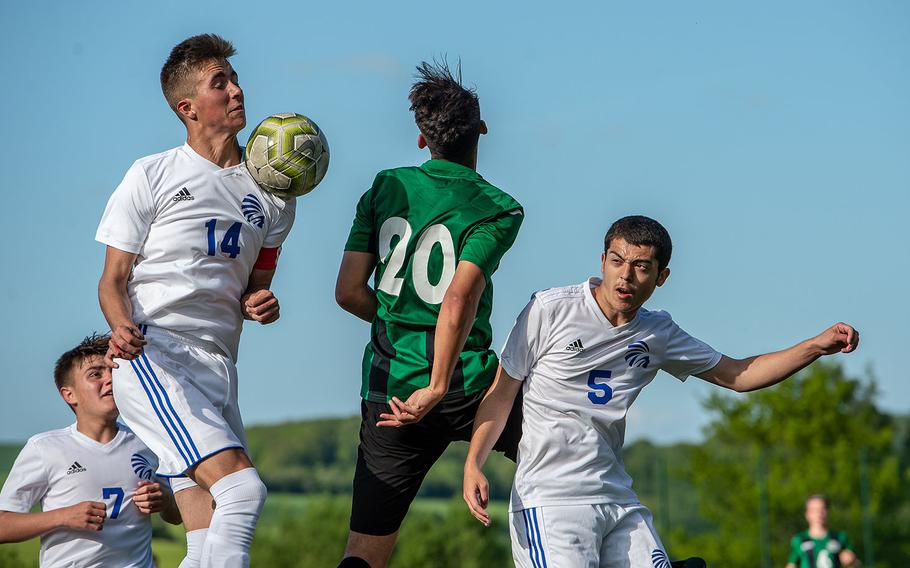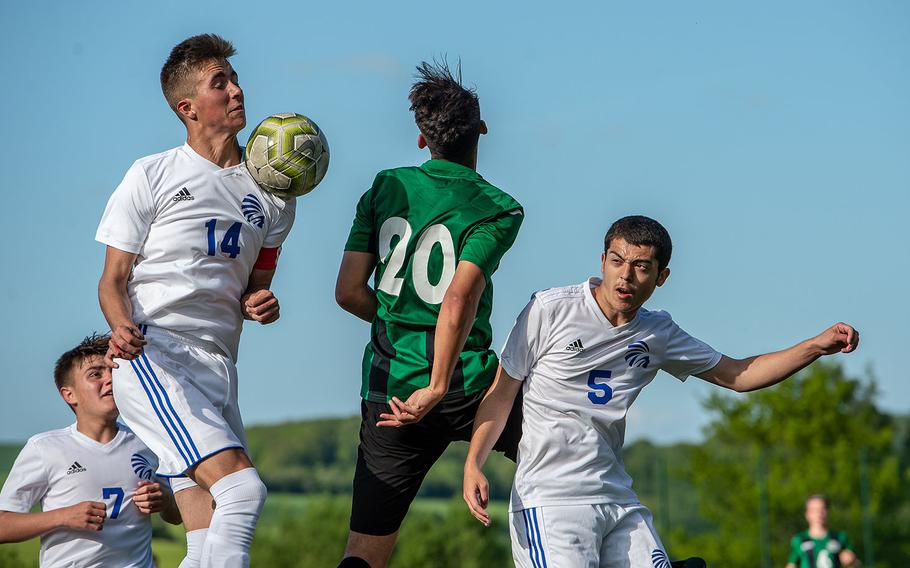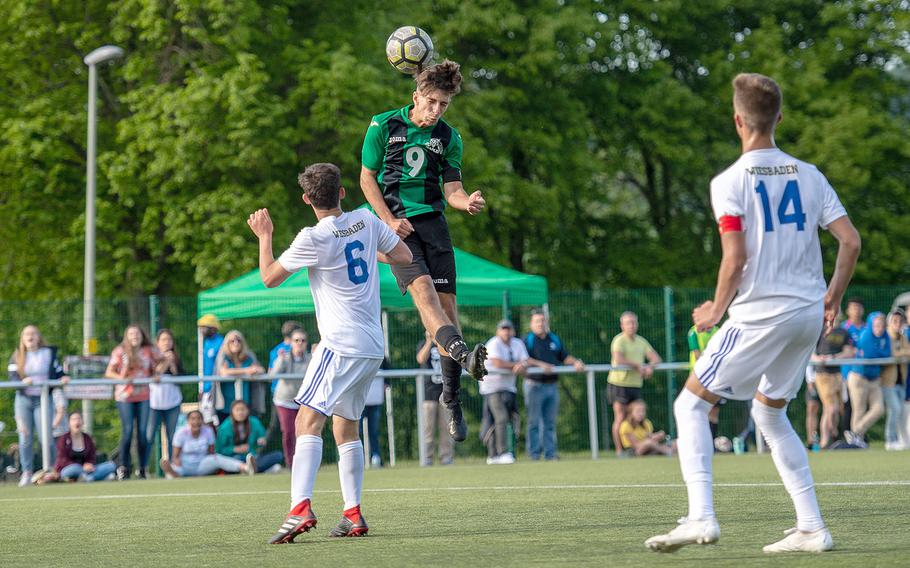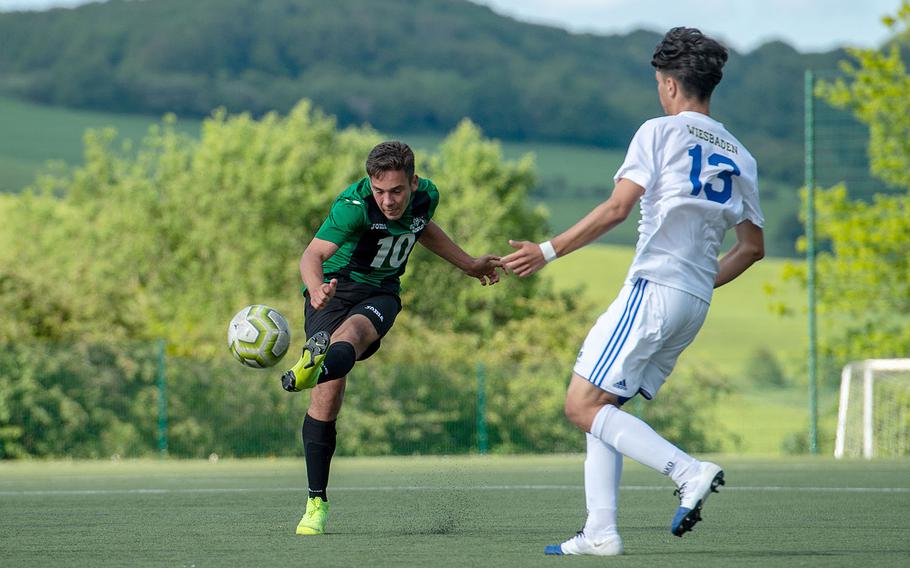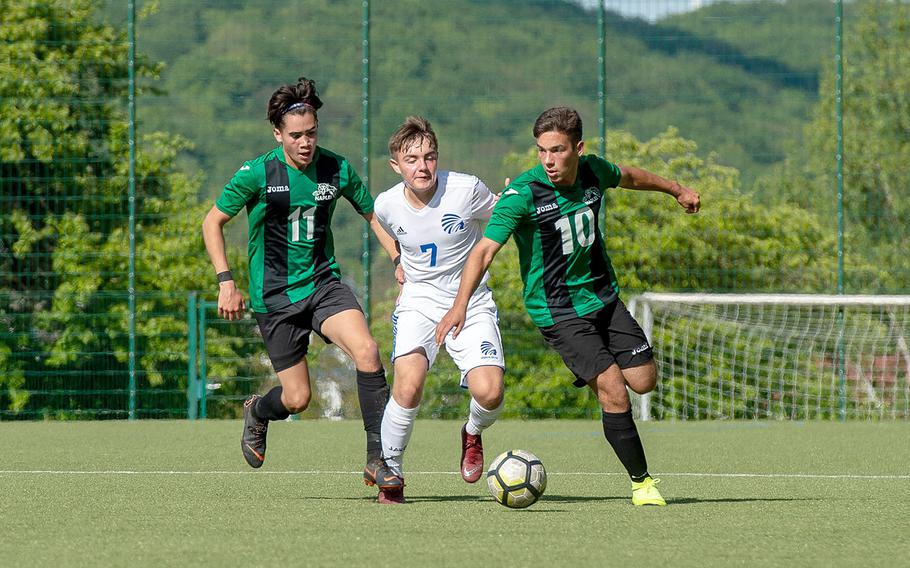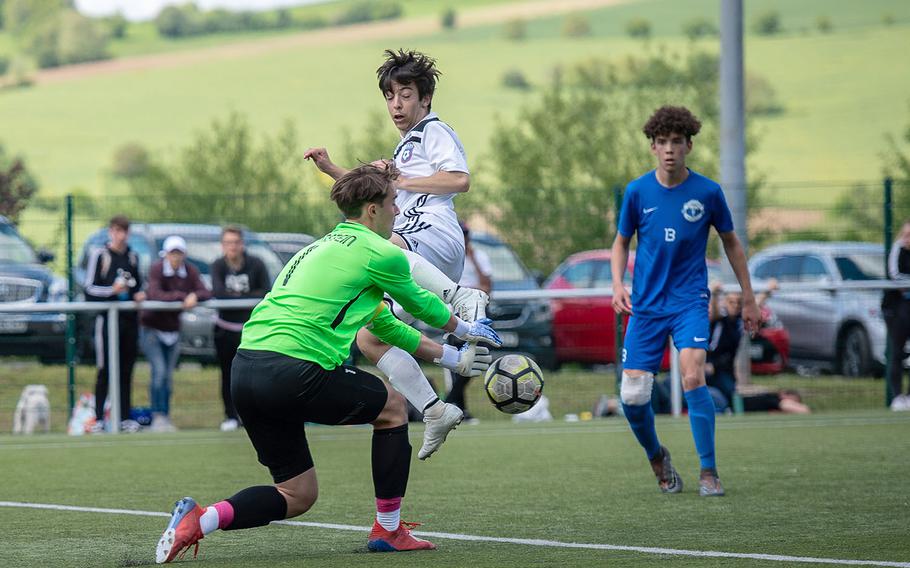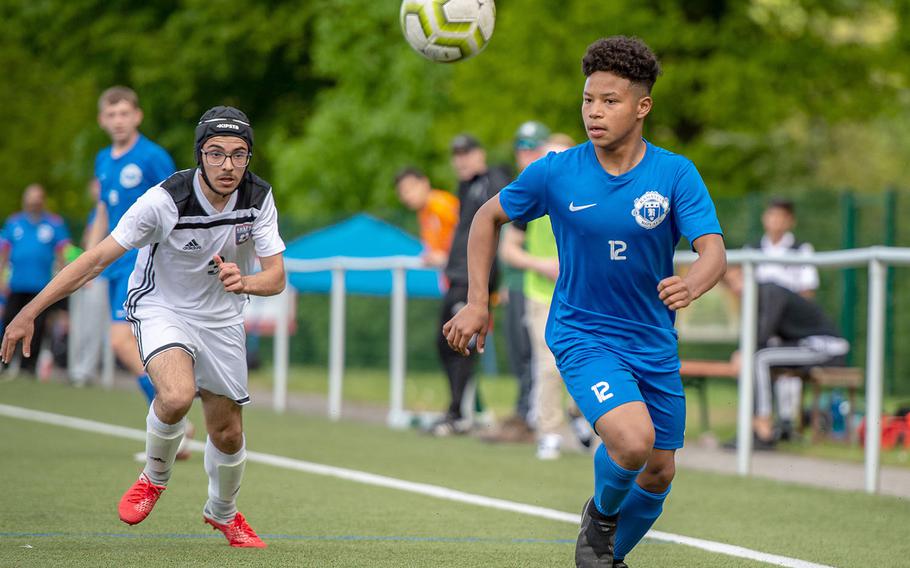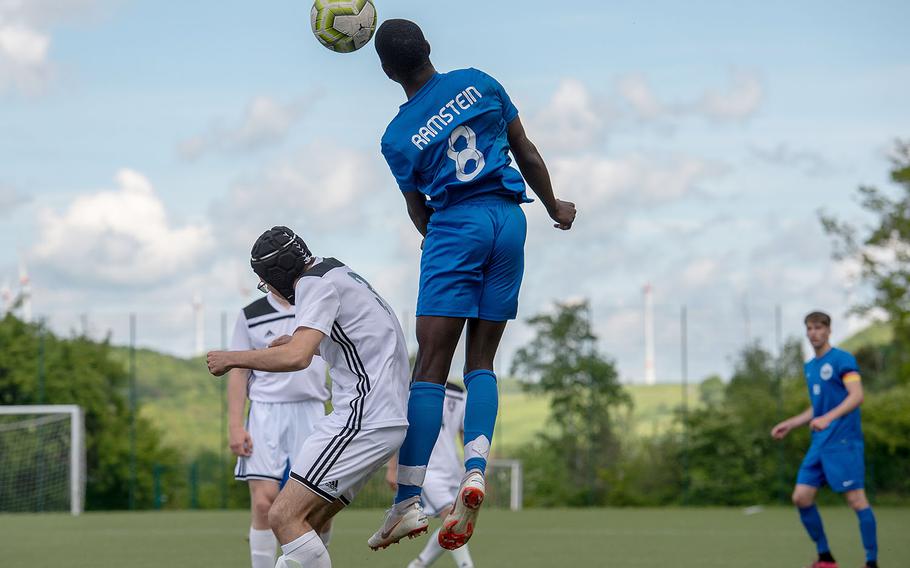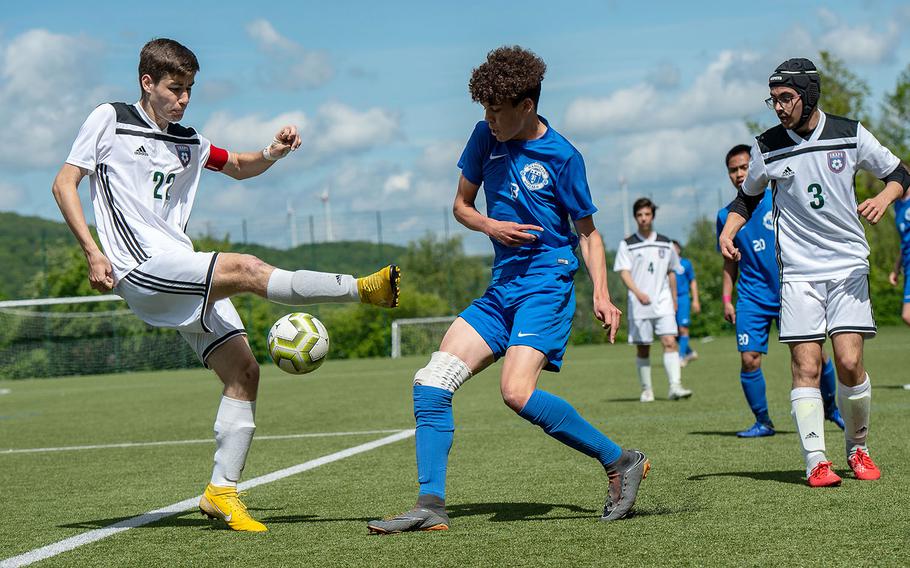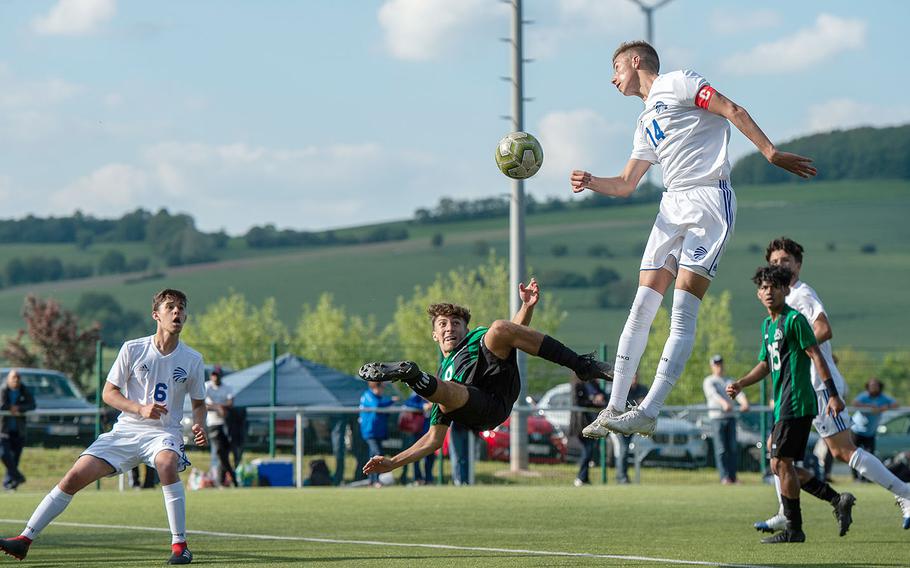 REICHENBACH-STEEGEN, Germany -- The top-seeded Naples Wildcats will get their long-awaited shot at the DODEA-Europe Division I boys soccer title Thursday, facing the Ramstein Royals in a compelling matchup of the division's up-and-coming contender and one of its most established.
No. 1 seed Naples and third seed Ramstein survived rigorous semifinal tests on Wednesday to play their way into Thursday's large-school final. The Wildcats scored two late goals to oust the Wiesbaden Warriors 2-1, while the Royals edged the SHAPE Spartans 1-0.
Both Ramstein and Naples beat their semifinal opponents by sizeable margins in the regular season. But Wednesday's elimination-round rematches hardly resembled those earlier blowouts.
Naples 2, Wiesbaden 1: The Wildcats advanced to their first Division I championship game since moving up from Division II five years ago.
"It's huge," Naples coach Dirk Lambertson said. "It's breaking through the glass ceiling."
Favored Naples was confronted with the prospect of elimination midway through the second half when Anthony Hall put it in a go-ahead Wiesbaden goal off a corner kick. But Naples was undeterred, working around Wiesbaden's problematic size up the middle and leaning into its advantages elsewhere.
"We decided we would play our speed on the outside, get on the outside and move it down the wing and look for the crosses," Lambertson said. "That's what we've been doing all season long."
Those efforts paid nearly immediate dividends. Chase Traylor muscled under a Wildcat corner kick and redirected it into the net for an equalizing goal minutes after Wiesbaden broke the scoreless tie. Soon after, Wutthipong Khotsaeng pounced on a bouncing ball in the box and blasted the game-winner past the Wiesbaden keeper.
"I just cranked it as hard as I can," Khotsaeng said.
Khotsaeng was quick to share credit for the decisive goal with his teammates.
"It's not just me. It's the whole team. When we score we score together," said Khotsaeng, one of eight seniors on the seasoned Wildcat roster. "Other teams, they have one, two, three good players. Us, it's a whole unit."
That unit has been on fire all spring. Naples blazed through the regular season on the way to what is already its best-ever large-school tournament run. The Wildcats entered the tournament as the only unbeaten boys team in DODEA-Europe, a mark that included a 4-1 win over Wiesbaden on April 26 and a 4-0 rout of reigning champion Kaiserslautern the next day. Naples maintained that unbeaten mark in the tournament, handling Vilseck 6-1 and blanking 2018 runner-up Stuttgart 2-0 on Monday before a largely inconsequential 2-2 tie with SHAPE on Tuesday.
Wiesbaden, meanwhile, has joined Naples on the fringes of the championship game in recent years but was denied its own long-awaited breakthrough Wednesday. The Warriors faltered early in this tournament, taking a 3-2 loss to Ramstein on Monday, but blew out Kaiserslautern and Lakenheath over the next two games to keep their title hopes alive another day.
Ramstein 1, SHAPE 0: The Royals made a second-half goal hold up to outlast the fourth-seeded Spartans.
Ramstein routed a shorthanded SHAPE squad 5-0 in a May 3 regular-season meeting, but the Royals had no illusions that a postseason win would come so easily.
"We knew that's a different SHAPE team today than it was a couple of weeks ago," Ramstein coach Dominik Ludes said. "We were aware of that, that it was going to be a close game."
The Spartans lived to that expectation, playing Ramstein to a stalemate until the Royals finally got a ball past their defense, setting off a chain of events that led to a point-blank goal by midfielder Gabriel Delanoy.
"It was something that we were looking for all game long, it just didn't happen because they were extremely organized in the back," Ludes said. "I told them at halftime, just keep looking for those through balls and our chance will come."
That chance came when Ramstein's Jaden Buelvas sent in a cross that teammate Hunter Smith was able to steer towards Delanoy, who eagerly finished the play.
"This is my moment," Delanoy said of the goal. "I've just got to put it in the back of the net and get the goal we need."
Ramstein is eying its first Division I championship since 2015, when it edged International School of Brussels 1-0. The Royals took a single regular-season loss, a 2-1 setback to Wiesbaden on April 20, but avenged it with a 3-2 win over the Warriors in Monday's preliminary meeting. Shutouts of Kaiserslautern and Lakenheath on Tuesday earned the Royals their pool's top seed.
SHAPE, which was moved along with Naples from Division II to Division I in the fall of 2014, fell just short of its own debut in the large-school title game. The Spartans were among DODEA-Europe's hottest teams over the season's opening weeks before falling to Ramstein late in the regular season. Shutout wins over Stuttgart and Vilseck on Monday restored SHAPE's momentum and vaulted the Spartans into the final four.
broome.gregory@stripes.com Twitter: @broomestripes