Ramstein men win Army-Air Force softball tourney going away
---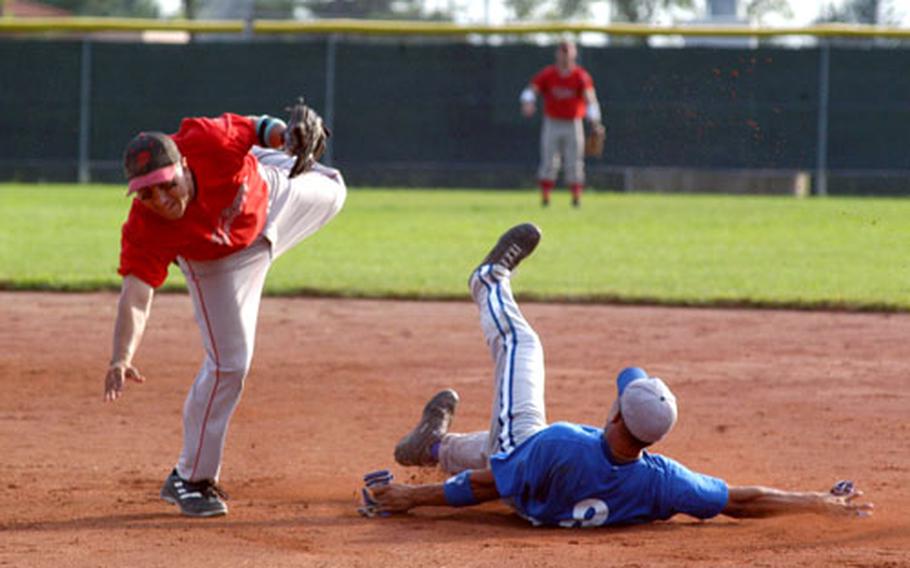 AVIANO AIR BASE, Italy — The Ramstein men's softball team let one championship slip last week. But the Rams weren't about to let another one get away.
Ramstein jumped to an 18-0 lead against Kaiserslautern in the final game of the Army-Air Force Final Four tournament. Unlike the 12-10 loss earlier in the week to Spangdahlem in the U.S. Air Forces tournament, the Rams never let up.
Paced by 32 hits — including the maximum nine home runs — Ramstein pounded out a 32-12 victory to recapture a title it lost last year.
"When you're up on a good team, you need to try really hard to keep them out of the game," said Ramstein player/coach — and tournament most valuable player — Tim Snyder.
The Rams did that by getting on base time and time again. Two Ramstein players had two hits. Two others had three hits. Five more had four hits apiece. Snyder, the team's pitcher, finished with five.
"They came prepared," Kaiserslautern coach Tony Jones said. "We've beat them before. But we didn't beat them today when we should have."
Ramstein forced a final game by defeating Kaiserslautern 18-6 earlier in the day. Kris Auger had three home runs and Chris Barks had two homers and two more hits in that game.
Those two and the rest of the Rams carried that over in the final game.
Ramstein sent 12 batters to the plate in the first inning, scoring eight times. Mark Noll, Barks, Auger and Shawn Flammang each had home runs.
Kaiserslautern came back with three of its own in the bottom of the inning, with Quinton Floyd and Vince Williams both homering.
But it got even worse for Kaiserslautern in the Ramstein second, with 15 batters coming to the plate. Barks hit a three-run homer, Flammang had a two-run shot, Auger added a solo blast and Noll doubled in two more runs.
Sal Vieyra's two-run triple and Justin James' two-run homer — the team's ninth-and-final one under the rules — made it 27-10 in the fifth.
Jones said his team had nothing to feel sorry about.
"It's been a long time since K-town has come to the Final Four dance," he said. "We came to the dance, we heard the music, but we just had mud on our feet."
---
---
---
---