Softball roundup
Ramstein looks ready to defend title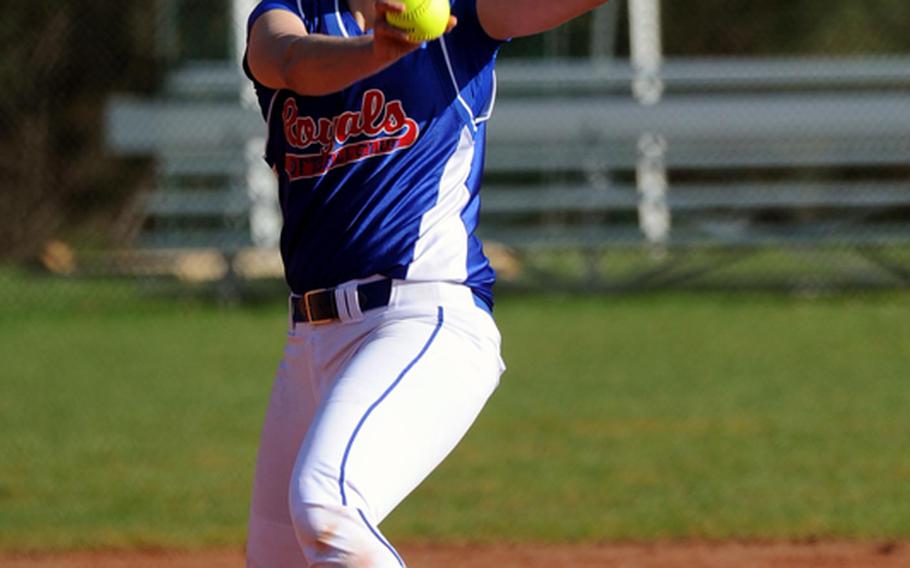 The three-time defending European Division I champion Ramstein Lady Royals provided convincing evidence Saturday to support that status with an 11-0, 20-7 season-opening sweep of the Kaiserslautern Lady Raiders.
All-Europe sophomore Kelsey Freeman pitched a route-going, five-inning no-hitter in Game 1 of the Western Region doubleheader.
Freeman, who went 2-for-3 at the plate, struck out seven and walked six. She was amply supported offensively by Katherine Enyeart, who clubbed a three-run homer in the second inning.
Enyeart picked up the victory in the nightcap, also a five-inning contest. She allowed nine hits, walked six and struck out five.
Haley Haydon provided plenty of bat support for Enyeart, stroking two triples in her 4-for-4 game. Amber Vannaman was 2-for-3 for Ramstein in Game 2.
The losses were the first of the season for Kaiserslautern (4-2 overall and in the Western Region),
In other softball games of note on Week 2 of the regular season:
Bamberg 14-13, Mannheim 6-11: Saturday at Bamberg, Keaton Poppe, who stroked a two-run triple, and Alyssa Garrido, who socked a two-run double, provided the big blows for the Lady Barons, according to Bamberg coach Terra McAllister. Each player drove in two runs.
Mannheim's Brittany Hyder drove in three runs and her teammate Erica Bryant two, but they couldn't prevent the Lady Bison from falling to 0-4 overall and in the Eastern Region. Bamberg is 3-1 overall and 2-0 in the East.
Mannheim is off until it plays at Wiesbaden on April 23; Bamberg is scheduled to visit Hohenfels on Saturday.
Vilseck 11-19, Heidelberg 3-1: Saturday at Vilseck, Taylor Hall, victimized for three unearned runs, no-hit Heidelberg in a five-inning, route-going gem in Game 1, and Deraj' McClinton followed with a one-hitter over the same distance.
McClinton drove in three runs with a double and two-run homer in a 3-for-4 performance the opener, then backed her own cause in the nightcap by going 3-for-4 again with two doubles and two RBIs.
Kim Akuna was a combined 6-for-7 on the day for Vilseck (4-0 overall, 2-0 in the Eastern Region). Four of Akuna's hits were two-baggers; she drove in four runs on the day.
Hall and Alex Lopez backed McClinton in the nightcap with two RBIs each. Hall was 3-for-3 with a double and Lopez 2-for-4 with a double.
Vilseck is scheduled to host Ansbach on Saturday; Heidelberg is to be idle until an April 23 game at Patch.
Baumholder 16-14, SHAPE 5-9: Saturday at Baumholder, Bria Johnson homered for the third time in three games to help the Lady Bucs to the sweep.
With Baumholder trailing 8-5 in the sixth inning of the nightcap, Johnson and Amanda Flanagan stroked back-to-back homers to erase the deficit, emailed Baumholder coach Dennis Yemma, .
In Game 1, Johnson homered, and Paige Williams had three hits to back the combined six-hit pitching of Sara Kujawski and Joanna Oviedo. Williams also stroked three hits in the nightcap as she, Joella Milledge and Wende Bryant each went 3-for-4.
The sweep left Baumholder 2-3 overall and in the Western Region going into spring break. The Lady Bucs aren't scheduled to play again until a May 7 doubleheader at Bitburg. SHAPE, which next plays at Lakenheath on April 30, fell to 0-4, 0-4.
Alconbury 19-8, Baumholder 10-18: Friday at Baumholder, Marissa Cole, who tripled and singled, allowed just eight hits in going the distance in the opener to lift the Lady Dragons to their first victory of the season in Game 1.
Alconbury benefited from 18 walks issued by Baumholder's Brianna Mitchell.
In the nightcap, Baumholder did the walking, 12 times. Combined with 13 hits, including Johnson's first home run of the season, the total was enough to earn the split.