Ramstein knocks off No. 1 Lakenheath
by
Charlie Coon
October 26, 2003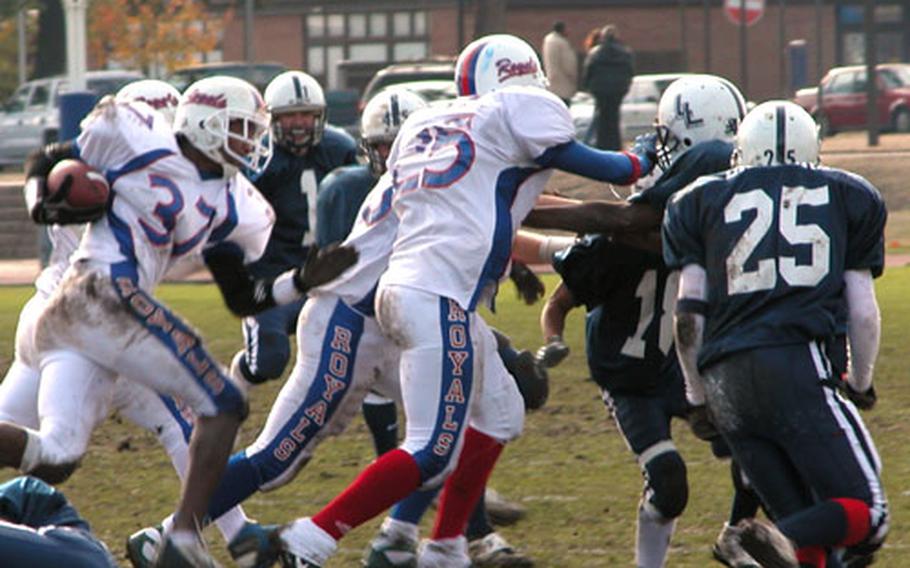 RAF LAKENHEATH — The Ramstein Royals are the bottom seed in the Division I football playoffs. It's a good thing the playoffs are a brand new season.
Quarterback Matt Irwin threw touchdown passes to Keshawn Carr and Brennan Relaford and rushed for a TD as the Royals beat top-seeded Lakenheath 28-13 on Saturday.
Ramstein coach Glenn Porter was satisfied with how his team overcame the long bus ride from Germany and its No. 4 seed to score the upset.
"Being the underdog, this [victory] gives us confidence," Porter said.
"Past history doesn't mean a thing," he added. "It's how you prepare for the game that counts."
The Royals (4-3) will play Wiesbaden at 7 p.m. Saturday in Baumholder for the Division I championship.
The Royals weathered a 32-carry, 191-yard performance from Lakenheath running back Isaac Kittle. Lakenheath moved the ball but blew several good chances to score when penalties and a determined Royals defense stalled drives.
"The game plan was to run the ball, run a controlled offense, eat up time and come out with touchdowns," Lakenheath coach Tom Wingert said. "Unfortunately, we shot ourselves in the foot a few times and that can hurt you.
"It was very frustrating," Wingert added. "To me, it was a game that we controlled. Play for play, I think we outplayed them. They had a couple big plays that hurt us."
The first came at the end of the first half.
On fourth-and-3 from the Ramstein 29, Irwin passed 10 yards to Carr, who turned and sped away for a 71-yard touchdown. Austin Izzo kicked the first of his four extra-points to give Ramstein a 7-0 halftime lead.
Ramstein moved ahead 14-0 early in the third quarter when Irwin lofted a 35-yard touchdown pass to Relaford in the left corner of the end zone.
Lakenheath came back with a 62-yard scoring drive. Kittle capped the drive by breaking a tackle and bouncing outside for a 6-yard touchdown run.
Ramstein answered with a 10-yard touchdown run up the middle by Izzo to stretch its lead to 21-7 with 10:24 to play.
After the kickoff, Ramstein's Scott Jardin intercepted a Justin King pass at the Lakenheath 34, and it looked like the Royals were going to cruise to victory.
But Lakenheath rallied with a 90-yard drive, including a conversion on a fourth-and-5 when Kittles swept left for a first down near midfield. King then ran 27 yards to the Ramstein 26.
King passed 15 yards to Jessie Smith in the left corner of the end zone for a touchdown, making it 21-13 with 2:58 to go.
Ramstein recovered Lakenheath's onside kick but was forced to punt the ball back to Lakenheath deep in Lancers territory.
With less than a minute to play, Eric Gardner sacked King and forced a fumble that Izzo recovered. Irwin scored in the final seconds on a 1-yard quarterback sneak.
Wiesbaden 19, Heidelberg 14
HEIDELBERG, Germany — Edmond Woods ran for a pair of fourth-quarter touchdowns to lift Wiesbaden into Saturday's Division I championship game in Baumholder.
Woods, who carried 36 times for 167 yards, scored on a pair of short TD runs, and fullback Daniel Villarreal added a 9-yard TD run as the Warriors overcame a 13-0 halftime deficit.
Villarreal's TD got the rally started. The Warriors took the second-half kickoff and drove inside the Heidelberg 10, only to be stopped on downs. The Lions, however, fumbled the snap on the ensuing play, and Wiesbaden recovered to set up Villarreal's burst.
The Warriors tied the game at 13 early in the fourth quarter on a six-play, 47-yard drive capped by Woods' plunge, then took the lead for good after recovering a Lions fumble on the Heidelberg 20-yard line. Woods converted the chance with a 2-yard run with 8:38 to play in the game.
Heidelberg got two touchdown passes from T.J. Trice — a 21-yarder to Chris Roberts, and a 40-yarder to Steve Kochle.
Heidelberg finished its season at 5-2.
Trice, who completed his first six passes, finished 8-for-11 for 143 yards and two TDs, but threw two interceptions.
Wiesbaden (5-2) amassed 294 total yards, 262 of them on the ground. Fry rushed for 78 yards and Villareal 41 to supplement Woods' effort.
— Rusty Bryan contributed to this report.
---
---
---