Ramstein hurdler hopes to alter the record books before he leaves
by
Rusty Bryan
May 1, 2003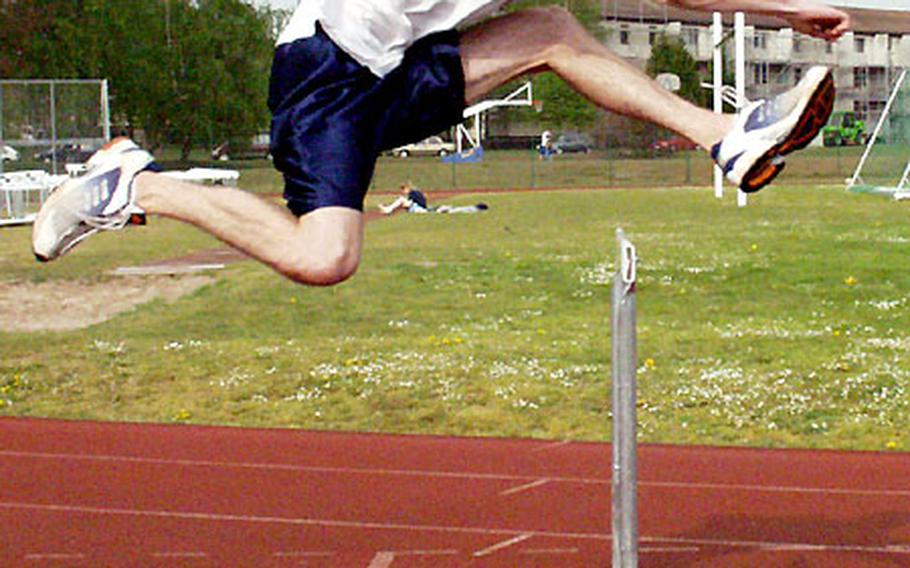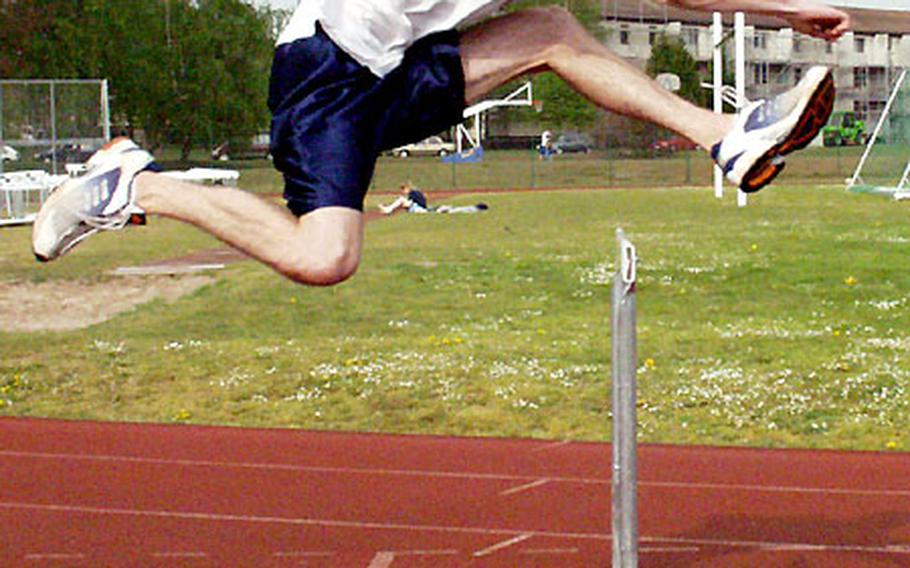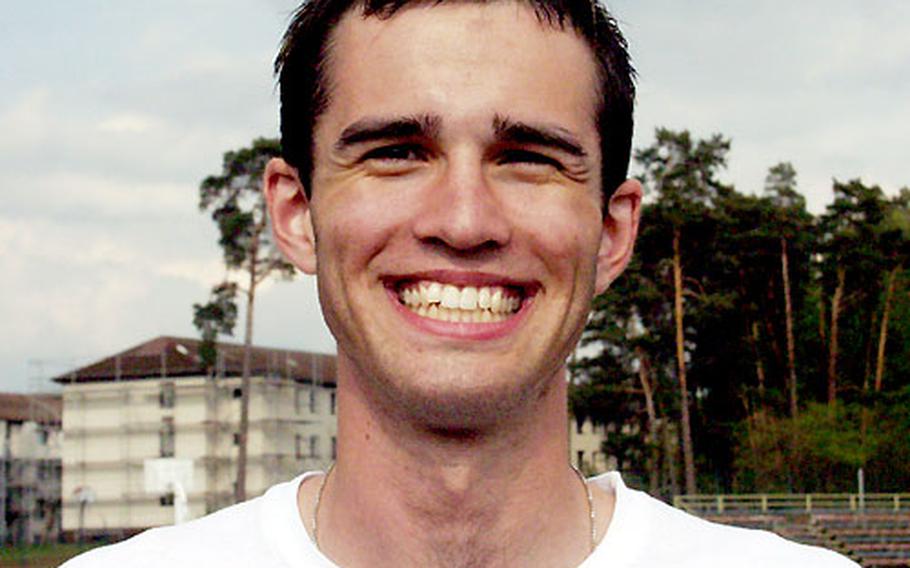 RAMSTEIN AIR BASE, Germany — Before he exchanges the wooded hills of Ramstein for the wooded hills of Fayetteville, Ark., hurdler Jacob Palmer has unfinished business — namely, DODDS-Europe records in the 110- and 300-meter hurdles.
"It would be extremely satisfying if I could break those records and take that with me to college," Palmer said Tuesday as the Royals worked out leftover stiffness from 13-hour bus rides to and from Alconbury, England, last weekend.
What happened at Alconbury prompted track officials to reach for the record books. Palmer ran a hand-timed 14.8 seconds in the 110, four-tenths of a second off the DODDS record. He then clocked 40.3 in the 300s, an event in which the record of 38.20 has stood since 1981.
Records aside, Palmer's times on Saturday still were impressive.
Adjusted to fully automatic time, the 110 time was 15.24, which would have won the European high school gold medal last May by two-tenths of a second. Palmer's time in the 300, adjusted to 40.54, surpassed his 2002 European-winning time by nearly a second.
In Saturday's 110, Palmer knew he had run a good race. He just didn't know how good.
"I felt good coming out of the blocks," Palmer said. "The track was soft and gave a nice bounce. I hit the first hurdle and just took off. When I finished, I thought I had run a 15.2 or 3.
"When I heard the time, 14.8, my jaw just dropped. I didn't believe it until the timer showed me his watch."
That watch said two things. First, that Palmer had set the Ramstein school record in the event, and that the DODDS-Europe record was a realistic possibility. It was a far cry from where he began as a freshman.
"I started running hurdles in the ninth grade," the long-legged Palmer said. "I was thrown into it by Coach Steff [the late Bruce Steffensmeier]."
Like all beginners, Palmer — who combines sprinter's speed with the "long inseam" that he said separates hurdlers from sprinters — had a lot to learn.
"I wasn't very good at first, running 22s," he said. "I had to learn the basics — how to go over the hurdles. My sophomore year, my times were better. I started to develop some form, even though my arms were going all over the place."
Palmer knew improving his technique and keeping his arms from flailing were nearly as important as speed in the hurdles, one of the most technical of track and field events.
"Form is vital," Palmer said.
It follows, then, that coaching is vital, too. Possessing such specialized knowledge is asking a lot of Ramstein coach Cecilia Grosselin, who was a distance runner. But she has found a way around that.
"I look for help from the community," Grosselin said. "We have people with great experience in things like the shot and hurdles that I never tried."
The current hurdles volunteer is Kevin Vaughn.
"He comes out a couple of times a week to help us," Grosselin said, and Palmer credits him, along with his teammates, other coaches and family with bringing out the best in him.
Also helping, according to Palmer, is an instructional video by one of the best.
"It's by [former 110 world-record holder] Renaldo Nehemiah," Palmer said. "My dad bought it for me last summer, and it's awesome. I use the training techniques in it."
Palmer and his backers think the techniques will pay off in records.
"His technique has improved and his times have improved every year," said Palmer's father, Hugh, a former sprinter who lacked the long inseam to be a hurdler. "If we can find a way to get him some competition, he can get the record. He's run a 34-flat on a flat 300."
Therein lies a problem, at least for now. Palmer's times Saturday were more than a second faster than the next-best 2003 time for the 110, 16.17 by JoJo Fears of Naples, and more than two seconds better than the 42.58 run in the 300 by Maurice Brigham of Kaiserslautern on March 29.
Palmer said he wishes Brandon Strausser of Menwith Hill was back this season, even though Strausser beat him by .37-seconds for the 110 gold last May.
"Brandon was kind of a surprise last year," Palmer said. "I wish he were back because we might push each other to the records."
Even without a DODDS mark, however, Palmer, who runs a leg on Ramstein's 4x400 relay team and anchored its winning 4x100 team last Saturday, won't be hanging his head.
"This has been my best year ever," said the future University of Arkansas architecture student. "I'm very happy with what I've run."