Ramstein has eight top finishers
by
Dan Blottenberger
December 10, 2011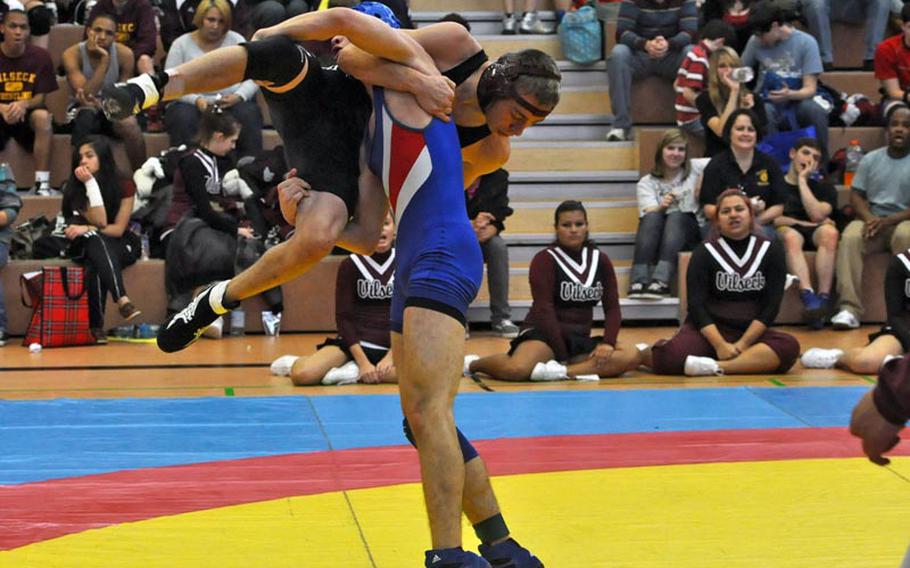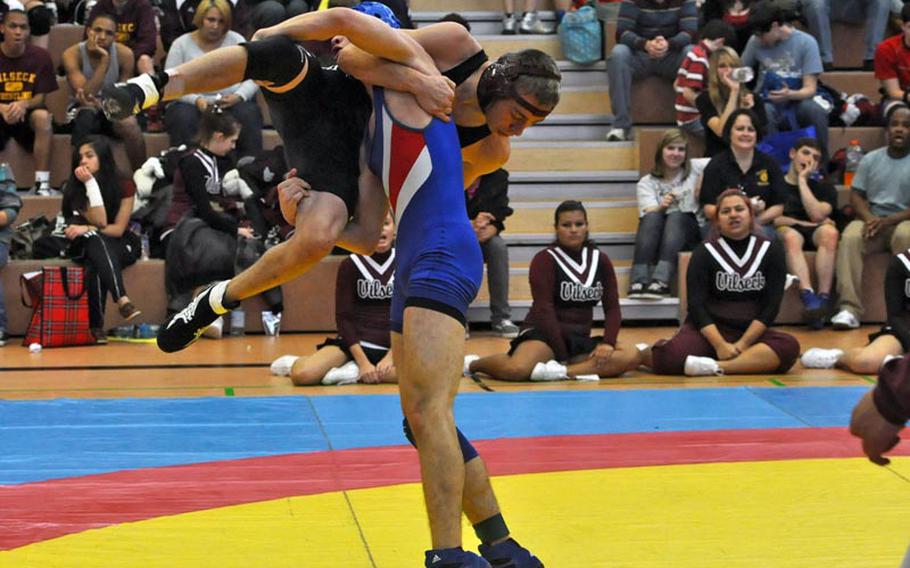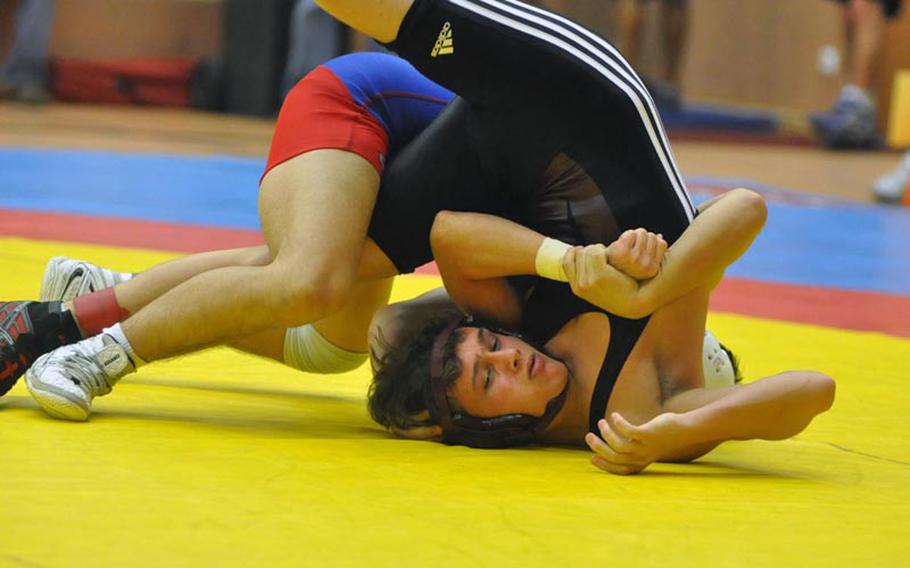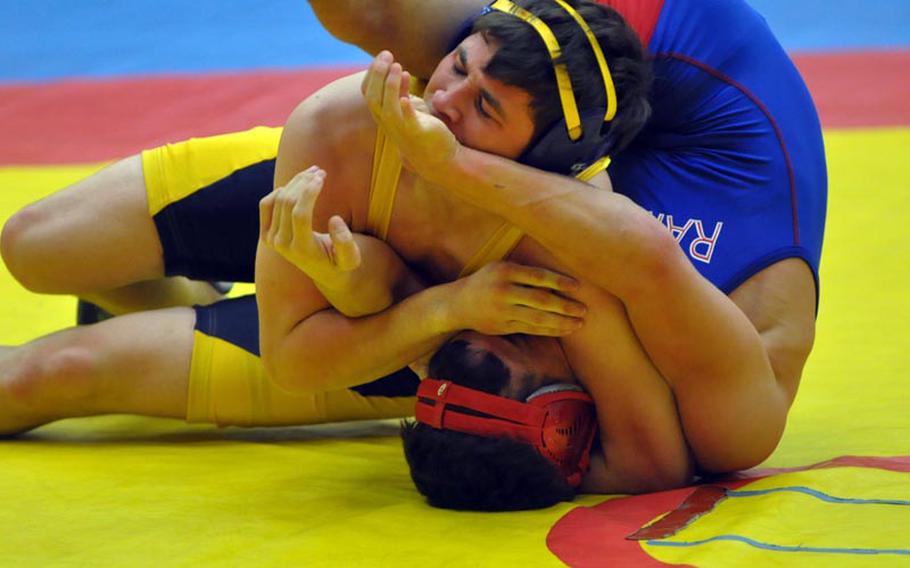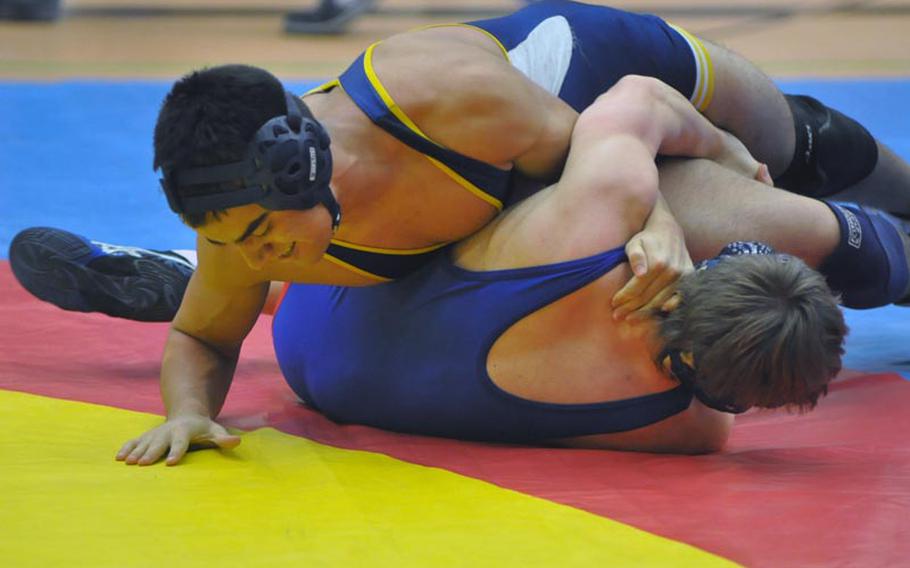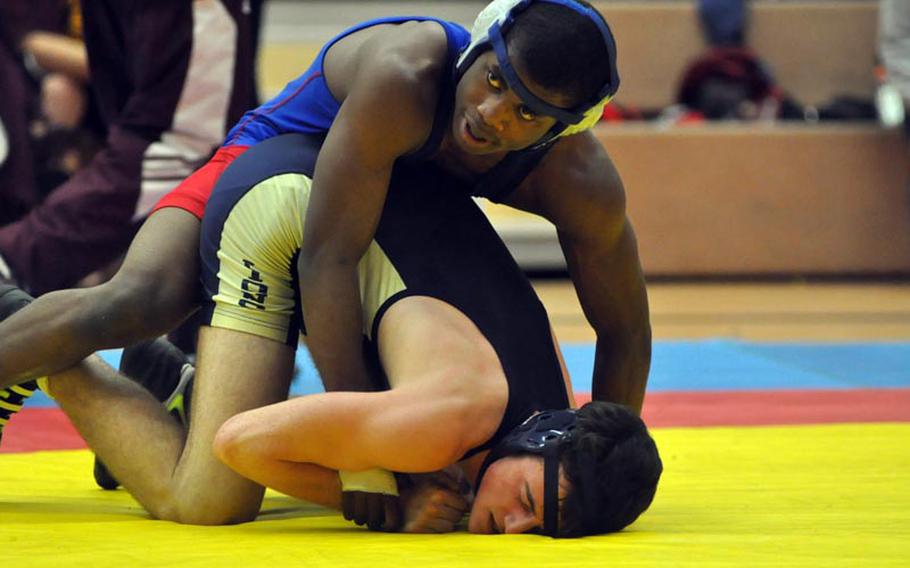 VILSECK, Germany – As the second week of wrestling got under way this weekend it was evident that Ramstein and Patch will have plenty of competition at various weight classes in the quest for titles at Europeans this year.
That realization came in the form of a long standing rivalry in the heavyweight division between Noah Hartley of Vilseck and Raheem Beatty of Ansbach, who have been battling it out for the past two seasons. The two overcame strong efforts by Ramstein heavy weights Christian Elliot and Chris Savchenko to advance to Saturday's finals.
Hartley, last year's 285-pound winner at Europeans claimed first for the second week in a row.
"Off the mat we are pretty good friends, but on that mat in tends to be pretty intense," said Hartley, a senior. "I trained all week just for that one match."
Hartley pinned Beatty halfway through the first period after momentum shifted back and forth at first, as each wrestler had chances to pin the other.
Wrestlers from Heidelberg and Vilseck also stepped up to prove that not every weight class would belong to the top schools from last season. Ramstein emerged as this season's apparent No. 1 after outscoring Patch last weekend.
Heidelberg coach Charles Russ said his team will be a contender after the holiday break once it's fully healthy and all wrestlers make their appropriate weights.
"Once we get our whole lineup in I think we are going to have some surprises for people," he said. "The feeling in our locker room is that we can wrestle against anybody here and we are going to challenge for that trophy."
Heidelberg finished second in team scoring Saturday and had four winners: Nick Lister (132), Daniel LeJeune (145), Jimmie McBride (160) and William Grant (195).
Ramstein still stands as the top dog in Division-I and proved themselves with eight first-place finishes: Steven Cavanaugh (106), Ryan Goins (113), Adam Franz (126), Bryan Caldwell (138), Eric Carter (152), Joe Ankrom (170), Tyler Rood (182) and Anthony Zaferis (220).
Ramstein coach Steve Kennedy gave all the credit to his wrestlers.
"We explained to them what it takes to take things to the next level and they have executed," Kennedy said.. The team had been riding a somewhat of an emotional high all week after out-pointing Patch last weekend.
"We don't have a whole bunch of super individuals, but we have a really strong team," he said. "We meet Patch two more times – and I guarantee they are not done with us."
blottenbergerd@estripes.osd.mil