D-I volleyball
Ramstein ends unbeaten run with championship
by
Jennifer H. Svan
November 3, 2012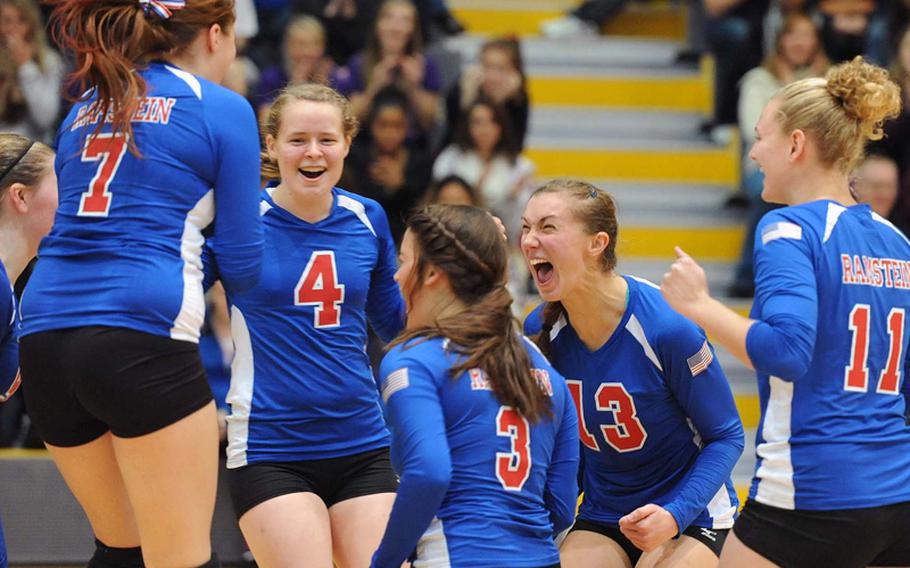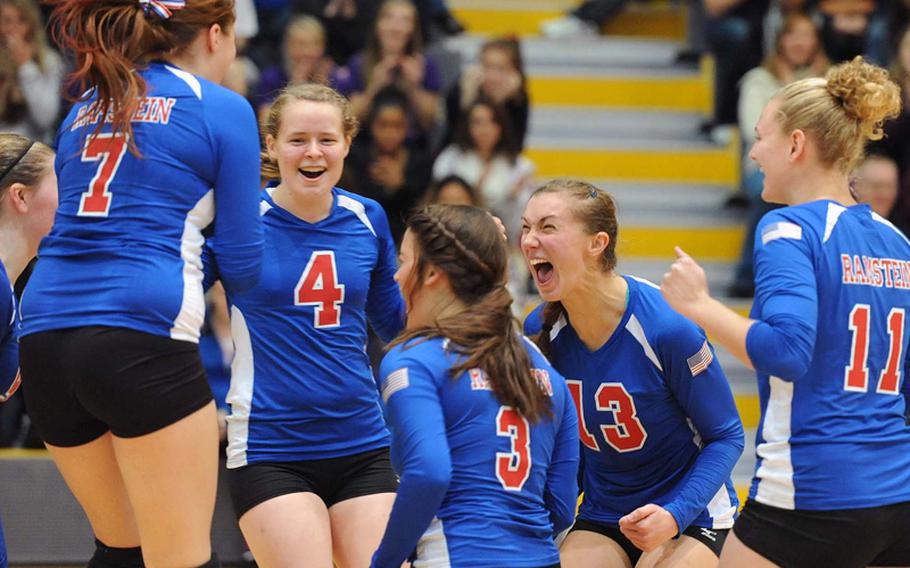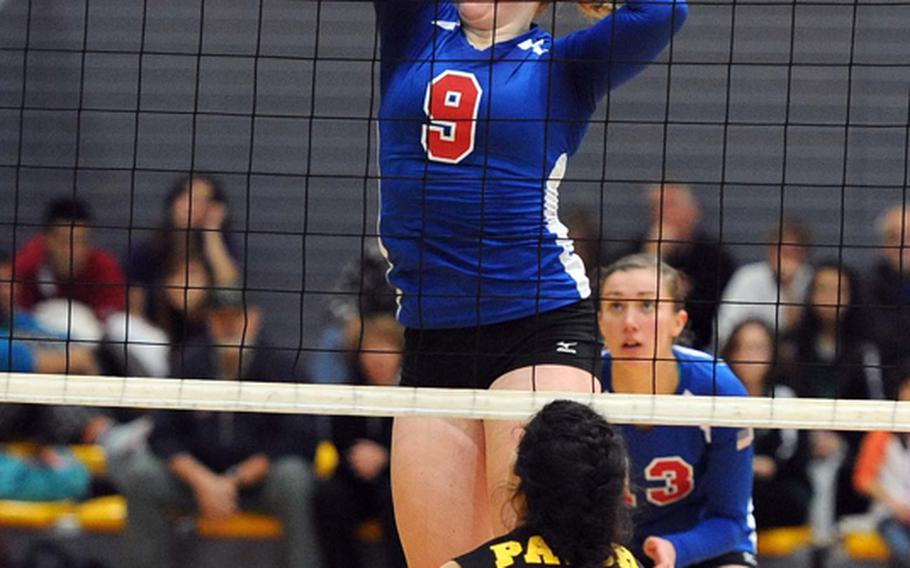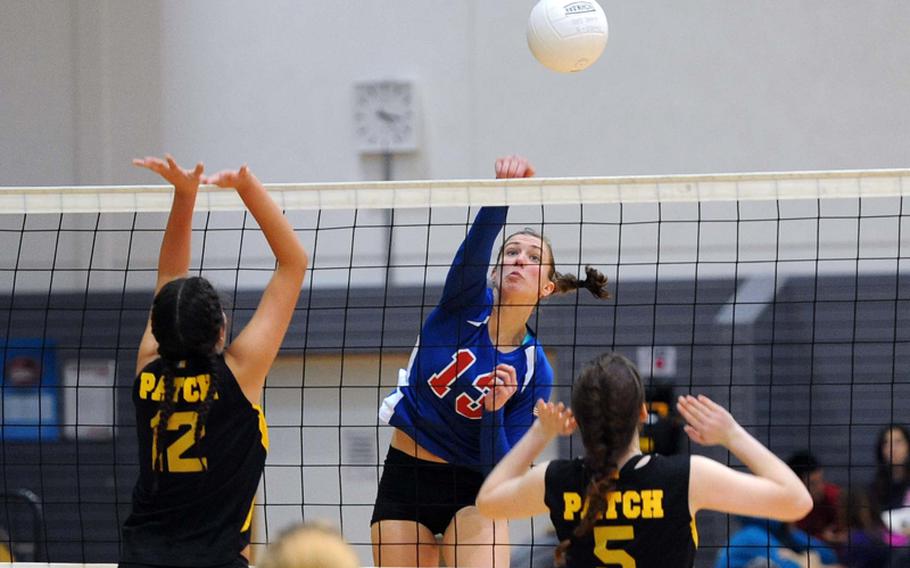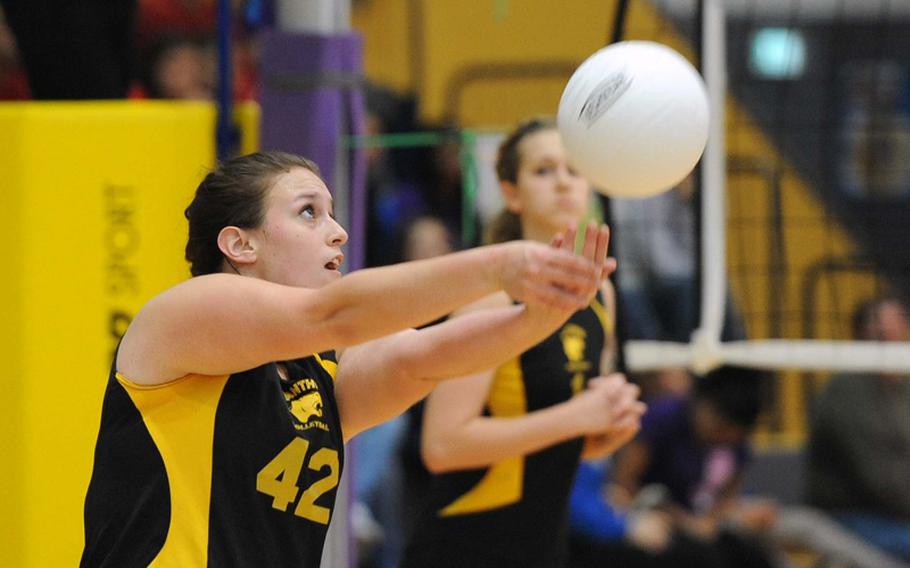 RAMSTEIN AIR BASE, Germany – Ramstein on Saturday showed why it was the team to beat among the big schools in DODDS-Europe girls' volleyball.
No one could beat the Royals all season long, and Patch fared no better in the Division I finals at Ramstein's Southside Gym. The Royals dominated the Panthers, 25-12, 25-14, 25-19, capping off their remarkable season with their second consecutive European title.
The final point ending the match set off a jubilant celebration on the Royals side of the court, with teammates shouting and jumping up and down, hugging and crying.
"I feel amazing" said a smiling Sarah Szybist, who had 18 kills. "Coming into the tournament undefeated and finishing our season completely undefeated, it's amazing."
Her squad "was all heart," said an emotional head coach Erin Markus, adding this was the best team she's ever coached. "They've endured through some tough times and they came out on top."
Ramstein wasn't tested against Patch until the match was nearly over. In the first set, Ramstein jumped out to an early lead, 12-8, and then held the Panthers to only four more points for the game's remainder. In the second set, the Panthers were slow to put points on the board, with Ramstein building a huge lead, 17-4, with Syzbist pounding out several kills and a block at the net. Patch strung together a few solid plays to climb back into the game but couldn't stop Ramstein from closing out the set.
The Panthers, however, made things interesting in the third set, narrowing the Royals' margin to 20-19 before Ramstein scored the final five points.
Patch head coach Mike Rubino said his team faced "a very good team" in Ramstein.
"Ramstein has been a dominant team all season long," he said. "They came with their 'A' game and made the plays."
The Panthers' players said they gave it their all against Ramstein – but just came up short.
"We tried. We did our best," senior Stephanie Trujillo said.
"It was more of a mental game for me," sophomore Mercedes Deets said. "I was trying to find holes; some balls dropped, some didn't."
Deets and junior Rachel Hess were all-tournament Division I selections for Patch. For Ramstein, Szybist, a senior, and junior Sarah Schiller made the team. Schiller, a setter who recorded a staggering 38 assists in the finals, was named the tournament's Most Valuable Player.
"Setters really don't get a lot of recognition, usually," Schiller said.
"She's our quarterback on the floor," Szybist added.
"We had such an amazing team," Szybist said. "We knew each other well, so we played really well."