DI girls final
Ramstein edges Vicenza to cap perfect season
by
Dan Stoutamire
February 27, 2016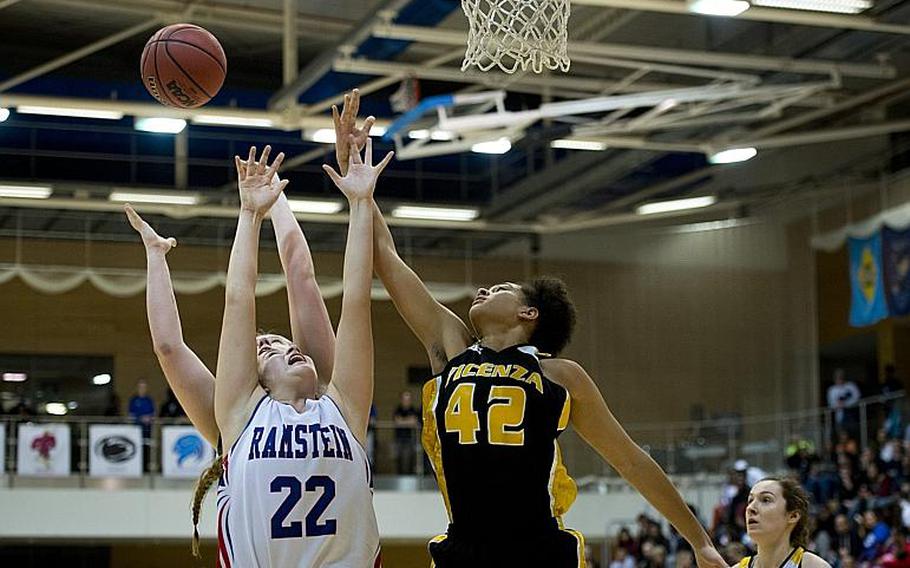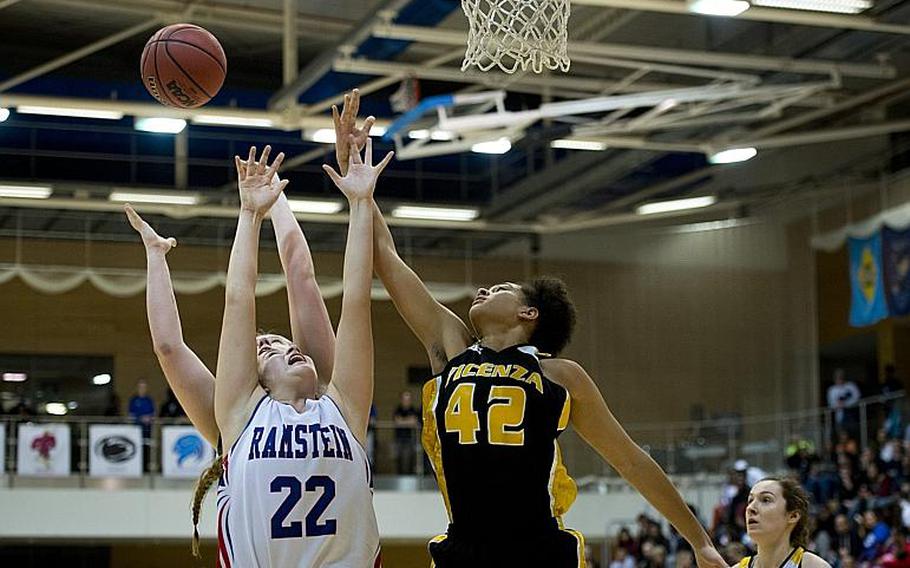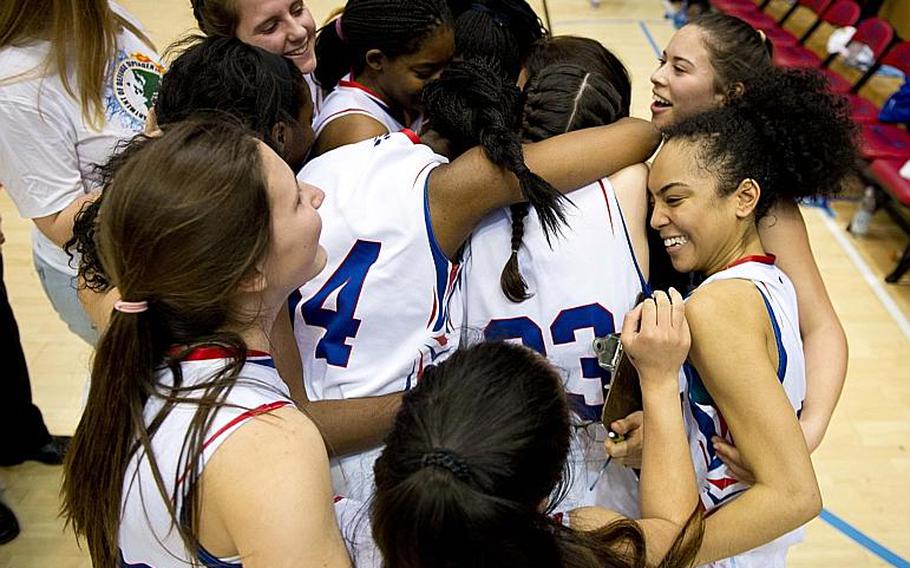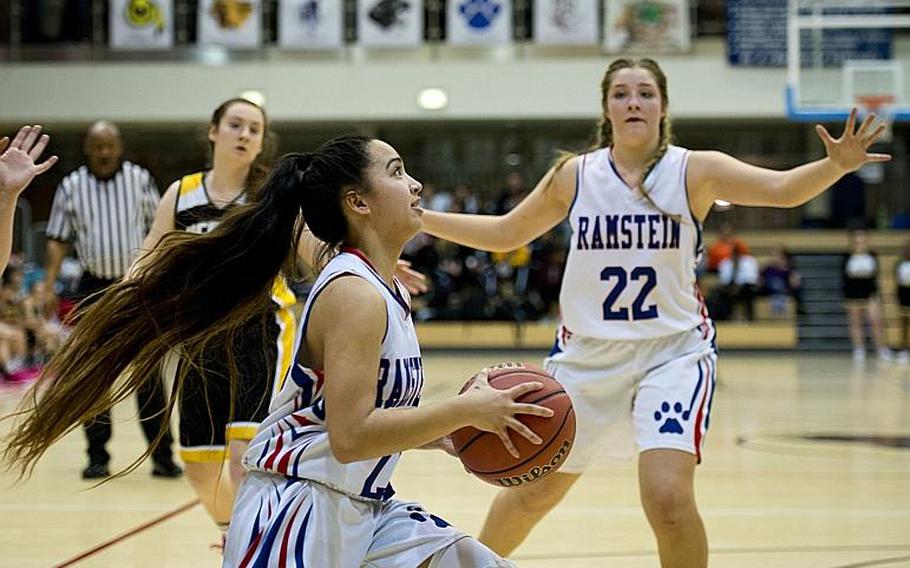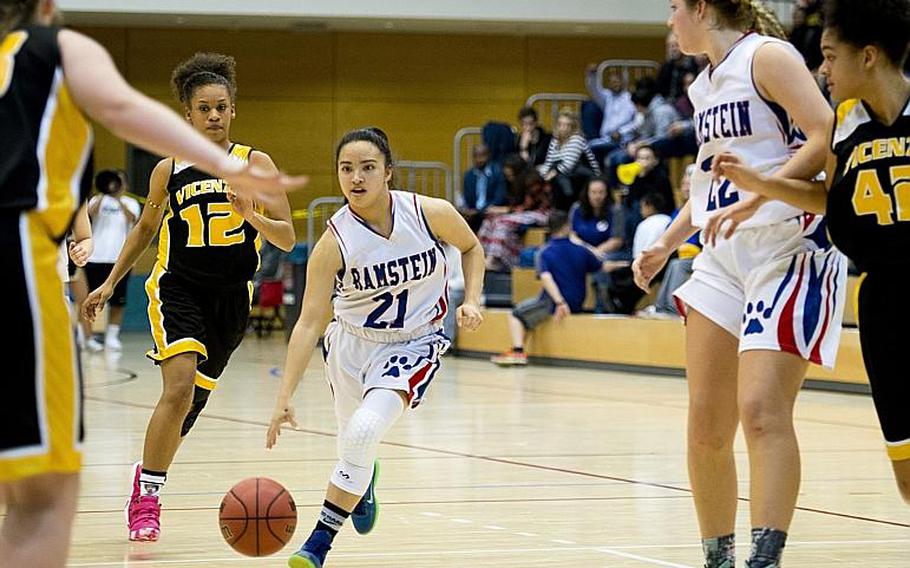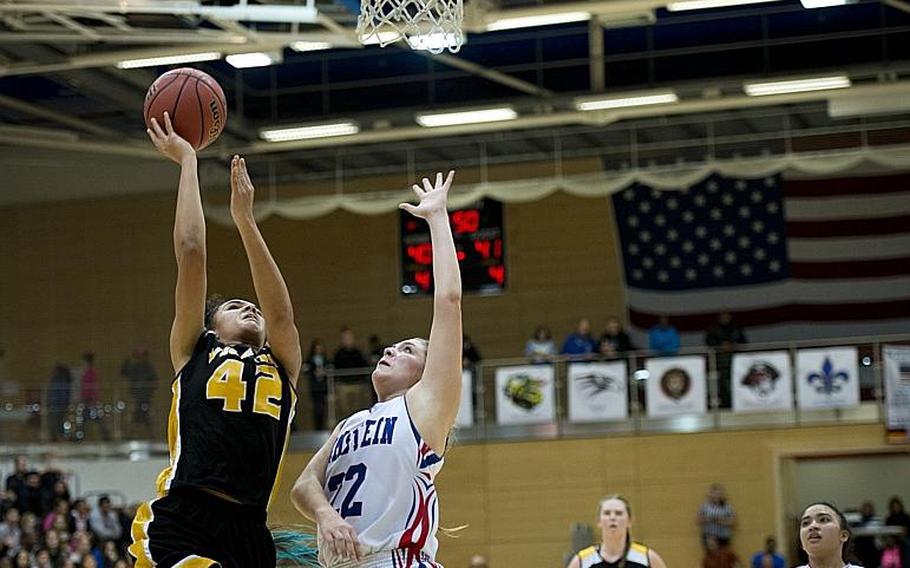 WIESBADEN, Germany — One of the best DODDS-Europe championship games of recent years ended Saturday with an overtime victory for one of two unbeaten teams that looked to be headed for a finals collision all season.
And what a collision it was.
Last year's runner-ups Ramstein, marshalled by an outstanding performance by junior guard Ashley Mateo, vanquished Italian challenger Vicenza 49-46 after 36 minutes of neck-and-neck play in the girls Division I title game.
"We did it!" Mateo said after the game. "I'm so proud of my team, we deserve this."
Mateo, who ended up with 21 points and four steals, was the best player on the floor in what was a back-and-forth first half. The lead changed hands eight times.
Both teams were able to effectively run their offensive sets and hit open looks, resulting in a high-scoring half.
Ramstein took a one-point lead into the break, 25-24.
After the teams came out in the third quarter, it was all Vicenza. Emma Knapp and Aerial Rouse each made layups, and Knapp's old-fashioned three-point play gave the Cougars a six-point lead.
However, a run by Ramstein, including more scoring by Desiree Palacios and Mateo, got Ramstein within one with 2 minutes left.
Ramstein's Bella Rodriguez then hit a huge three-pointer, and Vicenza freshman Jordan Wakefield followed with an equally-clutch runner in traffic, to tie it at 43.
Overtime beckoned.
Mateo hit another three — her fourth of the game — to open the final period, but Knapp's hustle at the other end got her a layup and free throw to tie at 46. Free throws by Palacios, and then by Mateo, put the Royals' lead at three.
Altasia Thompson's miss at the other end meant Ramstein could run out the clock to seal the victory.
Mateo said it is a lot nicer being on this end of a finals win after experiencing the disappointment of a loss at the final hurdle last year.
"It feels so much better because last year we needed that too, but we fell short," she said. "This year I feel like we deserve it so much. We believed in each other and really pushed for this – this was our main goal all season."
Palacios added 12 points for the Royals to go along with six steals, while senior post Lindsey Breton posted a double-double with 10 points and 10 rebounds.
The loss was harsh for a Vicenza team that featured a potent trio of Wakefield, senior forward Knapp and junior post Adrianna Lovelace.
"I think Ramstein was a very disciplined team," Vicenza coach Greg DeJardin said. "We had too many unforced errors, we didn't handle the ball pressure very well tonight."
He said that while the Cougars have a strong team returning, they would miss the talents of Knapp and her fellow seniors.
"She had a real nice play there right before she fouled out, where she got a three-point play," he said. "She had a really nice game taking the ball to the hole."
---
---
---