Ramstein caps perfect season with Div. I title
by
Rusty Bryan
May 25, 2003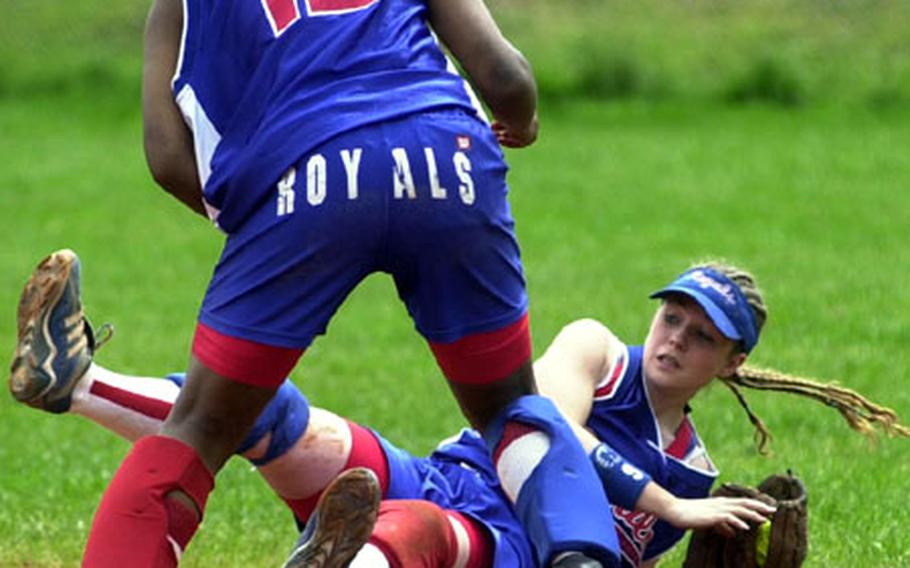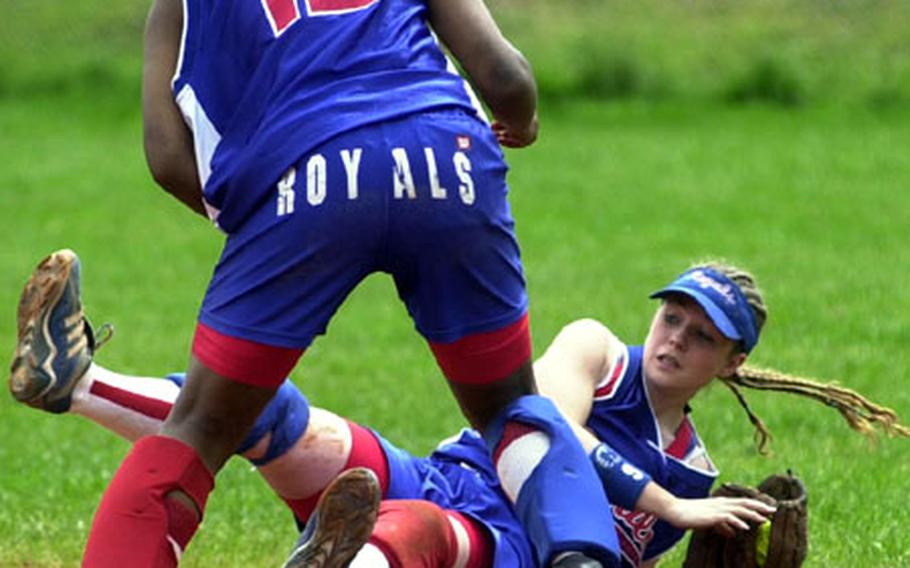 LANDSTUHL, Germany — Ramstein dethroned three-time champion Lakenheath 5-3 in the Division I softball championships Saturday.
Shortstop Victoria Apodaca hit a two-out, two-run single to cap a three-run Ramstein rally in the top of the sixth as the Lady Royals wrapped up an 18-0 season.
On an 0-2 pitch from Lakenheath pitcher Amanada Hood, Apodaca slapped a sharp ground ball between first and second to score Katie McMahon from third and winning pitcher Jenn Morton from second.
Instead of worrying about the count, Apodaca said she was deciding what to do with the next strike.
"I was thinking I had better get a hold of the ball," she said. "I saw a hole between right and center field and said to myself, 'That's where the hit is.'"
All three Ramstein runs in the sixth were unearned. Hood had retired the first two batters on ground balls, but all-conference shortstop Ashley Lariviere threw the ball wide of first and into the dirt on a grounder by pinch-hitter Erica Martinez that would have retired the side.
McMahon followed with a single to right, and Morton walked to load the bases. Amanada La Plante drew a walk to tie the game 3-3 before Apodaca's single.
Hood, who pitched all 10 innings in Lakenheath's 8-5 victory over Wiesbaden in Friday evening's semifinal game, allowed eight hits, struck out two and walked three.
Lakenheath, which committed an uncharacteristic five errors, led 3-2 after five innings largely because of outstanding play in center field by all-tournament pick Andre McCoy.
McCoy made a nice running catch of a liner off the bat of McMahon in the fourth inning, and then robbed Heather Steele of extra bases with a running, lunging backhanded catch in the fifth.
For the first time in the tournament, opposing batters managed hits off Ramstein MVP Morton. Thursday, Morton posted three hitless innings in a run-rule victory over Würzburg.
In Friday's semifinal against Heidelberg, she was masterful in a 10-0, six inning victory in which she faced the minimum 18 batters and struck out 12.
Lakenheath catcher Erin Davis ended Morton's hitless streak in the first inning with a single to center, and Ramstein's 19-inning tournament scoreless streak evaporated in the third when Morgan Pakerson ripped a double into the left field corner and scored on Davis' sacrifice fly.
Consecutive singles to left to open the fourth allowed Lakenheath to take a 3-2 lead, but Morton, who gave up eight hits, struck out three and walked none, allowed just one baserunner as far as third the rest of the way.
"She was perfect," said Ramstein catcher Megan Hillard, who was 3-for-4 against Hood. "She did everything just right."