Ramstein boys win European Division I title
---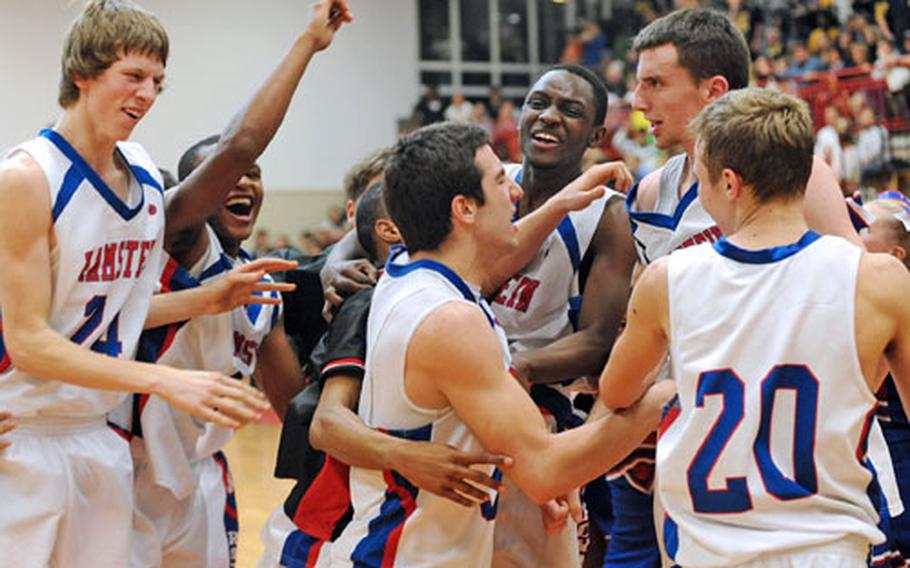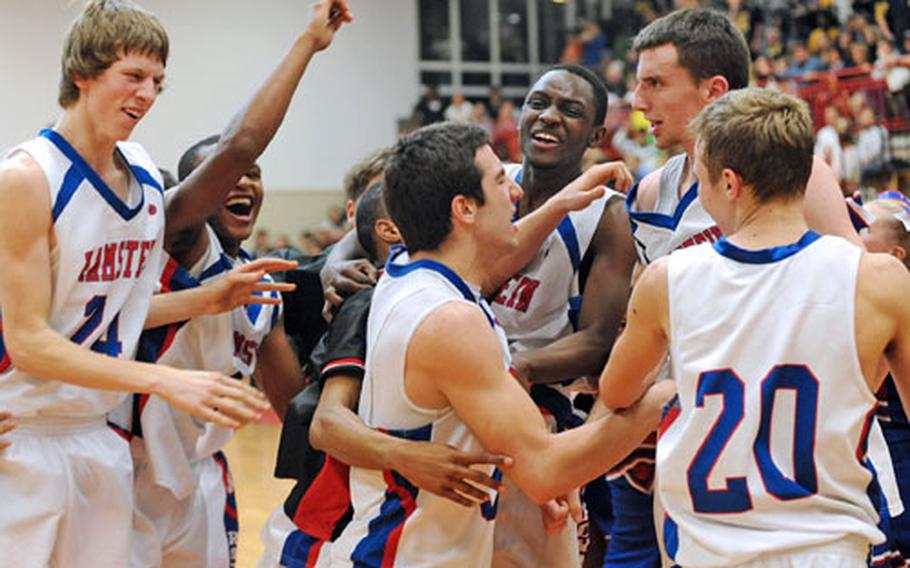 Photo gallery: Div. I and IV championships
(This story was updated February 21)
MANNHEIM, Germany — The way to get over a two-year hump against Heidelberg in the European Division I basketball title game, the Ramstein Royals concluded Friday night, was simply to shove it out of the way as fast as possible.
Ramstein's All-Europe forward, Brent Schuck, sank two first-quarter three-pointers and scored on an alley-oop dunk from tournament MVP Dillon Wadsack in the first eight minutes as the Royals broke out to an 11-0 lead on their way to a 53-47 victory over the two-time defending champion Heidelberg Lions.
"We had a great start," Ramstein coach Andrew O'Connor said. "We came out with lots of intensity."
Make that industrial-strength intensity. Unlike in an unofficial game between the two, won by Heidelberg two weeks ago, this time Ramstein harnessed its aggression.
"That was out goal," said Ramstein's Evan Canfield, who hit his first three field-goal tries in the first 7:47. "We knew we had to get more physical."
And unlike two weeks ago, Ramstein went to the glass aggressively Friday.
"We wanted to focus in on the details, especially boxing out and limiting their second-chance points," O'Connor said. "We knew the team that controlled the boards would win the game."
It also helps to protect the ball and hit some shots. While Heidelberg was committing six turnovers en route to a four-point first quarter, Ramstein was scoring 19 on 8-for-10 shooting from the floor. The eight field goals included Schuck's two treys and the alley-oop, which came on a two-on-one fast break.
"They tried it last year, and it cost us in the final," O'Connor said. "They knew they had to make it, because if they didn't they would have been on the bench before their feet hit the ground."
It was better for Ramstein that Wadsack, who finished with 12 points, and Schuck, who scored a game-high 18, avoided the bench. With those two leading the way, the Royals built their lead to 43-29 at the end of three periods. At that point, though, the Lions came to life.
All-Europe guard Chris Frazier canned his only three-pointer of the game to open the final period, and the Lions eventually cut the deficit to 47-43 with 1:15 left.
Ramstein, however, weathered the storm by hitting its free throws in the late going. Wadsack and Schuck each converted one-and-one tries in the final period, and each hit one of two from the line in the final 1:08.
The Royals' European basketball title was its first since 1997 and it denied arch-rival Heidelberg its eighth crown since the turn of the century. For Ramstein seniors Michael Wallace and Schuck, who endured three- and four-point losses to the Lions the past two seasons, Friday was sheer redemption.
"We had to win," said Wallace, who scored seven points. "All that practicing, all that work and all that sweat would have been wasted if we had lost."
Those losses appeared to especially inspire Schuck, who managed just six points against Heidelberg last year but elevated his game with stints on the U.S. Albert Schweitzer tournament team and German club ball since then.
"I've never seen Brent as focused as he was on Friday," O'Connor said. "The last two years, Heidelberg's big men have had big games against us. I think he was fed up with that and he went out and played his best-ever game as a Royal."
Ramstein 53, Heidelberg 47(Friday at Mannheim)
Heidelberg..........4 9 16 18—47Ramstein..........19 11 13 10—53Scoring—Heidelberg: Chris Frazier 12, Malcolm Griffin 10, Chris Cuthbert 9, J.C. Sharer 5, Eugene Jones 4, Justin Walker 3, Myles McDavid 2, Alex Savusa 2; Ramstein: Brent Schuck 18, Dillon Wadsack 12, Evan Canfield 8, Michael Wallace 7, Brandon Oxendine 4, DaRon Floyd 2, Andre Porterfield 2
---
---
---
---