Ramstein boys keep record spotless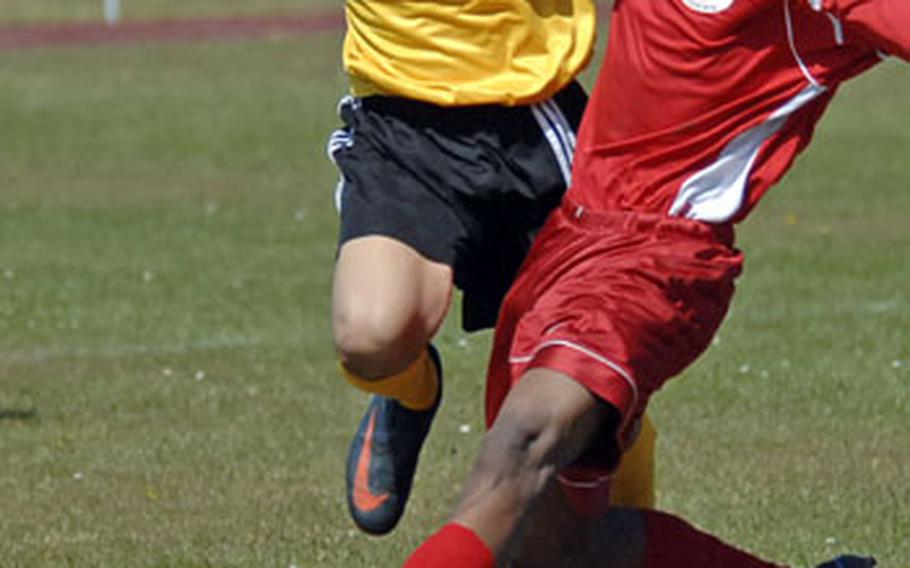 Alex Lee set up two goals and created several more chances Saturday as defending European Division I champion Ramstein stayed unbeaten in boys soccer by turning back visiting Bitburg 3-2.
Jon McClouth and Brian Helmetag put Ramstein up 2-0, but Bitburg halved its deficit on a score by Brandon Massie before the halftime whistle, according to Ramstein coach Dan Nukala. Ryan Olson made it 3-1 after intermission, before Elliot Schneider answered to again to bring the Barons within a goal.
That was as close as D-II power Bitburg got against Ramstein's Dennis Dooley-led defense. Ramstein emerged from the physical contest with a 4-0-0 overall and 3-0-0 Region II marks. Bitburg fell to 1-2-0 overall and 1-1-0 in the region, with both losses to D-I schools.
In other boys games of note:
ISB 5, AFNORTH 2: Saturday at the International School of Brussels, Lucas Cornaro scored twice, and Christian Faaborg added a goal and an assist. Division I ISB (2-0 overall) has three games left against DODDS-Europe competition, two of them against D-I foes. Visits to SHAPE on May 1 and Lakenheath on May 8 are likely to decide the Region I title.
Heidelberg 3, Patch 2: Saturday at Heidelberg, Joshua Jones scored all three goals to lead the Lions over their regional and Division I rivals. Goals 2 and 3 allowed the Lions (2-1-1 overall, 2-0-1 in Region III) to break a 1-1 halftime tie against visiting Patch (1-3-0, 1-2-0).
Baumholder 2, Wiesbaden 0: Saturday at Wiesbaden, Jacob Bishop and All-Europe striker Alassane Doukoure each scored to lead the Bucs over their injury-depleted hosts in a Region II game. Baumholder (3-1-0, 2-1-0) won its second straight game after suffering a 5-0 loss at Ramstein on April 3. Wiesbaden (1-2-1 overall and 1-2-0 in the region) had to call on junior varsity players to field a team.
Milan 3, Aviano 1: Saturday at Aviano, two goals by Joseph Posetti were enough to drop Aviano to 0-4-0. Kyle Willis scored just the third goal of the season for Aviano, which hosts Naples this Saturday. Milan, drubbed by Marymount International School of Rome 11-1 the previous Saturday, is 2-1-1 overall and in Region IV.
Kaiserslauatern 5, Mannheim 1: Visiting Kaiserslautern, of Division I, jumped to a 3-0 halftime lead in its triumph over its D-II opponent.