Raiders, Warriors battle to 1-1 draw
by
Mark Patton
April 2, 2011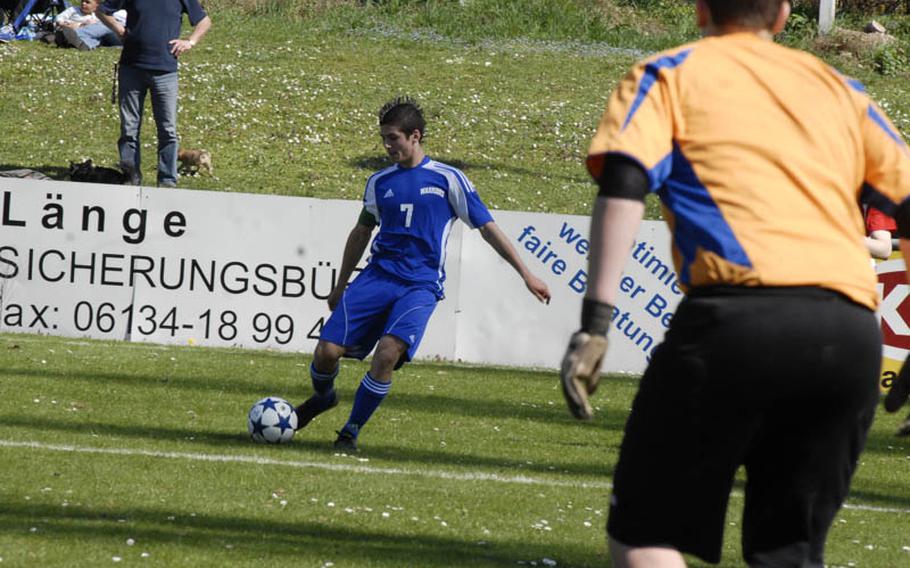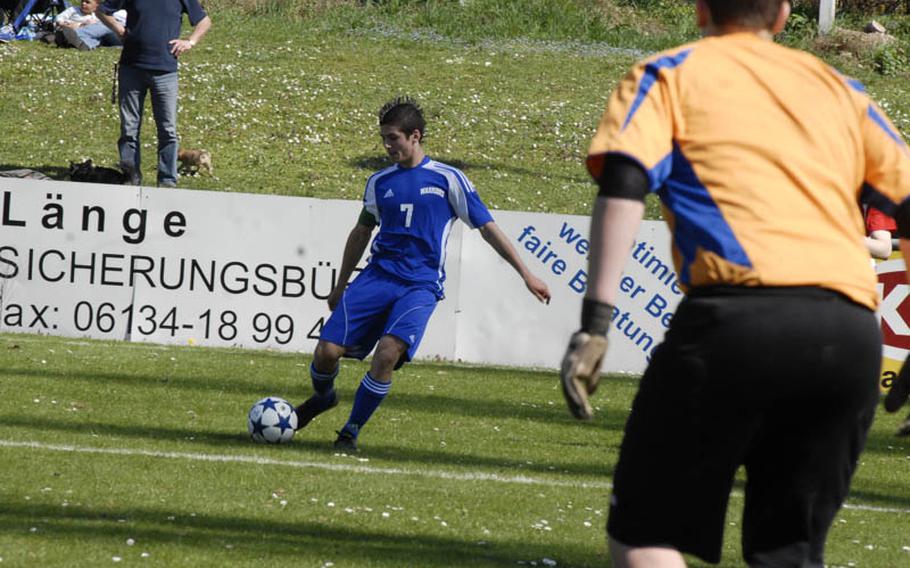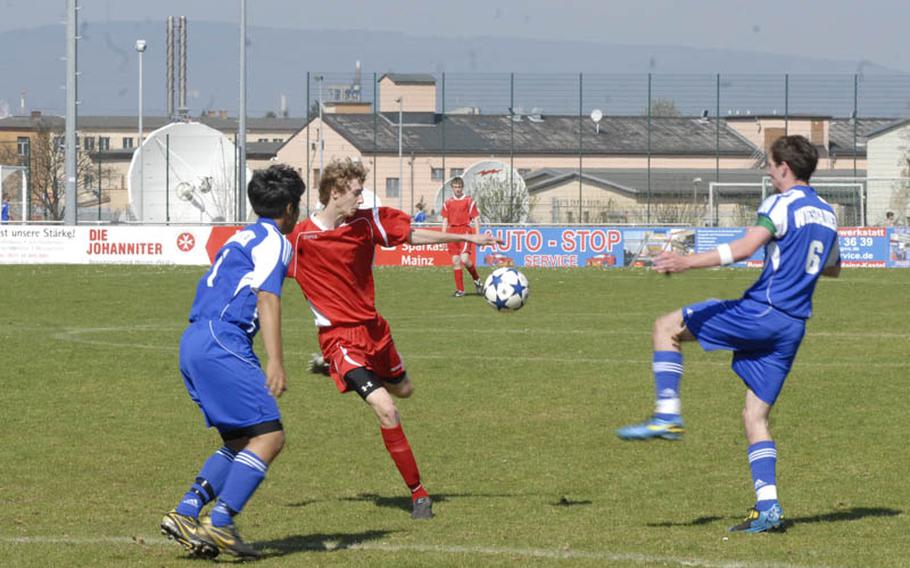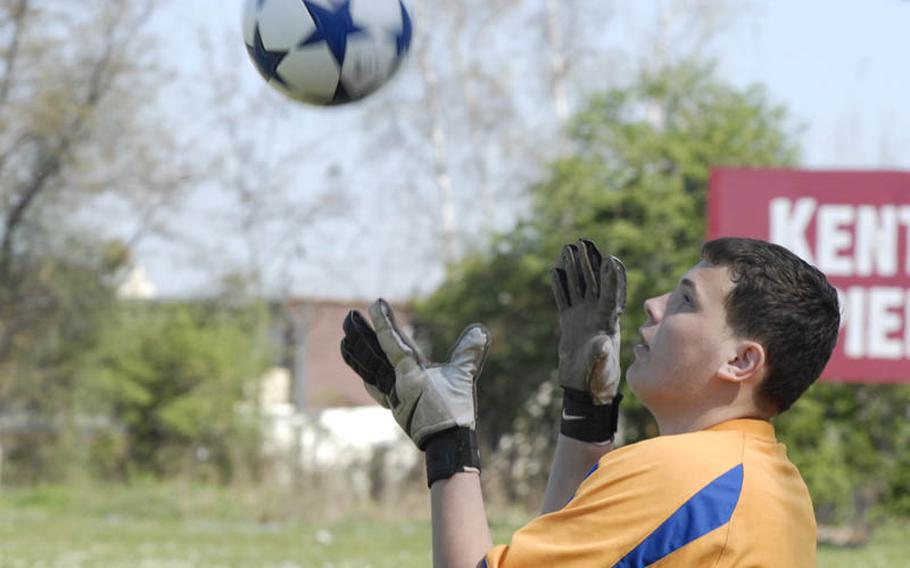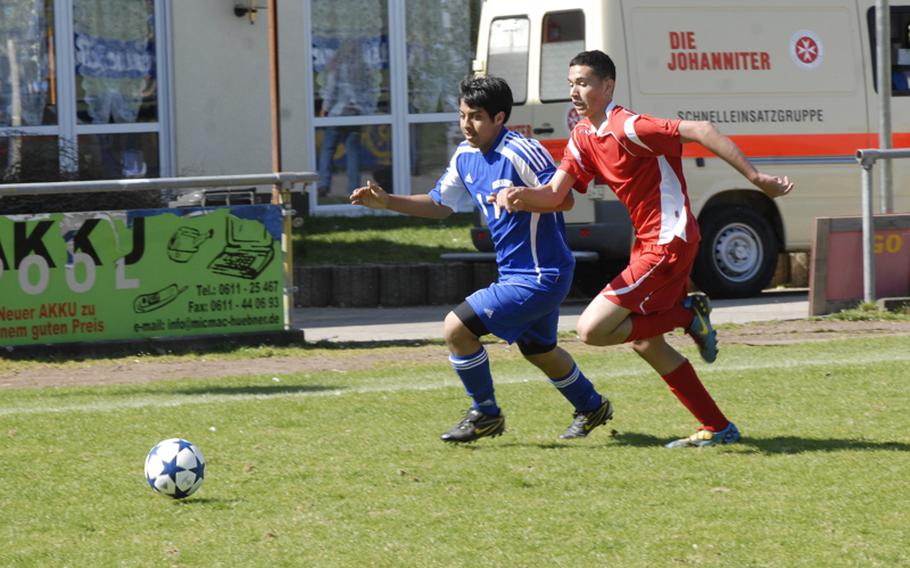 MAINZ-KASTEL, Germany — If you're a fan of the number 1, then the Stadion In der Witz in Mainz-Kastel was the place to be Saturday as the Kaiserslautern and Wiesbaden boys battled to a draw in an afternoon soccer match.
The Raiders and Warriors kicked, slid, scrambled, headed and fought their way through 80 minutes to finish tied 1-1. The only goals on the afternoon were scored during the first half of play and came, fittingly, from players wearing the number 11.
Kaiserslautern sophomore Cody Tremaine provided the first when his kick was deflected by Wiesbaden keeper Daniel Hirschel-Weber. The ball rebounded right back to Tremaine, and his second effort sailed into the goal.
"You guys have got to want the ball, the ball doesn't come to you by itself," Hirschel-Weber screamed to his squad from the net.
Wiesbaden senior Quintin Torke drew the Warriors even as he finessed the ball over the fingertips of Raiders senior goalie Mitchell Lorish right before the end of the first half.
Both teams had plenty of chances during the second half, but neither was able to score.
"We just couldn't finish the shots; some were right in front of the goal," Tremaine said.
Wiesbaden also felt frustrated over missing some shots. Torke had a couple of good looks at the goal right before the match ended.
"We had plenty of chances, it was pretty intense," Torke said. "They hustled, we hustled. I think it was a great game, though."
Raiders coach Ken Robinson said the tie was a welcome reality check for his kids, who were riding perhaps a bit too high after last week's 7-3 thumping of Mannheim.
"It was an exactly even game, it could've gone either way," Robinson said after the match.
The Wiesbaden squad, which also won last week by a big margin, was quick to point out they are a better team than in previous years and they think pulling a draw against a tough Raiders team proves it.
"It's good people don't forget Wiesbaden, we're gonna come back and we're gonna come back strong," Torke said.