Girls - Day 1
Raiders hope to crash party among large-school favorites
by
Gregory Broome
May 20, 2019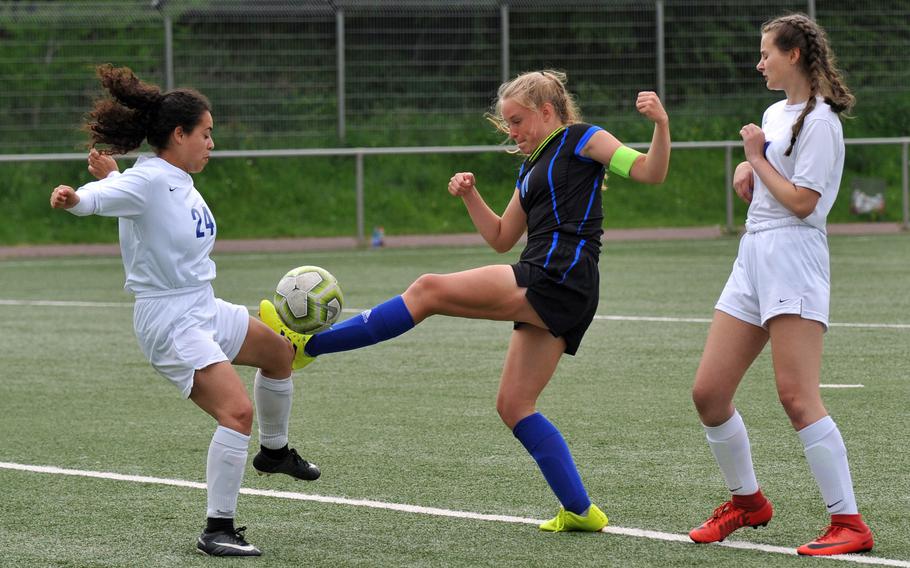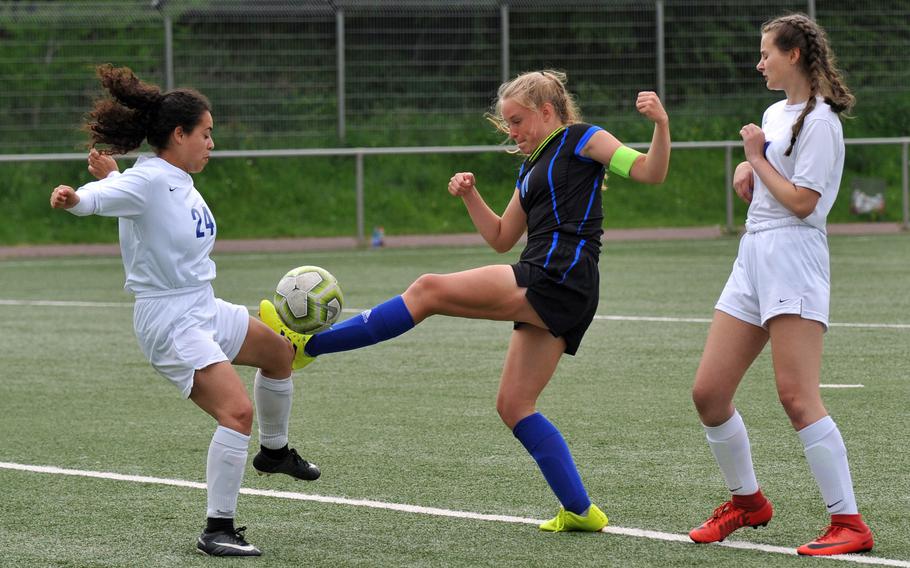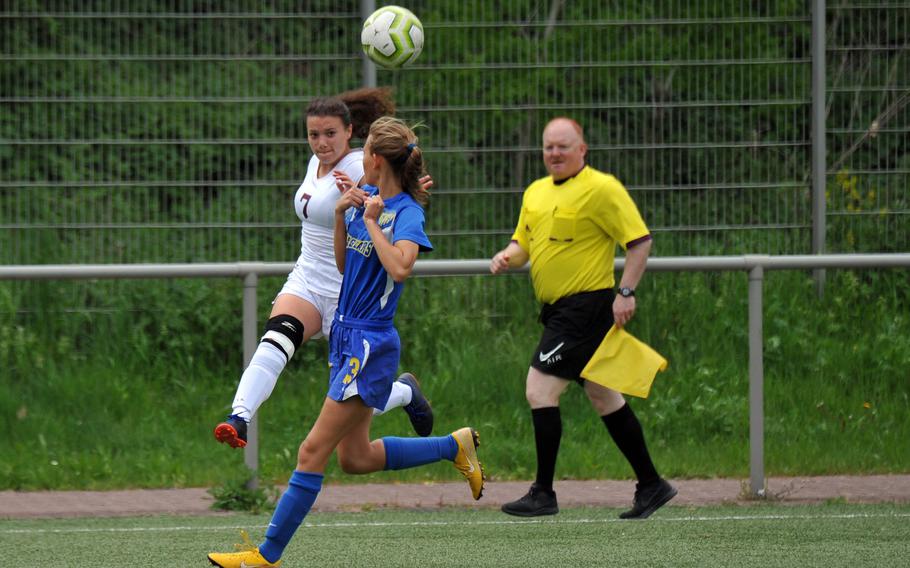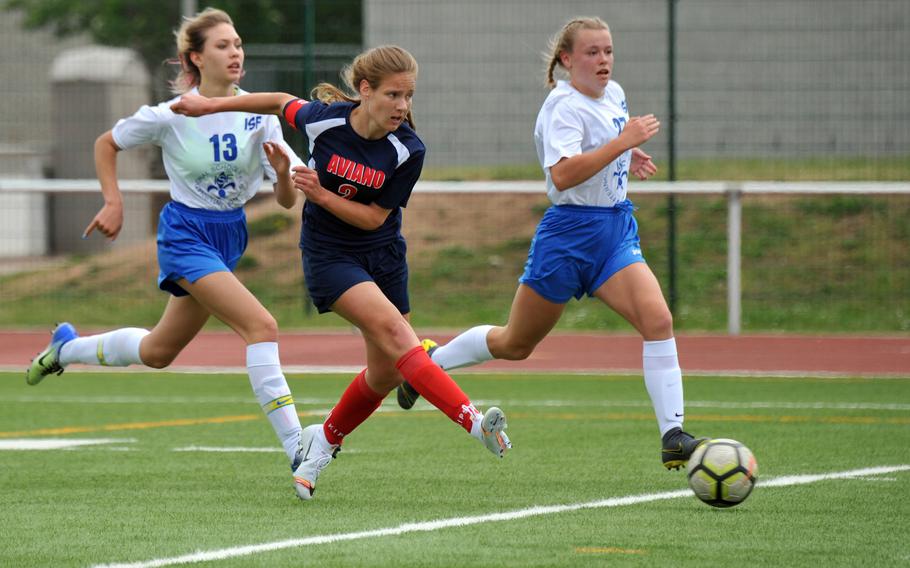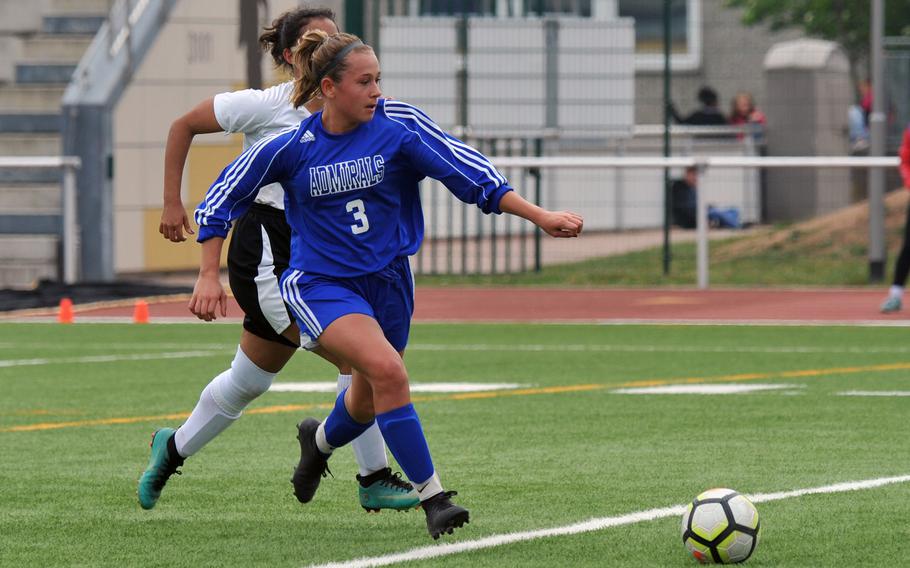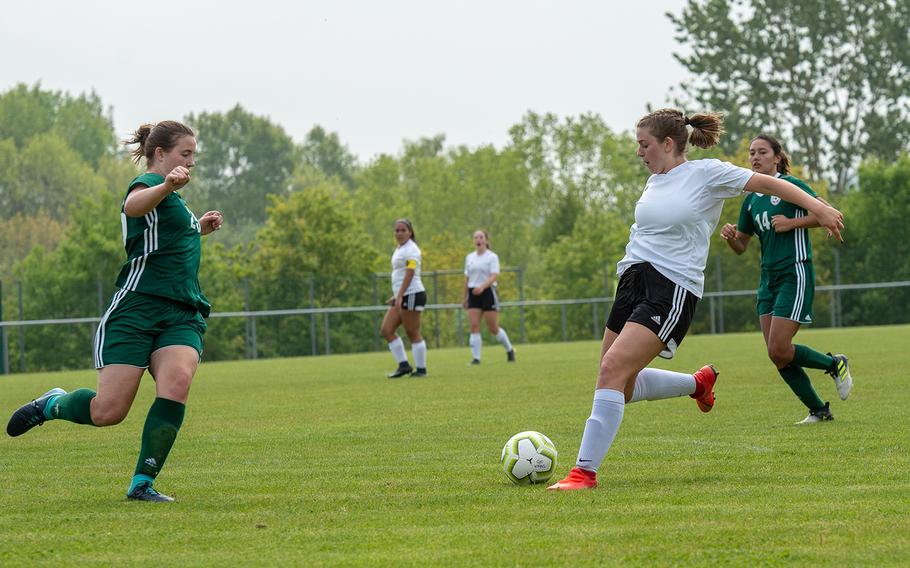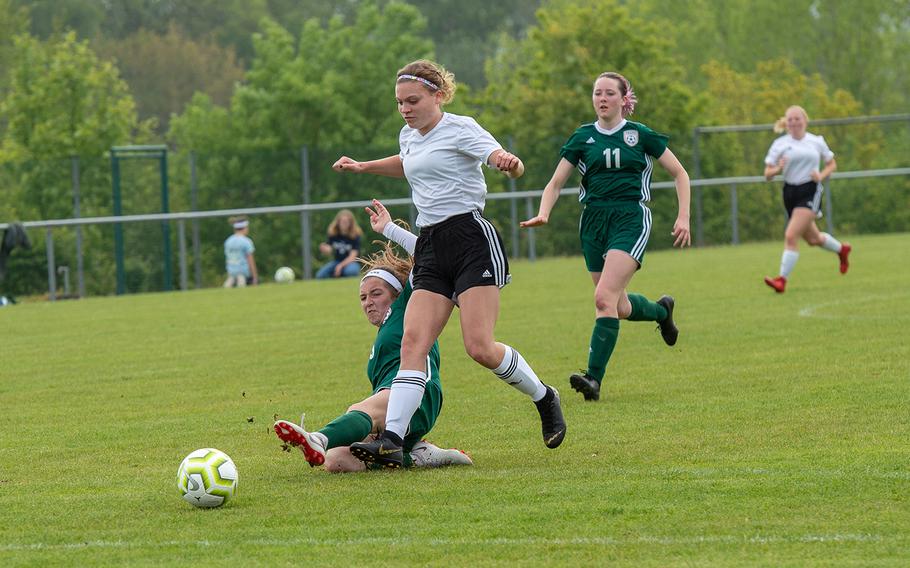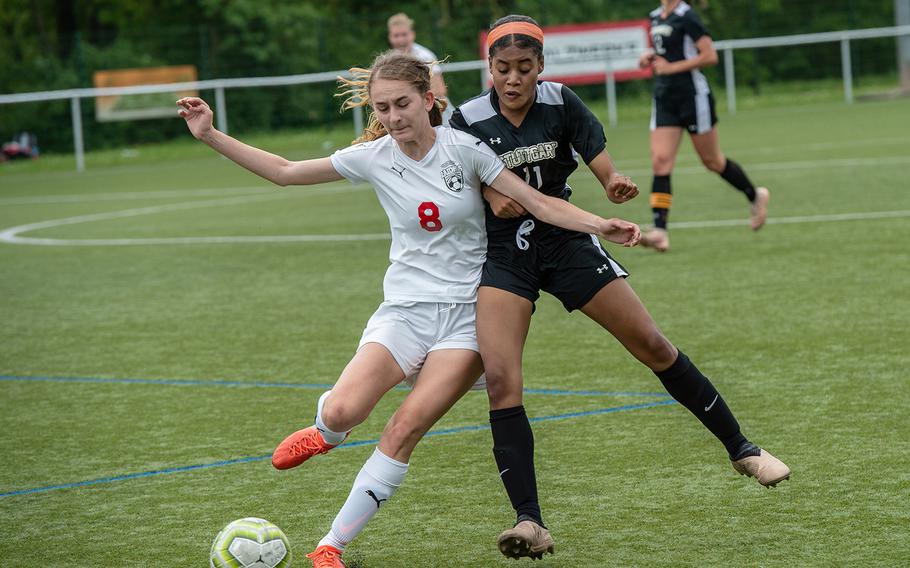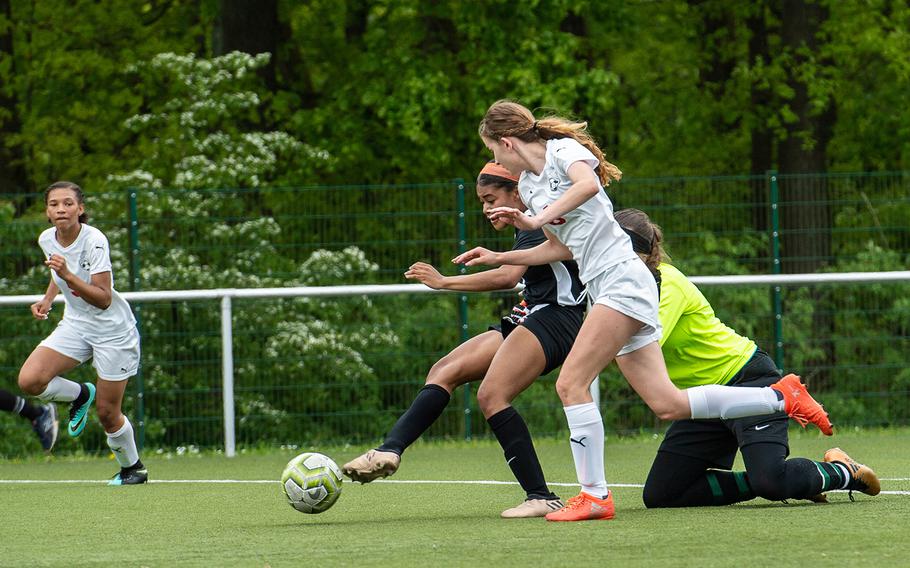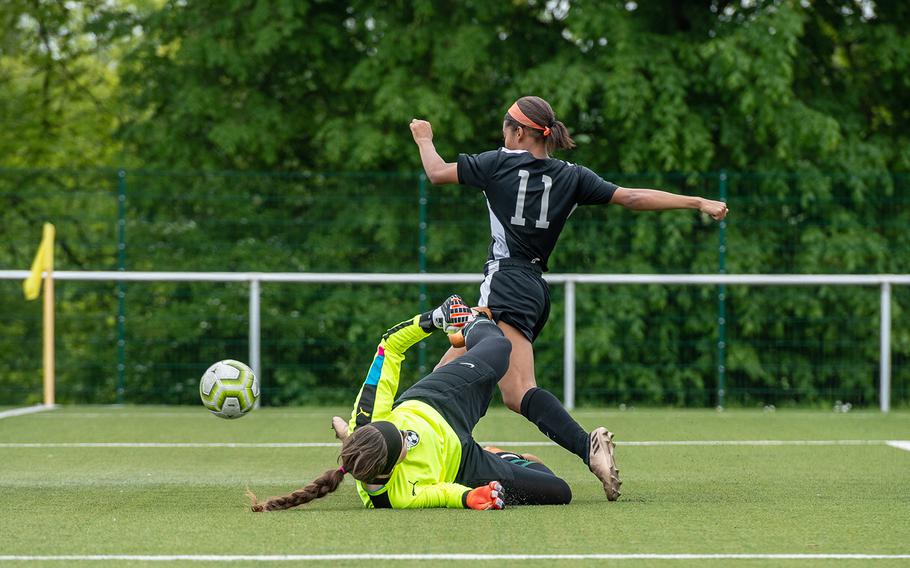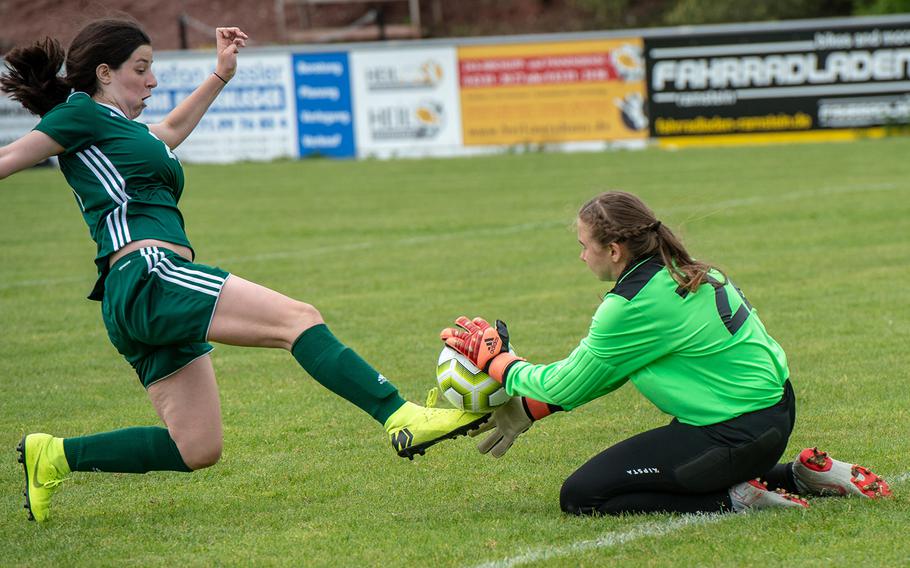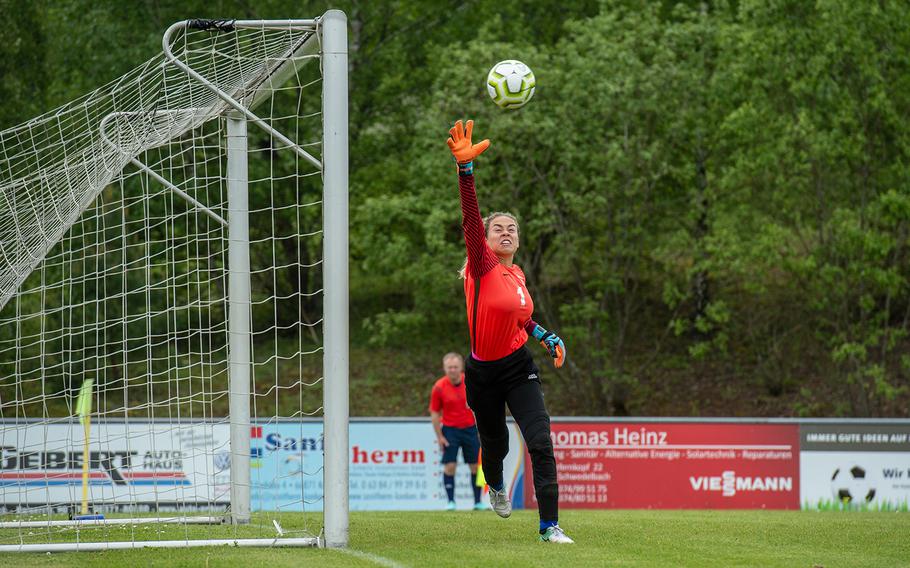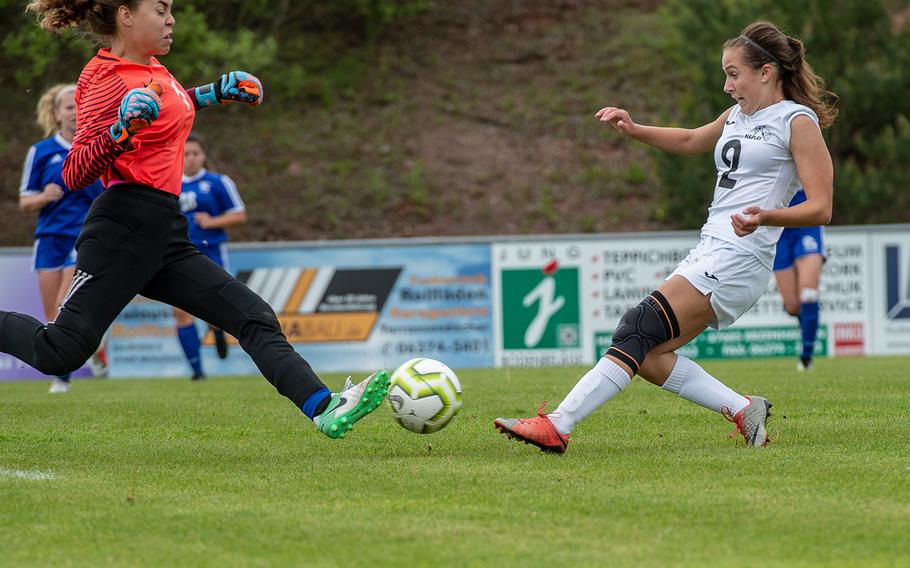 Problematic first-day matchups applied immediate pressure to favored large-school teams in the 2019 DODEA-Europe girls soccer tournaments, which opened Monday at sites across the Kaiserslautern Military Community.
Division INaples 7, Vilseck 0: The third-seeded Wildcats flashed championship-level offense and defense in a thorough dismantling of the seventh-seeded Falcons.
"We started out with a lot of nerves but we were able to calm it down," Naples midfielder Abigail Houseworth said. "We were able to move the ball around a lot and focus on perfecting our different formations."
Nobody moved the ball as efficiently as Houseworth, who finished with three assists along with a goal of her own. Sophomore striker Roxanne Sasse scored four goals for Naples, which was focused on scoring as many goals as possible in the event its difficult five-team pool is settled by a goal-differential tiebreaker.
"We need all the points that we can get," Houseworth said.
That concern turned out to be well-founded. Naples played second-seeded Wiesbaden to a 3-3 tie later Monday.
Parity in Pool A: The eighth-seeded Kaiserslautern Raiders tangled up the opposite pool's leaderboard, dragging a pair of higher-seeded opponents into 2-2 ties.
Kaiserslautern's first victim was the top-seeded defending champion Stuttgart Panthers, who have now played to ties in each of their last two games including a 2-2 draw with Wiesbaden in their May 11 regular-season finale. Stuttgart blanked Kaiserslautern 4-0 on May 4 but couldn't put the Raiders away Monday.
The fourth-seeded SHAPE Spartans suffered a similar fate in a 2-2 afternoon tie with the resilient Raiders.
Kaiserslautern looks to humble another higher seed early Tuesday in its pool-play finale against fifth-seeded Vicenza.
Division IIBlack Forest 8, Bahrain 1: The top-seeded Falcons' dismantling of the eight seed typified a drama-free day in the division.
At least four of the division's five Monday matchups was decided by at least three goals, and all in favor of the higher seeds, pending the outcome of the late between Aviano and AFNORTH. Fourth-seeded Marymount kept pace in BFA's half of the bracket with a 4-0 rout of intracity rival American Overseas School of Rome.
In the other pool, second-seeded Rota and third-seeded Aviano won their openers by matching 3-0 margins over respective opponents AFNORTH and Florence.
Things may get messier over the next two days as the frontrunners turn their aim on each other. Rota faces Aviano on Tuesday afternoon, while BFA faces Marymount early Thursday, just hours ahead of the Division II semifinals.
Division IIISpangdahlem 1, Sigonella 0: Sentinel freshman Chesney Tieyah scored a last-minute goal to decide a morning battle between two of the tournament's top contenders.
Tieyah ran down a ball on the right wing and lasered the game-winner into the back of the net, just ahead of a tackle by a fast-closing Sigonella defender and just over the hands of the well-positioned Jaguar goalkeeper.
"I didn't think it was going to get over," Tieyah said. "It scared me because I didn't want to let the whole team down."
The freshman's shot decided a well-played game between Spangdahlem, the 2018 Division II champions realigned to Division III this season, and Sigonella, the 2018 Division III runner-up. The two entered the tournament as favorites to replace Alconbury, whose small-school title reign ended this spring when it merged its understaffed girls team into a co-ed squad playing boys soccer. The new divisional rivals were headed for a stalemate when Tieyah intervened.
"I had no idea how much time was left," Tieyah said. "I just wanted to get that goal in. I wanted to win this game."
Spangdahlem completed an unbeaten Monday with a 3-1 defeat of Brussels, while Sigonella bounced back with a 1-0 shootout victory over Baumholder.
broome.gregory@stripes.com Twitter: @broomestripes