Quick second-half start sends Heidelberg past Kaiserslautern
by
Rusty Bryan
January 16, 2003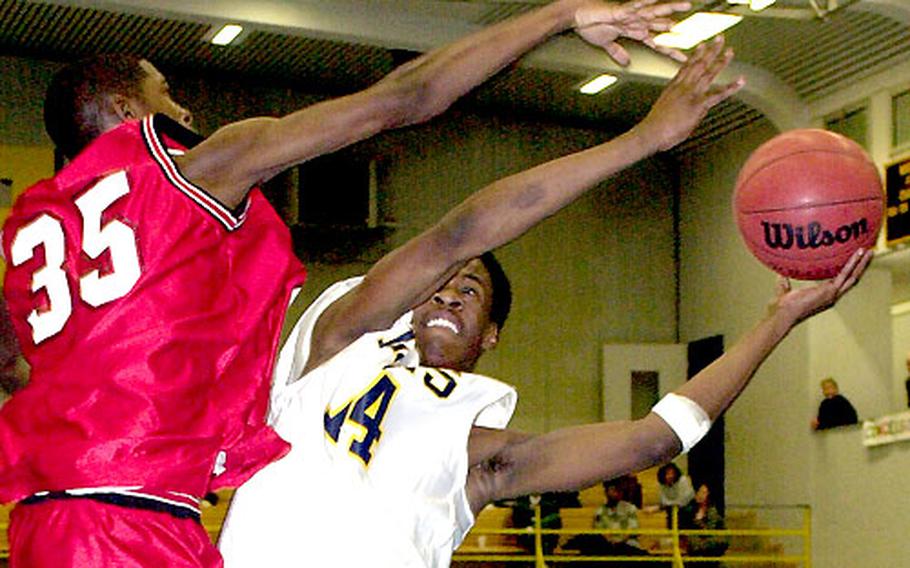 HEIDELBERG, Germany — Heidelberg's strong start in the second half Tuesday night helped the Lions take a half-game lead in the Division I basketball race.
"We came out and played harder," Heidelberg senior forward Sam Boswell said after the Lions opened the second half with a 13-3 run that paved the way to a 62-43 victory over visiting Kaiserslautern. "We played better defense."
In the first 5½ minutes of the second half, the Lions stretched a 24-20 halftime lead to 37-23 by not allowing the Red Raiders any second shots — some possessions no shots at all.
Travis Wesley led the way for Heidelberg, dishing out 16 assists, including a pair of no-look bullets to Boswell for easy buckets. Boswell finished with nine points and 12 rebounds.
James Williams led the Lions with 20 points, including 5-for-5 shooting in the second half.
Jonathan Williams added 14 points and eight rebounds.
In addition to his timely passing, Wesley shut down Kaiserslautern's Norris Langford in the second half.
Langford led the Red Raiders with 19 points, but eight of his 10 second-half points came after the game was out of reach.
The victory left the three-time defending European Division I champion Lions with a 4-1 mark in league play, one-half game ahead of idle Würzburg.
The Lions host International School of Brussels Friday night and Saturday afternoon.
Kaiserslautern, which began the season with an impressive come-from-behind 75-71 victory over Wiesbaden, lost for the third straight time to fall to 1-3.
The Red Raiders will have until Jan. 23 to regroup, when they host Lakenheath.