Far East finals preview
Quality and quantity count in cross country
by
Dave Ornauer
November 4, 2010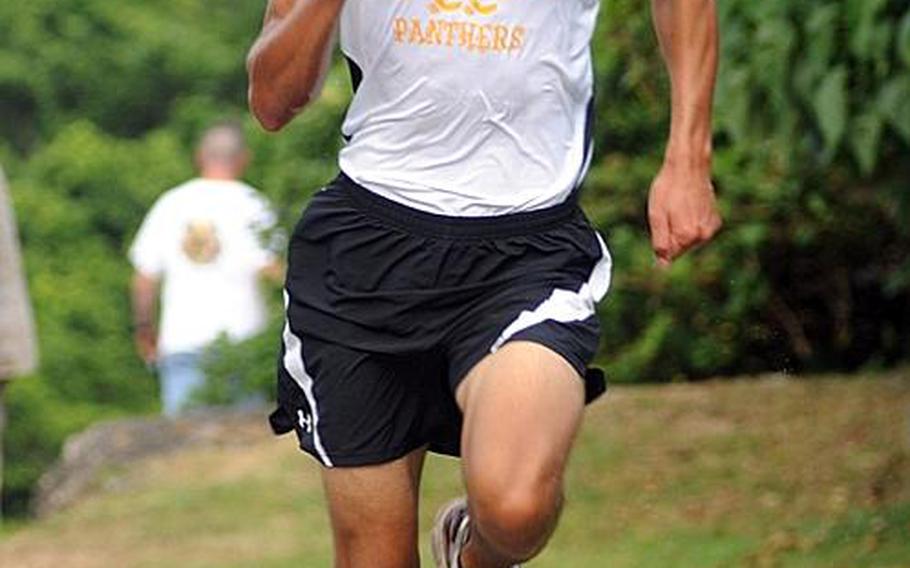 KADENA AIR BASE, Okinawa – For Kadena coach Tom McKinney, next week's Far East High School Cross-Country Meet might be a déjà vu moment.
The last time international schools competed in the event, in 2002, Kadena won neither the boys or girls team titles - not even the team relay. Yet the Panthers placed enough people in the top 10 of each event that Kadena sneaked in and stole the overall team championship.
The secret? Balance, said McKinney. Not necessarily having the fastest or strongest runners, but enough to place at least three in the top 10 in the team relay and the individual 3.1-mile races.
"You could come out not winning either side and still end up winning the team championship because of how your team places" in each event, said McKinney, whose Panthers last week won the Okinawa team titles behind seniors Tomas Sanchez, Jacob Bishop and Andrea Grade.
With Sanchez and 2009 island champion Bishop, "I knew I had a strong boys team," McKinney said. "I had to get the girls to balance up and they've come together and gotten faster, the girls have stepped up to the boys' level. Now, it's equal on both sides."
Next week at Tokyo's Tama Hills Recreation Center, McKinney's Panthers test that balance against a field including St. Mary's International School of Tokyo, viewed as the boys favorite, and two-time overall champion Seoul American, seen as having the best girls lineup.
International schools competed in Far East meets from their inception in 1976 until 2004, when DODDS-Pacific mandated they be DODDS-only events. That ruling was overturned last spring by the Far East Activities Council.
St. Mary's and Christian Academy Japan of the Kanto Plain and Father Duenas Memorial of Guam will run in Division I and Kanto's St. Maur International in Division II.
Led by senior Kelly Langley, St. Mary's enters the meet as the boys team to beat. "If he wants to win the race, he will," said coach Andre Thibert of Robert D. Edgren, adding that having international schools will give the meet "a whole different feel."
St. Maur "will give everybody trouble" at Division II, Thibert said.
While Seoul, with sisters Amanda and Pam Henderson and reigning girls champion Siarria Ingram, seems to be the girls' favorite, "don't count my boys out," coach Steve Boyd said of a lineup featuring Far East returnees Andrew Murphy, John Graham and Andrew Catineau.
"We don't have the fastest runners in the Pacific, but we have five tough competitors. I feel comfortable these guys will go and do what we ask them to do."
Guam High, with the island's top two girls runners in Alexis Vermeire and Meagan Speck, are also considered in the running.
Though Sanchez and Grade ran the Pacific's fastest times, 15 minutes, 20 seconds and 18:29, in the OAC finals on Oct. 27, one shouldn't read too much into that, Boyd said.
"You get to a different course, things can happen," he said. "When you have success and confidence, it gives you the feeling you can go anywhere and run those times. That's not always the case."
---
---
---
---