Pusan's Edwards siblings set lofty goals in Far East tennis
by
Dave Ornauer
October 7, 2004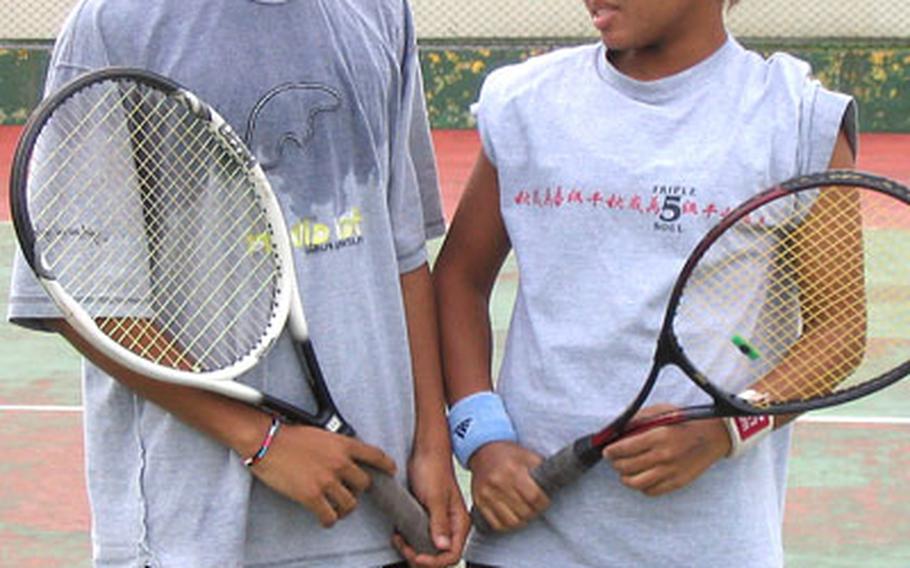 Mary and James Edwards have kept tennis in the family since they picked up rackets as seventh graders. This year they would like to keep Far East tennis medals in the family, as well.
They have experienced limited success in their careers representing tiny Pusan American School, winning occasional matches against small-schools opposition but finding it more difficult against their large-school opponents in Seoul.
This season might be different.
Both have beaten the top singles seeds at Osan American, Taegu American and International Christian-Seoul. Both have 3-0 records, the best among Department of Defense Dependents Schools players.
Now, James, a junior, and Mary, a senior, have even loftier goals: Korean-American Interscholastic Activities Conference individual championships, maybe even a Far East tournament family double next month at Kadena Air Base, Okinawa.
"That would be great," James said.
Their early-season success has surprised even their coach, Lydia Fleischer.
"It's amazing," she said. "I've seen so much improvement so far. I've never seen that in the past."
Fleischer was speaking specifically about a change in both players' styles and substance, a maturing of their games that has both emphasizing placement over power.
"After years of trying to get James to go for accuracy as opposed to power ..." Fleischer said, "I don't know what happened."
Now, she said, "He doesn't have to do a power shot to prove anything to anybody. He's purposeful."
Similarly, Mary "has always been a good hitter," Fleischer said, but is concentrating more on "placing the ball."
What do the players think?
Says Mary, who attended tennis camps this summer, "I put more emphasis on speed, getting to the ball faster. I move around the court faster, chasing down every single ball. ... My ball placement has improved. Before, I was trying to hit the ball with a lot of force, but I learned over the summer that it's more important where I put the ball."
James echoed his sister. "I used to hit hard but not with as much control. ... Now, I'm trying to find spots."
He also absorbed lessons from last year's defeats against some of South Korea's toughest competitors.
"They're not hard-hitting," he said. "But they place the ball well. They don't make mistakes, they make you make the mistakes."
A brother and sister never have won singles golds in any Far East tennis tournament. But James' and Mary's improved games, coupled with DODDS-Pacific's decision last month to limit Far East tennis tournaments to DODDS teams, positioned them to do just that, Fleischer said.
But Mary and James both quickly point out that they have yet to face stronger international and DODDS opposition in Seoul.
"They have many good players," Mary said of competitors such as Michelle Lee of Seoul Foreign, Hannah Kim of Seoul American and Carol Lee of Seoul International. James has to contend with the likes of Thomas Kim of Seoul American, Joseph Shin of Seoul International and JiTae Kim of Seoul Foreign, whom James calls the "best player in Korea right now."
Lifelong residents of Pusan and Camp Hialeah — their father, J.C., a retired Army sergeant major, has worked at the Pusan Storage Facility for 18 years — Mary and James say they depend on each other for practice, honing their game, even encouragement.
"He has the power, the strength, the speed, I totally look up to him and try to make my game like his," said Mary, who practices about three hours daily.
James calls himself an "in-season" tennis player and prefers basketball, his winter sport. But he says he gets more from practicing with his sister than anything else in tennis.
"Mentally, right before the game, she helps me get ready," he said.
Even though Far East will not feature some of last year's top players, Mary and James refuse to take anything for granted.
"We still have to get on the court and win," said James, who lost in the second round last year. "There will be people there who I haven't seen, who I haven't played. It will take a lot of hard work and practice."
Looming in the way of Mary's title bid is sophomore Amy Lopes of Kadena, who finished fourth last year and beat Edwards 6-1, 6-0 in the third round.
"You're going to need a strong serve. You have to be strong and dominant," Mary said of Lopes. "She hits the ball really hard and has a really awesome serve. You have to be really prepared to face her."
Said Fleischer, "I'd like to see Mary and James get up there at least into the semifinals. I think they can."
---
---
---