Pusan American's Edwards stays on serve
by
Dave Ornauer
October 6, 2005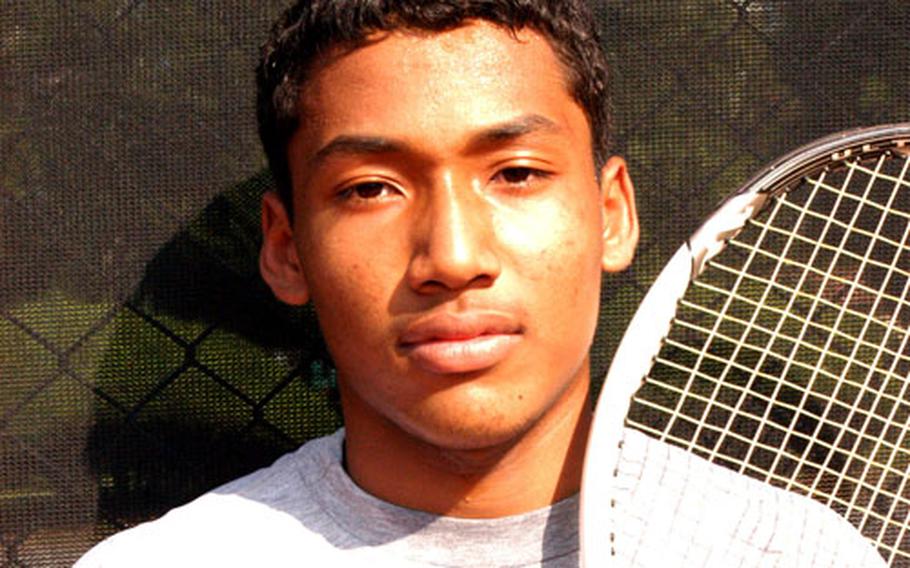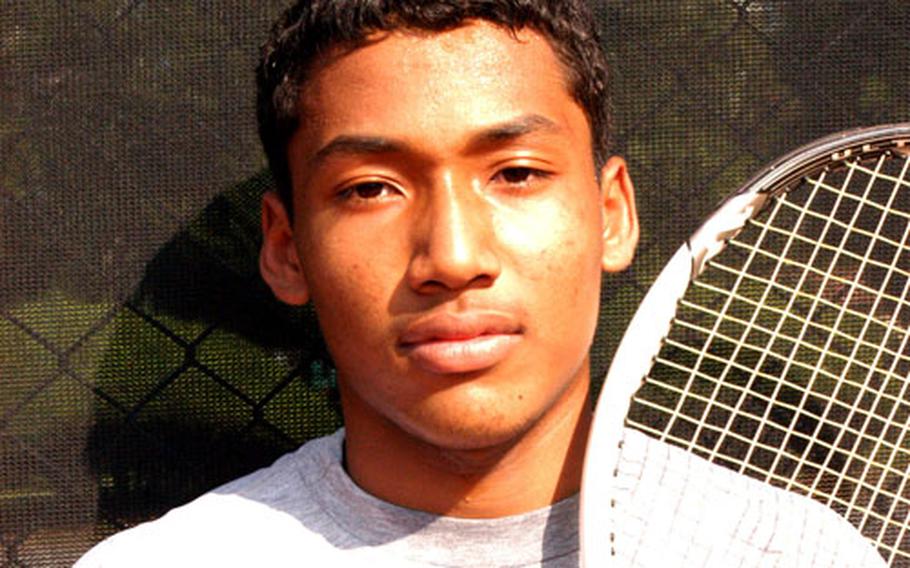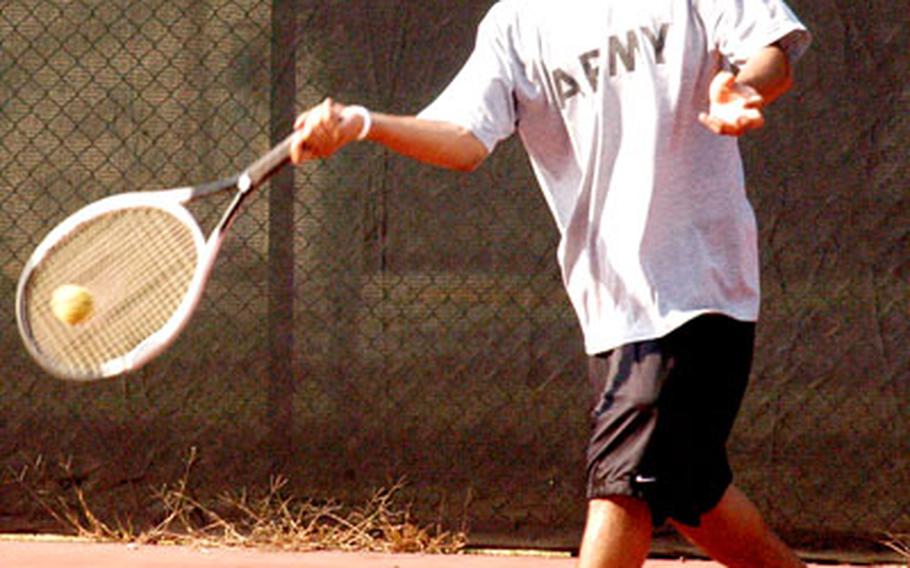 It's one thing to win a Far East high school tournament title. It's quite another to defend it.
James Edwards, defending Far East Tennis Tournament singles and mixed doubles champion, feels that distinction all too well. The Pusan American senior feels, at times, as if he's carrying a bull's-eye on his chest and back.
"I'm not really thinking about it," said Edwards, who has picked up this season where he left off the last one, unbeaten through four singles matches thus far. "The more I think about it, the more I worry. I just try to keep it off my mind. Just focus on what I'm doing at the moment, the game I'm playing."
"He certainly is a target," said his coach, David Clausen. "He knows that. Being a champion and the chance to repeat, the task becomes greater."
Edwards had the advantage a year ago of coming pretty much out of nowhere, a champion in Korea, but an unknown quantity heading into the Far East tournament on Okinawa.
Edwards, behind a powerful serve and forehand and a fearless net game, bulldozed through the singles field and captured the boys singles title, ending an 11-year title drought for Pusan American.
He also teamed with his sister Mary to win the mixed doubles, a first-time event in the Far East tournament, which became a DODDS-only affair last year.
How is he holding up, knowing he won't be surprising anybody this season?
"People know that maybe they have to beat me to make it to the finals, if they have to play me," Edwards said, which can be a good and bad thing, either serving as a motivator to do better or becoming a source of overconfidence, which he says he's striving to avert.
"I have to play like it's a whole new year, continue what I was doing, improve, not rest on what I've done in the past," he said.
Though he still considers basketball his No. 1 sport, having won Far East made tennis "a much higher priority," he said.
Over the summer, he said, he worked on his game, specifically addressing what he and opposing players and coaches said was a potential weakness: his backhand, particularly on serve.
"I've been working on that," said Edwards, who has playing frequently against Clausen in practice. "He hits a lot of serves to my backhand. I'm trying to hit the backhands, get better strokes."
Clausen's help has been invaluable in other areas as well, Edwards said.
"He's really helped a lot," Edwards said. "Serving, returning, volleys, groundstrokes. Little things that will make my game much better, playing faster and more aggressively."
For his part, Clausen feels Edwards has stepped up his play and is keeping his focus on the right things.
"He's not resting on his laurels," Clausen said. "He's working hard on his serve, trying to make it a stronger, more consistent weapon. His groundstrokes continue to come around nicely. Overall, he has a little more power on all his shots."
Edwards got a late start in preparing for his title defense, since the Panthers weren't scheduled to play until Sept. 23.
Edwards admitted to being a bit antsy over the waiting.
"I just felt it was time to play," he said. "I wish we could have played sooner, but it really wasn't a big factor. I was excited since it was the first matches of my last tennis season of my high school years."
He opened strongly, beating Ryan Park of International Christian-Seoul in two matches on Sept. 23, then topping Hyun-min Kim of Taegu American 8-5 on Sept. 28. Kim finished fourth at Far East last year, and Edwards said he knew he'd be in for a tough battle.
And the road ahead might be even tougher, given that Edwards and the Panthers must travel to Seoul this weekend for a rematch with Allen Chin, whom Edwards beat in last year's Far East championship.
Three weeks later looms the Korean-American Interscholastic Activities Conference end-of-season tournament, Edwards' final tuneup for Far East, scheduled for Nov. 9-11 on Guam.
That's fine with Edwards. The tougher the opposition, the better.
"I really want to play [Chin] and more international schools, just to be challenged, have a decent match and learn," Edwards said.
Whether on Saturday, the KAIAC tournament or at Far East, what does Edwards expect in the rematch with Chin?
"I would play him the same way I played the last time, try to beat him early, not let him stay in the match," Edwards said. "He gave me a bad time at Far East last year, somewhat."
And what about the possibility of Kadena's Anthony Soroka or another contender such as Eric Su of Nile C. Kinnick in Japan, players he won't see until Far East?
"There are a lot of challengers out there," Edwards said. "I just worry about what I'm doing."
"It will depend on what new people are out there and who's raised their game," Clausen said. "It's an unknown."
"I just want to defend and hopefully repeat as champion. I also want to win KAIAC. It would be nice to play and beat the best in Korea as well as Far East, and to win in my last year, that would be fun."