Pujol, Panthers building dynasty at Yokota
by
Dave Ornauer
November 24, 2003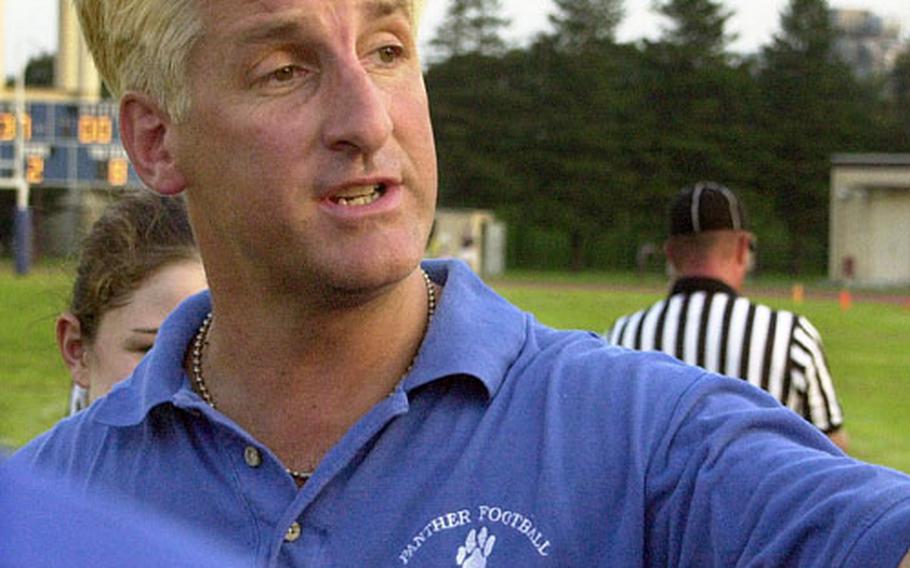 On a shelf in Tim Pujol's home near Yokota Air Base sits an old football.
Scrawled on the aging leather surface are final scores from the 1973 season — the first in Yokota High School history.
It was a 6-0 season, the first in a long line of Kanto Plain Association of Secondary Schools titles that have become symbolic of the Panthers' winning tradition.
Following in the footsteps of Dave Morris in the 1970s and Bud Blevins in 1980s, Pujol has developed a style of his own that has made him even more successful than his predecessors.
A native Texan, Pujol, 40, has strung together a 39-game on-field winning streak — matching Yokota's own Far East record under Blevins — five straight Kanto and Japan Football League titles and five visits to the Rising Sun Bowl All-Japan championship, the last four of which he's won.
"That's a great tradition," he said.
Has he created a football dynasty?
"This year was the 31st year of Kanto football, and we've won 23 of those championships," Pujol said. "If you want to apply the term dynasty to that, it certainly sounds like Yokota has been stingy about sharing the football crown."
Given the shape Yokota football was in before he arrived in the summer of 1999, an 11-31 record since its previous Kanto title in 1993, it could be argued Pujol is responsible for the turnaround.
"I certainly didn't do it by myself," Pujol says. "We've had coaches who've made a real commitment to teaching the game to our players. Continuity has been a key."
And then there's the steady stream of talented student athletes, including running backs Jo-Jo Anthony, Kris Cyrus, Darren Taylor, Mike Chamberlain and Roy Roach.
"We've been blessed with hard-working and talented athletes of varying types," Pujol said. "They've all found a way to contribute what they were capable of to our program."
Opposing coaches have found Pujol and Yokota a nearly impossible combination to beat.
"It's a combination of good players and good coaching," said Robert Stovall of Nile C. Kinnick, which is 0-10 against Yokota in the past five seasons.
"Once you have it in your head that you're not going to lose, that carries the day. Tim gets the most out of his players. I don't know if there's been any team as dominating as they are."
A winning tradition builds on itself, adds Brian Wetherington of Okinawa's Kadena Buccaneers, who have lost to Yokota twice in the Rising Sun Bowl.
"He's implemented his philosophy, and he's maintained it," he said. "He's gotten his kids to buy into it, and the community has bought into it, too."
With all those ingredients, winning has become "a habit, even an expectation," Pujol says.
The expectations were lower when Pujol came aboard.
A 1986 graduate of the University of Texas, where he played football, Pujol began his coaching career as an assistant at John H. Reagan High in Austin, Texas, for two seasons.
He arrived in the Far East as coach of Taegu American and served as the school's athletic director before transferring to Yokota in 1999.
Pujol had heard much about the Panthers' winning tradition. But he inherited a squad that had gone 1-17 the previous two seasons.
Prior to his first season, two Yokota linemen told him: "You're coming into a really bad situation ... we lose the first couple of games, then the players give up ... the attitude is really bad," he said.
Pujol had reason to feel otherwise, after meeting defense and line coach Matt Grant, who had the players on a summer weight and conditioning program. Pujol also notes the positive influence of assistants Willie Spears and Donnell Daniel.
"Everything I thought was a negative turned out to be a real positive," Pujol said.
It didn't show until Yokota's second game of the 1999 season, when the Panthers beat American School In Japan 35-14.
"That was a big turning point for us," Pujol said.
The victory was the first in a season that finished 7-3 and with a 19-14 loss to the Kubasaki Samurai in Okinawa's first Rising Sun Bowl.
He says he still "feels the pain" of his last on-field loss, 24-18 to Matthew C. Perry on Sept. 23, 2000. Every week since, Yokota has relied on a punishing ground game to wear down its opponents.
A speed bump at the start of the 2002 season, which forced Yokota to forfeit two games for using an ineligible player, simply lit a fire under his team, Pujol said.
Faced with what appeared to be a rebuilding campaign, with 21 out of 28 players gone from the 2002 team, the Panthers got a late infusion of talent — Roy Roach and his younger brother, junior Chris Roach from Virginia just in time for the start of the 2003 campaign.
"Our season would have evolved differently," Pujol said of not having the Roaches.
Shawn Novak, a junior, tried his hand at quarterback this year for the very first time.
After Yokota's 31-3 Rising Sun Bowl victory over the Bucs last Saturday, Novak said he wishes he'd joined the team earlier.
"Coach P and his staff are great. It's been a fun year. I was glad to be a part of the tradition," Novak said.
He'll be back next season, as will many players from this year's squad.
Pujol says he's already put together a tentative depth chart and can fill 10 of 11 offensive positions and nine of 11 on defense "with the people we have returning."
Chris Roach will likely be the featured back, with Ben Atuaia or Kenny Harris at fullback.
But there's not much focus on the on-field winning streak, he said.
"This team was working on winning one week at a time," he said. "I'd rather them focus on doing what everybody has a chance to do: go out, do our best, and see if we can find a way to win this thing again, whether it's 10-0, 8-2, whatever.
"It does add a little pressure. And a little excitement."