Pros help teach at K-town tackle football camp
by
Rusty Bryan
June 24, 2010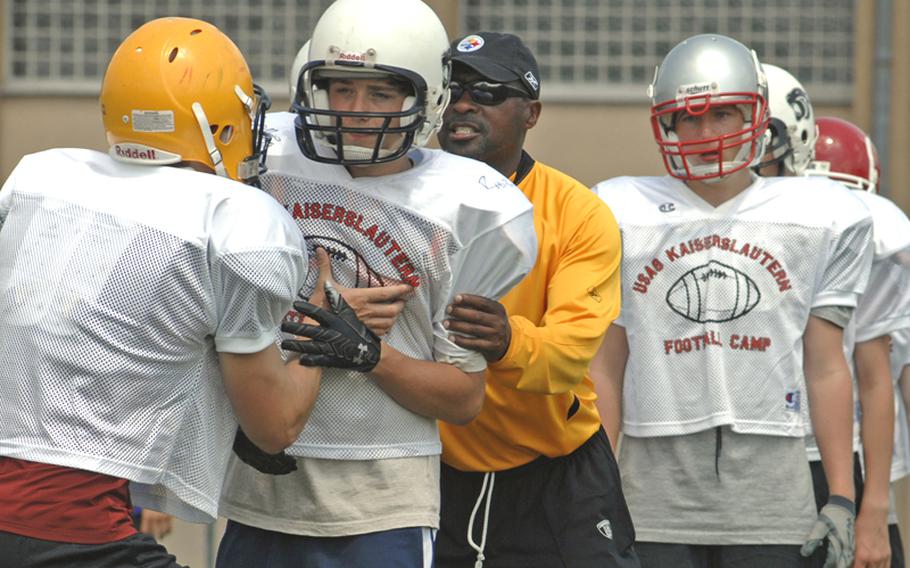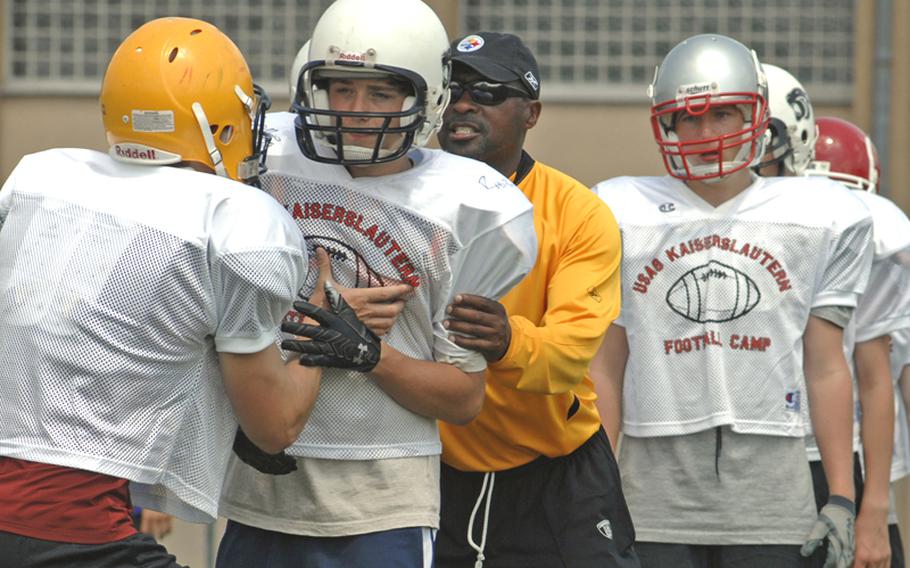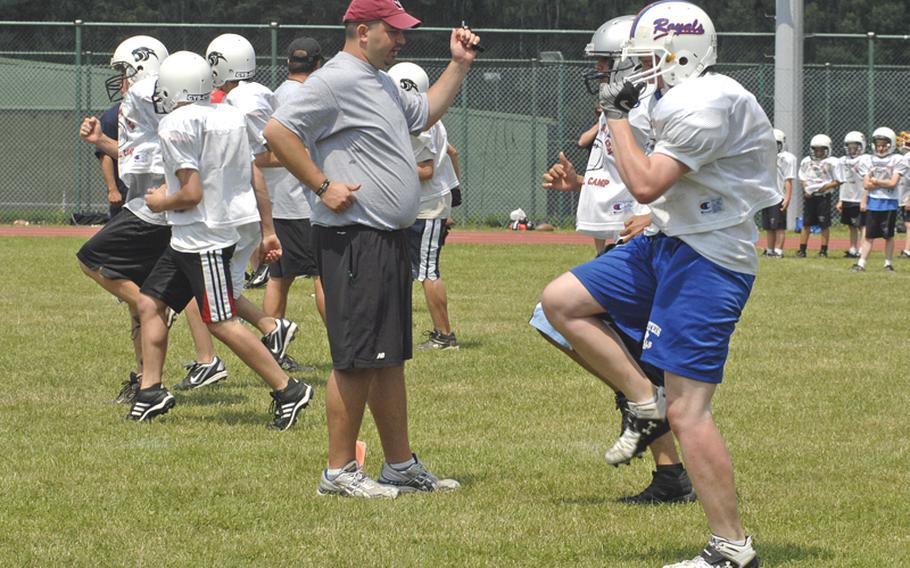 MIESAU, Germany — For many of the 145 participants in the four-day U.S. Army Garrison Kaiserslautern tackle football camp, the operative word is "tackle."
"I like the running and tackling drill," said 11-year-old quarterback Taelur Thomas of Kaiserslautern. "We have to try to run through people."
Added Kaiserslautern High School senior-to-be Patrick Burns, 17, a veteran of last year's DODDS-Europe high school camp at Bitburg: "This is a contact camp" — a contrast to the techniques-emphasizing high school camp. "Contact is more fun."
A veteran of three years of high school football, Burns sees two major positives here in addition to getting the opportunity to hit people — a chance to play ball and a chance to learn from the pro and college coaches on the staff.
"We're learning by good example," Burns said of receiving instruction from Pittsburgh Steelers running back Rashard Mendenhall and running backs coach Kirby Wilson, and Arizona Cardinals running back Reagan Maui'a and assistant defensive backs coach Rick Courtright, among others. "They worked their whole lives to get where they are."
Wilson, a former University of Illinois running back, is just as happy to be helping the players.
"It's awesome," Wilson said as he completed his lunch break in the shade of a garden awning behind the end zone. "This is a great event. It's always fun to get a chance to teach kids who are so excited and so willing to learn. They want to be motivated."
Wilson said his involvement with the camp came about through Courtright, a friend who has staffed the predecessors to this camp the past three years.
"When he first mentioned it to me, and told me about [helping children of servicemembers and visiting wounded at Landstuhl Regional Medical Center], I said, 'Count me in,' " Wilson said.
Camp director Tony Broccoli said much the same thing when he assumed the reins this year.
"The garrison decided to take the camp over from private clubs which had run it in the past," Broccoli said. "The object is to improve skills and allow meet-and-greet opportunities for the coaches. Things are moving quite well."
Rising Ramstein freshman tight end Alex Madrigal, 14, likes learning from the pros. "It's good," he said, "having all those NFL players and coaches around doing normal things."
Although several campers headed back to their second of three daily practice sessions sporting camp jerseys autographed by Wilson and Mendenhall, none professed to being a Steelers fan.
Although not Pittsburgh fans, brothers Derek, 10, and Samuel Steege, 9, of Bitburg, said it was cool of the players and coaches to come.
Each of the first three days of camp included seven hours of practice – two hours each in the morning and evening and three hours in the heat of the afternoon.
"It's a good long day," said Bengals fan Tyler Burton, 13, of Ramstein, "but there's nothing too hard. I just hate having all those Steelers around."
Ten-year-old Will Currie of Kaiserslautern didn't care who plays for whom. "I love it," he said. "It's great because you get to meet new people."
And hit some of them in the bargain.
---
---
---
---