Pro bowlers Pedersen, Smith offer tips at Kadena
---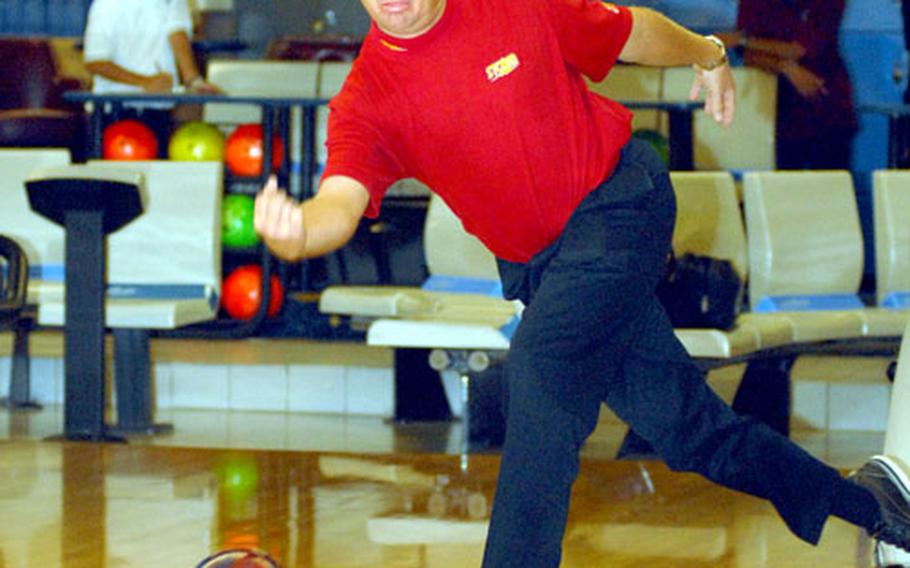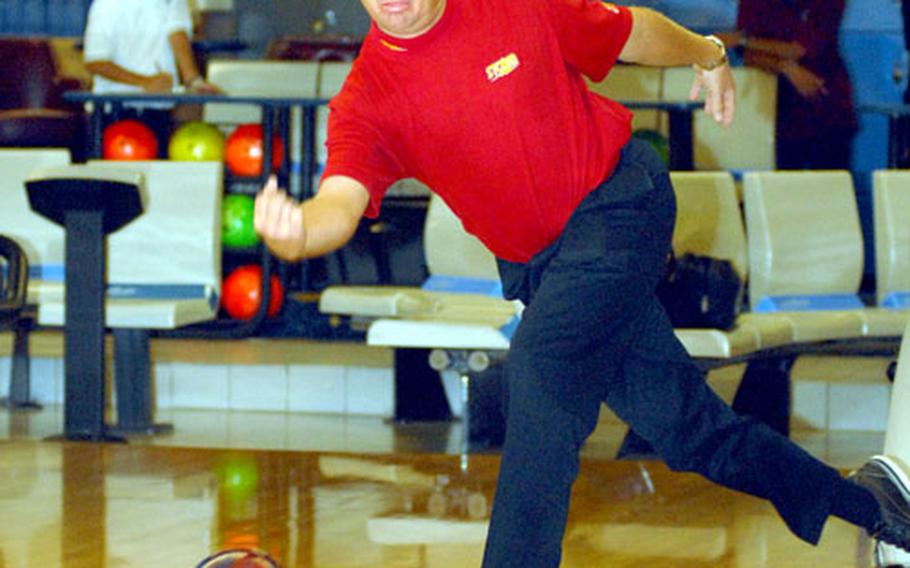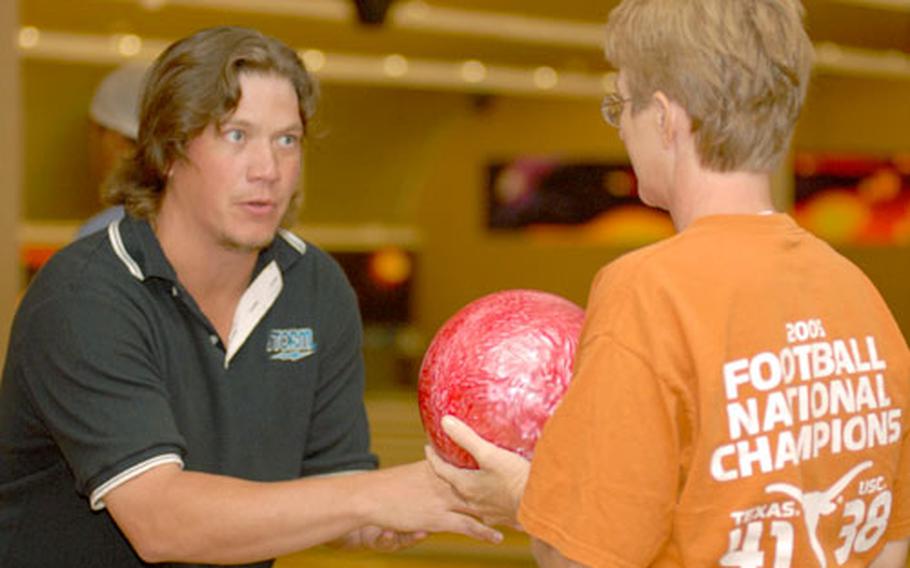 KADENA AIR BASE, Okinawa — Mike Baker couldn't have been happier to see professional bowlers Randy Pedersen and Robert Smith on Friday.
Baker, averaging a pedestrian 160 two years ago, today is averaging 190, and he credits Pedersen, who this weekend made his third visit to Kadena's Emery Lanes and Skoshi Bowl in as many years.
At the adult clinic Pedersen and Smith gave Friday at Emery Lanes, Baker, 40, was the proverbial human sponge.
"Everything from approach to release to hand position, as much as you can get in in a few hours," said the a technical sergeant assigned to Kadena's 18th Aircraft Maintenance Squadron. "Bowling well is much more fun. I enjoy bowling more now."
About 20 adults took part in the clinic. Smith, a 9-year PBA Tour star, and Pedersen, a 26-year tour veteran and ESPN analyst, worked with each of them, fine-tuning their styles, videotaping each bowler, breaking down their form step-by-step on a laptop computer and imparting advice and pointers.
"They are so down-to-earth," Baker said.
Pedersen, 44, of Clermont, Fla., was making his fourth visit to the Pacific and his third to Kadena. Smith, 32, of Simi Valley, Calif., said he's been from "Singapore to Korea and all points in between" but this was his first Kadena trek.
They also were to take on Kadena's finest bowlers in a pro-am tournament Saturday night. The weekend visit was to culminate Sunday with a 2-6 p.m. clinic for children at Emery Lanes.
"It's a show of support for the troops," Smith said. "They do so much for us. To come out here, instruct and entertain … it's an honor to teach and just bowl with them."
Said Pedersen, "I come over here with the idea of trying to bring a little bit of home to the military. We're appreciated more here than back at home … I've made a lot of friends here and we keep in touch via e-mail."
One of them is Baker. The Weymouth, Mass., native and Boston Red Sox fan said the bowlers are far more accessible than other sports stars.
"You go to a baseball game and try for an autograph, maybe they will, maybe they won't," Baker said. "These guys, not only will they give you one but they'll sit down and have a great conversation with you."
Smith said one of their top goals was to impress upon bowlers that "the biggest thing is to have fun. It's a game. Some people take it way too seriously." And, he said, "we're trying to teach them a few things, to improve their game 10 to 15 pins so they can enjoy (it) even more."
Even the pros have their down days, he said.
"I average 220 on tour and I'll bowl a 115 game every now and then," he said. "It happens. As long as you realize what's going on, you learn from failure, what works and what doesn't work."
All the instruction from, and friendship with, two names from the pro tour is "tremendous," said Emery Lanes assistant manager Ken Miller. "You see these guys on ESPN doing the pro tour. Now, we can have them here in person, get some camaraderie going and giving back to the troops and their families."
Kadena's 18th Services, Storm bowling gear, Jaymil engraving and nametags and the USO sponsored the pair's visit.
---
---
---
---