Home Team
Preparation key to historic D-II title firsts for Daegu
by
Dave Ornauer
November 16, 2010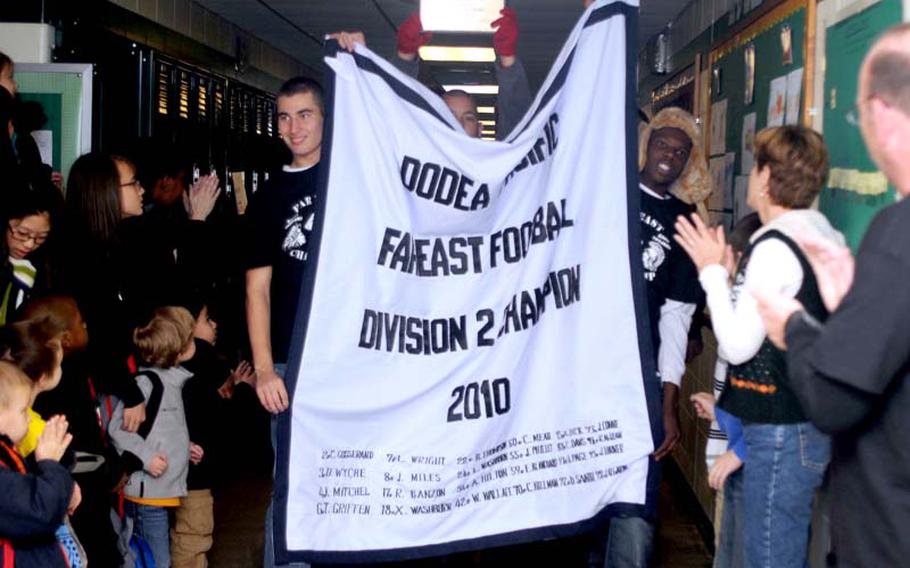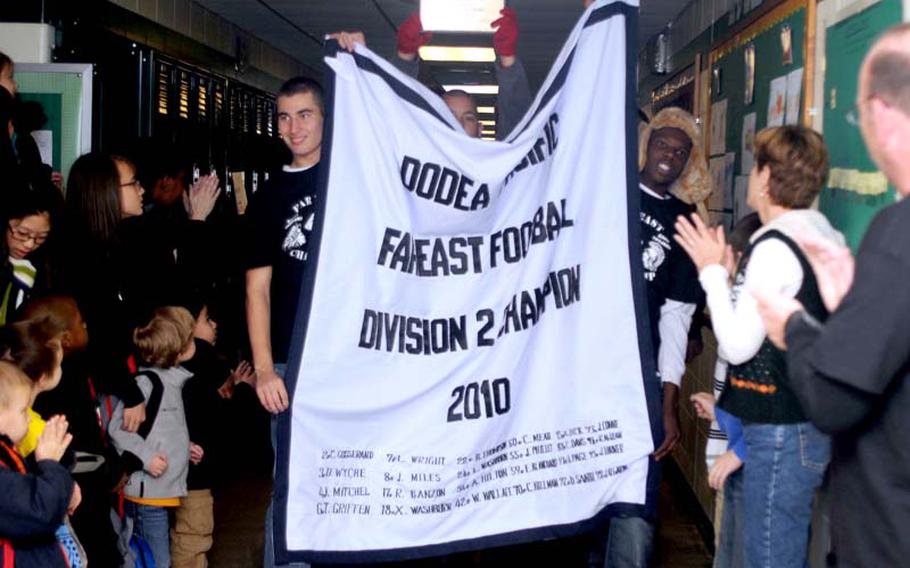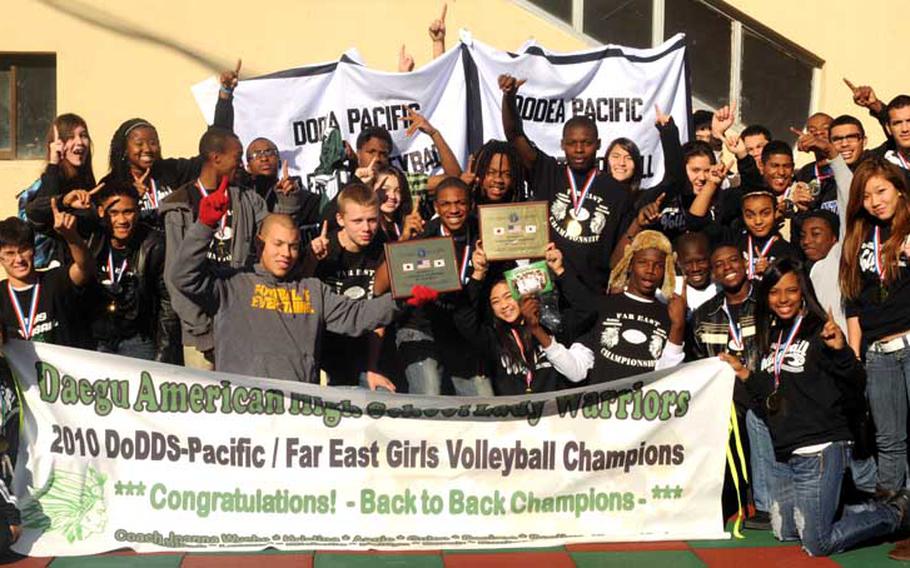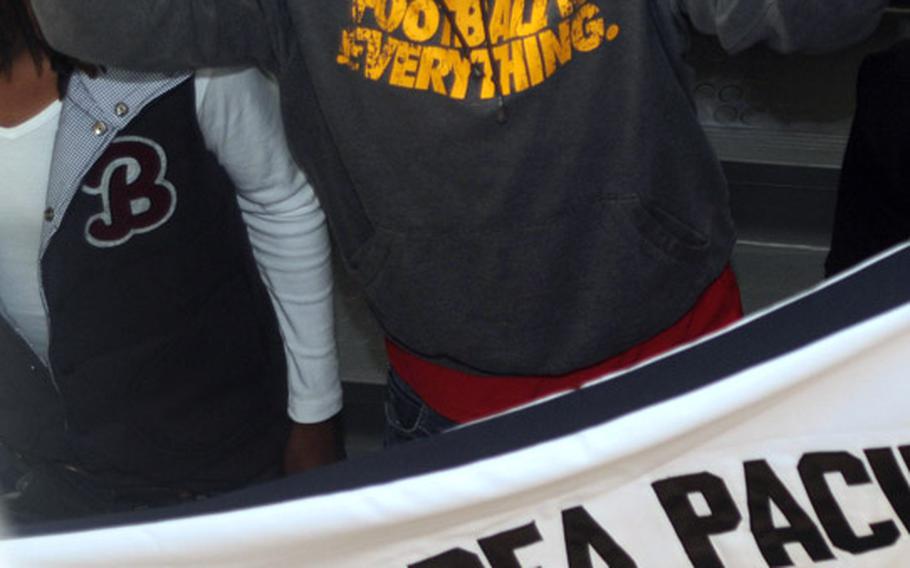 CAMP GEORGE, South Korea — They were met with polite applause from faculty, high-fives and back slaps from their peers and squeals and cheers of elementary-school students as they paraded their Far East High School Division II title banners around school.
But Monday's march had a new twist to it: Daegu American's football and volleyball teams became the first boys and girls teams to win titles in the same season – the boys for the first time since the basketball team last made the traditional march through the hallways in March 1990.
"The boys finally got to march," football coach Ken Walter said, smiling proudly as his charges basked in the adulation.
"Everybody's faces were just lit up today," senior middle blocker and volleyball tournament MVP Kristina Bergman said, adding there was a noticeable extra bounce in people's steps throughout the day. "We knew our victories, it had never happened before. It's special."
The Warriors footballers avenged their 46-38 2009 home title-game loss by winning 28-2 on Nov. 6 at Zama American. The girls topped Morrison Christian Academy for the second straight year 25-21, 28-26, 20-25, 25-23 in Friday's championship match.
The key to success? Each team's coach and players pointed to preparation, ranging from hitting the weight room months in advance of even the football season beginning to a seminal midseason moment that opened the eyes of the volleyball team to how well they could perform.
Blowing a 38-32 halftime lead in the 2009 title game profoundly affected the team, as did visiting Zama's gym to view that title banner just prior to this year's title game, coach and players said. "It was definitely unfinished business," senior Jarel "Tank" Connie said. "Everybody saw us get manhandled by another team on our home field. We knew we couldn't let it happen again. We knew it would be different."
During that 2009 game, Walter said Connie told him: "Coach, they're (Zama) not bigger than us; they're just stronger up front."
So weight-training became a key. Walter and his staff set a goal for all his players to bench press their weight; Connie went from 200 to 350, quarterback Tre Griffin was squatting 400 and lineman Chris Hillman leg-pressing 1,000 pounds by the time of the title game.
They also studied Zama with the zeal of a student needing one extra point to make the dean's list.
Defensive coach Luke Spencer broke down game film to note what plays Zama ran on every down; the players gave up lunch hour for two weeks to watch the film, so that by game time, they say they knew virtually every move by the Trojans.
"I think they made good preparation for the game and were ready to play," Trojans coach Steven Merrell said.
Playing added regular-season games against Kadena and Kubasaki of Okinawa (both losses) also helped fire-test the Warriors, as it did a trip to Okinawa for an invitational tournament at Kadena for the girls volleyball team.
They could have settled, coach Joanna Wyche said, for just their regular Korean-American Interscholastic Activities Conference season, but the team needed something different, and Okinawa provided much more than just a 5-3 win-loss record.
"It was about learning, who you were, what you needed to do, what you should not do," Wyche said, adding that the Warriors got feedback from Kadena's, Kubasaki's and even the Japanese team's players and coaches.
"They were in awe that a team could beat you, but be so engaged in instruction on how to better yourself," Wyche said.
They also dealt with the sort of adversity one faces during a Far East tournament, staying in billeting, not having home cooking.
The Warriors also dealt with losing one player to SAT exams and another to an illness the second day of the tournament; Daegu was forced to suit up just five players in one match.
"When those gears moved into place and clicked … they saw they could hang with the big schools," Wyche said. "It was a confidence booster. And they learned they could rebound from a bad day."
As a result, after the Warriors returned home, "we felt the connection as a team," Bergman said. "If we hadn't gone to Okinawa, we wouldn't have bonded the way we did. Victory would not have been a sweet as it was. Making that trip made it more special for us."
Put it all together and it spells a championship celebration on Monday like no other in school history.
And the title spoils may only be beginning. Walter has 14 of his 25-man roster returning; Wyche brings back four from her 2010 Far East roster.
"We made them take last week off (but) the guys want to go right back to the gym; they know what a difference it made," Walter said. "I think we're in good shape for next year."
---
---
---
---