Pre-teen's ineligibility a net gain for the field in USFE men's tennis
---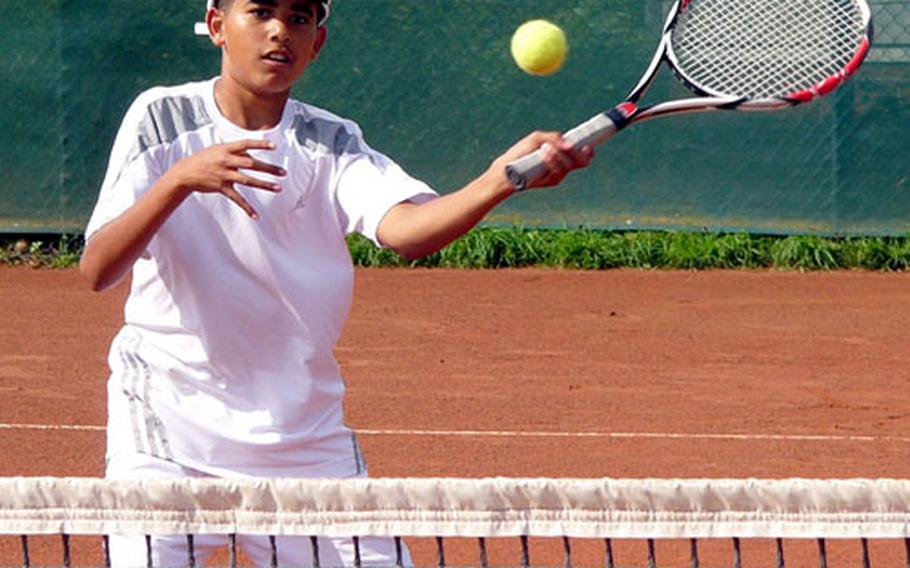 HEIDELBERG, Germany — There's good news for men who have been thinking it might be a waste of time to enter next week's U.S. Forces Europe championships at the Heidelberg Tennis Center.
Karim Ismail, 12, is ineligible for the event because entries must be at least 18.
It might sound absurd, but Ismail's ineligibility makes the potential path to a championship a lot easier than it has been during the last tournament-and-a-half played on the clay courts of the HTC on Patrick Henry Village. Karim, son of HTC pro Adel Ismail, won the adult men's championship in April's Heidelberg Spring Open and is two sets away from the men's title in the delayed July Fourth event. Karim Ismail beat Mike Stanton of Louisiana in straight sets in last weekend's winners-bracket of the July 4 event and will face Stanton on Saturday in the final of the double-elimination event.
While others might marvel at a pre-teen's dominance of adults, Ismail is less than impressed.
"It's not something special," Karim said about his recent men's tournament success. "I've been playing adults for a long time."
The younger Ismail plays on a men's team at his club, Blau-Weiss Schwetzingen, and even prefers testing himself against adults.
"I'd rather play men," the younger Ismail said Tuesday during a practice session here, "because they don't put as much topspin on the ball as the younger players do."
Topspin, Adel Ismail explained, makes the ball kick higher and harder on the slower clay surface that his son prefers.
"It's harder to return," Egypt native Adel Ismail said. "Younger players have lots of topspin. Older players didn't learn topspin. That came in with players like Borg and McEnroe."
While Bjorn Borg and John McEnroe might seem far removed from today's tennis scene, they are considerably younger than the runner-up to Karim in May, longtime and frequent U.S. Forces Europe champion Jim Moss.
Moss is 65 and a one-time heart patient, but the former teaching pro who once played Stan Smith is still a shotmaker of considerable skill, and a fiery competitor.
"He was fun to play," said Karim Ismail, who won 7-6, 6-3. "He complained about everything."
Another senior who's played the younger Ismail is Tom Hlavacek of Vicenza, Italy.
"When he was 11, I could beat him, but he developed so much in the last year that he beat me this spring," he wrote in an e-mail.
Hlavacek had been expecting as much.
"It was fun, even though I lost," he wrote. "But it was a matter of time. His serve comes with force, and he can place it where he wants it. He is deceptive. If he sees me on the base line, he will simulate a deep volley, then hit a drop ball with underspin that dies in the service area, leaving me helpless."
Father and son are relishing the way Karim is furthering the family tradition in the sport.
"My father was a tennis pro in Egypt," said Adel Ismail, a former youth champ in that country who's been at Heidelberg for 16 years. "He always said to keep tennis in the family."
The family tie is vital to heeding the advice of his father, also named Karim, Adel Ismail added.
"Tennis is very expensive," he said. "I wouldn't have been able to play if he hadn't been a pro. The same with Karim. If I hadn't been a pro, he couldn't have played, either."
But Adel, certified to teach by the Lawn Tennis Association in England, found a place in the sport, and Karim ended up with a racket in his hands at age 5.
"I could see he had talent," Adel recalled. "The members always liked to hit with him because he always returned the ball where they could get to it. And when there was no one around, he'd go around to the back and hit the ball against the building."
Karim might be the latest of a third generation of skilled family players, but he won't be the last.
"His sister, Hannah, is talented," Adel Ismail said. "She's just 4, but she can already hit the ball over the net."
U.S. Forces Europe tennis championshipsThe U.S. Forces Europe tennis championships are scheduled for July 17-19 at the Heidelberg Tennis Center at Patrick Henry Village in Germany.
---
---
---
---