Power drives Black Forest to Mediterranean volleyball crown
---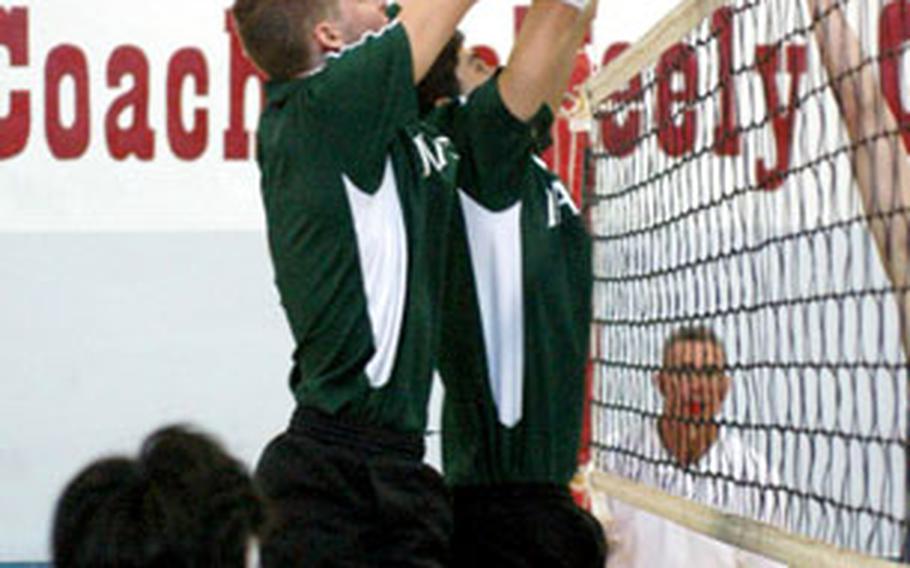 AVIANO AIR BASE, Italy — It's not often that a team seeded sixth and facing the unbeaten defending champions is considered the favorite.
That was the case Saturday, however, with sixth-seeded Black Forest Academy. And the team from Germany walked away with the DODDS-Europe Mediterranean Region boys volleyball crown, topping Naples 25-20, 25-23, 22-25, 25-17.
Limited to playing against the likes of international schools from Paris, Frankfurt and Basel, BFA hadn't taken on a DODDS team all season.
"It's enough motivation for the guys just to come and play in this tournament," coach Lee Evans said of his team's participation in the Mediterranean Region championships.
The tournament is composed mainly of teams from Italy that play one another during the regular season. BFA and squads from Turkey are seeded in the middle of the field because there's no realistic way to rank them.
But on Saturday, at least, BFA showed it was better than Naples, the defending champs who had rolled through the tournament without losing a game.
"Volleyball, at all levels, is a game of rhythm," said Naples coach Naga Fuchi. "When you serve into the net, it's almost like you lose two points. And if you do that too many times, it's very hard to keep up."
Naples made a handful of service errors in each game, including a few in key spots that stopped momentum. But the biggest difference between the two teams was that BFA had a little more power and made it count when it needed to.
"On every rotation, we have a wall, so we can block the ball," Evans said. "(Naples) wasn't able to get that every time, so we were able to hit."
Jake Loewen, Tom Fowler and Collin Garrity were the big hitters for BFA. Loewen's spike into an open court provided the final point of the night.
Naples took small leads in each of the first two games, but couldn't hold on in either.
In the third game, senior Randall Wright, playing his first year of volleyball, came off the bench to spark Naples. Limited to playing on the front line, Wright had a few blocks and a few kills to help Naples open up a lead. Then Brian Baldwin took over, scoring on several kills and blocks for the final points for the Wildcat win.
In the final game, BFA again scored when it had to.
The Falcons scored five straight points to break a 15-15 tie. Then after Naples rallied for two points to close they gap, they went on another five-point run to close out the match.
Boys Mediterranean Regional volleyball championships
At Aviano High School
Friday's semifinals
Naples def. Aviano 25-19, 25-17, 25-20
Black Forest Academy def. Milan 25-17, 25-16, 25-15
Saturday
Third place
Aviano def. Milan 25-22, 25-20
Championship
Black Forest Academy def. Naples, 25-20, 25-23, 22-25, 25-17
MVP: Collin Garrity, Black Forest Academy.
All-Tournament team: Tom Fowler and Jake Loewen (BFA); Marc Nguyen and Ivan Nguyen (Naples); Nick McClary and Andy Kretz (Aviano); Paolo Garibaldi (Milan)
All-Conference Team: I. Nguyen (Naples); McClary (Aviano); Garibaldi (Milan); Gabriele Fabazzi and Dario Corsetti (American Overseas School of Rome); Zach Bradt (Aviano); Alessio Buccellato (Livorno); Sannara Jeganathan (Marymount); Mark Ryan (Naples); Zack Williams (Vicenza).
Honorable Mention: David Brkljac (Aviano); Oliviero Motiola di Amoto (Marymount); Davide Comelli (Milan); Alex Vining (Naples); John Rodil and Jerick Magbanua (Sigonella).
---
---
---
---